Reminiscing a Nonsensical Future
---
Chris Balfe, England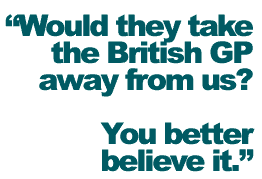 I attended my first Grand Prix in 1966. It was at Brands Hatch and the race was held on a Saturday. My mother, also a race fan, didn't need much persuasion to take me to this very special event. We turned up early and bought two tickets for the pits grandstand. Unfortunately, Ferrari were not present at the event due to industrial action back in Italy.
It was a wonderful day. Many of the incidents and facts are now vague, yet I still remember the sound, smell and excitement as if it were yesterday. Jack Brabham led from start to finish, going on to win the World Championship; the first and only driver to do so in a car bearing his own name.
Inside the programme was an invitation for race fans to attend the circuit again on the Monday and act as "extras" during the shooting of the movie "Grand Prix". As you can imagine, my mother and I needed no further prompting. I've watched the film countless times since, but have yet to spot myself.
After missing the '67 Grand Prix at Silverstone, I was back at Brands for the '68 event. It was a superb race which, following Graham Hill's retirement, saw a great scrap as Amon and Ickx in the Ferraris chase Jo Siffert. Jo went on to score a famous victory in his privately entered Lotus. After the event, I was able to get the autographs of all my heroes including Graham Hill -- who was bitterly disappointed following his enforced retirement.
The following year, it was Silverstone. In the paddock, parked behind the Ferrari transporter in a Fiat 124, sat my hero Chris Amon together with team-mate Pedro Rodriguez. I leaned into the car, autograph book in one hand, an ice cream in the other. As Chris scribbled in my book, the ice cream fell out of the cone and into his lap. Amon and Rodriguez burst into laughter. As an extremely embarrassed 15 year old, I wished my hero a happy birthday for the following day and ran off... mortified.
I am now 43 and have attended roughly 150 Grands Prix. Having just returned from Silverstone, I ask myself what is happening to this wonderful sport of ours.
I have always been greatly annoyed by those who chose to live their lives in the past. You can't realistically compare the music of the 30's with that of the 60's, 70's or indeed the 80's. You can't compare a 60's football team with it's 1997 counterpart. It's a pointless exercise to even try. Comparing different events from different times is unfair and nonsensical, yet Formula One in 1997 is in danger of destroying itself.
To even the most casual observer, it is clear that Benetton are going through a difficult period. Their "patron" Mr. Briatore seems to be distancing himself from the team. On every occasion that I spotted him over the GP weekend, he was in the company of Mr. Ecclestone. If as I believe Briatore is preparing to take over Bernie's role as "Mr. F1", then we are all in for a very bumpy ride. Briatore admitted when he came into the sport that he had no real knowledge or interest in it; his background was marketing. Benetton became the team with the revolving door at the entrance to it's personnel department. The team, like its parent company, is more about image and publicity than quality or honesty.
Recently, Bernie Ecclestone had been making loud noises about taking Formula One away from Europe and into Asia. At first, I thought that this was another of his periodic threats. But, now, I am not so sure. Ecclestone said there was no room in F1 for sentiment when referring to the possibility that future GPs could be forfeited to make way for events in Asia. Many believe that this could never happen, that Europe and, in particular, Britain is the home of F1. Most of the leading teams are based here -- the industry employs tens of thousands of people and millions upon millions are generated by the event. Indeed, as Italy and Germany both have two events each year, surely Britain too is entitled to two Grands Prix.
But who is the British Grand Prix being run for? Year after year, we see the images on our screens and in our newspapers of the fans waving Union Jacks wearing silly hats and kids with their faces painted in various colours. Yet, these are not the people that I remember from Silverstone.
Consequently, we are seeing less and less of the real fans and more and more of the hospitality crowd. The British Grand Prix is the only event that I've attended where there is a great deal of corporate hospitality. Sure it exists at other events, especially in Italy and of course Monaco, but in Britain it is wall to wall. The viewing areas are being given over to the corporate marquees where people can make their business deals, entertain clients, drink champagne and, if they can be bothered, turn out to watch the start and finish of the event. The real race fans meanwhile are herded into ever shrinking areas from which their view is extremely limited, the facilities are poor and where they are denied access to decent event information.
It is part of the British psyche that many of us have to be seen at certain prestigious events. These people don't attend Silverstone for the race -- they attend to be seen at the event. Like Wimbledon, Henley, Epsom and Twickenham, it is now a part of the social calendar.
Try telling a non race fan that you've paid £70 to watch an event at which you need to turn up nine hours before the start in order to get a decent view. Then tell them that, once the race starts, it is virtually impossible to follow events unless you have brought a miniature TV with you. The Tannoy system cannot be heard, the giant TV screens all face the hospitality stands and there are no indications around the track giving you a clue as to the race positions.
Virtually every time I attend a race, I get looks of derision when I open my bag and get out my lap charts and stop watch. Once the race is underway, and the pit-stops begin, these same people are tapping me on the shoulder saying, "who's fourth?" or "where's Herbert?"
Can you imagine attending a football match and only being able to see a small corner of the ground... then, having to ask at the end of the match what was the score?
The money I paid to attend the three days of this year's GP would have bought me a season ticket for a reasonable premiere league football club. Yet, I am treated with virtual contempt. Next year, it will cost even more. The programme alone will cost £10. And, the corporate crowd will be there once again.
Which brings me to another point about the British GP. Where's the passion? Every year I attend the Italian GP and every year it is a fabulous event whether my beloved Ferraris win or not. Italy is primarily an event for the family and, in particular, the racing mad family. You are surrounded by people everywhere who are knowledgeable about the sport. Indeed, what a contrast!
How many air horns did you hear at Silverstone? At the other European events, it is virtually compulsory to have an air horn. We bumped into some friends who are used to attending European events and had brought their air horns with them. Believe it or not, one member of the public complained that he couldn't hear the gear-changes whilst a steward told them that it "put the drivers off".
The minutes before the start at Monza are electrifying. When the cars come onto the track, the commentator get's the crowd whipped up into a frenzy. "SCHUMMIIIIIIIIIIII!!!" You hear him scream over the tannoy; as Michael drives past, he waves and the roar of the crowd fills the air. It's the same for every driver and they love it. In Britain we applaud, politely.
Would they take the British GP away from us? You better believe it. Bernie knows that whatever crumbs he gives the real race fans, they'll snap them up. Recently, there was an advertisement in Autosport offering hospitality at the Silverstone tyre tests for £99, and people paid it. Have you ever been to a tyre test? It's monotonous. Nothing ever really seems to happen, yet people were willing to pay for this. A friend of mine went (with Goodyear I might add) and he says the place was mobbed. So, we'll all pay £150 in 1999 to attend a tyre test then go home to watch the Indonesian or Phucket Grand Prix.
Don't they realise that, eventually, the bubble will have to burst? The viewing figures are down and, in Great Britain, it's not merely due to the lack of results for Damon, it's the poor coverage. Many of the people I work with who used to be casual armchair fans of F1 are now switching off as they can't stand all the talking and layman's analysis. And, if Bernie is gambling on Digital TV being the answer, then he's in for a big shock because only the diehards (like myself) will want to pay for it. Despite what they think and say at the FIA, Formula One is still not that popular. Sure, it attracts a high proportion of casual fans, but if they have to pay for the privilege of watching "twenty two cars go round in circles" they'll move on to other sports.
I would have thought than rather pursue the Asian market, Bernie might spend some serious time getting to grips with why the home of commercialism, the U.S.A., has positively shunned F1.
So what is the future for F1. If I had written a year ago that the cars from Maranello would race in a different colour and would be referred to as Marlboro Ferraris, would you have believed me? Never. Yet if Ferrari of all teams can succumb to the new wave of commercialism, what hope for the lesser teams. With all the talk about taking F1 out of Europe and into Asia because of the restrictions on tobacco advertising, did you pick up on the fact that B.A.T. are behind a £100m deal to set up a team for Jacques Villeneuve, that's British American TOBACCO.
I believe that the public flotation of F1 could sound the death knell for the sport as we know it. Already several teams are in dispute with the FIA regarding the Concorde agreement, and I think within the next five years we will witness a breakaway F1 series as has happened in Indy.
The public flotation of F1 is immoral. It is like the football premier division being owned by one company. We have already witnessed Bernie brokering deals to put this driver in that car, and that driver in this car. Mr. Briatore has his finger in several pies in regards to teams and drivers. And, believe me, Bernie is an angel compared to Flavio.
I love this sport and hope that I'm wrong, but I have this awful sense of foreboding. I'll be off to Monza in a few weeks to enjoy the sport as it should be enjoyed, although Bernie's even pulled off a masterstroke there. During the course of a weekend that will cost my partner and I over £500 for race tickets alone, there is only one support race over the three days of the event. I sent an e-mail to the circuit to confirm this and they replied that this was because Monza had to pay Bernie for the privilege of holding support races on their circuit and he was asking too much money.
Every year, I say I'll give Silverstone a miss, but I'm sure I'll be there in 1998. Only this time, I'll be taking a couple of air horns. I hope you'll be taking yours.
---
Chris Balfe
Aged 43, Chris is Ferrari daft and has been into F1 since as long ago as he can remember. He attends two or three Grands Prix a year. His greatest race was not F1, but Rodriguez in the Porsche 917 at Brands Hatch in 1970. He is also a former musician, but now in regular "normal employment". Chris adds that he recently bought a copy of "Piloti, Che Gente" (Drivers, What Men) written by and signed by Enzo Ferrari and is endeavoring to get it signed by some of the legendary drivers (not just Ferrari's), despite the best efforts of security.
Send comments to: ferrari@cableinet.co.uk