The Formula One Insider

---

THE FORMULA ONE INSIDER: Bigger scoops than most bulldozers
by Mitchell McCann, U.S.A.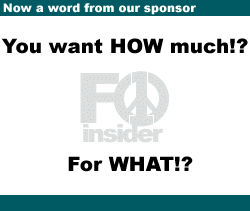 DATELINE: Beware the Ides of March.
F1 QUIZ
At the Belgian GP, Ralf Schumacher's fastest time was set:
A) During the race
B) On the parade lap
C) On foot

RALF AND HEINZ BOTH GO OFF AT LES COMBES
I guess the Germans heard that was the prime bit of sand on the course and rushed to get their towels down before Jos could.
JOS GETS THE SLOWER ENGINE
The conspiracy to make Jos look like an idiot continues. He was again given the engine out of Uncle Ken's Mondeo, the tyres that they didn't need as coffee tables any more and Alex Zanardi's chassis. (Tyrrell did tell him not to press the donut button until after he'd won the race but I guess he figured there was precious little chance of that happening).
SEPARATED AT BIRTH - VERSTAPPEN AND LOWNDES
I've noticed a striking similarity between our Jos and the much hyped Craig Lowndes. In the two F3000 races I've seen this season, Lowndes has spun off in both of them. I think he may be in the running for a Tyrrell drive. Of course, being from the southern hemisphere, he will spin off in the opposite direction to Jos.
ON THE JOB TRAINING IN F1
Ron Dennis continues to take negotiating lessons from Frank Williams and Damon Hill strives to emulate Verstappen's unique bargaining tactic, namely, drive a lousy race, double your salary demands. Hill did of course have a very embarrassing weekend being rejected by McLaren and out-qualified and out-raced by Pedro "Thanks Dad" Diniz. Michael Schumacher however had an even more embarrassing weekend as his bi-monthly two year contract extension is now 3 days overdue.
ENCOURAGING SIGN FOR FRENTZEN
The Belgian GP was significant for Frentzen as it marked his best start of the season. He did not lose any places and was able to maintain his grid position for more than two laps. Head claimed that Frentzen was now becoming more comfortable with the team and he was almost certain that when Frank Williams almost said he would probably keep Frentzen for next year possibly, he was very likely not completely insincere. Probably.
HILL HIRES AN AGENT
Having messed up contract talks two years in a row, Damon Hill has hired Mike Ovitz as his agent. Ovitz was the Hollywood agent who got David Letterman his mega-millions deal with CBS. Damon will take over the Late Show from Conan O'Brian in December. O'Brian is expected to go to Jordan - but then, who isn't?
KATAYAMA DISQUALIFIED
Ukyo Katayama was disqualified from the Belgian GP for lack of interest. He has lodged an appeal with the FIA but nobody can be bothered to hear it. Ukyo offered the Insider an exclusive interview to air his views but, quite frankly, it didn't seem worth the effort. If you're interested, Ukyo will be at the Bull & Finch at 7PM on Friday. Please feel free to go interview him yourself.
EDITORIAL
As a local sports reporter puts it, today I'm cleaning out my desk drawer.
Having promised not to say anything about Jacques if he didn't say or do anything stupid, I think I'm showing remarkable restraint by giving him the benefit of the doubt on, A) his tyre choices for the race and
B) his comment that in the chase for the championship the problem is not "the 12 point defecit but is the weather."

Fortunately, Jos couldn't maintain his spinless streak and he made up for not spinning in Hungary by spinning twice in Spa. This was, of course, my fault.
The Irvinator was back on form and did a great job of taking out "Thanks Dad." I'll bet that wasn't his fault either.
Does anybody know if the Stewart team showed up for this race? And is it true Jackie has started wearing a smoking jacket instead of a kilt? Maybe this will start a trend. Frentzen could wear a blazer, Irvine could wear a T-bone shirt, Magnussen and Marques could wear a tie (for last place), Ford representatives should of course wear goatees, Hill could wear something with a turned-down collar, Ralf can wear pants, (if he had a flunky running with him he could wear underpants), Ukyo can wear shorts, Hakkinen can wear brown corduroy trousers and Jos can wear anything home-spun.
So Hakkinen gets DQ'd for dodgy fuel in his McLaren. We know McLaren's in a little financial difficulty, but you do you think Ron would pop down to the local Esso coz its 5p a gallon less?
Do you think Oliver Gavin will tell his grandkids he led three laps of a Grand Prix? Will he become the answer to a trivia question or is he still hoping for that drive with Pacific?
---
© 1997 by Mitchell McCann
Send comments to: mitchmcc@ultranet.com