DSJ's Words Live On
---
by Roger Horton, Singapore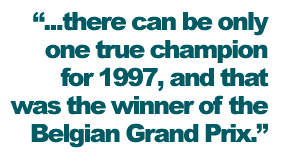 As the 1997 World Drivers Championship is fought out between Michael Schumacher and Jacques Villeneuve, I am constantly reminded of the words and values of a racing legend of a different sort, the much respected and missed, Denis Sargent Jenkinson (DSJ).

For relatively new followers of Formula One, the name may mean little or nothing, but for over 40 years he was the continental correspondent of the (then) leading monthly magazine, MOTOR SPORT. He influenced several generations of racing fans and, by their own admission, many of the leading current Formula One writers. In those days, before TV coverage and VCR, the story of a far off GP never seemed complete until you had read what Jenks had to say.

I had the pleasure of meeting Jenks a number of times, the first being in the paddock at Brands Hatch just after the finish of the 1970 British Grand Prix. Taking the opportunity to engage this fascinating man in 30 minutes of talking about Formula )ne racing, it was only later I realized that he had been hurrying over to join a growing crowd around the winners car, where the zealous officials were checking and rechecking the dimensions of the rear wing. It could have been a big story, but he always seemed to have time for the fans and I guess the deadlines of a "Monthly" gave him the luxury of choosing his own pace.

He, of course, saw it all at first hand. As the passenger/navigator with Stirling Moss in the 1955 Mille Miglia, he had the first hand knowledge to back it up. For DSJ, high speed driving was not just something to be witnessed from the cosy confines of the press room, but something to be observed at first hand. He shared the thrills and dangers which added greatly to his writing and observations.

So as he witnessed and reported the races of the fifties and sixties, he naturally graded and assessed the drivers of the day. Although many people have an interest in the Grand Prix machine themselves, it is usually the drivers who capture the imagination. In those "pre-safety days", the toll was enormous. It was common for two or three drivers to die each year. You can look back at some grids of that era a few years later and at least half the drivers were either dead or seriously injured. No wonder it was called the "Cruel Sport". A drivers courage was like money in the bank, and he was always spending. So DSJ was not much into statistics when it came to rating drivers, simply finishing first was not enough. "To my mind, WINNING is the name of the game, not finishing first, and a true champion should dominate all the opposition at all times," he once wrote.

Now Jenkinson had many opportunities to witness these "winning" drives which were to set his standards. In 1961, Stirling Moss twice defeated the entire Ferrari team in his year old Lotus at Monaco and the old 14 mile Nurenburgring circuit which allowed him to make up for the Ferrari's superior power by his greater driving ability. These "wins" will be remembered all the while Grand Prix races are run.

There were many others, Jim Clark was a special favorite. In so many races he showed fantastic superiority which took your breath away. But, he didn't always have to win to do it. One year at Monaco, a race he never won, Clark pulled out a three second lead on the opening lap. Now all through the practice sessions, the cars had been separated by just fractions. So how did he find so much time? DSJ, a man who understood such things, was moved to tears by such an exchibition of high speed driving.

The Belgian Grand Prix was always a favorite with Jenks; the challenge of the 8 miles of Belgian road with an average speed of over 150 MPH was the ultimate test of the true Grand Prix driver. Even the revised circuit met with his approval, retaining as it does the character of the old. He often used to say that they should scrap "this silly drivers World Championship." Whoever won in Belgium was the true champion driver. Over the years, he seemed to have a point. Clark won four years in a row in the sixties. Since then, the race has been won by Alain Prost twice, Ayrton Senna four times, and Michael Schumacher four times officially, five times on the road.

Perhaps it is also the weather that can make this track special, for hardly a year goes by without rain at some point. Now, if there is one thing that adds another dimension to any Grand Prix, it is a wet track. Over the years, all the Grand Prix greats have proved themselves master in these conditions. There has never been any driver who was a serious contender for a place in the "all time top ten" who has not, at some time in his career, put in a special race to really "win" in the wet.

A brief roll call of honour would include such races as Clark at the '62 'Ring and Spa in 63 and 65. Stewart at the '68 'Ring, a race he won by over FOUR minutes. In more modern times, Senna at Monaco in '84, Portugal in '85, and, of course, Donington in '93 -- an opening lap to live in the memory of all who witnessed it.

Although Michael Schumacher's career is still far from over, he already has to his credit Spain in '96, Monaco '97, and now Belgium '97 -- a race win the equal any of the others that have gone before.

So, this '97 season has progressed the contrast between the title contenders which we all have witnessed. Of course, not all victories can be in the classic mold. Villeneuve's drive in the Spanish Grand Prix was a mature drive on a day when conserving tires was the name of the game, and, Schumacher's win in Canada was fortunate. But the real difference comes when circumstances combine to create a situation when the true champion can show his true mettle and really dominate. So far in Villeneuve's career, only one win has come close: his comeback drive after a bad start in Portugal '96. So many of his other victories have been uninspiring affairs the stuff of which legends are not made. Hungary and the British Grand Prix are but two of the most recent examples. Already this year, Schumacher has added three drives that mark him out as a true champion.

The 1997 Belgian Grand Prix was a classic win. To all who witnessed Schumacher's pass on both Alesi and Villeneuve during the same lap, and then pull out five or six seconds in short order, could have no doubt that they were watching a champion in action. To drive so fast around this seriously wet Spa track set him apart from the rest.

Villeneuve may yet produce drives of championship quality, it is certainly too early to write him off (and this article is not intended to). But, on the evidence of the season so far, there can be only one true champion for 1997... and that was the winner of the Belgian Grand Prix. I have a feeling that Jenks would have approved.

For those with an interest in learning more about the life of DSJ, I highly recommend the book "Jenks: A Passion for Motor Sport" published by Motor Racing Publications Ltd.
---
Roger Horton
Send comments to: rmhorton@pacific.net.sg