Formula Futility
---
by Rob Paterson, Canada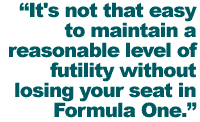 We all know the names Schumacher, Hill, Senna, Prost, and Mansell. And, if you're anything like me you know of the accomplishments of Fangio, Ascari, and Moss, even though you are far too young to remember them. But, there is another breed of legendary drivers that made their way into the record books, and I'm not entirely sure they'd like to be. I'm talking about Grand Prix drivers who raced years, and never chalked up a win. Whether it be through bad luck or flawed genius, these are the men who have never ascended to the top step of the podium.

When you study the ranks of the futile, you inevitably wind up saying to yourself, "how could he keep an F1 seat for so long?" or, "he sure made a mistake going to team A, team B wanted him -- look what they did the next year." Or, "boy was he ever unlucky." There are a lot of factors that contribute to an epic run of futility, good sponsorship, a reasonable but not abundant talent level, and usually horrible luck. It's not that easy to maintain a reasonable level of futility without losing your seat in Formula One.

The top driver in this class is undoubtedly Andrea de Cesaris. The incredibly quick, but crash prone Italian has a record of 208 Grands Prix contested, second only to Ricardo Patrese, and no wins to his credit. His nearest challenger in the futility category is Martin Brundle, with 50 less races.

Andrea contested two Grands Prix in 1980 for Alfa Romeo, finishing well back in both. But in 1981, with some help from his Marlboro backing, landed the McLaren seat. By the end of his first full year in Formula One, he had racked up one point and mortally wounded several chassis. de Cesaris' speed was never questioned, just his judgment. To say the Andrea was crash prone was an understatement. His official FIA results show the word 'accident' and 'collision' numerous times in his first few years.

Andrea wouldn't even have such a distinction had he found luck in Monaco while racing for Alfa in 1982. He was lying second going into the final lap, when leader Dider Pironi's Ferrari failed, gifting him the lead. It was then a cruel twist of fate that befell the young Italian, as he ran out of fuel on that same last lap, dropping him down to third. Of course not, all of his luck was bad. In 1983 he finished second behind Rene Arnoux in Germany when both Patrick Tambay, and Nelson Piquet retired, and rivals Patrese and Alain Prost both had non-terminal gearbox troubles. It was that year when de Cesaris. scored his best finish in the World Championship, an 8th place, which included another second at the South African GP behind Patrese.

Andrea's later career is marked by stints with mid-grid teams like Tyrrell, Jordan, and Sauber. Any sponsorship money he could provide was gladly accepted in return for a number two seat. He eventually grew out of his 'DeCrasharis' nickname, and could be counted on to usually bring a chassis home in relatively good condition. Unforunately, the speed that saw him get into F1 eventually dissipated, leaving behind a mediocre driver that had a track record for futility like no other driver.

Britain can claim the #2 driver in the futility category, Martin Brundle, with a record of 0 for 158. In Martin's case, it wasn't so much lack of talent that cost him -- rather it was lack of luck.

One should remember that in British F3, Ayrton Senna's main rival was Martin Brundle. In fact, Martin was considered to be almost as good a prospect as Senna on the strength of his late season run at the F3 title in 1983. Martin though, has never seemed to be at the right place at the right time.

Brundle's first season in F1 1984 started wonderfully for him, but finished horribly. He signed with Ken Tyrrell and scored points immediately with a fifth in Brazil. He finished second behind Piquet in Detroit, and then disaster struck when he broke both ankles in Dallas. To put the finishing touches on what wound up being an awful rookie season, all of Tyrrell's results were thrown out that year when they were judged to be running illegal cars.

In 1987 he signed up with Zakspeed; his lack of results from that year saw him without an ride for the next season. Hardly a career advancing move. In 1988, Brundle raced sports cars with Jaguar, and won the World Sports Car Championship. This lead to a Brabham drive in 1989. Of course, Brabham were hardly the powerhouse they once were scoring only 8 points that season. In fact, four of those points were scored when Martin's electrics failed in Monaco and he gave up third place to his teammate Stefano Modena. The next year he returned sports cars, and the following year he returned to Brabham. Never once did Martin have a car worthy of winning an F1 race.

Perhaps his best chance at a race winning car was at Benetton in 1992. Martin scored points in every race except San Marino until the end of the season. Unfortunately, even then Benetton were starting to build the team around a very young Michael Schumacher's prodigious talents. More recent examples include 1994 when Martin held out for the McLaren drive. He was lucky enough to get it, as Alain Prost was still entangled in his 2 year commitment to Williams. But, that year the Peugeot engine was very unreliable, and McLaren found out how much Senna's brilliance the year before had masked flaws with their chassis. In 1995, Martin lost the McLaren seat to Mansell, and wound up sharing a Ligier seat with Aguri Suzuki, hardly race winning machinery.

As far as I know, Brundle was never a pay-driver, thus he was usually in the running for a number one seat in a mid-grid team, or a number two slot with a top team. Running for a mid-grid team like Ligier or Brabham (in the late eighties that is) would only produce a win if big time attrition were to occur. Although that has happened for one Ligier driver, Martin was never that lucky. Martin's stints in top teams always saw him playing second fiddle to the likes of Michael Schumacher or Mika Hakinnen. Had he ever been able to consistently out perform his teammate on a top team, perhaps a race win wouldn't have been out of the question.

As for the future of futility, it seems that driver outlive their budgets rather more quickly in recent years. Sponsors have been pulling the plug on the Taki Innoue's of this world far quicker when results are lacking. In the top teams, McLaren's recent rennaissence will undoubtley provide Hakinnen with a win this season. Frentzen's performance in Australia shows that on a good day he is capable of a win. So, the best challenge to de Cesaris' infamous record could well be Pedro Diniz, as his source of Parmalat money seems to be endless, and his talent questionable. Now it's just a qusetion of how bad his luck is.
---
Rob Paterson
Send comments to: rpatersn@Direct.CA