Saturday in Spain: Herbert Does It!
by Robert C. Balling, Jr.
U. S. A.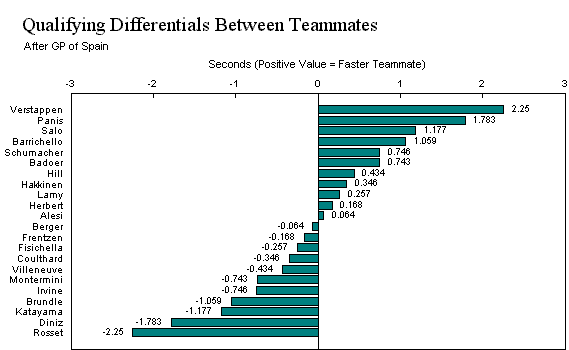 You heard it here first. After total domination last year and all races this year, has Heinz-Harald Frentzen lost his touch? In case you missed it, Johnny Herbert stopped the longest Saturday streak in Formula One, and for the first time in memory, Frentzen was sniffing his teammate's fumes as the race began. Herbert was 0.168 seconds faster than Frentzen, and he started two spots ahead of Frentzen. Saturday in Barcelona belonged to Johnny Herbert.
With the Frentzen streak ended, the new king of Saturday relative qualifying is Rubens Barrichello. Rubens has out-qualified Martin Brundle in each race this year, and he out-qualified Eddie Irvine in the final race last year. His eight race streak leads all others. Olivier Panis, Jean Alesi, and Jos Verstappen also are perfect this season, but each was out-qualified in their last race in 1995 (Verstappen's last race in 1995 was Monaco). Given the large driver gap at Jordan this year, Barrichello may be the Saturday Stud for a long time to come.
Other interesting qualifying stories from this past Saturday were hard to come by. The familiar faces were once again up front, the average teams lined up in the usual spots, and both Forti cars went home early victims of the 107 percent rule.
A few performances are worthy of comment. Following his win in Monaco, Olivier Panis kept his focus and blasted by Pedro Diniz by 1.783 seconds. Mika Hakkinen qualified ahead of David Coulthard for the first time in several months. Barrichello was much faster than Brundle, again, and Jos Verstappen whipped Ricardo Rosset by 2.250 seconds. Finally, Gerhard Berger came within a whisker of beating Alesi in a Benetton for the first time; the gap this week was a mere 0.064 seconds.
It's time for me to start packing -- we leave for Montreal a bit early this year to beat the rush. The excitement in that city surrounding the return of Villeneuve should make this upcoming qualifying session something extra special.
---
Robert C. Balling, Jr.
Send comments to: robert.balling@asu.edu