Frentzen v. Schumacher: A Saturday Analysis
by Robert C. Balling, Jr.
U. S. A.
As I concentrate on the qualifying efforts from race to race, I look for interesting patterns that are lost in the standard reporting of the grid positions and times for the latest race. Inevitably, the comparison of the two young German superstars demands attention. Now that we are fully three races into the 1996 series, some meaningful and interesting comparisons become easier to generate.
Michael Schumacher was out-qualified by Eddie Irvine in Melbourne, but Michael seems to have regained his dominance in the most recent two races. Nonetheless, getting out-qualified by your teammate is not good for your superstar reputation. It should not go unnoticed that Schumacher was also out-qualified by Johnny Herbert in Belgium last year, but Schumacher won the qualifying battle in all other races.
The Frentzen qualifying record is absolutely impeccable, not only this year but last year as well. Frentzen dominated a weakened Karl Wendlinger from Brazil to Spain last year. He then dominated Jean-Christophe Boullion from Monaco to Pacific, and continued to whip Wendlinger at Japan and Australia. In 1995, Frentzen was a perfect 17-0 in out-qualifying his teammates, while Schumacher was 16-1. Frentzen had an average differential of 1.630 seconds over Wendlinger and Boullion, while Schumacher's mean differential over Herbert was 1.117 seconds. Watch out for young Germans on Saturday--no one else was even close in terms of out-qualifying their teammates (Roberto Moreno was third with a differential of 0.391 seconds)!
But in the Formula One world, last year's results can quickly become ancient history and a distant memory. After three races, Frentzen has averaged 0.810 seconds over Herbert; this is a bit low given Schumacher's average domination of Herbert of more than one second throughout last year. In comparison, Schumacher has out-qualified Irvine by an average of 0.567 seconds, despite the bad start in Australia. But Frentzen is an impressive 20-0 against his teammates over the past two years, while Schumacher is "only" 18-2.
Below is a simple graphical comparison in which we can see Schumacher and Frenzen under similar conditions with teammate Johnny Herbert.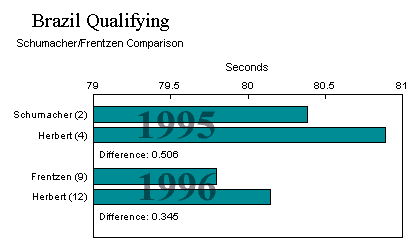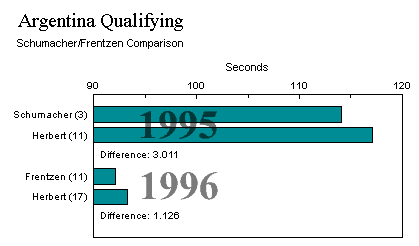 Schumacher's advantage over Herbert is, on average, almost 1 second less than Frentzen's domination of the British driver between Brazil and Argentina. Although Schumacher wins the battle with Frentzen in South America, it is clear that Frentzen remains an insurmountable teammate.

F1 heroes are made on Sunday not Saturday. Obviously, Frentzen is a great performer on Saturday while Schumacher has been the king of Sundays. I believe these two Germans are the best drivers in Formula One today, but one has clearly stolen the global spotlight leaving the other in relative obscurity in the middle of the Formula One pack. Team owners must be aware of this fact and I think we will see Frentzen touring the circuits in a truly competitive machine within a year. By the turn of the century, Frentzen could be the hottest commodity in Formula One. Frentzen may soon shed the Sauber yoke, gain a first class ride and begin to take his place in the elite fraternity of Formula One.

Ironically, it is entirely possible that neither Frentzen nor Schumacher will win a race this year.
---
Robert C. Balling, Jr.
Send comments to: robert.balling@asu.edu