Bobby Rahal's biography reads like the timeline of modern open wheel racing in North America - he grew up around famous tracks like Elkhart Lake, with dad's cars including Austin-Healeys and Elva MKs. The son of a Syrian immigrant merchant, Rahal made his way through Formula One, CART and Indy to become one of the eleven team chiefs in F1, running the dazzling yet ailing Jaguar Racing team. Thomas O'Keefe looks at the biography of the man who crossed the motor racing oceans back and forth
Like Father, Like Son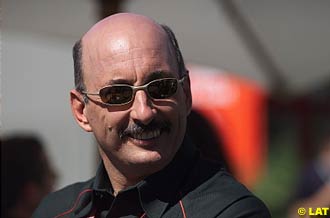 Everyone gets their inspiration from someone; in Bobby Rahal's case it was his father Mike whose passion for motorsports was passed down to Bobby like a chromosome.
Mike Rahal was a self-made fruit and food wholesaler and distributor who raced sports cars of various descriptions on the weekends. By the time Bobby was fourteen years old, he was already helping out in dad's pits, working on fuel strategy. As Bobby says in his recent biography, Bobby Rahal: The Graceful Champion: "I grew up at places like Elkhart Lake, and around cars in general. There were always race cars around our house. ... We all got involved in it, but there was never any thought of my being a professional driver. It was assumed I would go through high school and then college, and then I would have a career. If you wanted to race, well, you know, you would be a weekend warrior."
So at least initially, in the Rahal family, race car driving was done primarily for fun and it was not regarded as a serious line of work, at least not until Bobby came along. Rahal's ancestors are from a part of Syria that is now Lebanon and being an entrepreneur was very much part of the Arab culture from which Bobby's father and grandfather came. As Bobby's father Mike explained, "it was always the ambition of anybody with Semitic blood to get off and be an entrepreneur of some kind ... It was almost an article of faith that the Arab business people first sold linens and rags from house to house and progressed from there to the next level of enterprise."
In Mike Rahal's case, by the time Bobby was born in 1953, his father had already lived a full life in the America of the 1950s: Mike had been in World War II in the Navy as a torpedo man on a destroyer which saw action in the Pacific. After the war, Mike went to Denison College in Granville, Ohio, where he met Barbara Woodward, Bobby's mother, and married her after a whirlwind courtship. After graduating from Denison, Mike first worked as a salesmen for his uncle's business, Sunshine Packing, which processed and sold fruit juices. Later on, Mike went out on his own. "It was the booming years of the frozen food industry," Mike recalled, "we came in and the horizons were unlimited."
But sports cars were never far from Mike's thoughts when he was away from the business, and he coveted (and bought) a Triumph TR2 while Bobby was a youngster. A succession of production sportscars, including an Austin-Healey 100 Le Mans and an Alfa Romeo Sprint Veloce, was followed by buying some serious iron: a rear-engined Cooper, an Elva MK VI and a newer Mark VII and finally an Elva-Porsche, specially built for Mike. As Rahal's biography observes, "it was in these surroundings that Bobby grew up, moving steadily, almost inexorably, into a career in racing."
One Week in Formula One: October 1-8, 1978
Bobby Rahal was born in Medina, Ohio, a charming town south of Cleveland, with a turn of the century feel to it, a gazebo bandstand, Victorian houses and a town square. Like his parents, Bobby went to Denison College, earning his degree in history. He worked for a time in Chicago with an advertising agency and gave up racing briefly during that period but soon returned to the sport he had known all his life and began his climb up the well worn ladder of motorsports, participating in Formula Atlantic, European F3, F2 and CanAm sportscars before he settled down into Indycars.
But notwithstanding his origins in Mid-Ohio, Bobby was the unusual American race car driver who dreamed of racing in places beyond Elkhart Lake and had always wanted to be in Formula One. When he was 25 years old (he is now just 48) he got his chance and actually ran in two Grands Prix - the 1978 U.S. Grand Prix at Watkins Glen and the 1978 Canadian Grand Prix at Montreal in a Wolf-Ford entered by Walter Wolf Racing.
Interestingly, 1978 was a time of great foment in Formula One for American drivers and Rahal's involvement was one piece of the puzzle. Over in Maranello, Enzo Ferrari was auditioning drivers to replace Niki Lauda who had quit the team at Monza in September 1977. Gilles Villeneuve had taken over for Lauda in the last two races of the 1977 season but the seat for 1978 was not yet his. Ferrari contacted Eddie Cheever, who was then still 19 years old and gave him a testing session, driving Lauda's Ferrari: the drive ultimately went to Villeneuve and Cheever signed with Hesketh and raced at Kyalami in 1978 for his one and only Grand Prix that season.
Bernie Ecclestone, who then owned the Brabham Team, also had his eye on American talent in the late 1970s. Rick Mears, who in only his second year at Indy won the 1979 Indy 500 for Roger Penske, was sought after by Bernie Ecclestone to join Nelson Piquet as a teammate at Brabham. Mears tested the Brabham-Ford twice: once at Paul Ricard in France and once at Riverside, California but ultimately decided to stay with Penske and went on to win four Indy 500's in all. Hector Rebaque ended up as Piquet's teammate at Brabham. Had Mears joined Brabham he would have been part of the team in 1981 when Piquet won his first World Championship.
And of course 1978 was the year American Mario Andretti swept all before him in Colin Chapman's ground effects Lotus 79, becoming only the second American World Champion after Phil Hill. Brett Lunger was another American in Formula One in 1978, racing for Ensign-Ford in what would be his last season in Grand Prix cars. As another example that the late 1970's was a period of cross-fertilization as between American and European open wheel formulas, 1978 was also the year that the Indycars came to the UK and ran at both Silverstone and Brands Hatch.
It was in this relatively hospitable environment for an American that Bobby Rahal got his opportunity to race a Formula One car. As of 1978, Bobby Rahal was four years away from his first participation in the Indy 500, in 1982, but he had established a reputation in Formula Atlantic, even beating Gilles Villeneuve and future World Champion Keke Rosberg on occasion.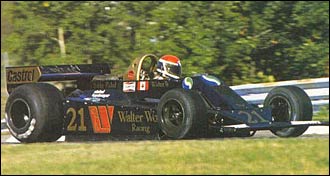 In 1978, the United States Grand Prix at Watkins Glen was on October 1st, 1978 and the Canadian Grand Prix at Montreal was on the very next Sunday, October 8, 1978. Canadian Walter Wolf, Austrian-born, had been in Grand Prix racing since late 1975, backing Frank Williams and the Williams team, but in 1977 he set up his own team and hired some top talent: Harvey Postlethwaite, ex-Williams and ex-Hesketh, designed the WR1, Peter Warr, ex-Team Lotus, managed the team and Jody Scheckter, ex-Tyrrell, was the driver for this one-car team. Amazingly, Scheckter won in the Wolf in its debut race on January 9, 1977 at Buenos Aires in Argentina and won again in 1977 at Monaco and in Canada at Mosport for Walter Wolf's home Grand Prix.
In 1978, Scheckter remained the only Wolf driver until mid season when rookie Keke Rosberg ran as a teammate to Scheckter for three races. Bobby Rahal got his chance running for Wolf in the last two races of the 1978 season, the back-to-back North American races.
The US Grand Prix that year was destined to be anti-climatic because Mario Andretti had clinched the World Championship at Monza, the immediately preceding race, but, in a chilling parallel to American Phil Hill's winning the Championship for Ferrari in 1961 at Monza, Andretti's Lotus teammate, Ronnie Peterson died from injuries received in an accident at Monza, as Hill's Ferrari teammate, Wolfgang von Tripps, had died at Monza in 1961.
As expected, Andretti's Lotus 79 was on pole at Watkins Glen and 100,000 plus fans were there to see the race. Brett Lunger was about to drive his last Formula One race for Ensign-Ford as Bobby Rahal was about to drive in his first Grand Prix for Wolf. In Friday's practice at Watkins Glen in the Wolf WR5-Ford, Rahal showed the patience, cautiousness and speed which would mark his whole career. On Friday, Rahal took a second off his prior lap time. Saturday was a windy Fall day in upstate New York and few drivers improved on their Friday times but Rahal was one of them, taking another half-second off his previous time and qualifying 20th out of 26 cars; teammate Scheckter qualified his Wolf WR5-Ford in 11th place and was two seconds faster than Rahal.
On race day Sunday, the sky was threatening and overcast but there was no rain. Andretti had trouble on the warm-up lap, broke a rear stub axle and spun off into the barrier. Andretti started in teammate Jean-Pierre Jarier's car and took the lead. But the race was not to be the American Coronation of the new Champion that everyone expected. By lap 3, Andretti's brakes were giving out and the Ferrari's of Carlos Reutemann and Gilles Villeneuve got by.
Meanwhile, Andretti's teammate, Jarier, was flying and repeatedly set and re-set fastest lap in the back-up Lotus 79, ultimately getting up to third before running out of fuel. Andretti too went out when his engine failed. Rahal's Wolf teammate, Jody Scheckter, had a pitched battle just behind the leaders with Jean-Pierre Jabouille in the developing Renault RS01 Turbo (which scored its first points in this 1978 Watkins Glen race), which Scheckter ultimately won, finishing third in the Wolf behind Reutemann's Ferrari and the Williams-Ford of Alan Jones. Another driver of interest was Emerson Fittipaldi, who was running his family's Fittipaldi-Ford in this race and finished fifth. Rahal ran a quiet race and brought the car home in 12th place, one lap down.
In Walter Wolf's home race the next weekend at Montreal, Rahal was feeling his oats and going well in practice in the rain, up in the top five, when he crashed, damaging the front suspension beyond repair, at least for that weekend. Ever resourceful and intent on fielding two cars for the race on home soil, the Wolf team repossessed a 1977 WR-1 from a local hotel where it was a display as a show car and installed a new Ford Cosworth DFV in it overnight, which Rahal qualified in 20th, the same position on the grid he had at Watkins Glen.
WR-1 was last year's car, the remarkable chassis that Scheckter had driven in 1977 to its debut victory in Argentina and then won in it again at Monaco and Canada. In Tim Considine's American Grand Prix Racing, Rahal remembers racing the venerable show-car:
"I don't even think they expected me to qualify. But the car was pretty good. It had a lot of grip. It wasn't a ground-effect car, but it put the power down and it turned into the corners well."

* * *

"We passed a lot of people early in the race ... We got up to eighth or ninth, right behind Piquet [Brabham-Alfa]. But as the fuel load lightened, we had a fuel pickup problem and the car began to misfire. And then the thing broke and that was that ... the end of my Formula One season."
And, as it turned out, it was the end of Bobby Rahal's Formula One driving career, as the prospect Rahal thought he had of racing again with Wolf in 1979 never materialized. Scheckter moved on to Ferrari in 1979 (where he helped Ferrari take the Drivers' and Constructors' Championships) and James Hunt became the lead driver at Wolf and his main condition for driving eliminated Rahal's hopes: Hunt wanted Wolf to revert to a one-car team and Wolf agreed to that prerequisite.
Rahal did not miss much since the Wolf team's days were numbered anyway. Hunt retired both from the team and Grand Prix racing after the 1979 Monaco Grand Prix; Rosberg was called up to finish what would turn out to be Wolf's last season and an ignominious one for the once-Cinderella team. The Wolf team's best finish was 8th place in South Africa amongst a long string of tell-tale DNF's.
What did Rahal learn from his week in Formula One that may have a bearing on how he runs Jaguar and particularly how he views Luciano Burti, his 25 year-old rookie driver. In Bobby's case, in that rain-soaked practice session for the Canadian Grand Prix, he learned that a rookie out there in the rain doing things he shouldn't be doing and getting in over his head ought to be reigned in by the team manager, before he hits something. Here is Rahal's recollection of what happened that rainy practice session, as quoted in American Grand Prix Racing:
"The first or second session [at Montreal], its raining, and I am like third or fourth quickest. Well if Peter Warr, the team manager, had had any brains, he'd have said, 'Okay, get out of the car right now. Your fine.'"
In addition, in retrospect, Rahal believed that notwithstanding his success in Formula Atlantic, with only limited Formula Three experience in Europe, he was premature in attempting to take on Formula One:
"I wasn't ready ... You know, Brands Hatch for a few laps [where Rahal tested and was quicker than Jody Scheckter] wasn't enough, especially for a difficult car to drive. [The Wolf] had extremely heavy steering. It was Wolf's version of the ground-effects Lotus 79. But I don't think the heavy steering had anything to do with downforce. I think it was just a truck."
Burti, Tomas Scheckter (Jody's son) and other young drivers coming up through the ranks - take note.
Finally, in his brief sojourn in Formula One as a driver, he was exposed to a representative sampling of the best Grand Prix drivers ever: Andretti, Lauda, Gilles Villeneuve, Fittipaldi, Piquet, Jones, Rosberg, and is not likely to be intimidated on the pit lane by either the current drivers or the other team managers. Indeed, other than Alain Prost and his new colleague at Jaguar, Niki Lauda, he is the only team principal in Formula One that has actually been a driver at the Grand Prix level.
Bobby in the Indycars
For all of the brevity of his Formula One career, his experience in the Indy-style open-wheel cars has been long and successful, first as a driver, then as the owner-driver, then, once he retired, as a team manager, and finally as the Interim President and Chief Executive Officer of CART until he moved over to Jaguar and Formula One.
In the Indycars, Bobby quickly transcended his disappointing false start in Formula One. In 1982, Rahal had the good fortune to begin his collaboration with Jim Trueman of Truesports and sponsor Red Roof Inns ("Sleep Cheap" was the sponsor's slogan) and made steady progress in the Indycar world. Rahal drove the Indycars for 17 years and during that career he had 24 wins and 19 pole positions, winning the CART Championship in 1986, 1987 and 1992. Rahal had 264 starts, 177 top-10 finishes and 119 top-five finishes, the record of a fast but intelligent and disciplined driver. As a reward for the consistency and quality of his performances, Rahal's career earnings were $16,344,008, among the top three of the all-time list of CART earners, which include himself, Al Unser, Jr. and Michael Andretti.
But the 1986 Indy 500 was Rahal's crowning achievement as a race driver. To begin with, the mid-1980's in Indycars was one of the most spectacular eras, with lots of sponsor dollars coming into the sport from major companies like Hertz, Pennzoil, Miller, Coors, Budweiser, Marlboro and Valvoline and the plentiful sponsor dollars attracted an awesome assemblage of drivers and machinery, including A.J. Foyt, Mario and Michael Andretti, Rick Mears, Emerson Fittipaldi, Danny Sullivan, Arie Luyendyk, Johnny Rutherford, Al Unser Sr. and Jr. and Tom Sneva. Even the less well-known drivers were fast and accomplished: Scott Brayton, Jim Crawford, Danny Ongais, Roberto Moreno and even Chip Ganassi, future team owner of Target/Chip Ganassi racing, which won the 2000 Indy 500 with Juan Pablo Montoya.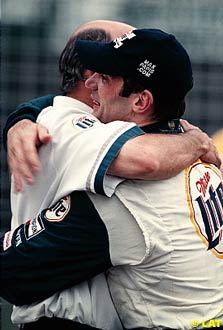 The teams were financially strong and numerous, with Roger Penske, Pat Patrick, Doug Shierson, Frank Arciero, Dick Simon, Rick Galloes, Ron Hemelgarn and A.J. Foyt all running competitive teams. Adrian Newey, now Formula One's aerodynamicist guru at McLaren-Mercedes, was also working on the Indycars during this era, originally with Bobby Rahal and later on with Michael Andretti. And Newey's compatriot's at McLaren-Mercedes, the Ilmor firm, got their start by designing a Chevy-Ilmor for Roger Penske. The Indycars also attracted the glamour vote for the 1986 Indy 500, as Paul Newman and Carl Haas backed the Andretti's, James Garner, the star of the movie Grand Prix, was a guest at Indy and legendary test pilot and retired Air Force General Chuck Yeager drove the yellow Corvette convertible pace car that year.
On paper, you could not have asked for a finer group of cars and drivers to race with than what the 1986 Indy 500 presented. For two days in a row, however, the race was postponed on May 25th and 26th, 1986, Memorial Day weekend, due to the persistent rains. They don't race in the rain at Indy, except in Formula One. Since some 300,000 people had come to see the 1986 Indy 500 and since the ABC television network decided to show the race live for the first time, the postponement due to rain created havoc with the organizers and meant drawn out tension for the race teams and divers.
Bobby Rahal's team was experiencing an eerie mixture of pain and pleasure as the usual month-long preparations for Indy went on an extra week when the race was finally postponed until Saturday, May 31, 1986. Rahal's car owner, Jim Trueman, was, next to Bobby's father Mike, Bobby's biggest supporter and had backed him since Bobby's entry into the Indycars in 1982. But in May 1986, Jim Trueman was dying of cancer and as he marked his 51st birthday that Memorial Day weekend, every day counted.
Bobby and the Budweiser/Truesports team put their best foot forward for what would be Trueman's last Indy, with Bobby qualifying fourth at 213.550 mph, just behind ongoing rival Michael Andretti and Penske teammates Danny Sullivan and Rick Mears. In other words, 31 year-old Bobby Rahal and his bright red Budweiser March-Cosworth had finally arrived at the top tier of Indycar racing and was poised to do something great if the opportunity presented itself.
On the opening lap of the race, Michael Andretti in the yellow and blue Kraco car got out ahead of Rick Mears in Indy Turn 1 to take the lead as 1985 Indy 500 winner Danny Sullivan in the other Penske car fell back. By lap 15, Michael was still leading when the yellow flag came out for his father Mario in the red Beatrice Lola which was stalled in Indy Turn 3 with electrical problems. After a tow in and a pit stop, Mario was out permanently on lap 19.
By lap 28 of the race the first round of pit stops had taken place and the race settled down to a competitive struggle among four drivers: Michael Andretti, Rick Mears, Bobby Rahal and Kevin Cogan, all of them in the car of choice that year, the March-Cosworth V8.
Andretti Jr., Mears and Rahal stayed close to one another early in the race, pitting under green flag conditions and staying on the same pit stop cycle. On lap 82 of the 200 lap race, Rahal passed Mears for the lead and Kevin Cogan was less than three seconds back in third place. Cogan and Mears swapped second place on laps 119-123, as Rahal extended his lead to five seconds. (A full lap took approximately 44 seconds.) The amount of overtaking amongst this group in this one race will probably exceeded all the passes the Jaguar Formula One team will be part of for Bobby Rahal's entire inaugural year as head of the team! There were 19 lead changes among 7 drivers in the course of the 500 miles.
At Indy (as now in Formula One) pit stops and whether they are made under green or yellow flag conditions are everything because in those days a car made perhaps 7 pit stops over the 500 mile race distance. By lap 170, after yellow flag pit stops by the leaders, there were only 30 laps left and Mears was in the lead but his race-long companions were in hot pursuit.
On lap 186, Rahal got by Mears on the back straight but a lap later Cogan went low in Indy Turn 1 and took the lead back from Rahal who got stuck in traffic, allowing Cogan to gradually build a three second lead over Rahal.
But as often happens at the Indy 500, the last 10 laps managed to serve up some surprises. On lap 194, Arie Luyendyk's Lola cut a tire and spun coming out of Indy Turn 4, hitting the inside wall and bringing out the yellow flag. The Corvette pace car came out and Cogan was lined up in first place behind it, with Rahal tucked in behind Cogan and Mears in third place. Bobby Rahal, in an article he wrote for Motor Sport in February 2000, described what happened next:
"I had always practiced restarts - I figured there's no easier way to overtake than on a restart - but it wasn't going to be easy because as well as Kevin [Cogan] ahead of me I had Rick [Mears] breathing down my neck.

As we were about to take the green, I got a little more momentum going through [Indy] Turn 4 than Kevin - maybe his car was pushing a little bit by then - and halfway down the [front] straight I was able to pull out and pass him.

There were only a couple of laps to go [the restart was on lap 198] so I'd turned the boost right up - what did I have to lose? The fuel lights [on the dash] were all flashing but they were pretty unreliable.

I thought if ever there was a time to drive two great laps, this was it."
And drive a good last two laps Rahal did. After getting by Cogan, he pulled away from him on the back straightaway. On lap 200, the last lap, Rahal finished the 1986 Indy 500 in truly grand style: he set fastest lap of the race at 209.152 mph and set a new track record for average speed for a 500-mile Indycar race at 170.722 mph, consigning to the history books the record of 166.73 mph set 29 years earlier by Jim Rathmann in the 1957 Race of Two Worlds held at Monza on the banking. Indeed, Rahal remains the only driver in the history of the Indy 500 that set fastest lap on lap 200, the final lap of the race, showing his skill as a driver and his experience in conserving the race car. Rahal was also the first driver to complete the Indy 500 in less than three hours.
Poignantly, the ailing Jim Trueman joined Bobby and his wife in the Corvette pace car to take the traditional lap of honor, a man who, with Rahal's help, had lived and achieved The Dream that had eluded so many team owners: winning the Indianapolis 500. It was to be Trueman's Final Lap, as he died 10 days later.
You can imagine the lessons this Indy 500 win taught Bobby Rahal. The importance of loyalty to a successful team, playing your cards out slowly but staying in the game and on-cycle in the sequencing of pit stops and Going For It when the chips were down, even if the yellow fuel lights are blinking. And, of course, the critical nature of restarts, which have recently become important in Formula One due to the increasing appearances of the Safety Car. I suspect that when it comes to racecraft, after a few races to get his footing, Bobby Rahal will find himself out of his office and back on the pit-to-car radio helping to call the shots for his drivers. How can he resist with his background?
Rahal competed in another eight Indy 500's, 13 in all, but never won again after the triumph of 1986. In the last two CART Indy 500's in 1994 and 1995, he finished in third place; in 1990, second place. As Formula One fans will recall, none other than BAR-Honda's Jacques Villeneuve won the 1995 Indy 500 and Bobby Rahal took third in that same race, the last year CART raced at Indy. Indeed, Jaguar and Bobby were rivals for the CART Championship in 1994 so that's at least one driver he knows well on the pit lane.
Incidentally, in 1994 and 1995, Rahal's engine at the Indy 500 was Ilmor-derived, badged a Mercedes-Benz in 1995, so more friendly faces in the Paddock.
In the 1993 Indy 500, Bobby Rahal had a humbling and character-building experience that he has doubtless not forgotten: he had come to Indy with his own Rahal-Hogan chassis but ended up as the Man-On-The-Bubble on the last day of qualifying, and was ultimately bumped out of the race by fellow American and ex-Formula One driver, Eddie Cheever, who was then racing for the Menard Team.
In 1994, Rahal was humbled further when he agreed to cast his lot with Honda and serve as its development team in the Lola-Honda, except for the Indy 500 where Rahal raced a Penske-Ilmor. Rahal and his team had an abysmal year as the Honda engine development program got off to a slow start: there were no wins and no poles but lots of DNF's. So Bobby knows the trials and tribulations of suffering through chassis and engine development programs, as in all probability he will experience once again this year with Jaguar.
In 1999, Rahal finally retired from driving the Indycars and entered into the world of team management, fielding a well-sponsored two-car team, with drivers Bryan Herta and Max Papis in 1999. In the 1999 season, Juan Pablo Montoya (now of BMW-Williams, another familiar face on the pit lane) was the CART Champion driving for Chip Ganassi and Team Rahal won only one race, Bryan Herta's win at the Laguna Seca road circuit. Max Papis ran out of gas on the last lap and just missed winning the Michigan 500 that year on the high-speed oval.
In the 20-race 2000 season, Rahal paired Max Papis with 1999 Indy 500 winner Kenny Brack and the team opened strong with Max Papis's victory early in this season on the oval at Homestead, Florida. But in a season where there were very few repeat winners in CART, that was Team Rahal's only victory. Gil de Ferran, driving for Roger Penske, had 2 wins and won the 2000 CART Championship. And as for Bobby Rahal the driver, his last victory was back in 1992, when he had four wins and won the CART Championship. Since 1996, his co-venturer at Team Rahal is fellow Midwesterner Dave Letterman, the celebrated late-night talk show host who has been a fan of Formula One and Indycars all his life having grown up in Indianapolis.
Formula One, Again
With this incredibly diverse and rich background in open wheel motorsports, what can we expect of Bobby Rahal in Formula One? First, get ready for a change in management style. For all of his successes as a driver and financially as well as his hobnobbing with the rich and famous, he remains unpretentious by the standards of Formula One and has not forgotten his roots in Medina, Ohio. He recently told F1 Racing that he did not yet have a house in the UK and was living near the Jaguar factory in a modest hotel, true to his "Sleep Cheap" Red Roof Inns sponsorship days! In a pit lane dripping with cynicism and formulaic press releases that increasingly sound like United Nations diplomatic communiques, Bobby Rahal brings back a Midwestern candor and straightforwardness that many will find surprising and perhaps refreshing.
As an executive, the jury is still out on Rahal since his brief stint as Interim President and Chief Executive Officer of CART was too short and too uncertain a time to give him high or low marks. But in Formula One, he has already shown the firmness of will needed to shake things up, reflected by the departures of Irishman Gary Anderson and the coming of American Steve Nichols who at McLaren was the designer who, along with Gordon Murray, is credited with the world-beating 1988 MP 4/4 McLaren Honda which, in the hands of Senna and Prost, won 15 of 16 Grands Prix that year.
The Jaguar driver line-up is a curious mixed bag that you get the feeling Bobby would not have come up with knowing his past choices: ex-Ferrari near champion Eddie Irvine and rookie Luciano Burti, who has been in just one Grand Prix, substituting for Irvine last year in the Austrian Grand Prix, where he impressed everyone with his common sense and pace. And the announcement that Niki Lauda will be Chief Executive Officer of Ford's Premiere Performance Division is another Wild Card for Bobby to take into account, Lauda being the only driver he raced against in 1978 that is still around Formula One circles. In fact, Bobby will doubtless rib Lauda that in both of Rahal's Formula One races in the lowly Wolf, he finished ahead of Lauda and Bernie Ecclestone's Brabham-Alfa.
Most significantly, you can be sure that Rahal has one major ingredient going for him: the full backing of Ford Motor Company, an automotive giant that won LeMans against Ferrari in the mid-1960's, that won the Indianapolis 500 in the rear-engined Lotus-Fords in 1965 against the front-engined roadsters and that laid out the seed money for the Ford-Cosworth DFV V8 that remains the single most successful engine in Grand Prix racing ever. Rahal has been blessed with top of the line backers before - first his father, then Jim Trueman, then major sponsors like Shell, Miller, Honda and now the full might of Ford Motor Company. Can there be any doubt that if anyone can weld the young and motley crew that constitutes Jaguar Racing into a team worthy of the Jaguar name, it will be Bobby Rahal, a uniquely experienced leader who has shown himself able to win on ovals or on road courses, and in or out of the cockpit, and who may end up teaching the regulars in Formula One a thing or two about open-wheel racing.
One last intriguing aspect of this already rich 2001 season for Bobby Rahal remains: will he be the first team principal to have cars running at Indy in both Formula One (on September 30, 2001) and the Indy 500 (May 27, 2001) since the days of Dan Gurney and the Eagle/Indy and Eagle/Formula One cars? Given the success of Juan Pablo Montoya in the Target/Chip Ganassi IRL cars in winning the 2000 Indy 500 and the announcement that Roger Penske is preparing to return to Indy for 2001, is it possible that Team Rahal with 1999 Indy 500 winner Kenny Brack as one of its drivers, will find its way back to the Indy 500 too? With a full plate at Jaguar, although the desire no doubt exists to return to Indy, implementing it in 2001 - including the million dollars or so it would take to acquire and develop two IRL cars - may be too much even for Dave Letterman's wallet and the management skills of Bobby Rahal. But now 2002 is another matter entirely!