CART
Da Matta Wins on Debut for Newman/Haas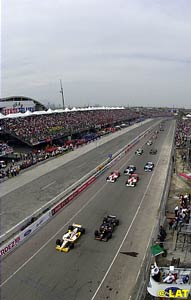 Cristiano da Matta drove a near perfect race to win his second FedEx CART event at the Monterrey Grand Prix in Mexico. Da Matta was near the front right from the start of the race, always staying in touch with pole man Kenny Brack, and pouncing when Brack struck trouble. Da Matta stayed clear of the pack after the final pace car period to add to his debut victory at Chicago last year.
"When I passed him (Brack), I had to make good fuel mileage and keep him behind me but my car was a little better in the middle of the race and the end than it was in the beginning. After my last stop when Gil was behind me, my car was much better. I thought I had it (won) at a certain point in the race if I didn't have mechanical problems." said the very happy da Matta.
Brack led from the start, gradually pulling away from da Matta and the Penske duo of Helio Castroneves and Gil de Ferran in the early stages. The first yellow flag period was not long in coming though. On lap nine, Max Wilson spun into the wall at Turn 12. This turn would cause problems throughout the race, with the circuit breaking up after the pressure of significant rain in the led up to the race. By this stage, Bruno Junquiera and Alex Zanardi were out of contention after a lap one collision. Ten laps after the restart, Roberto Moreno also slammed into the wall at turn 12, heralding another pace car period, giving most of the field the opportunity to pit under yellow.
At this point, CART rookie and reigning Indy Lights Champion Scott Dixon was now in the lead, a lead he quickly built on when the race restarted. Bryan Herta and Adrian Fernandez also chose not to pit, but the other front runners led by Brack quickly sent Fernandez down the field. The local hero's strategy would soon become apparent. On lap 35, Brack and da Matta were fighting over second as Herta pitted, then for the lead when Dixon pitted four laps later. By this stage Carpentier was out with engine dramas and another collision ended Zanardi's day for good, this time with Shinji Nakano, although Nakano was able to continue.
Up front, Brack's engine briefly shut down, letting da Matta into the lead. Just behind, the Penskes, still holding down third and fourth, came under increasing pressure from reigning Formula Nippon champion, Tora Takagi. Takagi would soon lose places though as he spun into pit lane. Long time sparring partners Michael Andretti and Paul Tracy were also working steadily through the field, eventually chasing down the Penskes, picking off Castroneves as the Brazilian started running out of gears. Brack closed down on da Matta again but brake problems saw da Matta able to stay ahead.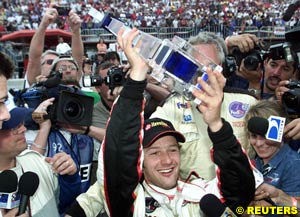 After the second round of pitstops da Matta remained in the lead from Gil de Ferran and a charging Dario Franchitti. It was a charge too hard for Franchitti as he was penalised for speeding in pit lane. This brought Paul Tracy up to third ahead of the fading Brack, Michael Andretti, Castroneves and Jimmy Vasser. Fernandez was stuck down the field with his one stop plan ultimately failing when he ran out of fuel with two laps still remaining. Fittipaldi crashed at turn 12 bringing out the final yellows, but da Matta was too good, heading home de Ferran, Tracy, Andretti, Brack, Vasser and Kanaan.
With the cancellation of the Brazilian race at Jacarepagua, the next event is the Long Beach street race in four weeks time.
Results of the race in Monterrey, Mexico:


Pos  Driver                Chassis-Engine
 1.  Cristiano da Matta    Lola-Toyota
 2.  Gil de Ferran         Reynard-Honda
 3.  Paul Tracy            Reynard-Honda
 4.  Michael Andretti      Reynard-Honda
 5.  Kenny Brack           Lola-Ford
 6.  Jimmy Vasser          Reynard-Toyota
 7.  Tony Kanaan           Reynard-Honda
 8.  Helio Castroneves     Reynard-Honda
 9.  Dario Franchitti      Reynard-Honda
10.  Tora Takagi           Reynard-Toyota

World Rally Championship
Makinen Wins Rally of Portugal on the Final Stage
Four times World Rally Champion Tommi Makinen has taken the lead in the World Rally Championship after an enthralling final leg of the Rally of Portugal. Going into the final stage of the rally, Carlos Sainz lead by three tenths of a second, but an inspired final stage saw Makinen's Mitsubishi Lancer take over eight seconds out of Sainz's time to take the win.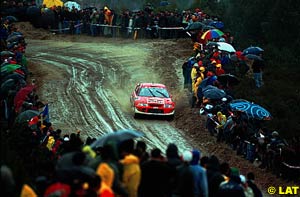 "It's been such a difficult weekend and the last three years in Portugal I've had a bad performance and no results. We've been leading most of the rally, and up until the last stage, and I can tell you that was more than maximum attack! It's really something to win my 100th rally and I can't wait for Spain and the asphalt," said a happy Makinen.
The Rally has been blighted by cancelled stages caused by poor weather, deteriorating Special Stage roads and crowd security problems (caused by the weather), and with only two stages run on the final day (after the first stage of the final day was cancelled), Sainz only had two rolls of the dice. On Special Stage 21, Sainz (Ford Focus) took 13 seconds away from Makinen to take the lead. But it was to be in vain when Makinen returned the favour on the final stage. Ford also picked up points with Francois Delecour coming home fifth. Where was Colin McRae? He disappeared with barely a ripple on the first day after a mechanical failure.
Third place was taken by reigning World Champion Marcus Gronholm in the Peugeot, finally getting his title defence underway. Harri Rovanpera's Swedish win aside, it has not been a good year for Peugeot with Didier Auriol limping home outside the points, while Rovanpera took the fight to Makinen early on, only to suffer an engine failure on the second day. Gilles Panizzi seemed lost in the conditions and finished well down.
Fourth place would be the best that could be salvaged for Subaru team leader Richards Burns. Toshihiro Arai and Petter Solberg both went out on the first day, while Markko Martin was bogged in a sea of mud on the second day, leaving Burns alone on the final day.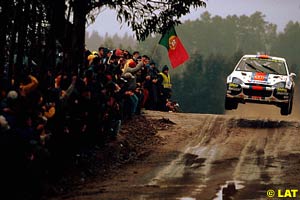 Further down the numbers, Hyundai had a steady run through the rally, debuting the new Accent WRC2 and were rewarded with a point for Alister McRae, with Kenneth Eriksson just behind in an encouraging result for the Korean marque despite the attrition which struck the rally. Of Skoda, there was little sign, for while the conditions may have suited the down on power cars, reliability would strike them down as well.
Makinen now takes a clear lead in the championship ahead of the consistency of Sainz who has stood on the podium on all three rallies this season. Harri Rovanpera's Swedish win keeps him in third. In the manufacturers' battle, Mitsubishi, mainly through correctly selecting the best drivers to finish is dominating, 13 points clear of Ford, with Hyundai now moving up to third.
The rally circus stays in Iberia for the Catalunya Rally in two weeks' time.
Results of the Rally of Portugal:

Pos  Driver                Car
 1.  Tommi Makinen         Mitsubishi Lancer
 2.  Carlos Sainz          Ford Focus
 3.  Marcus Gronholm       Peugeot 206
 4.  Richard Burns         Subaru Impreza
 5.  Francois Delecour     Ford Focus
 6.  Alister McRae         Hyundai Accent
 7.  Kenneth Eriksson      Hyundai Accent
 8.  Didier Auriol         Peugeot 206
 9.  Tapio Laukkanen       Toyota Corolla
10.  Pasi Hagstrom         Toyota Corolla

Drivers' standings: Makinen 20, Sainz 16, Rovanpera 10, Delecour 8, Radstrom 6, Gardemeister 5, Gronholm 4, Schwarz and Burns 3, Loix, Solberg and A.McRae 1

Manufacturers' standings: Mitsubishi 33, Ford 20, Hyundai 8, Subaru 7, Skoda 6, Peugeot 4



Sports Cars
Audi 1-2 at Grand Prix of Texas
The Sports Car season opened as it ended last year with a win for Audi. Instead of the streets of Adelaide, the venue was the high speed banking of Texas Motor Speedway. Right from the start Audi asserted their authority with Frank Biela setting pole. However, after qualifying, irregularities with the diffuser on Biela's car sent him to the back and gave pole to teammate Rinaldo Capello.
Capello led away from the start from Jan Magnussen in the Panoz LMP07, although teammate Klaus Graf in the older Panoz moved up to second before the first lap was completed. Further back, Frank Biela was storming through from the rear of the grid, and after 20 minutes was up to fifth, taking Dorsey Schroeder's privately run Audi R8R for fourth eight minutes later. Up front, Magnussen in the lead Panoz caught Capello's Audi and took the lead at the 40 minute mark. Shortly afterwards, Magnussen pitted for fuel, tyres and a change to Panoz's lead driver, David Brabham. Next lap, the team car of Klaus Graf pitted from third.
At this point, the sole LMP675 entry, the Nissan powered Lola B2K/40 of Mel Hawkins spun at the chicane. When Capello's Audi pitted after 50 minutes of racing, Frank Biela completed his charge from the back of the field to lead the race. A couple of laps later Biela pitted, rejoining in second behind Capello and ahead of Graf. Just short of the one hour mark the engine cover blew off the troubled Lola-Nissan bringing out the yellow flags. The Audis pitted for their driver changes, and Brabham pitted for fuel, leaving Graf in the lead. However, Kristensen in Capello's Audi soon regained the lead, then lost it again after coming together with the GTS Dodge Viper of Joe Ellis. Shortly after the GTS Chevy Corvette of Kerry Collins hit the wall at the banked turn 4, bringing out the yellows again.
By this stage the two Audis were back in control of the race, Kristensen leading Emanuele Pirro. The two Audis pitted with 30 minutes to go, confident with their race pace and plan. This let Brabham through to the lead in the Panoz, and continued to circulate. Could the Panoz go all the way? With just ten minutes to go, Brabham pitted for a splash'n'dash, letting Kristensen and Pirro back through for a 1-2 finish for Audi. Brabham collected third for Panoz, with the privateer Audi of Andy Wallace in fourth. Ron Fellows and Johnny O'Connell in the Corvette was three laps clear of the Dodge Vipers in the GTS class, while in GT it was the Porsches with Lucas Luhr and Sascha Maassen in front at the end. With the demise of the Lola-Nissan, no LMP675 cars finished.
"It was really great to win, especially if we can win on a day like today. We had no problems at all with the car today. We only had 7 or 8 laps of practice on Friday." said Kristensen. "They told me they Panoz would have to pit with 20 minutes to go. I think around eight minutes to go I called and asked them again if they were sure."
This weekend sees the running of Round 2, the historic 12 hour race at Sebring.

Pos  Driver / Co-driver                 Car
 1.  Rinaldo Capello / Tom Kristensen   Audi R8R
 2.  Frank Biela / Emanuele Pirro       Audi R8R
 3.  Jan Magnussen / David Brabham      Panoz LMP07
 4.  Dorsey Schroeder / Andy Wallace    Audi R8R
 5.  Klaus Graf / Gualter Salles        Panoz LMP-1 Roadster
 6.  Jay Cochran / Richard Dean         Panoz LMP-1 Roadster
 7.  Ron Fellows / Johnny O'Connell     Chevrolet Corvette C-5R (GTS)
 8.  Lucas Luhr / Sascha Maassen        Porsche 996 GT3-RS (GT)
 9.  Randy Pobst / Christian Menzel     Porsche 996 GT3-RS (GT)
10.  Boris Said / Hans-Joachim Stuck    BMW M3 E46 (GT)

Superbikes
Corser Dominant at Season Opener
The 'other' bike series has started before the MotoGP bikes this year, with the World Superbikes visiting Valencia last weekened in the first of three visits to Spain this year. But if you weren't an Australian called Troy there wasn't much point in turning up. Troy Corser completely dominated the meeting at the Valencia circuit, taking Superpole before running away for two comfortable wins on the Aprilia, each time beating home countryman Troy Bayliss on the Ducati.
Aprilia were ecstatic with the way the weekend had started, with a 1-2 after qualifying for Corser and 500cc refugee Regis Laconi, ahead of reigning champion Colin Edwards and series returnee Neil Hodgson. Laconi won the start of race one to lead the field away, closely followed by the fast starting Hondas of Colin Edwards and Tadayuki Okada. Into the second lap, Corser started to assert his authority taking Bayliss for fourth. Another lap and Corser claimed both the Hondas to move into second. On lap 4 Neil Hodgson, returning to the world championship full time fell for no apparent reason, while upfront Corser took the lead from teammate Laconi and motored off into the distance. From there the battle was for second. The Ducatis of Bayliss and Bostrom picked bikes off one by one as Edwards slid down the field with handling difficulties and Okada retired.
As the laps wound down, the Dukes reeled in Laconi and relegated the SBK newcomer to fourth. Corser was home and hosed, until on the final lap a clash with the Kawasaki of Johann Wolfsteiner upset Corser almost to the point of felling the Australian, but nothing was stopping the 1996 SBK Champion. Local rider Gregorio Lavilla brought his Kawasaki home in fifth ahead of Edwards, while a fierce battle between Akira Yanagawa, Hitoyasu Izutsu and Pierfrancesco Chili was resolved in favour of the veteran Italian Suzuki rider.
The result of race two was in even less doubt as Corser was second away behind Edwards but quickly passed the reigning champ. Okada again failed to finish his first outing on the Honda, this time crashing out of the field after a clash with Regis Laconi. Lavilla took Bostrom for fifth, and adding to Bostrom's troubles he was handed a stop-go penalty for jumping the start. He was then pinged for speeding in the pitlane while completing his first stop-go, which saw Bostrom withdraw from the race. Edwards, now running a much stiffer bike was providing opposition again, leading a close battle with Lavilla and Bayliss. Hodgson was back in fifth leading the Ducati of Ruben Xaus and Kawasaki of Akira Yanagawa. By this stage, Kawasaki's Izutsu was gone after a clash with another rider. Corser blitzed the field, winning by a comfortable margin with Bayliss in second after taking both Lavilla and Edwards with identical moves. Hodgson was a lonely fifth while Yanagawa won the battle with Chili and Xaus.
The series travels to South Africa in three weeks.
Results of last weekend's races in Valencia:

Race 1

Pos  Rider                 Motorcycle
 1.  Troy Corser           Aprilia RSV 1000
 2.  Troy Bayliss          Ducati 996
 3.  Ben Bostrom           Ducati 996
 4.  Regis Laconi          Aprilia RSV 1000
 5.  Gregorio Lavilla      Kawasaki ZX 7RR
 6.  Colin Edwards         Honda VTR1000 SP-2 
 7.  Pierfrancesco Chili   Suzuki GSX-R750
 8.  Akira Yanagawa        Kawasaki ZX 7RR
 9   Hitoyasu Izutsu       Kawasaki ZX 7RR
10.  Stephane Chambon      Suzuki GSX-R750

Race 2

Pos  Rider                 Motorcycle
 1.  Troy Corser           Aprilia RSV 1000
 2.  Troy Bayliss          Ducati 996
 3.  Gregorio Lavilla      Kawasaki ZX 7RR
 4.  Colin Edwards         Honda VTR1000 SP-2
 5.  Neil Hodgson          Ducati 996
 6.  Akira Yanagawa        Kawasaki ZX 7RR
 7.  Pierfrancesco Chili   Suzuki GSX-R750  
 8.  Ruben Xaus            Ducati 996
 9.  James Toseland        Ducati 996
10.  Stephane Chambon      Suzuki GSX-R750

Standings: Corser 50, Bayliss 40, Lavilla 27, Edwards 23, Yanagawa and Chili 18, Bostrom 16, Laconi 13, Chambon 12, Hodgson 11 etc.
Briefs
The only Argentine driver to win a World Rally Championship event has died at the age of 51. Jorge Raul Recalde had a heart attack while inspecting the clutch of his Ford Escort during the first event of the Argentine rally series, dying shortly afterwards in hospital. From 1995 to 1998 Recalde competed in the World Rally Championship, mostly in Group N, and won the 1995 Rally Argentina outright driving a Lancia Delta Integrale.

Kevin Harvick wrote an emotional chapter to the Dale Earnhardt saga at the Cracker Barrel 500 at Atlanta Motor Speedway on the weekend. Harvick, who took over the Richard Childress Racing entry after the death of Dale Earnhardt at Daytona last month, won the race, finishing just six thousandths of a second ahead of Jeff Gordon. There wasn't a dry eye in the house as Earnhardt's car won the race that Earnhardt had won in a photo finish last season. It was a second such release for Earnhardt fans after Steve Park won the the second round of the season, the Duralube 400, in one of the cars owned by Earnhardt's DEI team, while Jeff Gordon won last week's UAW-Daimler/Chrysler 400. After four rounds, Jeff Gordon leads the Winston Cup standings on 613 points from Dale Jarrett (576) and Johnny Benson (540).
Upcoming Events Calendar
March 17 - American Le Mans Series, Round 2/ European Le Mans Series Round 1; Sebring 12 Hour, Florida, USA
March 22 - World Rally Championship, Round 4; Catalunya Rally, Spain
March 31 - International Formula 3000 Championship, Round 1; Interlagos, Brazil
April 1 - World Superbike Championship, Round 2; Kyalami, South Africa
April 8 - World Motorcycle Championship, Round 1; Suzuka, Japan
April 8 - FedEx CART World Series, Round 2; Long Beach, California, USA