Few drivers have made their F1 debuts under such close scrutiny as Juan Pablo Montoya. It's not just the quality of his racing resume that precedes him into the sport's top category that has caused all the hype, or even all the flattering comments that have been made by some of racing's most experienced figures about his huge driving talent. Montoya possesses something more - that hard-to-quantify extra 'something' that sets some drivers apart.
Some observers have called him arrogant. All recognize that he is an extremely confident individual; Sir Frank Williams said in Australia that his new driver does not suffer from any "self doubt." Already there are signs that when his developing BMW-Williams-Michelin combination gets a little more reliable, and a little bit quicker, Montoya is going to be sensational.
In Malaysia, Montoya suffered a weekend that went from a really down Friday, to an impressive Saturday, and on to a totally disastrous race day. On the opening day he didn't manage to record even one representative lap time after his car was stranded in the pits for most of the session, and this on a circuit that was totally new to him.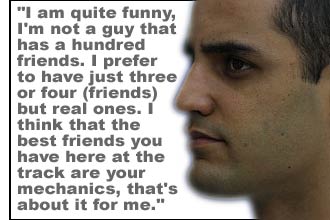 But, when he eventually emerged from the garage, he failed to make it around to complete even one timed lap, after his car left the circuit and damaged its undertray. "I had only done three laps here, I was pushing a bit hard, and actually I was going a bit too fast," Montoya explained afterwards. There is no self-pity, no apology in his voice, just the confirmation that he was going to 'go for it' at all times, at whatever the cost.
Yet there were plenty of signs, if you knew where to look for them, that Montoya was already getting to grips with the challenges presented by Formula One, but he was going to conquer those challenges in his own way. Not for him the conservative method, the steady accumulation route. He was going to go for it in his own aggressive way and to hell with the consequences.
In F1 so far the Colombian has also been something of a contradiction from the reputation that he gained in America in his dealings with the Media. He became known in CART circles for his sometime one-word responses to questions. A well-known Radio reporter once told me that he returned to the studio after a ten-minute interview with Montoya, and found that he had no material he could use, so low-key were Montoya's responses.
But this is Juan Pablo Montoya speaking in Malaysia on Friday, after his miserable practice session, and then on Saturday after he bounced back to qualify an impressive sixth on the grid. On growing up in Colombia, on his friendships, his family, his opinions on his country's drug problems, his thoughts on his team, how he has learnt to control his emotions, and much more...
Q: Because of the heat, are there any special preparations for this race?
Montoya: No, just drink more water and get on with it. If you are well prepared you will be all right, but if you are not you might struggle a little bit.
Q: What do you do outside when you are not driving, dancing?
Montoya: No, I like to go out to dinner and stuff like that, but I am not a party guy really. I have never been like that.
Q: Do you have many friends inside or outside Formula One?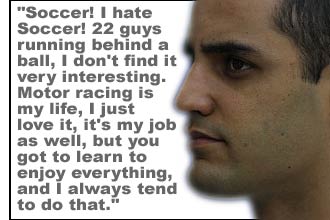 Montoya: No, I am quite funny, I am not a guy that has a hundred friends. I prefer to have just three or four (friends) but real ones. I think that the best friends you have here at the track are your mechanics, that's about it for me.
Q: How important is your family for you?
Montoya: I think that they are very important, yes.
Q: If you have problems do you call them?
Montoya: Not really no, problems are part of the job you know. Some races are going to be good and some races are going to be really bad races, this could be one of the bad ones.
Q: Were your family behind you to get you into motorsport?
Montoya: Oh yes. You know, any [driver] who is here who says that his father didn't help him is full of shit, because when you are five or six years old you don't have much will to say what you want or don't want to do. So if they don't help then you don't get here.
Q: You have a few houses now, where are you living?
Montoya: I spend most of my time in Monaco; I spend some time in Madrid, and a little bit of time in England. Monaco is really nice, it's calm and has some really nice restaurants, I kind of like it really. Madrid is not my favourite city, but my girlfriend's there, so...
Q: How do you like the Englishness of the Williams team?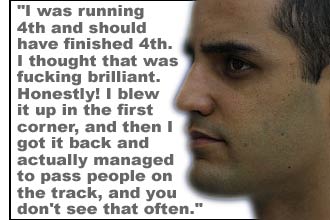 Montoya: It's alright. I lived in England for about four or five years before. You know, it's quite funny, because when I went to America I didn't understand their humour, I didn't understand anything. But I really loved it when I raced in America, I had a great time, but I had really done everything I had to do there, and it was time to move on.
Q: Growing up in Colombia, how come you didn't develop an interest in another sport, like Soccer?
Montoya: Soccer! I hate Soccer! Twenty-two guys running behind a ball, I don't find it very interesting. All my life I have been in motor racing. Motor racing is my life, I just love it, it's my job as well, but you got to learn to enjoy everything, and I always tend to do that. When I was growing up, I used to race or test Go-Karts nearly every weekend.
Q: How did you miss out, like everybody else growing up in Latin America, on being mad on Soccer?
Montoya: I don't think everybody is. Everybody takes things to extremes. Let's take for example the drugs. Everyone thinks that because Colombia is famous for the drugs, everyone thinks that if you go to Colombia you will find lots of drugs, but it's easier to find drugs in England than in Colombia. In Colombia they make the money and outside they use them. Really, that's what happens.
Q: Aren't you being a little glib here about a very serious problem?
Montoya: No. If they stop making the drugs in Colombia somebody else will make them. The big problem we have in Colombia is that the people making the drugs are the guerrillas and that's the way they are paying for the war - by using the drug money. And so all the time people are going to buy the drugs, it's all supply and demand. It's very straightforward.
Q: You have obviously had a frustrating day today (Friday) and Melbourne wasn't great, are you finding it tough....
Montoya (interrupts): In which way would you say Melbourne wasn't great? I was running fourth and should have finished fourth; I thought that was fucking brilliant. Honestly! Well from my point of view, my first race in Formula One, I had a brilliant start and then I blew it up in the first corner, and then I got it back and actually managed to pass people on the track, and you don't see that very often and I was in the running to finish fourth. I think it was pretty damn good actually.
Q: Let me rephrase the question then. Are you finding F1 a little bit more difficult than you expected?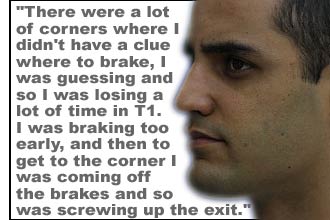 Montoya: No. I don't think that the car has the potential to win races. I think that if the car had the potential to win races Ralf would be winning races, and Jenson would have won races last year. I think the car has been improving from year to year, but like everything, everybody has to do a lot more work to get to the top. And for us to have a bad day like today just makes it more difficult, but it doesn't make me think, oooh, I'm done. If the best that I can do is twelfth I am going to try and be twelfth, but when the car is capable of getting first I am going to be trying to get first. I am not too bothered about it really. I think that last year, being in CART and being with Toyota, was a tough season for me. I finished about five races out of twenty-one, so if you take that into account, losing one Friday isn't a big thing.
Q: So do you think that what happened last year is helping you prepare for days like today?
Montoya: Oh yes, a couple of years ago I would have been going crazy, like... fucking useless car. But you learn, you know. There is nobody out there (in the garage) trying to screw me on purpose. The boys on my team, I'll guarantee, are working harder than anybody else out there and everybody is trying to do their best for me, and I am trying to do my best for them, so what can I do? This is a sport where weird things happen. We had a shit day today, but these things happen.
Q: The contact between the drivers; is it different in CART from Formula One?
Montoya: In CART you have some friends and some not so good friends, but here, I don't know, you don't talk to anybody.

And then he was gone, sprinting through the Paddock to the drivers' briefing, but somehow his words hung in the air. Not the normal platitudes of a programmed PR machine that has become so much the norm in present day F1, but the words of a racing driver passionate about his sport, and delivered with that touch of Latin feeling that has been missing from Formula One for too long.
On Saturday afternoon, he was back in what passes for the Williams 'Motorhome' at flyaway races, and his mood was distinctly more upbeat, although his self-criticism, together with his self-confidence, was still very much in evidence.
Q: How much happier are you today?
Montoya: A lot, really. I have to admit it was quite good. But there were a lot of corners - like turn one, for instance - where I didn't have a clue where to brake, I was guessing and so I was losing a lot of time in T1 (the first sector). I was braking too early, and then to get to the corner I was coming off the brakes, and then I was carrying too much speed into the corner, so I was screwing up the exit. So I was really not doing anything close to be right. So from that prospective I am a little disappointed, but at the same time I am very happy with the job we did. I am very happy that the team is up there. The tyres seem to be working really well and the car as well. We are ahead of McLaren, so it's very encouraging.
Q: Was there much damage from the spin you had this morning?
Montoya: Nothing, really, just scratched a bit of the floor and the front wing, that's it. We did a change in the car and I tried a bit too hard and it just stepped out and whoops, shit happens. You know, I wasn't very keen on giving anything away to be honest; I was 100 percent all the time, even after the spin. It was actually quite funny because we did some changes and even with new tyres I didn't run much quicker than with the old tyres, and I was a bit disappointed with that. So we had to undo all we had done in the second session and go back to our basic set-up and qualify with that. So set-up wise the car was good, but I thought that there would be a lot more to come.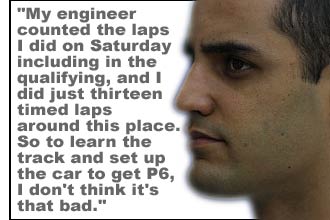 Q: Do you think that without that spin, you could have been fourth in qualifying?
Montoya: I think that fourth was very realistic. I had it, but in the last sector in the last run I had a bit too much oversteer. On my third run I was six tenths faster but I blew it under braking. We did a change on the car because we had too much oversteer, but I still had too much understeer in the faster corners, so we decided to put even more front wing on for then for my last run, so I managed the first part of the lap quite well and was actually going faster than my third run, but in the end I decided not to take a chance again and it worked quite well.
Q: If you do get to the end of the race and you are in good shape, will you go to Frank and say: Hey, how about my state of fitness now?
Montoya: Actually, after Melbourne he came to me and said how surprised he was about how consistent my lap times were. He actually thought that my lap times would be going up because I wasn't fit. But up to that time in the race I was cool about it. I didn't have any problems.
Q: Do you sweat more here?
Montoya: Oh, you sweat a lot in this heat. I normally don't drink in the car, like I have a bottle in the car, but when I broke down in Melbourne the bottle was still full. So for now my plan is just to go out there and start drinking from the beginning of the race, because if you start feeling you need to drink then it's too late.
Q: Some drivers have complained that this track is really difficult to learn because it's so wide. Did you have any problems?
Montoya: It is wide, but when you are doing 200/300 km/h it's not that wide. I thought it was going to be, 'ooh... where to go' - that's what you hear from everybody - but actually it's not that tricky. This track is very technical and it's a lot of fun - it's one of the best tracks I have ever driven, to be honest. It has a couple of fast corners where you have to be really on it, and you have to brake as you are turning and stuff like that and that makes it really interesting. You have to be balls out all the time, it's good.
Q: Do you ever get any grief from Patrick or Frank when you have a spin like in qualifying?
Montoya: No. Well, they always say 'Ooh it was going good, but...' - always a but, you know. But you have to understand them; they want to see the cars running up there all the time. And at the same time I want to see the cars running up there too. But to be up there you have to be pushing, and you know, to be in sixth after not running on Friday is pretty good. My engineer (Tim Preston) counted the laps I did today including qualifying, and I did just thirteen timed laps around this place. So just thirteen laps to learn the track and set up the car to get P6, I don't think it's that bad.
Q: Is the set-up between your car and Ralf's quite similar?
Montoya: No, I can't drive his car, I don't know how he drives it. Every driver drives differently, he is very hard on the brakes, and he just drives completely differently from me.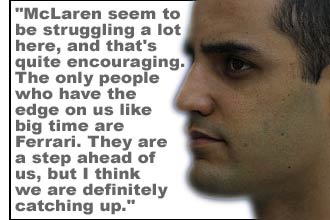 Q: The Williams cars are always fastest through the speed traps, would you like to see more downforce on the car?
Montoya: No, with the way the car is at the moment, this is the best way to run the car.
Q: So is it difficult through the faster corners?
Montoya: No, I like it in the really fast corners, and looking at the data, I am a bit faster than Ralf; most of the time he made from me was on the braking. He was about three tenths faster than me on the braking into the first corner and another three tenths in the braking area around the back. So I think we will be fine.
Q: Will you be talking to Ralf before the start...
Montoya (interrupting): What for?
Q: Well, just in case you make another great start (like Melbourne) and are alongside him when you go into the first corner (Montoya started eleventh on the grid in Melbourne, Ralf started from fifth).
Montoya: Do you want to hear something really funny? I was right behind Ralf when I braked for the first corner in Melbourne and yet he made a faster start then me. Honestly, on the data his start was faster than mine. I think what really helped was that my reaction time was quite good; actually when (Jacques) Villeneuve started moving I was already beside him. Initially I thought, shit, did I jump the start? Because I was sure that I let in the clutch when the lights were gone, but it's not right that you pass five people at the start in your first Formula One race.
Q: You overtook a lot of cars in Australia, what's you take on how strong the BMW engine is?
Montoya: I think it's really strong. There is a lot more developments coming on, so I would be surprised if we don't have one of the strongest engines at this time. It looks like Ferrari are running a lot of downforce and dragging the car, because they are not very quick on the straights, but they are making the lap times.
Q: What's the feeling in the team about your good qualifying?
Montoya: The team is really excited about it. Really. Ralf beat both McLarens and I beat Coulthard, and I was just two tenths from Mika. They seem to be struggling quite a lot here, and that's quite encouraging actually. You know, the only people who have the edge on us like big time are Ferrari. They are a step ahead of us, but I think we are definitely catching up.