Always alert to the latest developments in Formula One, eager to enhance the unrivaled timeliness of Atlas F1, your contributor has spotted the first important new trend of the 2001 season. It's called "trash your rival engineer."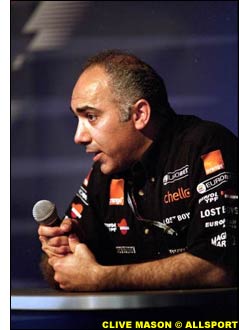 For decades we've been used to its counterpart, known as "trash your rival driver." It's a well-established tradition of Grand Prix racing that drivers play mind games with their opponents and, more recently, with their teammates as well. Among the expert practitioners of this art we can include Rudy Caracciola, Juan Fangio (yes, even Juan), Stirling Moss, Jackie Stewart, Alain Prost and, contemporaneously, Jacques Villeneuve and Michael Schumacher. All of them have exploited the fact that if you have your rival beaten psychologically before he even steps into the cockpit, you have a huge advantage.
Now, for the 2000s, the engineers are joining in the mind games. Jaguar's new aero man, Mark Handford, put the hex on Eghbal Hamidy of Jordan, ex-Arrows, in an interview with Autosport. "I must say that Hamidy's cars are very slippery in a straight line," he remarked, "but you must take a closer look at the lap time. There is so much emphasis on the trap speed and the split times, but when did Arrows last win a race?" Nice one, Mark.
Not content with rubbishing the results of Hamidy's aero work, Handford went on to criticize his management style: "There are also some ways that he works a department that doesn't get the best out of people. You need a culture and discipline in departments, but not a vise-like grip." Here we have a bald suggestion that Hamidy is a tyrant. Thus, we are seeing the first evidence of a new trend: engineers are starting to try to shake the confidence of their rivals at other firms by publicly criticizing their work.
In this instance I doubt that the effect will be very great. Hamidy is unlikely to be quaking in his boots over this sally from an aerodynamicist who hasn't even been in Formula One for almost a decade, and even then was allied with such backmarker teams as Beatrice Haas and Tyrrell. Handford's main claim to fame in CART was designing a wing to slow cars down. But now that the wastegate has been opened we can expect more of this sort of slagging-off of the work of technical competitors.
Handford's mention of "departments" shows how much the design of Grand Prix cars has changed. Patrick Head remarked on this recently: "I was happier when we were competitive with a staff of 150 employees. Today we have 350 people. Fifteen years ago my work included racing, development, a testing program and the construction of next season's car. In spite of this I found time for a visit to a restaurant. Today I am no longer involved in this wide range of work, and nevertheless rush from appointment to appointment. Everything is hectic."
Why is this? Ross Brawn of Ferrari provides a clue: "If we took a risk on a new concept and had a bad year, it would have serious consequences for individuals and the company. Everything these days is much more thoroughly assessed before you do it. There's not the cavalier attitude there was 20 years ago. It was less professional then; we would take three sets of parts and two cars. Now we take three race cars, six sets of parts, ten engines, six gearboxes. It's just a different level."
Assessing all the alternatives, fine-tuning the details and initiating development programs to try out new Formula One design concepts well in advance demands separate departments and staffing in depth on a scale never previously contemplated in racing - at least not since Mercedes-Benz in 1954-55. At the top, the Heads and Brawns of this world have an awesome coordination task. Politics are getting as important as proficiency. Is it any wonder, then, that mind games are starting to play a role in designing as well as driving?