"I would appreciate If you can let me know where to order F1 videos of the 80s and 90s (I am especially interested in the years when Prost and Senna raced [85-93] and would like to have yearly round-ups instead of individual full races and if possible with commentary by Murray Walker!). I am asking for too much? Please let me know. Best Wishes, Gopa"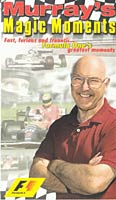 Our bookstore partner Amazon UK offers a wide range of Formula One videos (in PAL format). From their main page, select "video" in the browse menu on the left, then "sports & fitness" on the next page. Next you select "motorsport" and then "Formula One". Their selection includes all official FIA season reviews from 1982 until now.
They FIA's season reviews don't feature Murray Walker's commentary, however, but there is one classic video you should take a look at - Murray's Magic Moments". It is, as the name suggest, a great collection of magical moments, both for Formula One and for the veteran commentator. Amazon lists another Murray Walker F1 collection video - "Murray's Formula 1 Celebration" - and that just may be a more updated version of the previously mentioned collection. Either way, a Murray video is always a guaranteed entertainment.
"This question could be quite difficult to answer, but I thought I'd give it a go. Are you able to find out the hottest & coolest temperatures ever recorded during a Grand Prix race? Anthony"
From various sources, three races appear to contend over the title hottest race ever. Both the 1959 French Grand Prix at Reims and the 1984 Dallas Grand Prix have temperatures around 105°F (40°C). Absolute record holder, though, is the 1955 Argentinian Grand Prix. With temperatures of 99°F (37°C) in the shade and asphalt temperatures of 125°F (52°C) this was almost unbearable.
As shared drives were allowed in those days, only two drivers drove the entire race without taking a break: Juan Manuel Fangio, who won in a Mercedes, and fellow Argentinian Roberto Mieres in a Maserati. One of the Ferraris had no less than five different drivers, while both Jean Behra and Maurice Trintignant drove three different cars in between brakes.
I haven't been able to find much on the coldest Grand Prix so far. I've seen the 1993 European Grand Prix at Donington mentioned, but exact figures are presently unknown to me.
"my question concerns the weighing of F1 cars...is the minimum weight with or without the driver onboard?...If without, is that why most of the current drivers tend to be on the light side? Robert"
Article 1.9 of the FIA Technical Regulations says the following: "Is the weight of the car with the driver, wearing his complete racing apparel, at all times during the event." Furthermore, article 4.1 defines that this weight may not be more than 600 kg. If the entire package weighs less than 600 kg, the team is required to add ballast to the car. Now that's exactly where the low weight of some drivers comes in handy. The weight of the drivers can only be placed in one position, while the ballast can be put in different places and can thus be used to give the car a better centrepoint of gravity.
"Is there any official significance to when a team launches? Can they not test their new car until a launch has taken place? Are there limits to what they can change / update on the car after an official launch takes place?"
The date of the launch isn't significant in any official way. Maybe some teams psychologically like to be ahead of others or the other way around. In the last four seasons the first team to launch their car all had good but not great seasons. They can - and sometimes do - test their new car before the official launch, as did Jaguar last season. The teams can also change their cars as much as the like as long as they stay within the rules.
"I noticed that the constructors were testing interim-spec 2000 cars on test days. Is this because their new cars were not officialy launched? Are there any constructors that were using their new chassis as well as their new engines? Regards, Hans"
This doesn't have as much to do with the launch of the new car as well as the fact that the new cars simply aren't ready yet. If you read last week's F1 news wrap-up, you'll notice that, for example, Arrows have just finished their first new chassis, while Jordan are nearing completion on their new chassis.
"As many of you may have noticed, CART driver Adrian Fernandez has a knack of winning races anywhere in the world EXCEPT the USA. Has there been any F1 driver who has a similar dominance (or non-dominance) in a particular part of the world? Regards, Max"
There are various drivers who have won at almost all circuits they competed, but for some reason never performed well at a few tracks. Nigel Mansell springs to mind. There are only three circuits where the Briton has never won. In Monaco he never scored better than second in twelve attempts. Detroit was even worse for Nige: in seven attempts, fifth was his best result. This looks like a specific dislike for tight and twisty street-circuits.
Stirling Moss had the opposite: the only circuits where he competed regularly and never won, were two of the fastest circuits in Grand Prix history - Reims and Spa-Francorchamps. Ayrton Senna only has two circuits where he never won, despite racing more than five races on each circuit: Paul Ricard and Jacarepagua.
Michael Schumacher is a driver who performs better in Europe than outside the continent. The only two circuits in Europe where the German hasn't won are the A1 Ring in Austria and Donington in England, where he only competed once. The other three tracks where the World Champion never won are all outside Europe - Mexico City, Adelaide and Kyalami.
Dominance in certain parts of the world are a different story. Somehow Michele Alboreto seems to have a particular love for North America; of his five wins, two were in the USA and one in Canada. However, no driver with a significant number of wins had achieved all of them in one country or even one continent.