Sports Cars
Michele Alboreto 1956-2001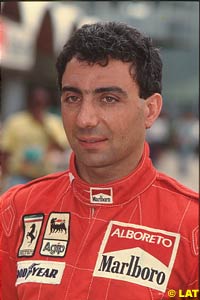 The 25th of April saw the death of one of the biggest names of 1980s Formula One. Travelling down one of the long straights on the high speed test track at the Lausitzring, Michele Alboreto lost control after a suspected tyre failure on the Audi R8 roadster he was testing prior to the Le Mans 24 Hour Classic. The car veered sideways and rolled several times, fatally injuring Alboreto.
Alboreto spent 14 seasons in Formula One, racing for Tyrrell (1981-83 and 1989), Ferrari (1984-1988), Larrousse (1989), Arrows (1990-1992), Scuderia Italia (1993) and Minardi (1994). He won five Grands Prix for Ferrari and Tyrrell, and is the last Italian to win a race for Ferrari. The pinnacle of his career was in 1985 when he finished second in the World Championship to Alain Prost. After leaving Ferrari, his experience was much prized and he was still scoring points in his final season with the perennially beleaguered Minardi team.
After Formula One, Alboreto pursued what became an on-off career in sportscar racing, in particular becoming a regular with the legendary Joest team, along the way claiming victories at the Sebring 12 Hour, Petit Le Mans, and in 1997, the legendary Le Mans 24 Hours.
CART
Texas Motor Speedway Sends CART Dizzy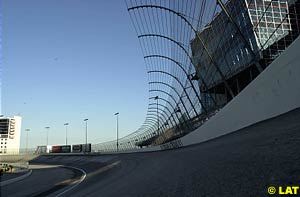 After the first four rounds of the original CART 2001 calendar, only two races have been successfully completed. Adding to the earlier cancellation of the Jacarepagua race in Brazil, Texas Motor Speedway's race was postponed after the completion of qualifying.
Drivers were complaining of headaches and blurred or tunnel vision, symptoms similar to those fighter pilots experience when exposed to high G levels in air combat manoeuvring. The cars achieved speeds of over 380kph around the Texas Motor Speedway, and more alarmingly on the steep 24 degree banking saw the drivers experiencing centrifugal forces of more than 5G. While fighter pilots are only exposed to these forces for short periods of time (and wear 'G-suits' to reduce the effects), the drivers would have been exposed to it twice every 23 second lap of the 249 lap race, creating real fears a driver might lose consciousness at the wheel.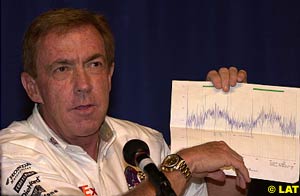 Texas Motor Speedway officials brought this possibility to CART's attention earlier in the season but CART adopted a wait and see approach. As a result, Texas Motor Speedway filed a multi-million lawsuit against CART.
In a prepared statement, track general manager Eddie Gossage said: "We wanted to avoid this suit, but CART has not been very responsive to the losses and damages suffered by Texas Motor Speedway and the fans." Last Friday, the track, which is owned by Speedway Motorsports Inc., announced that it would issue refunds to ticket-holders. The exact amount of damages sought in the suit was not disclosed by the Speedway.
The statement said: "The suit seeks the return of the purse and sanction fee in addition to the compensation for expenses incurred by the Speedway, lost profits and other damages." According to the Speedway, it could not reach agreement with CART on how to pay for the cancellation of the race. Speedway officials argue that CART had not done enough to curtail the speed of its cars, which caused the disorientation after 20 to 30 laps at over 230 mph (370 kph). "The symptoms suffered and the G-forces are caused by driving too fast," Gossage said. "CART is totally responsible for regulating the maximum speed of its race cars, not Texas Motor Speedway, and CART refused to regulate it."
CART officials were not immediately available to comment on the suit filed in Denton County, Texas.
Rookie Dixon Stuns Field at Nazareth
The young reigning Indy Lights Champion from New Zealand, Scott Dixon, wrote several pages of Champ Car history, winning the LeHigh Valley Grand Prix at Nazareth Speedway, the fifth round of the FedEx CART World Series. A mature drive and a guiding hand from Team PacWest strategists pulled a win from the bag when it seemed most unlikely for the team who hadn't won a race in over three seasons.
With team leader Mauricio Gugelmin missing, mourning the recent death of his young son and Dixon down in 23rd grid position, it seemed staggeringly unlikely that PacWest would break their run of outs. Dixon pitted very early in the race and made only one other major fuel stop, just past half distance. It was a strategy that gave him track position in the first half of the race, and allowed him to outrun much higher credentialled racers in the second half.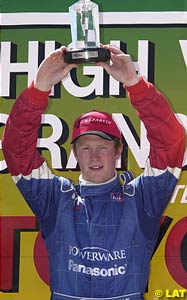 It seemed a cruel blow to Kenny Brack who looked to be the race winner until just before race's end. He had the speed and the ability, but had no answer to the 'swifty' pulled by PacWest. It was expected that Brack would retake the lead when Dixon pitted a third time for the run to the finish. It was a pitstop that never came. Paul Tracy claimed third for Team Kool Green, taking the place in an aggressive move on Jimmy Vasser during a pace car restart. Next were former teammates Christian Fittipaldi and Michael Andretti on the notoriously processional circuit. Bruno Junqueira finished seventh after starting from pole in his debut oval race, despite having a broken radio, leaving Junqueira without the level of support from his crew that he could have normally expected.
"Basically, there was a lot of radio conversation with 10 laps to go about whether or not we had enough fuel to go the distance quite happily. We're lucky that we saved a lot of fuel earlier on so we could run 'full rich'. Our car was really strong on the exits of the corners. It was sort of hard to know what to expect. We've had a lot of down time with the team this year and this week with Mauricio not joining us. I was a little down yesterday after qualifying 23rd," said Dixon, stunned by the result. "I don't know how this will affect the team, it hasn't really sunk in yet," he added.
Tracy's third place moves him up to joint leadership of the championship alongside Cristiano da Matta. The next round is in Japan at the Motegi Twin Ring on May 19.
Results of FedEx CART World Series, Round 4, Nazareth Speedway, USA:

Pos  Driver                Car
 1.  Scott Dixon           Reynard-Toyota
 2.  Kenny Brack           Lola-Ford
 3.  Paul Tracy            Reynard-Honda
 4.  Jimmy Vasser          Reynard-Toyota
 5.  Christian Fittipaldi  Lola-Toyota
 6.  Michael Andretti      Reynard-Honda
 7.  Bruno Junqueira       Lola-Toyota
 8.  Dario Franchitti      Reynard-Honda
 9.  Oriol Servia          Lola-Ford
10.  Cristiano da Matta    Lola-Toyota

Drivers' standings: Cristiano da Matta and Paul Tracy 40, Gil de Ferran and Jimmy Vasser 30, Kenny Brack and Helio Castroneves 29, Michael Andretti and Scott Dixon 20, Dario Franchitti 17, Tony Kanaan 12 etc



World Rally Championship
Brits on Top in Argentina
Colin McRae has had a woeful season littered with mechanical and scenery induced failures. In Argentina, the pace the 1995 World Champion has shown in patches all year shone out like a beacon. The only one to come close was fellow Brit Richard Burns in a Subaru. The battle between the two was intense, swapping stage victories regularly, but McRae posted his first victory of the year with panache.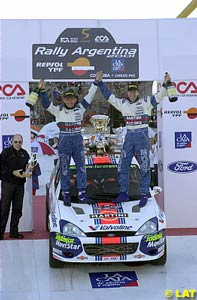 "I've never been so relieved in all my life. It's been a marvellous rally for me and the Ford team and the car ran perfectly throughout. Richard (Burns) was pushing hard all the time and we couldn't relax but that makes the win more worthwhile," said the Scot.
Ford could hardly have been happier. Carlos Sainz was a comfortable third but a pinched nerve was causing Sainz constant back pain, and so he wasn't able to run at the pace McRae and Burns were setting. It was doubtful in the morning that Sainz would even suit up, but suit up he did, and the result was definitely worth it. Francois Delecour brought his Focus home in seventh, showing the consistency of the car and team, showing pace too after having to recover two minutes from a crash on leg 1. So far, Sainz and Delecour have brought their cars to the line in every rally this year.
Burns did all he could, and then some more, but it wasn't enough. The good news though is that the Subaru is definitely on the pace, and the team was just as happy to have Petter Solberg home in fifth place as the Norwegian's pace continues to evolve.
The sport's competing legend Tommi Makinen was off the pace, particularly on leg 2 where he felt he'd gone the wrong way with tyre choice, selecting tyres too hard for the conditions. Makinen was also delayed by two brushes with scenery, the first induced by an errant spectator. Spectator control would be a problem in Argentina with Special Stage 12 cancelled due to excess spectators on the course, following an incident involving the Skoda team. Both Makinen and teammate Freddy Loix recovered lost ground (Loix had gently rolled on leg 1) on the final day to finish fourth and sixth respectively, but for the Lancers it was not a rally to savour.
Peugeot's hot and cold year continues. Marcus Gronholm led the Peugeot charge but it was an insipid charge, ending with Gronholm's crash on Special Stage 18. Didier Auriol was floating around the bottom of the top ten when he lost eight minutes off the road on the final stage, while Harri Rovanpera went out early with suspension and electrical dramas.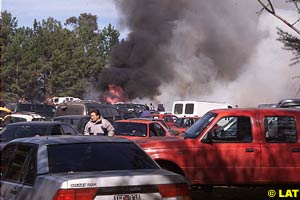 Skoda continues to develop their underfunded Octavias, but the strangest of mishaps ended their rally prematurely. A fire in a car park (that ended up destroying 20 cars), accidentally started by a spectator's barbeque, saw a fire truck called to the scene, but unfortunately while driving through the rally's service area the fire truck's driver lost control and crashed into the stationary Octavias. A Skoda team engineer was hurt in the incident and had to be flown to hospital. The damage to the Octavias was sufficient to put them out of the event.
The two Hyundais had consistent runs in the top ten, but Kenneth Eriksson lost a wheel on the second last stage, leaving Alister McRae the only finisher for the Korean marque. Considering both cars briefly caught fire late on day 1, it's perhaps a more admirable achievement than it looks on paper.
Gabriel Pozzo dominated Group N in his home event, and climbed into the top ten, threatening the likes of the Accents and the third factory Subaru of Toshihiro Arai for position.
Next stop for the off road adventurers is the trouble strewn isle of Cyprus.
Results of World Rally Championship, Round 5, Rally Argentina:

Pos  Driver                Car
 1.  Colin McRae           Ford Focus
 2.  Richard Burns         Subaru Impreza
 3.  Carlos Sainz          Ford Focus
 4.  Tommi Makinen         Mitsubishi Lancer
 5.  Petter Solberg        Subaru Impreza
 6.  Freddy Loix           Mitsubishi Lancer
 7.  Francois Delecour     Ford Focus
 8.  Toshihiro Arai        Subaru Impreza
 9.  Alister McRae         Hyundai Accent
10.  Gabriel Pozzo         Mitsubishi Lancer

Standings: Tommi Makinen 27, Carlos Sainz 22, Harri Rovanpera, Didier Auriol and Colin McRae 10, Richard Burns and Francois Delecour 9, Thomas Radstrom and Gilles Panizzi 6, Toni Gardemeister 5 etc
Moto Grand Prix
Valentino Rossi Three, Rest of the World Nil
While it's been an excellent year of racing for the 500s, Valentino Rossi has now won all three races, with a style and a verve that leaves little doubt as to the identity of the 2001 World Champion as long as he stays upright. Rossi fought hard with Norick Abe for the whole race, but late in the race pulled clear of the Japanese rider. Third was Alex Criville, revelling in the home crowd atmosphere at Jerez.
Rossi and Abe pulled rapidly clear of the field early in the race with Loris Capirossi, before Capirossi ran off the circuit, rejoining well down the order. The mover in the field was Criville, who after starting from a lowly twelfth picked off bike after bike, thrilling the crowd. Criville passed Shinya Nakano for third just past half distance but by race end was just short of Abe in second. Tohru Ukawa on the Repsol Honda won the battle for fifth behind Nakano, with Alex Barros close behind. Kenny Roberts Jr was part of this battle for most of the race, but dropped away as the race progressed.
In the 250cc class Katoh made it three in a row just like Rossi, while in the 125cc class Masao Azuma took the win as former series leader Youichi Ui crashed.
Results of World Motorcycle Championship, Round 3, Jerez, Spain:

Pos  Rider               Motorcycle
 1.  Valentino Rossi     Honda NSR500
 2.  Norick Abe          Yamaha YZR500
 3.  Alex Criville       Honda NSR500
 4.  Shinya Nakano       Yamaha YZR500
 5.  Tohru Ukawa         Honda NSR500
 6.  Alex Barros         Honda NSR500
 7.  Kenny Roberts Jr    Suzuki RGV500
 8.  Loris Capirossi     Honda NSR500
 9.  Garry McCoy         Yamaha YZR500
10.  Sete Gibernau       Suzuki RGV500

Standings: Valentino Rossi 75, Norick Abe 44, Shinya Nakano 37, Loris Capirossi 36, Alex Creville 33, Max Biaggi 29, Garry McCoy, Tohru Ukawa, Alex Barros and Kenny Roberts Jr 27 etc.



Formula 3000
Enge Victorious at Barcelona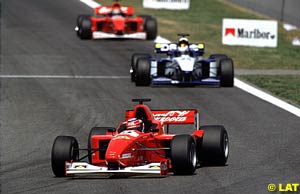 The International Formula 3000 circus followed as ever in Formula One's footsteps to Barcelona for round three, producing more of the same, a closely fought but processional race.
From qualifying it was the red cars to the fore, Tomas Enge leading the charge, while last start winner Mark Webber crashed his Super Nova Lola heavily, thankfully not aggravating the Australian's troublesome cracked rib which has bothered him since a Benetton test prior to the first F3000 round.
Enge won the start from poleman and teammate Justin Wilson to lead away the fast starting Bas Leinders, with Wilson slotting in behind, just ahead of Super Nova's Mario Haberfeld. Darren Manning dropped down the field quickly to 21st, after outbraking himself off the circuit, while Mark Webber got a good start from eleventh to climb up the field by race end to seventh. Webber briefly held sixth but was unable to stay ahead of Antonio Pizzonia in what was essentially the only contested position in the points.
The next round is at the A-1 Ring in Austria.
Results of International Formula 3000 Championship, Round 3, Barcelona, Spain:

Pos  Driver              Team
 1.  Tomas Enge          Coca-Cola Nordic Racing
 2.  Bas Leinders        Keerbergs Transport Racing
 3.  Justin Wilson       Coca-Cola Nordic Racing
 4.  Mario Haberfeld     Super Nova Racing
 5.  David Saelens       European Minardi F3000
 6.  Antonio Pizzonia    Petrobras Junior Team
 7.  Mark Webber         Super Nova Racing
 8.  Patrick Freisacher  Red Bull Junior Team
 9.  Giorgio Pantano     Team Astromega
10.  Antonio Garcia      Red Bull Junior Team

F3000 standings: Justin Wilson 15, Tomas Enge 14, Mark Webber 10, Darren Manning, Jaime Melo Jr and Bas Leinders 6, David Saelens 5, Sebastien Bourdais and Antonio Pizzonia 4, Mario Haberfeld 3 etc



Superbikes
Local Wildcard Riders Take Control
The annual visit to Sugo brought its usual strange set of results as the local Japanese riders took control of the difficult and challenging Sugo layout.
Ben Bostrom was able to win the start, but while he'd been fast in qualifying and quick off the line, the bike wasn't handling well, and Bostrom quickly fell into the clutches of one of the few regular world championship riders to beat the locals at Sugo in the past, Troy Corser. Corser though was quickly being reeled in by Kawasaki's Hitoyasu Izutsu and the Honda of Makoto Tamada. By lap two, only Corser stood in Tamada's way. Behind Corser it was all Japan, as Izutsu, Akira Ryo (Suzuki) and Tamaki Serizawa quickly gapped the fading Bostrom. On lap five, over the crest on the main straight Tamada took the lead. Serizawa battled fiercly with Ryo for fourth, until while under pressure from the charging former factory Honda 500cc rider Shinichi Ito, Serizawa got a corner wrong and ran wide, allowing Ito and Lavilla through. It would all be in vain when Serizawa's Kawasaki died.
Up front Tamada was untouchable, winning clearly from Corser's Aprilia, in turn holding off Izutsu's Kawasaki from Ito and Ryo, while Lavilla barely held back Neil Hodgson for sixth. Lavilla's sixth place was little reward for the Spaniard despite his great ride, which saw him beat all the world series regulars except Corser.
Bostrom again got the holeshot start for race two but began fading again almost immediately, and so it was Izutsu who made the early running once he made it past Bostrom. Serizawa slotted into third ahead of Corser, Tamada, Hodgson, Ito, Chili and Akira Yanagawa. Whilst Serizawa was quickly up to second, the real menace was the race one winner. Ito fought his way past Hodgson, while Izutsu powered clear of the field, but the mover was Tamada, menacingly picking off each bike between himself and Izutsu. The lap record fell on lap four. Izutsu had nowhere to hide, and Tamada hunted him down (with Serizawa in close company), and with 12 laps remaining Tamada was through, and the race was effectively over.
Izutsu then had Serizawa to be concerned about, although the rapidly closing Ito would give Izutsu a short lived break, as Ito went off attempting to pass Serizawa. Ito regained the circuit to fall to Ryo, while further back Corser fell to Hodgson and Lavilla ended his excellent weekend early with a crash. Ito dropped steadily down the field to finish ninth. Three Japanese riders finished in the top three positions, with Ben Bostrom leading the world series regulars in fourth from Hodgson and Corser who had gone the wrong way with changes to his bike's set-up.
Corser has retaken the lead in the World Championship from Troy Bayliss who, like most of the Michelin riders including Colin Edwards, were well down the field. The next round is at one of Superbike's favourites venues, the Autodromo Nazionale at Monza.
Results of World Superbike Championship Round 4, Sugo, Japan:

Race 1

Pos  Rider                 Motorcycle
 1.  Makoto Tamada         Honda VTR1000 SP2
 2.  Troy Corser           Aprilia RSV1000
 3.  Hitoyasu Izutsu       Kawasaki ZX7RR
 4.  Shinichi Ito          Honda VTR1000 SP2
 5.  Akira Ryo             Suzuki GSXR750
 6.  Gregorio Lavilla      Kawasaki ZX7RR
 7.  Neil Hodgson          Ducati 996 RS
 8.  Pierfrancesco Chili   Suzuki GSXR750
 9.  Ben Bostrom           Ducati 996 RS
10.  Wataru Yoshikawa      Yamaha R7

Race 2

Pos  Rider                 Motorcycle
 1.  Makoto Tamada         Honda VTR1000 SP2
 2.  Hitoyasu Izutsu       Kawasaki ZX7RR
 3.  Tamaki Serizawa       Kawasaki ZX7RR
 4.  Ben Bostrom           Ducati 996 RS
 5.  Neil Hodgson          Ducati 996 RS
 6.  Troy Corser           Aprilia RSV1000
 7.  Akira Ryo             Suzuki GSXR750
 8.  Pierfrancesco Chili   Suzuki GSXR750
 9.  Shinichi Ito          Honda VTR1000 SP2
10.  Yukio Kagayama        Honda VTR1000 SP2

Standings: Troy Corser 122, Troy Bayliss 100, Colin Edwards 80, Ben Bostrom 74, Pierfrancesco Chili 61, Gregorio Lavilla 55, Makoto Tamada 50, Neil Hodgson 49, Akira Yanagawa 47, Hitoyasu Izutsu 43 etc.
Briefs
Tony Stewart has taken his first NASCAR win for the season at Richmond over the weekend, leading home Jeff Gordon and Rusty Wallace, Wallace winning the previous week's race at California Speedway. Gordon's second placing has dramatically cut into Dale Jarrett's series lead with Jarrett on 1559 points to Gordon's 1545. Wallace is third on 1497 with Johnny Benson next on 1480, closely followed by Sterling Marlin (1421) and Ricky Rudd (1411).

The month of May means it is Indianapolis 500 time, and this year's entry list is arguably the best since the CART/IRL split. Leading the entry list, racing for Team Green, is Michael Andretti in a Dallara-Aurora. Fellow CART teams Penske and Chip Ganassi have also entered the banner IRL event. Gil de Ferran and Helio Castroneves will run Dallara-Auroras for Penske, while Chip Ganassi has decided to drop his two rookie CART drivers Bruno Junqueira and Nicolas Minassian for Indy as they have only started one oval race each. Instead he will run former CART champion (with Ganassi) Jimmy Vasser and IRL veteran and current NASCAR star Tony Stewart in the team's two GForce-Auroras.

Other names of note include former Indy 500 winners Al Unser Jr (Galles Racing GForce-Aurora) and Arie Luyendyk (Meijer GForce-Aurora), former CART and NASCAR racer Robby Gordon (A.J. Foyt/Richard Childress Racing Dallara-Aurora), veteran IRL and ex-Formula One racer Eddie Cheever (Cheever Racing Dallara-Infiniti) and former CART and IRL racer Scott Goodyear (Cheever Racing Dallara-Infiniti). As of May the 7th, it was 1999 IRL champ Greg Ray who was the fastest in practice for the American classic.

Across the Atlantic, the other great classic, Le Mans, has its practice under way as well. As expected, fastest were the two Audi R8 roadsters. Rinaldo Capello setting the fastest time in car #2, the car he will share with Tom Kristensen. Meanwhile, the Joest Audi team have yet to name a replacement for Michele Alboreto, killed in private tsting at the Lausitzring. Meanwhile the Audi of Johnny Herbert, Ralf Kelleners and Didier Theys was second fastest. A surprise was Martin Brundle recording the third fastest time in the brand new Bentley prototype, to be driven by Brundle, Stephane Ortelli and Guy Smith. Jan Lammers was fourth fastest in the Dome-Judd ahead of the third factory Audi R8 of Emanuele Pirro and Frank Biela, with the privateer Gulf Audi driven by Stefan Johansson next. The June classic will see Audi take on several other makes, including Panoz, Bentley, Chrysler, MG, Courage, Ascari, Reynard and Porsche.

New Zealand's Peter 'Possum' Bourne has won arguably the world's toughest hillclimb, the Silverstone Gold Rush at Cardrona, New Zealand. The event, now in its fourth year, was won by a local for the first time after having been previously dominated by Japanese Suzuki driver, Nobihiro 'Monster' Tajima. Bourne won the event in a modified version of his multiple Australian Rally Championship winning Subaru Impreza WRC. US-based expatriate Kiwi and multiple Pikes Peak champion Rod Millen was second in a hand built Toyota HiLux special, with Per Eklund third in a Saab 9-3. Tajima missed out after suffering engine trouble with his Suzuki Vitara. The event is based on the format of the Pikes Peak hillclimb, 'The Race to the Clouds', held annually during July in Colorado, USA.

The American Le Mans Series appears to have found a replacement for the Race of a Thousand Years in Adelaide, which was cancelled without warning two months ago by the South Australian government. It appears the race will now be held in the environs of Homebush Bay in Sydney. Homebush is no stranger to major sport, as the circuit is being laid out on the wide roads around Stadium Australia, recent home to the hugely successful 2000 Summer Olympiad.

Briton Matt Neal has severed his connection with the factory Peugeot 406 squad in the British Touring Car Championship, and has brought his Super Touring Nissan Primera out of retirement to join the European Touring Car Championship, which unlike the BTCC, runs under the Super Touring regulations.

Still on touring cars, the DTM circus kicked off its season on the short version of the Hockenheim circuit, with the feature race being won in convincing style by the Mercedes C-Class of Bernd Schneider, despite a pace car mistake which put Marcel Fassler (Mercedes C-Class) a lot closer than he should have been. The most disadvantaged by the error, Peter Dumbreck was third. When the pace car went out for the crashed Audi TT-R of Martin Tomczyk, it picked up Dumbreck instead of teammate and race leader Schneider. Uwe Alzen, Thomas Jager and Pedro Lamy completed an all Mercedes top six. The first Audi TT-R was Laurent Aiello in seventh, and the first Opel Astra was Timo Scheider in eleventh.
Upcoming Events Calendar
May 12 - International Formula 3000 Championship, Round 4; A-1 Ring, Austria
May 13 - World Superbike Championship, Round 5; Monza, Italy
May 13 - European Touring Car Championship, Round 4; Silverstone, UK
May 19 - FedEx CART World Series, Round 5; Motegi, Japan
May 20 - European Formula 3000 Championship, Round 3; Brno, Czech Republic
May 20 - European Touring Car Championship, Round 5; Zolder, Belgium
May 20 - World Motorcyle Championship, Round 4; Le Mans (Bugatti circuit), France
May 20 - European Le Mans Series, Round 3; Jarama, Spain
May 26 - International Formula 3000 Championship;, Round 5, Monaco
May 27 - World Superbike Championship, Round 6; Donington Park, Great Britain
May 27 - Indianapolis 500, Indiana, USA
May 31 - World Rally Championship, Round 6; Cyprus Rally
June 3 - World Motorcycle Championship, Round 5; Mugello, Italy
June 3 - FedEx CART World Series, Round 6; West Allis, Wisconsin, USA
June 4 - Formula 3 European Cup; Pau, France