With its inclusion in the 2000 Grand Prix calendar, Indianapolis instantly becomes the oldest Grand Prix location in the world of motor sport. Furthermore, it is a permanent facility. Previous title-holder Monza is a relative youngster, built in 1922, whereas Indianapolis was built in 1909. Only Brooklands in England is older, built in 1907, but there is very little chance of motor racing ever taking place there again.
The curious thing about Monza and Indianapolis is that in both cases, once agreement was reached on a circuit, things happened remarkably quickly. Monza, for instance, was built in 110 days. It took eight months for Indianapolis to be built, from the signing of the agreement to buy the land on December 12, 1908, to the first demonstration by a motorised vehicle, a motorcycle, on August 12, 1909.
That date in December is etched on the minds of historians, because that was the day local estate agent Lem Trotter reported back to Carl Fisher that he had an agreement to purchase 320 acres of farmland from the Pressley family, just 15 minutes northwest of downtown Indianapolis. The price was a relatively hefty $72,000.
Fisher, however, had already persuaded four friends to join him in putting up $50,000 each to form the Indianapolis Motor Speedway Corporation, which still owns the circuit today. The reasoning was just the same as at Monza: a race track and automotive testing ground to support the area's growing automobile industry.
Work began to grade the speedway on March 15. The layout, with two 3300 foot straights, and banked turns at nine degrees, 12 minutes is virtually unchanged to this day. More land was bought, so that the track covered 433 acres and the entire property covered 539 acres.
The surface, in these early stages, was made of crushed stone and while the track was still being prepared, the first event at the circuit was staged, a long distance hot air balloon race on June 5, won, appropriately enough, by a balloon named Hoosier which came down in Westmoreland, Tennessee.
Motorcycle races were scheduled for early August, and to promote the event, Ed Lingenfelder, from California, became the first person to lap the track, doing a 25 mile publicity run on August 12, 1909, a Thursday. The next day - shades of the pace of Monza's early history here - Lingenfelder won a 10-mile match race against Jake De Rosier of Springfield, Massachussets after the latter had a tyre blow. Four amateurs then raced, but the rest of the programme was called off, as concerns about the surface began to arise.
Three days later practice began for the following weekend's race meeting. Sixty-five cars turned up and in the first ever race at the Speedway, a two lapper, Louis Schwitzer drove a Stoddard-Dayton to victory. But the track began to break up and it was incredibly dusty. There were so many accidents in the main event, originally over 300 miles, that it had to be stopped after 235 miles.
Fisher, whose investment was growing towards $700,000, announced that the whole track would be paved with bricks immediately, hence its nickname the Brickyard. It took 63 days to lay the 3.2 million bricks around the circuit. Today, around 360 remain on the surface as the 'Yard of Bricks' at the start/finish line, although most of the bricks are still beneath the more modern surface.
The track re-opened with a two day race meeting during the week before Christmas 1909. The temperature was nine degrees, and the motorcyclists completed one lap and said it was too cold. Drivers had to wear stocking caps and scarves. Fisher, however, was confident, and promoted a three day, 42-race programme in May of 1910. There were 60,000 spectators, who watched local hero Ray Harroun win the main event.
Fisher was looking for a single feature race as attendance figures began to flag. After discarding the idea of a 24 hour race, he settled on a 500 mile event for 1911, putting up a massive prize of $20,000. That tempted Harroun out of intended retirement and, without a riding mechanic to tell who was behind - but with a massive 8in by 3in mirror, the first rear-view mirror - he won at a steady 75 mph in his 7.8 litre, three speed Marmon Wasp, as other drivers damaged tyres and engines. It was his last race.
And so, on Memorial Day 1911, May 30, the Indy 500 was born. The track was mainly re-surfaced with tarmac in 1935 with the exception of the start/finish straight, but that was covered in 1961, apart from the symbolic line of bricks which will see a new breed of racing car this weekend.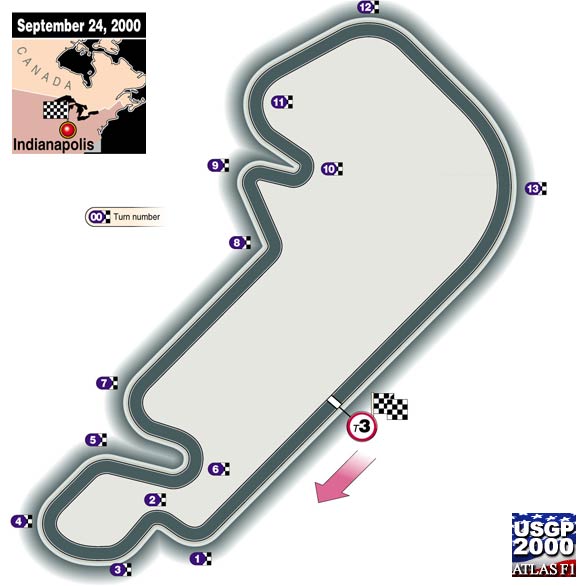 Facts and Stats about Indy and the US GP:
First of all, we have to establish Indianapolis's previous significance in the World Championship because, from 1950 (the first year of the series) to 1960, the Indianapolis 500 counted as a round of the series, even though it was not for Formula One cars. However, no World Championship contender ever benefitted from participation. Indeed, only Alberto Ascari, Lloyd Ruby, Troy Ruttman and Rodger Ward raced at both Indianapolis and in Formula One. For the record, Ascari raced at Indy in 1952 and did 31 GPs; Ruby did one Grand Prix and one Indy; Ruttman did seven Indies, winning in 1952, and the French Grand Prix in 1958; and Ward did all ten Indies, winning in 1959 plus the 1963 US Grand Prix.
Not counting the 11 races at Indy, however, this will still be the 44th US Grand Prix, although previous races have gone under various titles such as United States Grand Prix East and West. In 1982, when there were three Grands Prix in the USA, the final one was called United States Grand Prix Las Vegas, the other two being East and West, and at Detroit and Long Beach respectively. There were two Grands Prix in a year on eight occasions, and Indianapolis was still on the calendar when the first two US Grands Prix were run.
No country has had so many Grand Prix venues, eight in all. Races have been held at Sebring, Florida (1959); Riverside, California (1960); Watkins Glen, New York (20 between 1961 and 1980); the series fourth shortest circuit ever, Long Beach, California (eight between 1976 and 1983); Las Vegas, Nevada (1981, 1982); Detroit, Michigan (seven between 1982 and 1988); Dallas, Texas (1984) and Phoenix, Arizona (1989 to 1991).
There have been many records set on the way. For instance, the 1950 Indianapolis 500 was the first World Championship race to be stopped, on this occasion, after 345 miles, due to rain. The 22 cars that finished that race is a record for the World Championship. The Indy 500, of course, is also the longest World Championship race ever to be held at 500 miles and with the most laps, at 200. The 1951 race was the longest in World Championship history at 3hrs 57m38.050s. The 1952 race was won by Troy Ruttman, who become the youngest ever winner of a World Championship race at 22 years, 2 months 19 days.
The 1958 Indy 500 saw seven cars eliminated at the start, while the first US Grand Prix a year later saw Cooper occupying the front row of the grid. Bruce McLaren won that race although he only led the last lap; he became the youngest Grand Prix winner ever at 22 years 3 months and 12 days. All the Indy 500s were won by Firestone, incidentally. In 1960, Phil Hill became America's first Grand Prix winner with victory at Monza.
Jim Clark and Graham Hill would both go on to win the Indy 500, but they also made their mark in US GPs, each winning three times at Watkins Glen where the championship was decided four times. The 1963 to 1965 races, incidentally, were over 110 laps, the second greatest number of laps, to Indy, in the championship's history.
Clark won from pole position with fastest lap in 1962 while, in 1966, he beat Jochen Rindt by more than a lap. Hill started from pole in 1967 ahead of Lotus teammate Clark, but it was Clark who won. That same year, America had its first Grand Prix winner when Dan Gurney drove his Eagle to victory in Belgium.
In 1970, Reine Wissell took his Lotus to third place in his first Grand Prix while, in 1972, Jackie Stewart beat 30 other drivers, the third greatest number of starters ever, starting from pole, setting fastest lap and leading from flag-to-flag. The 1974 US Grand Prix was the 250th race in the World Championship. In 1976, Clay Regazzoni won from pole at Long Beach with a flag to flag victory and fastest lap. Later that year, James Hunt won at Watkins Glen from pole with fastest lap, but not flag-to-flag.
The next year, Jean-Pierre Jarier scored a point for ATS in their first Grand Prix, a race won by Mario Andretti, the only American to have scored a home Grand Prix win. That race saw 19 cars finish, the third most finishers in Grand Prix history. A year later in Holland, Andretti became the last American winner of a Grand Prix. That year, Ferrari occupied the front row of the grid at Long Beach while, at the same circuit a year later, Gilles Villeneuve led home Ferrari teammate Jody Scheckter in a crushing one-two, from pole position with fastest lap, having led all 80 laps.
Nelson Piquet scored a resounding win from pole with fastest lap and flag to flag in 1980. Williams started from the front row of the grid in 1981 at Las Vegas, and it was Renault's turn a year later, and Ferrari occupied the front row in 1983 at Long Beach and Lotus did the same thing in 1984 at Dallas.
It was also an era of stoppages. Detroit was stopped in 1982 because of an accident after six laps, the race eventually stopped at the two hour limit. At this stage, John Watson was in the lead, having started from 17th on the grid. The next year, he did even better, winning from 22nd on the grid at Long Beach, still the win from the lowest grid position, although Rubens Barrichello's win from 18th on the grid this year at Hockenheim came very close. The Detroit Grand Prix was again stopped in 1984 when seven cars were involved in a startline pile-up.
Ayrton Senna scored a hat-trick of Detroit wins 1986-88 (for Lotus 1986-87 and McLaren 1988) and it was a year later that McLaren occupied the front row of the grid at Phoenix. That year, the race was stopped after two hours, as it was two years later, the last couple of years being won again by Ayrton Senna. McLaren have won the last four US GPs and were third for the two years before that.
Forty-five Americans have taken part in Grands Prix and a further four have failed to qualify. There have been two American World Champions, Phil Hill and Mario Andretti, while Richie Ginther, Dan Gurney and Peter Revson make a total five Grand Prix winners from America. With another ten Indy winners (Bill Vukovich won twice), there have been 15 American winners of World Championship rounds - all of which makes USA drivers second to Great Britain in the all-time winners list.