Is there any reason why you, as a driver, engine supplier or sponsor, would not want to be associated with Sir Frank Williams and his team? He and they are, simply, the class act of Formula One. With Williams, there is none of the techno-bombast of McLaren-Mercedes, the contorted emotion of Ferrari or the blarney and high-jinks of Jordan. There's just straight, pure Grand Prix racing for the sake of it.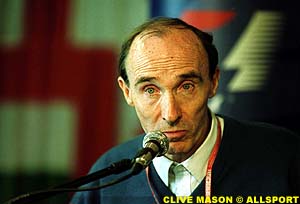 "I just love F1," said Williams. "I love being around racing cars. I love hearing the noise. I love watching cars, even the slower ones. When a car is on the limit, it's pure pleasure." And can you fault his comments before the US GP? "I take a very simple view of how difficult F1 is," Sir Frank said on Friday, "and how good these guys [at McLaren and Ferrari] are. They're one second a lap quicker than everybody else. They don't have any miraculous powers. They're just very, very good at what they're doing. We have a reasonable idea of their assets, the people, the strength and depth of both of those teams. It's just not an easy achievement to overtake or even run with them. So I would rather talk small and maybe deliver big, than talk big and deliver not."
Pressures to talk big in Formula One are intense. Team principals feel they need to in order to attract sponsors, to lure the best drivers and engineers. Just imagine the apogee of talk that Tom Walkinshaw attained to attract world champion Damon Hill to his Arrows team in 1997! We can assume that speaking skills have also been involved in attracting a works Honda engine deal to the Jordan team. Jordan, of course, might just deliver on Eddie's promises.
Talk can work both ways of course. Jackie and Paul Stewart put together a convincing proposal that gained Ford's backing for the creation of their Formula One team. By my reckoning, as well, they gave Ford very good value. Look what's happened to their team without them! But the loquacious Jackie, renowned for his persuasive skills and determination, wore out his welcome in some of the office suites in Ford's 'glass house' in Dearborn. Near the end of their relationship some of Ford's senior people weren't returning Jackie's calls. They didn't want to be subjected to another diatribe in favor of more help to Stewart's team.
The Williams approach exudes calm yet knowledgeable confidence. With Patrick Head looking after the technical side, not much is missed. It also bespeaks long-term planning. One always has the sense that Williams Grand Prix Engineering is looking well down the road. These are attributes that must have appealed to BMW when it began its talks with Formula One partners. They'd gotten to know each other through a successful sports-racing project; as allies they are extremely well suited. BMW has taken the same low-key approach to the 2000 season that suits Williams so well.
Shrewdly, for 2000, Sir Frank signed a driver team that was not expected to challenge for wins. Neither Schumacher the younger, nor Button the even younger were thought likely to mount the top step of the podium. That perfectly suited the team's position in its first year with the new BMW V10. But 2001 will be a different story. At the rate BMW has been going with its engine, it may reasonably expect victories next year. It may even consider that a championship challenge in 2002 would be on the cards. And my question is this: has Sir Frank selected the drivers who can get this job done?
The reason we see Williams glued to the monitor during a race is that he's a big fan of the circuit split times. "I just love 'em," he said back in May. "When a driver's good, you see his [split] times falling like clockwork. That's how I know Ralf's so good." We saw Ralf come very good indeed at Indy. Sir Frank also knows that Button's good for the same reason. At Hungary, he saw some sharp contrasts: Ralf was way faster than Jenson in the first sector of qualifying, but the young Englishman was a fraction faster in the third sector. At daunting Monza, the older driver was the faster on all three splits, but at Indy the tables were turned. Button was faster than Schumacher at every interval, and awesomely qualified next to Trulli's Jordan in the row behind the Big Four. Unfortunately, he couldn't convert it into a result.
So does Williams have the driver team it needs for the next two years? Button is on loan to Benetton-Renault - an outfit that will not suffer from a shortage of talk. Replacing him is Juan Montoya, who tested for Williams in 1998. When choosing his 1999 team, said Sir Frank, "we didn't go for Juan, only because Ralf had two years of critical experience. It was such a close decision, that fixed it." Instead he took another CART driver, with disastrous results for both the man and the team.
The Zanardi experience did little to diminish the Williams reputation as a cold team that treats drivers as easily replaceable commodities. Button's success, however, suggests that if a man has the right attitude, he can get the job done at Williams. Villeneuve has a similar story to tell. It helps, I think, if you love racing as much as the boss does. At Williams they are unimpressed by drivers who are in the game for the money.
Is Montoya the man? His taciturn, withdrawn style will suit the Williams approach, but will it win him the support of the team? "Every team principal who signs up a driver hopes he's acquiring somebody who's better than his present incumbents," said Sir Frank - with his customary candor - before Indy. "But there's no telling. It's not really on my mind right now." He will race the 2001 season when it arrives, having calmly, quietly and competently prepared what he believes to be a winning team.
In the short term, however, Williams was taking a close interest in the Indy race. "All I care about a racing circuit is: a) it allows easy overtaking and b) the event is run the same for everybody," he said on Friday. "Whether it's a good track or difficult track, the team with the best mental and technical approach will do most of the winning. I'm more interested in what the people are going to write on Monday morning. This is a big opportunity for [everyone, but for] Bernie in particular, [because] he has worked very hard to bring F1 back to the United States. We couldn't wish for a better start and Monday matters very much to me."
Sunday wasn't very good to Sir Frank. But I'm sure he's taken comfort from Monday. It was indeed an excellent debut. The press raved about the exciting race in Indiana. And did the team with the best mental and technical approach do the winning? I think so!