This week's Grapevine brings you
information fresh from the paddock on:

Team Orders
Prost-Ferrari
Picked from the Bunch
Team Orders
Taking on the Indianapolis main straight was always expected to be substantially more of a challenge than it finally proved. Most believed the cars would run with low wing settings, just enough to take the banked turn flat, but with the infield so slow, it turned out the compromise was trivial. Twenty seconds flat out was not as vital as fifty seconds struggling around the remaining corners.
Of course, having a barn door on the back of the car does slow it down on the straight. So getting a nice tow from the gentleman in front is always going to be a boost – something that Ferrari considered well ahead of their rivals, to neatly steal a march. Rubens Barrichello's run ahead of Schumacher punched something of a hole for the German to run through at the end of both the warmup and quick laps, and some advantage was gained – about a third of a second, actually.
Sadly for Barrichello, he fell of the back of his team-mate when the situation was reversed, so the tow was all but lost, and he did not benefit so greatly.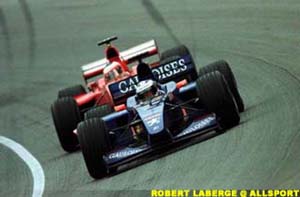 McLaren, having been caught napping and wasting their qualifying laps, set out to try and put things right: Mika Hakkinen and David Coulthard's attempt was better thought out, with the Scot running close behind his team-mate through the opening of his run. Knowing that he would be getting a solid tow, the team left more downforce on than they should otherwise have used, to assist him through the infield, where he was as quick as anyone could hope. Sadly, that extra downforce counted against him slightly on the run down to the line, but it was an excellent attempt. Had they been working together in this fashion from the outset, Ferrari believe that the pole would have gone to the Silver Arrows, instead...
Heading to Japan, there is less opportunity for this type of work: but Malaysia will be something else; there are two straights which should directly benefit from having someone "running block" at the cost of their own run. And with Coulthard and Barrichello both working to assist their team-mates, it should prove interesting indeed.
Prost-Ferrari
The announcement that Ferrari would be supplying Prost with engines next year surprised few in the paddock – speculation had been rife for weeks, along with Pedro Diniz impending arrival to pay for them. In the event, his father has bought a slice of the outfit, guaranteeing a seat for his son, and the engines for him to play with. And for icing on the cake, Ferrari's gearbox is en-route too.
In the event, Alesi and Diniz generally get on very well; but the setup is going to give Prost some problems. Alesi is undoubtedly the senior driver, and as a rule should out-perform his younger rival. But in his usual mercurial style, unless the new car is a stunner – which it won't be, unless they can persuade John Barnard to design the whole thing, rather than just bits of it – his performance level will fluctuate wildly, and Diniz will sometimes do better. Then there will be decisions to be made…
Alain Prost, despite being a friend of Alesi, is under no illusions that the future of his team is now tied rather strongly to the Brazilian driver on his books. His engine deal is guaranteed for the short term – but the involvement of the organisation that is making it so is going to have some influence.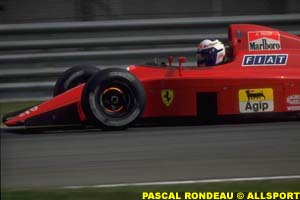 Plans for the 2001 car have been under consideration for a while. The design team – part of the core from Ligier days – have a concept. It's the one they wanted for this year, resulting in the political infighting that saw Jenkins depart. And there are some advantages to it too. A lot of the downsides of this years car will be ironed out – pitch sensitivity key amongst them – but the ultimate pace of the car will suffer. Having said which, this year the team has never managed to hook the car up well enough to dial out pitch issues, rendering the aerodynamics all but useless, and the pace poor anyway.
Given the boost of Ferrari engines, designing a car that can be set up makes more sense than attempting to achieve flat out performance. But should they tempt John Barnard back onto the design team, then there's a chance of something special coming out of the box in 2001.
Picked from the Bunch
Marlboro and Benson & Hedges were absent from the Ferrari and Jordan livery at Indianapolis this weekend, much to the surprise and confusion of many racing fans. The reason, however, is simple: The US Attorney General made an agreement with the tobacco companies that they can only sponsor an entrant in one series. For Marlboro, that is their CART sponsorship of Team Penske. Benson & Hedges is associated with Kool, so they were unable to run their name on the Jordans due to Team Kool Green in CART.
Bobby Rahal's move to Jaguar has been met with mixed levels of scepticism by the paddock. General feeling is that an outside view could be beneficial to Jaguar, who are struggling, but experience of the current Formula One climate is so invaluable that he will not be able to turn the team around...
BAR are rumoured to have lined up Barry Green to replace Craig Pollock at the head of the team – despite the risk of antagonising Jacques Villeneuve, who has committed for another year. Speculation indicates Honda want a head on a block, and BAT are keen to see Pollock out.
Octagon, owners of Brands Hatch are certain that Silverstone is wasting money in their bid to upgrade the circuit for the 2002 Grand Prix. They are adamant that their facilities will be built in time, and in any event, would rather see the Grand Prix at Donington Park than with their main rivals.
On the back of public disillusionment over high tax on fuel, British Prime Minister Tony Blair is coming under attack – again – for accepting a $1million donation from Bernie Ecclestone three years ago. It appears the racing God's action could prove to one of the major nails in the coffin of the government.
Williams simulations showed that the difference between maximum and minimum downforce at the Indianapolis track would come to under a second...