This week's Grapevine brings you
information fresh from the paddock on:

The Revolution is coming
Formula One and Aircraft
Picked from the Bunch
The Revolution is coming
Benetton have just denied that Wurz is going to be replaced - imminently - by the F3 driver, Antonio Pizzonia.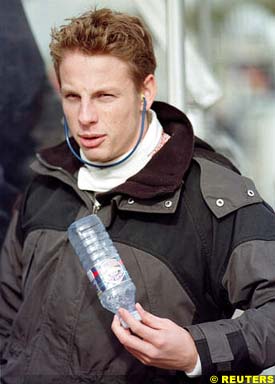 The rumour, printed by UK tabloid The Sun is based on the presumption that Benetton could follow form of previous seasons - in particular, the signing of Michael Schumacher - to take on fresh, young talent. Button is going very well at Williams, demonstrating that the jump direct from Formula 3 to Formula One is possible, given talent. Add Pizzonia, who has won both his first two races in the British Formula, opening an early lead in the Championship, and the sauce for a spicy rumour is just waiting to be used.
That Williams have found gold with Button is something none of the teams would deny. However, the very fact that Williams have an embarrassment of riches - CART sensation Juan Pablo Montoya comes available for 2001 - means that either Button or the Montoya could be looking for a Formula One drive next year. Gambling on a youngster who does not even have a season of F3 behind him, when better established talent is coming on the market, is taking a huge leap indeed.
Then again, Button is not the only talented youngster to jump into Formula One. Zonta's debut season with BAR last year was hardly something to write home about: admitted, even ex World Champion Jacques Villeneuve was unable to score points in the beast they called a car, but Zonta rarely showed well against the Canadian.
This year, Heidfeld has been learning the ropes alongside Jean Alesi at Prost. Despite an excellent F3000 season - coming away as Champion for the McLaren junior team - he has not made the impact Button managed at Williams. Out-qualifying Alesi in Australia was a high point, but inadequate hardware has left the German floating at the back of the grid, and struggling to finish races.
Given the talent struggling to handle the modern breed of race-car, which has thrown double CART Champion Zanardi, an ex World Champion in Hill, and too many young bloods - like Jan Magnussen - to count, a Benetton gamble on youth would seem unwise. Unless they made their mount as driveable as a Williams, anyway... but then, Wurz, who many forget fought wheel to wheel with Schumacher at Monaco, would finally have something he could manage properly under his rump.
Formula One and Aircraft
With Coulthard's plane crash in France, at least two top teams are already considering new policies on air travel for their drivers and key staff.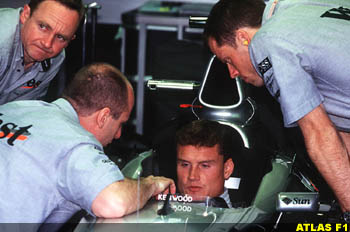 Formula One and the aeronautical industry have strong links - Prost even used the airbus wind-tunnel in developing their cars; some drivers have their own planes, and most have hired them to get around Europe. However, the recent spate of aircraft related incidents involving drivers is threatening to move flying into the same category as extreme sports.
Last year alone, Michael Schumacher, Damon Hill and Eddie Jordan were all involved in air scares, though nothing serious came of them. However, when Coulthard's Lear-Jet came down, the pilot and co-pilot were killed, highlighting the dangers of air travel. Despite statistics showing it still to be the safest means of transport, accidents tend to fall into only two pots - trivial, or fatal.
It is standard practice in large organisations to prevent key staff travelling together by air, just in case the unthinkable happens. With Coulthard's narrow escape, this protective approach is expected to become prevalent in Formula One; furthermore, new restrictions of drivers, and the number of hours they may spend airborne, could come into effect, which would certainly have a knock on effect on their approach to testing, and race weekends.
Picked from the Bunch
Mike Gascoyne's pending move to Renault has muddied the waters at Jordan. Currently, the team are considering the merits of having him pen the 2001 challenger, against the secrets he would take with him. Key to their consideration is the Gascoyne replacement - feelers are out, and Jordan are not above a little poaching of their own...
Facing Renault's F1 return, Peugeot are considering a reversal of their decision to leave Formula One at the end of the year: current speculation has the French giant in buy-out talks with Prost.
Following Silverstone, Barrichello and his engineers are optimistic that the Brazilian can outpace Schumacher are the Spanish Grand Prix. They believe the limited dry-running time will favour Barrichello for qualifying, but the race result is anyone's guess.
The BRDC's hopes of breaking even have been dashed, as Silverstone has had to refund some five million pounds sterling: traffic chaos on Sunday and closed car-parks on Saturday led to nearly 30,000 fans failing to gain entry.
Tiff Needell, presenter of the BBC's Top Gear, had a chance to drive the Jaguar R1 at Barcelona. Despite stalling on his first attempt to get away, he enjoyed a few laps of the circuit, though no times were recorded. The show is due to go out on the 4th May - the twentieth anniversary of Needell's only Grand Prix!