While the 2000 F1 season has seen Ferrari generally benefiting from McLaren's misfortune, the Spanish GP saw those teams' roles reversed.

Michael Schumacher dominated the weekend through qualifying and well into the race, but Ferrari's wheels came at the first pit stop, starting a series of dramas that would eventually allow Mika Hakkinen to lead a McLaren 1-2 from Barrichello, thanks to his teammate.

"We are well prepared," admitted Schumacher, who had practice all his own way, dominating most of testing on Friday and Saturday. Most of the grid conserved their tyres in the early sessions as they had spent some time at the Catalan circuit in pre-race testing.

Hakkinen led the early Saturday practice, but Schumacher regained the advantage in the second half of that session as David Coulthard eased into the weekend after his Tuesday nightmare. He ended second quickest going into qualifying: "The bruising from the accident is not causing me any discomfort - I feel fine," he said.

But there was no stopping Michael setting pole midway through qualifying, despite Hakkinen's best efforts as the top four followed each other around in their last-minute pole attempts. "My final run was slightly slower," admitted Michael, who thus joined Mika on 24 career poles, a feat shared with Niki Lauda and Nelson Piquet, the quartet now joint sixth in the all-time total number of pole positions in F1.

"The car was capable of pole," said Mika, after he and his team made good progress through the weekend. Barrichello held off Coulthard for third, from a fine effort from Ralf Schumacher and Jacques Villeneuve, continuing the good progress made lately by Williams and BAR.

Trulli and Frentzen made row 4 yellow, while de la Rosa was a popular ninth from Irvine. But Spanish glory was humbled when the Arrows failed a fuel test and was relegated to the back to allow Irvine into ninth and Button into the top 10. He was initially reinstated before Arrows withdrew its appeal putting him last on the grid. "I am incredibly disappointed - it's my home Grand Prix," rued Pedro.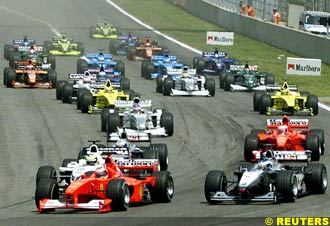 The other Arrows escaped penalty, its Repsol blend deemed legal, while Salo led the modern F1 third division comprising the Saubers, Benettons, Jaguars and Prosts, while Minardi was relieved of its regular rearguard role by de la Rosa's fuel.
Michael Schumacher dominated Sunday's warm-up too and Ferrari was looking good going into the race this time. When the red lights extinguished in front of an enthusiastic record Spanish crowd, Michael blasted into an immediate lead, cutting across Hakkinen's nose down the straight. "My start wasn't ideal," admitted Mika. "Nor was Michael's, so we were side by side into the first corner, but I had to give way."
Ralf started perfectly, despite having to swap into in his spare car at the last moment, jumping to third from Coulthard, Barrichello, Villeneuve, Frentzen, Trulli and Button. Diniz ended his race in the sand trap after a few corners, while Alesi came under attack from an impatient de la Rosa ending the race for both. "He tried to overtake me in a place where nobody has ever succeeded in passing before," moaned Jean, while Pedro complained: "he just closed the door - he only looks to the front, never in his mirrors."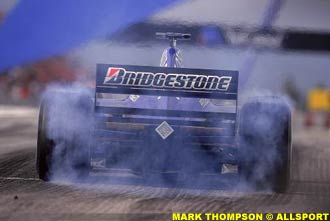 The leaders eased away from Ralf, while the Jordans and Button chased Villeneuve. Jenson stopped first and gained advantage over the Jordans, but Villeneuve retired in flames. The second bunch was next in the pits, with Barrichello passing Coulthard in the process.
Despite increasing pressure from Hakkinenm, Schumacher controlled the race from the front where things were still looking up at Ferrari. Or so it seemed...
"I was sure I was going to win," admitted Michael, who was in the pits next, and out again in seven seconds. But the Ferrari lollipop man timed it all wrong and let Michael go before the fuel man was properly finished. Nigel Stepney couldn't get away in time and was run over by the Ferrari's rear wheel, breaking his ankle and sidelined for the next four weeks.
"I realised something had happened," said Schumacher. "The 'lollipop' was lifted and then dropped, but you can't stop that quickly. I looked in the mirror and saw a mechanic was down."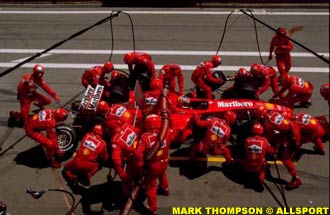 Hakkinen pitted a lap later and rejoined behind Schumacher, soon closing in again to re-join their fascinating duel. They led Ralf, Barrichello, Coulthard, Button, Frentzen and Trulli, well ahead of a menage of less impressive Jaguars and Benettons and the rest of the survivors - as usual at Barcelona, mostly maintaining station.
Then Coulthard and Barrichello stopped together again. David gained the advantage when the replacement Ferrari fuel man erred for a second. Was the fuel pipe nozzle damaged?
The answer came a lap later when the duelling leaders stopped. Hakkinen was away in seven, but the Ferrari men took 17 seconds to release the ex-leader when the fuel system battled to mate. "The second pit stop was delayed because of the first stop's damage - I could see fuel was not going in fast," said Michael, who was still second though.
Ralf also stopped then, but was jumped by Coulthard around the outside as they rounded the first curve. And all wasn't well with Michael Schumacher's Ferrari, which quickly succumbed to Coulthard – Michael valiantly fighting the Scot off initially, but eventually giving way. "It was way too late," complained Coulthard of Schumacher's first block.
"Incredibly close and not entirely fair."
The Ferrari man stayed out, his ultimate mission soon apparent as he obstructed his kid brother to help his teammate into third in a classic blocking move. "Racing is racing," commented the senior Schumacher, "He looked for the fight." But Ralf was livid, despite a measured statement: "I'd prefer to watch the video before saying any more about this manoeuvre." Father Rolf was hoping for a truce: "I'll have to talk to them to make sure they reconcile..."
Michael then stopped for a third set of tyres to rejoin fifth as Hakkinen drove home to a welcome and popular first victory of 2000 and to continue Ron Dennis' dream of ongoing McLaren 1-2's to close its early title deficit. "I can't find the words to explain how happy and relieved I am to have claimed my first victory this season," Mika smiled. "Last year, I won in Spain and it was a turning point in the season for me and - I feel it could be the same this time."
Barrichello was helped to third, while Ralf continued BMW-Williams' march back into the F1 top level.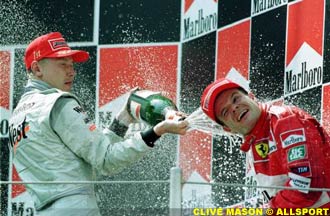 His brother had to be content with just 2 points, "You can't always have lucky races," admitted Michael. "I'm not angry - we took two important points and we're still looking very strong." Frentzen benefited from Button's late demise for the last point.
The Spanish Grand Prix, normally notorious for being a boring procession, proved to be an exciting race, with drama, lead exchange and controversy. But at the end of the day, Formula One left Catalunya with McLaren-Mercedes barely 7 points behind Ferrari. The 2000 season has just warmed up.

Race Results

CLASSIFIED

Pos  Driver         Team                              
 1.  Hakkinen       McLaren Mercedes      1h 33:50.390
 2.  Coulthard      McLaren Mercedes        +   16.066
 3.  Barrichello    Ferrari                 +   29.112
 4.  R.Schumacher   Williams BMW            +   37.311
 5.  M.Schumacher   Ferrari                 +   47.983
 6.  Frentzen       Jordan Mugen-Honda      + 1:21.925
 7.  Salo           Sauber Petronas         + 1 Lap   
 8.  Zonta          BAR Honda               + 1 Lap   
 9.  Fisichella     Benetton Supertec       + 1 Lap   
10.  Wurz           Benetton Supertec       + 1 Lap   
11.  Irvine         Jaguar Ford             + 1 Lap   
12.  Trulli         Jordan Mugen-Honda      + 1 Lap   
13.  Herbert        Jaguar Ford             + 1 Lap   
14.  Gene           Minardi Fondmetal       + 2 Lap   
15.  Mazzacane      Minardi Fondmetal       + 2 Lap   
16.  Heidfeld       Prost Peugeot           + 3 Lap   
17.  Button         Williams BMW            + 4 Lap * 

Fastest Lap: M.Hakkinen, 1:24.470 (201.586 km/h)

NOT CLASSIFIED / RETIREMENTS                                
                                                            
     Verstappen     Arrows Supertec     25   gearbox  
     Villeneuve     BAR Honda           21   engine   
     Alesi          Prost Peugeot        1   collision
     de la Rosa     Arrows Supertec      1   collision
     Diniz          Sauber Petronas      0   Spun off 


WORLD CHAMPIONSHIP STANDING, ROUND 5:                

Drivers:                     Constructors:             
 1.  M.Schumacher  36        1.  Ferrari             49
 2.  Hakkinen      22        2.  McLaren             42
 3.  Coulthard     20        3.  Williams-BMW        15
 4.  Barrichello   13        4.  Jordan-Mugen Honda   9
 =   R.Schumacher  12        =   Benetton-Playlife    8
 6.  Fisichella     8        6.  BAR-Honda            6
 7.  Villeneuve     5        7.  Sauber               1
 =   Frentzen       5                                  
 9.  Trulli         4                                  
10.  Button         3                                  
11.  Zonta          1                                  
 =   Salo           1                                  


Fastest Race Laps

Pos  Driver        Team                Lap  Time             
 1.  Hakkinen      McLaren-Mercedes     28  1:24.470         
 2.  M.Schumacher  Ferrari               2  1:24.517  + 0.047
 3.  Coulthard     McLaren-Mercedes     26  1:24.684  + 0.214
 4.  Button        Williams-BMW         20  1:24.729  + 0.259
 5.  Frentzen      Jordan-Mugen Honda   28  1:25.183  + 0.713
 6.  Barrichello   Ferrari              24  1:25.288  + 0.818
 7.  R.Schumacher  Williams-BMW         25  1:25.326  + 0.856
 8.  Trulli        Jordan-Mugen Honda   24  1:25.806  + 1.336
 9.  Salo          Sauber-Petronas      29  1:25.896  + 1.426
10.  Gene          Minardi-Fondmetal    20  1:25.915  + 1.445
11.  Wurz          Benetton-Playlife    19  1:26.147  + 1.677
12.  Irvine        Jaguar-Cosworth      64  1:26.239  + 1.769
13.  Zonta         BAR-Honda            26  1:26.241  + 1.771
14.  Fisichella    Benetton-Playlife    34  1:26.352  + 1.882
15.  Heidfeld      Prost-Peugeot        19  1:26.663  + 2.193
16.  Herbert       Jaguar-Cosworth      40  1:26.685  + 2.215
17.  Villeneuve    BAR-Honda             8  1:26.701  + 2.231
18.  Verstappen    Arrows-Supertec      18  1:27.152  + 2.682
19.  Mazzacane     Minardi-Fondmetal    24  1:27.538  + 3.068


Pit-Stops Times

Pos  Driver        Team                Time  Lap
1.   Herbert       Jaguar-Cosworth     26.9   59
2.   Heidfeld      Prost-Peugeot       26.9   54
3.   M.Schumacher  Ferrari             27.1   50
4.   Gene          Minardi-Fondmetal   27.8   60
5.   Hakkinen      McLaren-Mercedes    28.0   41
6.   Salo          Sauber-Petronas     28.2   27
7.   Fisichella    Benetton-Playlife   28.6   18
8.   Salo          Sauber-Petronas     28.8   45
9.   R.Schumacher  Williams-BMW        29.3   23
10.  Coulthard     McLaren-Mercedes    29.3   39
11.  Heidfeld      Prost-Peugeot       29.4   17
12.  M.Schumacher  Ferrari             29.5   24
13.  Hakkinen      McLaren-Mercedes    29.6   26
14.  Button        Williams-BMW        29.6   18
15.  Zonta         BAR-Honda           29.8   24
16.  Frentzen      Jordan-Mugen Honda  29.8   26
17.  R.Schumacher  Williams-BMW        29.8   40
18.  Mazzacane     Minardi-Fondmetal   29.8   22
19.  Gene          Minardi-Fondmetal   29.8   39
20.  Zonta         BAR-Honda           29.8   45
21.  Wurz          Benetton-Playlife   30.0   17
22.  Mazzacane     Minardi-Fondmetal   30.1   42
23.  Trulli        Jordan-Mugen Honda  30.1   44
24.  Fisichella    Benetton-Playlife   30.6   41
25.  Barrichello   Ferrari             30.6   25
26.  Villeneuve    BAR-Honda           30.9   21
27.  Frentzen      Jordan-Mugen Honda  31.1   40
28.  Herbert       Jaguar-Cosworth     31.1   19
29.  Irvine        Jaguar-Cosworth     31.1   21
30.  Heidfeld      Prost-Peugeot       31.1   40
31.  Barrichello   Ferrari             31.1   40
32.  Button        Williams-BMW        31.6   41
33.  Herbert       Jaguar-Cosworth     32.1   38
34.  Mazzacane     Minardi-Fondmetal   32.4   47
35.  Coulthard     McLaren-Mercedes    33.6   24
36.  Irvine        Jaguar-Cosworth     34.6   40
37.  Gene          Minardi-Fondmetal   36.6   17
38.  Wurz          Benetton-Playlife   37.0   37
39.  M.Schumacher  Ferrari             38.9   41
40.  Heidfeld      Prost-Peugeot       51.2   42
41.  Trulli        Jordan-Mugen Honda  55.9   22


Sector Times and Speeds
Sector 1 (S/F Line - T1)
Sector 2 (T1 - T2)
Sector 3 (T2 - S/F Line)
Pos
Driver
Time
Speed
Pos
Driver
Time
Speed
Pos
Driver
Time
Speed
1
M.Schumacher
24.440
270.40
1
M.Schumacher
33.558
290.24
1
M.Schumacher
26.068
273.44
2
Barrichello
24.482
275.36
2
Coulthard
33.660
291.36
2
Hakkinen
26.175
274.40
3
Hakkinen
24.594
271.36
3
Hakkinen
33.701
290.24
3
Coulthard
26.195
272.48
4
Coulthard
24.600
266.40
4
Barrichello
33.794
289.28
4
Button
26.267
271.36
5
Button
24.658
266.40
5
Button
33.804
287.36
5
R.Schumacher
26.274
272.48
6
R.Schumacher
24.683
274.40
6
Frentzen
34.008
287.36
6
Frentzen
26.397
270.40
7
Frentzen
24.697
263.52
7
Gene
34.020
283.36
7
Barrichello
26.429
272.48
8
Salo
24.831
270.40
8
Trulli
34.025
287.36
8
Fisichella
26.560
268.48
9
Zonta
24.875
269.44
9
R.Schumacher
34.050
289.28
9
Trulli
26.565
268.48
10
Trulli
24.997
270.40
10
Irvine
34.093
285.28
10
Gene
26.614
267.52
11
Irvine
25.033
269.44
11
Salo
34.131
283.36
11
Salo
26.633
267.52
12
Verstappen
25.061
263.52
12
Wurz
34.173
284.32
12
Wurz
26.696
266.40
13
Gene
25.068
271.36
13
Zonta
34.358
287.36
13
Zonta
26.720
270.40
14
Fisichella
25.074
267.52
14
Fisichella
34.370
284.32
14
Irvine
26.740
269.44
15
Herbert
25.111
263.52
15
Villeneuve
34.426
285.28
15
Herbert
26.837
268.48
16
Heidfeld
25.139
263.52
16
Heidfeld
34.442
284.32
16
Heidfeld
26.991
267.52
17
Villeneuve
25.146
257.44
17
Herbert
34.482
287.36
17
Villeneuve
26.995
268.48
18
Wurz
25.209
267.52
18
Verstappen
34.659
288.32
18
Verstappen
27.161
271.36
19
Mazzacane
25.372
271.36
19
Mazzacane
34.694
279.36
19
Mazzacane
27.225
262.56
20
de la Rosa
25.987
239.68
20
de la Rosa
37.145
260.48
20
Alesi
28.053
267.52
21
Alesi
26.168
246.56
21
Alesi
37.298
281.44
21
de la Rosa
28.104
271.36

The Spanish Grand Prix, Lap by Lap (provided by RaceFax)
Pre-Race: After qualifying the fuel in Pedro de la Rosa's Arrows failed to match the 'reference sample' supplied to the FIA.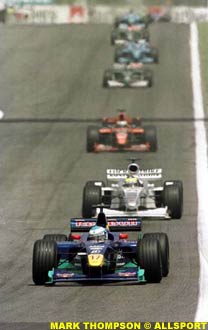 The team initially filed an appeal, but on race morning, withdrew it. De la Rosa thus starts from the back of the grid. (Note: a corrected grid sheet has been posted to the Web site, for those keeping records.)
The Start: Both Ferraris fail to accelerate well. As at Silverstone, Michael Schumacher makes a diagonal start, this time to block Hakkinen and preserve his leading posi-tion. It works, but barely.
Ralf Schumacher pulls to the center from behind Barrichello, then moves ahead. Schumacher is quickly alongside Coulthard, and just as quickly ahead. Villeneuve, like Coulthard ahead of him, has suffered from being on the dirty side of the track and falls in behind Barrichello.
Into the Elf right– hander, Ralf is right behind Michael, leaving Hakkinen on the very dirty outside part of the track. Hakkinen has a bit of a sideways moment, but catches it, and blocks Ralf Schumacher our by virtue of hav-ing the inside line for the immediately following left– hander.
Also between the first two corners, Frentzen and Trulli have an intra– team squabble, Frentzen getting very sideways after finding himself even farther outside than Hakkinen. He saves the Jordan, and also like Hakkinen, has the inside line into the left– hander, surging ahead up the hill, in seventh. Pedro Diniz spins into retirement part– way around the lap.
Lap 1: Michael Schumacher pulls out a lead of just over a sec-ond on the first lap. Hakkinen is second, followed by Ralf Schumacher (– 1.1087s), Coulthard (– 0.503s), Barrichello (– 0.970s) and Villeneuve (– 1.306s).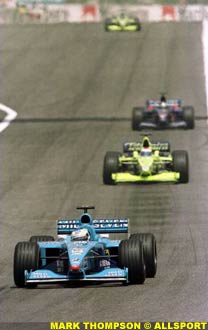 Lap 2: Michael Schumacher's lead has grown by half a second. Ralf Schumacher has lost nearly a second to Hakkinen, but the gap to Coulthard has not changed. Barrichello, how-ever, has lost almost a second, and Villeneuve has fallen away, to –2.586s. De la Rosa, having passed several cars from the back, attacks Alesi. The Arrows loses its front wing, and both wind up in the gravel, their day over.
Lap 3: Michael Schumacher is almost two and a half seconds ahead of Hakkinen, perhaps because he is willing to ask more of his harder– compound Bridgestones. Ralf Schumacher and Coulthard continue to run together, with Barrichello over two seconds away. Villeneuve is all but four seconds behind Barrichello, to the frustration of Frentzen, Trulli and Button, the latter up from 11th at Irvine's expense in the opening lap.
Lap 7: Michael Schumacher has built up a lead of 3.3s over Hakkinen, who runs almost five seconds ahead of Ralf Schumacher. Barrichello continues to run well behind Ralf Schumacher and Coulthard, the gap out to nearly three seconds. Villeneuve is 21 seconds behind the leader, and all but 10 seconds from Barrichello.
Lap 10: Hakkinen has briefly reduced the lead slightly, but Michael Schumacher steps up his pace. At the end of the lap, he is 3.4s ahead. Ralf Schumacher trails Hakkinen by seven seconds, still leading the watchful Coulthard by a second or less, while Barrichello remains 2.4s behind. Villeneuve is 27 seconds from the lead, and 14 seconds from Barrichello. Ralf Schumacher is frequently locking up under braking to stay ahead of Coulthard.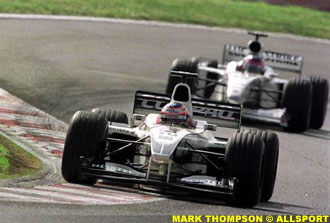 Lap 18: In an attempt to get around the Villeneuve log jam, Button pits.
Lap 21: Villeneuve pits. He rejoins, only to retire almost immediately with a blown engine.
Lap 22: Trulli pits, but stalls the engine, losing consider-able ground and places.
Lap 23: Ralf Schumacher is the first of the leaders to pit.
Lap 24: Michael Schumacher pits. The fuel hose sticks in the receptacle on the car, and as two men labor to free it, Schumacher is given the signal to depart. As he does, Nigel Stepney is clipped by the right rear tire, and falls to the ground. Coulthard pits as Schumacher departs, but a delay at the right front corner returns him to the race still behind Ralf Schumacher. It is later reported that Stepney has nothing worse than a sprained ankle.
Lap 25: Barrichello pits. Despite the problems and a less practiced man on the fuel hose, Barrichello rejoins ahead of Coulthard.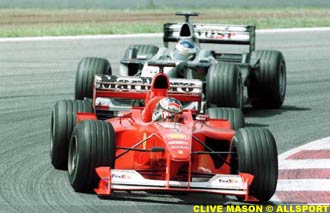 Lap 26: Hakkinen is the last of the lead group to pit. He exits pit road almost two seconds behind Michael Schumacher. Verstappen pits to retire with electronics problems. Frentzen stops, falling from sixth to eighth. Button, thanks in part to the early stop, is sixth.
Lap 28: Hakkinen sets the fastest race lap, closing the gap to Michael Schumacher, but makes no attempt to pass. Ralf Schumacher, Barrichello and Coulthard are together, but 15 seconds back from the leaders.
Lap 30: It is very apparent that Hakkinen is quicker than Schumacher, but he only makes an attempt to take the Ferrari when they stumble over Trulli's Jordan. Nothing comes of it, however.
Lap 39: Coulthard pits for the second time, from fifth.
Lap 40: Ralf Schumacher and Barrichello pit. Barrichello is delayed in the refueling process.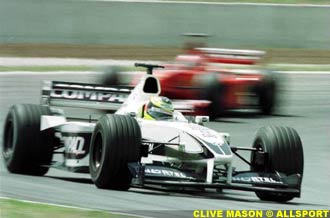 Coulthard, on the track, and Schumacher reach the point where pit road ends in a dead heat, and go through the first corner side by side. Coulthard prevails going up the hill to take third. Mean-while, Frentzen pits. Having gotten back to seventh, he falls to 10th.
Lap 41: Michael Schumacher and Hakkinen pit, and the race is decided. The fuel hose refuses to go into Schumacher's car, and his stop drags out to double the typical length. Hakkinen has a problem– free stop and takes the lead, Schumacher returning to the track 10 seconds behind the McLaren, though still in second place. Button also pits, temporarily dropping behind Salo and Zonta.
Lap 45: Salo and Zonta pit, returning Button to sixth. The points positions are occupied by three teams: McLaren, Ferrari and Williams. Michael Schumacher is, how-ever, in trouble, due to a suspected slow leak in his left rear tire.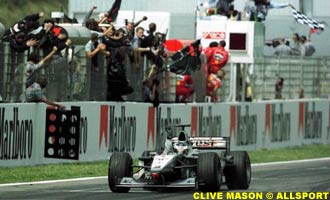 Lap 46: Michael Schumacher has fallen farther away from Hakkinen, the race lost. Coulthard is right behind him.
Lap 47: Coulthard gets a run on Schumacher down the pit straight, and tries to take the Ferrari under braking. Schumacher dives across to the inside at the last mo-ment, slamming the door shut with inches to spare. corners on the inside.
Lap 48: The problem with the left rear tire problem has slowed Schumacher off the last, right– hand corner at the end of the previous lap. Coulthard gets an even better run at him, and when Schumacher again blocks at the end of the front straight, Coulthard simply drives around him on the outside to take second, leaving Schumacher to fall quickly backwards to the battle between his brother and his teammate.
Lap 49: Michael is desperately defending third place. Out of La Caixa, Ralf mounts a challenge, and the two go side by side up the hill to the double rights at Banc de Sabadell. Ralf tries to take Michael on the outside, the two briefly interlock tires, though apparently without contact.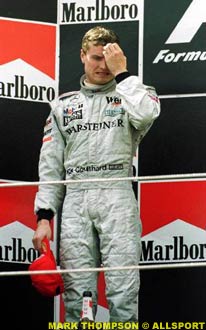 As they slide around trying not to hit each other while still fighting for the position, an opportunistic Barrichello slips inside them both and goes ahead, with Ralf taking fourth, and Michael winding up fifth. At the end of the lap, Michael pits for tires, but retains fifth, ahead of Button.
Closing laps: The order among the first five will remain unchanged to the finish. Hakkinen has an insurmount-able lead, Coulthard also runs along, and Barrichello eas-ily outdistances Ralf Schumacher once he has a clear track. Button retires from fifth, with yet another BMW engine gone, giving Frentzen the single point for sixth place.

The Results - Team by Team (provided by Reuters)
MCLAREN (Mika Hakkinen 1, David Coulthard 2):
Another one-two to keep pressure on Ferrari. Mika Hakkinen took full advantage of Ferrari pit-lane problems to keep title heat on Michael Schumacher. Coulthard showed great courage to perform well after plane crash on Tuesday.
FERRARI (Rubens Barrichello 3, Michael Schumacher 5):
Two pit-lane errors cost the Italian team the race. Brazilian Rubens Barrichello dropped to fifth after a poor start but slid past the Schumacher brothers to earn a podium finish. Michael finished fifth.
"It's a step backwards in the championship but any team must occasionally expect a bad race, so we'll just fight on," said technical director Ross Brawn.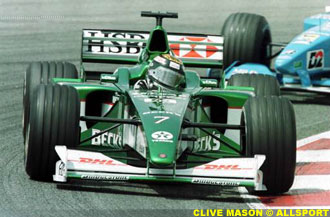 WILLIAMS (Ralf Schumacher 4, Jenson Button retired):
Ralf Schumacher was fourth, after a duel with older brother Michael. An engine blow-up cost Jenson Button sixth place four laps from the end.
"It's a pity that Ralf lost a position from Coulthard so narrowly. The manoeuvre with his brother was interesting for the public no doubt, but not that much for us," said BMW motorsport director Gerhard Berger.
JORDAN (Heinz-Harald Frentzen 6, Jarno Trulli 12):
German Heinz-Harald Frentzen grabbed the final points-scoring spot after Jenson Button retired four laps from the end. Still a long way off the top three teams.
Italian Jarno Trulli lost valuable time and moved down the field after stalling his engine on his first pit-stop. Two-stop strategy worked well and reliability bodes well for the future.
SAUBER (Mika Salo 7, Pedro Diniz retired):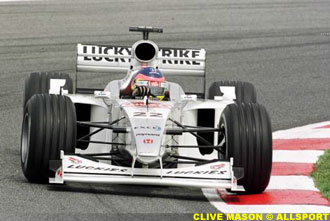 Uneventful race for Finland's Mika Salo but lost contact with Frentzen after being forced to let Hakkinen by.
Brazilian Pedro Diniz chose aggressive tactics but went into gravel trap on the opening lap after attempting to move around the outside on turn three.
BAR (Ricardo Zonta 8, Jacques Villeneuve retired):
Ricardo Zonta scored an impressive result but struggled with a poor second set of tyres. Needed a further lap at the end to pass Salo as he lapped a second quicker than the Finn.
Jacques Villeneuve was sixth before hydraulic problems on lap 21 forced him to leave the track at turn three. "There was suddenly no throttle and a small fire at the back of the car".
BENETTON (Giancarlo Fisichella 9, Alex Wurz 10):
Fisichella experienced handling problems after a bad start. He passed the Jaguars to move up the field but was unable to make further progress.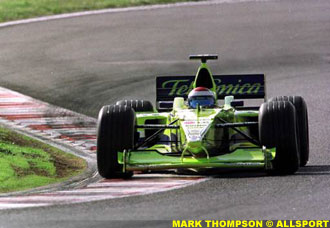 Alexander Wurz moved up five places but a right rear problem after second pit-stop cost him chance of battling for sixth.
JAGUAR (Eddie Irvine 11, Johnny Herbert 13):
Irvine suffered clutch problems at the beginning of the race as he struggled to get off the starting line. Lost three places and then ran in formation with team-mate Herbert.
Herbert had mechanical problems that prevented him from making a charge. Was unable to make any impact during the race.
MINARDI (Marc Gene 14, Gaston Mazzacane 15):
Gene's pit crew made a mistake which cost him valuable time as he kept pace with Benetton and Jaguar. The Spaniard also suffered fuel problems during his first stop.
Mazzacane was penalised with a 10 second stop-go penalty late on and ran in formation behind team-mate Gene for much of the race. Gained his fourth successive finish.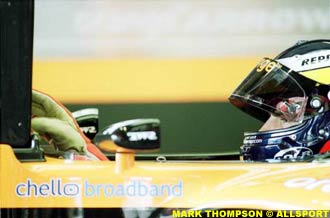 PROST (Nick Heidfeld 16, Jean Alesi retired):
Heidfeld was lucky to stay in the race after his engine cut out on lap 43. Fuel pump problems slowed him down in latter stages and he was relieved to finish.
Alesi's race was brought to a premature end when Pedro de la Rosa attempted to overtake him on lap 2. Went straight into the gravel trap before retiring.
ARROWS (Jos Verstappen and Pedro de la Rosa retired):
Verstappen made a good start but was forced out when stuck in first gear after coming into the pits on lap 25.
Pedro de la Rosa retired in gravel trap after losing front wing after a collision with Jean Alesi. Began at the back of the grid after fuel infringement.