This week's Grapevine brings you
information fresh from the paddock on:

Paddock mutterings
The downside of testing
Spying in Parc Ferme
Picked from the Bunch
Paddock mutterings
Following the Friday session at Barcelona, serious mutterings started running though the paddock that Arrows are soon to announce a works engine deal with Renault.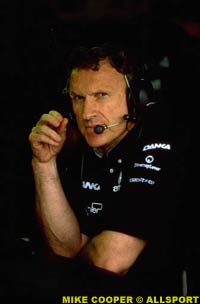 It was a poorly disguised shock to Arrows when Renault announced their purchase of the Benetton team, and intention to run as chassis and engine supplier from 2002. Tom Walkinshaw, Arrows principle, believed they had bought into his vision: a revitalised Arrows, with competitive chassis requiring only a Renault engine in order to take on the rest of the world.
It seems the dream might not be over, however. Renault see the Benetton purchase as a chance to make it big - and put one over Peugeot at the same time: their main rival has failed to make a decent go of building an engine, let alone a complete team. However, they are not so arrogant as to think they can do it all themselves, right from day one. The experience of Tyrrell's team did BAR little good when they started, and Jaguar have struggled this year.
A second string to the bow, therefor, seems to be a wise move. Engines is something Renault are good at, so kudos is readily via another team for their supply. Arrows have turned out the half-decent chassis they promised, so putting a good power unit into it can only help their cause. A resultant jump to the front of the field can only make Renault look good - even if their own factory unit is failing to impress. Furthermore, working closely with the team provides a real opportunity to scrounge useful data for their own quest...
Nearer the pointy end of the grid, Jordan are still on the look out for a works engine. Rumours that Renault are considering the Irish outfit were quickly quashed, but it seems they could be in with a chance from two directions - Honda and Audi.
Honda are known to be displeased with progress from BAR - being reliable is all very well, but first, they aren't (mostly due to third party gearbox problems), and second, they are not nearly quick enough. Progress is slow, and until the works backed team gets ahead of it's customer rival, people look a little daft. There are two solutions - one is to stop helping develop the customer unit, which, allegedly is the current situation; and the other is to give the customer team works engines too.
Volkswagen, owners of the Audi marque, continue to deny any interest in Formula One. However, the brilliant marketing success of the BMW entry - currently third in the championship, despite being on a "building year" - is compelling. Add the Jaguar name to that mix, and suddenly, the two biggest competitors are gaining world-wide exposure that Audi would rather come their way. Accordingly, the speculation begins again, though this time, it seems that Jordan is the likely beneficiary. It was rumoured a couple of years ago that Audi - procured a Mugen-Honda engine for analysis; an up to date insight into the units' development might be on the cars, even if Jordan look unlikely to pull Audi in without a step back into third spot in the Championship.
The downside of testing
Barely back into his chair at Benetton, Flavio Briatore is already telling the world how Formula One should run it's race meetings.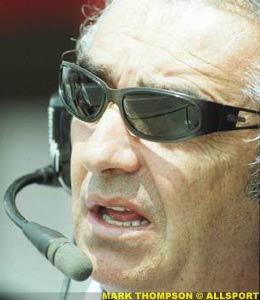 Following the uninspiring Friday practice showing at Barcelona, he said: "There is no need for Friday running, it's ridiculous... Nobody wants to go out on to the track. Teams have been here testing last week so there is no need to run the cars in the Friday sessions."
Barcelona is a circuit all the teams know intimately - and one of it's key characteristics is that the car set-up is totally dependant on the wind direction. Accordingly, all the time put into setting up the car on the Friday session would be wasted; and with the world's media and sponsors present, no-one wants to test new components, risking embarrassment in front of their guests. As Briatore went on to say, without something to make the track time worthwhile, such as a return to Friday qualifying, it will remain this way.
Having said which, banning testing at a circuit for ten weeks ahead of any Grand Prix being held there would leave the teams short on data for setting up their cars: the Friday session would then be taken up by teams establishing tyre wear rates and good starting points for setting up their cars, as they do at non-test circuits, like in Melbourne and Brazil.
Much more to the point, Briatore did not stop there. He said: "I would also like to put an end to refuelling pit stops. The cars should be filled up at the start and then sent out to race. As things are, the spectacle has gone out of the sport."
In light of the continued pressure to make the pit-lane a safer place, to put the passing back on the track, and to keep improving racing safety, that move could prove to be a real winner - with the fans, at least. Refuelling puts a driver right in front of a rear wheel: not to mention the risks from fire; knowing that fuel strategy is not going to gain places, drivers will have to make them up on the track; and carrying a full fuel load will make the cars heavier, increasing braking distances (hence overtaking opportunities), and reducing cornering speeds - the FIA's preferred approach to improving racing safety.
Despite admitting he came in to Formula One knowing nothing of the sport, no-one could call Briatore a fool, and few could argue that he hasn't made a valid point...
Spying in Parc Ferme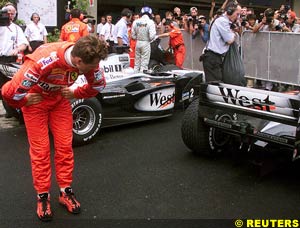 After many Grands Prix, Michael Schumacher can be seen taking a close look at the McLarens, often bending down to do so. What is he investigating? Mostly he's looking at the size of the gap between the rear diffuser/chassis and the ground, trying to get some insight into the setup.
McLaren have been noted for running softer suspension than Ferrari, which is one of the reasons that Adrian Newey's cars ride the curbs so well. Newey has found a way to soften the suspension without altering the attitude of the car in ways that adversely affect the aerodynamics, though the difference between his McLarens and the Ferraris, as seen during curb-jumping, seems much smaller this year.
There are other advantages. "With soft suspension," says Schumacher, "you can incorporate the edge of the road into your ideal path, because you are higher up from the road surface. You can take a more extreme path, allowing you to hit the gas earlier."
(provided by RaceFax)
Picked from the Bunch
Toyota's imminent arrival in Formula One has re-sparked rumours that Honda will buy out BAR, in order to take their main rival on head to head.
Montoya continues to be linked with Toyota's Formula One entry: should Williams sign Button, he is expected to make considerable money from selling the CART star's services to the fledgling team.
Jaguar are thought to be in the final stages of buying and fitting out a new site in the British Midlands - to include a test track, wind tunnel, and all development facilities for both chassis and engine.
Ross Brawn has turned down Jaguar's offers.
Speculation that Wurz will be dropped for the European Grand Prix has been quashed by the team; however, rumour mongers now believe his days are strictly numbered - he must score in the next few races, until the Austrian GP, in order to keep the seat.
Telefonica have not given up on their dream of owning a Formula One team, though talks with Minardi are currently slow. Buy-out aside, they are expected to continue sponsoring the team into 2002...