Every Grand Prix Venue has its most remembered race; that race where the mighty gods of Formula One diced and dodged to achieve eternal greatness and set the record books straight. But every Grand Prix venue also has remarkable races that were pushed aside in the history books, for no good reason. Atlas F1 writer Marcel Schot reviews, ahead of every Grand Prix this season, one race which should be memorised and valued; that one round in history which makes a Race to Remember
The 1987 San Marino Grand Prix
The San Marino Grand Prix has always been the domain of the truly great drivers. Ever since the beginning, World Champions have laid the foundation for their success on the circuit near Bologna. It also has the name Ayrton Senna written all over it. Not only did the great Brazilian have his fatal accident there, but he also scored an amazing eight Pole Positions, of which seven consecutively, and three wins. Despite quite a few of the worst accidents of the past twenty years, Imola has also had its share of positive moments. The 1987 was one of those, with most teams struggling to overcome the early season technical difficulties, with Ayrton Senna on pole for the third consecutive time in his Lotus and Nigel Mansell showing that Williams and Imola fit together very well. Another landmark was Satoru Nakajima, who became the first Japanese driver to score a World Championship point.
Before the Race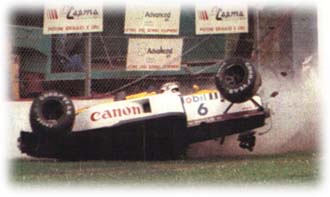 Qualifying was dominated by a single event: on Friday, Nelson Piquet crashed horribly when exiting Tamburello. The Brazilian spun and hit the wall hard, ripping off the entire lefthand side of the car. He was taken to a Bologna hospital by helicopter, where Professor Sid Watkins advised Piquet to withdraw from the remainder of the weekend. Piquet stayed in the hospital overnight, but appeared at the track on Saturday, determined to race. However, Formula One's medical chief had other plans and refused to let the injured Brazilian start. With a brain concussion and a damaged ankle, Piquet would be quite unable to race safely.
This left the others to battle for pole on Saturday, since Piquet had been fastest on Friday before his crash. After day one and with Piquet out, his Williams teammate Nigel Mansell topped the rankings, no less than 1.3 seconds ahead of Ayrton Senna, who was having trouble with his Lotus, driving with active suspension. But on Saturday Senna struck back and overcame the gap, to claim his sixteenth career Pole Position and his third consecutive at Imola. Second was Nigel Mansell, who appeared very dissatisfied.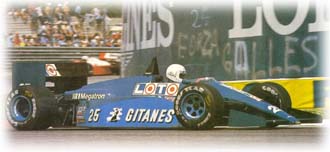 After having added another four tenths of a second to the gap with Senna, the Briton decided to take the spare car to do some full tank testing, as Imola was notorious for its extreme fuel consumption. However, Senna surprisingly pulled a quick lap from seemingly nowhere to claim provisional pole. Mansell then went back to his normal car, but wasn't able to set a better lap anymore, because the mechanics had made a change to the car, causing misfires in the engine and robbing Mansell of another chance to set Pole.
McLaren's Alain Prost was third after having only set the ninth time on Friday with engine problems. Surprise number four was Teo Fabi in a Benetton, followed by the two Ferrari's of Gerhard Berger and Michele Alboreto. The final man on the grid was debuting Italian Gabrielle Tarquini, who only drove in Friday qualifying, setting a time over fifteen seconds from pole in his Osella.
The Race
On Sunday things went a bit chaotic in the beginning. As the warm-up lap started, no less than three cars stalled and Satoru Nakajima was delayed and forced to use the spare Lotus, which had been setup for his team-mate Ayrton Senna. As a result, a second warm-up lap was driven and the race-length was set to 59 laps instead of the usual 60. After Nelson Piquet's early exit, Rene Arnoux was also forced out before the start of the race, after Ligier pulled out the car because of a suspension problem.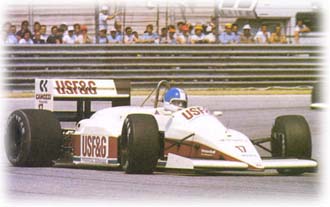 At the start, the two Ferrari's got the better of Teo Fabi's Benetton and slipped past, immediately closing up on Alain Prost's McLaren. At the front Senna and Mansell struck a slight gap to the rest of the field rightaway, with Mansell close on Senna's tail from the start. Before the first lap ended, Riccardo Patrese (Brabham) and Stefan Johansson had also passed Fabi, reducing the Italian's good grid position to merely a statistic. Coming onto the start-finish straight, Mansell positioned himself close behind Senna, slipstreaming past the Brazilian after exiting Tamburello, to claim the lead.
After just a few laps Minardi's Adrian Campos went straight ahead in the Aqua Minerale, throwing his car back on the track right in front of Zakspeed driver Christian Danner, who could barely avoid the Spaniard. In the mean time, Nigel Mansell started to built a comfortable lead, while Alain Prost claimed second by slipstreaming past Ayrton Senna in exactly the same place where the Brazilian had lost the lead to Mansell. While Mansell maintained his gap to Prost and with Senna having the two Ferrari's close behind, the next event was again at Aqua Minerale and again involved a Minardi. Closely before Brabham driver Andre de Cesaris, Alessandro Nannini oversteered and spun, losing places to de Cesaris, Alex Caffi (Osella) and Piercarlo Ghinzani in the only remaining Ligier. However, Nannini quickly won back one place as Ghinzani went into the pits on the very same lap having to call it a day due to handling problems.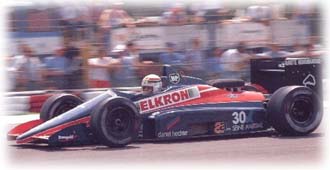 After having started from the pitlane, Satoru Nakajima made an impressive run to 18th, before making an early stop for fresh rubber. Shortly after his pitstop, the other Lotus caused loud cheering from the crowd as Ayrton Senna seemed to miss a gear while accelerating out of Tosa, handing Michele Alboreto third place. At the front Alain Prost set the fastest lap and came closer and closer to race-leader Nigel Mansell. Going into the next lap, second Ferrari driver Gerhard Berger made his move and went side by side through Tamburello with Ayrton Senna, but the Lotus driver held his line and the Austrian had to slip back behind him as they approached Tosa. Right behind Berger was Riccardo Patrese in the Brabham who in turn had empty track behind him as far as he could see.
Meanwhile, the other Brabham didn't go as good as Patrese's. Coming into Rivazza, Andrea de Cesaris oversteered the BMW-powered car and spun off the track, luckily not stalling the car. Just when Alboreto and Senna lapped Nakajima after the Japanese driver's early stop, they also passed the slow moving McLaren of Alain Prost. The Frenchman saw his second place reduced to ashes as the electric system of his car failed after just 14 laps. Behind Senna another driver ran into similar problems as Gerhard Berger slowed down considerably in his Ferrari. While Prost's race directly came to and end, Berger was able to continue for two more laps before having to call it a day. At this time the leaderboard saw Mansell 10 seconds ahead of Alboreto, Senna, Patrese, Johansson and Fabi. The latter, however, dropped back to 12th after a long pitstop.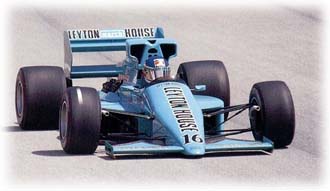 As the race progressed, the crowd lost three fellow Italians from the race as Ivan Capelli (March), Alessandro Nannini and Gabrielle Tarquini all suffered mechanical problems. Still the crowd cheered, as Nigel Mansell made a stop for tyres in lap 21, handing the lead to Alboreto's Ferrari and coming back behind Johansson. Fresh into the lead, Alboreto came under heavy threat from Ayrton Senna, having the Lotus as close under his gearbox as possible. On fresh tyres, Nigel Mansell improved Prost's fastest lap while chasing Patrese for third. As the pitstops started, Alboreto and Johansson went in, handing Ayrton Senna the lead with Mansell already back in second, with Patrese, Arrows driver Derek Warwick, Alboreto and Johansson following. Next into the pits was race-leader Senna who, despite a very quick pitstop of under eight seconds, lost the lead to Nigel Mansell once again. Senna came back onto the track in third, only having Patrese between him and the leader.
After the series of pitstops, AGS driver Pascal Fabre claimed his five minutes of fame. First the Frenchman, already lapped twice, locked up in the chicane before start-finish with Zakspeed's Christian Danner, Ayrton Senna and Michele Alboreto right on his tail, causing Alboreto to lose valuable time behind Senna's Lotus. Then Fabre spun while entering Rivazza, narrowly avoiding the two Tyrrell's of Phillipe Streiff and Jonathan Palmer and causing Philip Alliot to drive straight on into the grass, effectively eliminating his countryman from the battle of the fastest normally aspirated cars.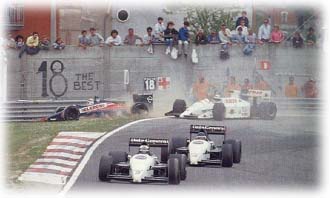 Next up was what looked like a little bit of national tactics as Martin Brundle in the Zakspeed kept Italian Patrese in the Brabham behind him for quite some time, thus increasing the gap of his countryman and race-leader Nigel Mansell over the Italian driver, who had still not made a stop for fresh rubber. After 35 laps Mansell now had a lead of about five seconds over Patrese, with Senna being 17 seconds behind, closely followed by Michele Alboreto. Behind the only left Ferrari, Stefan Johansson had twelve seconds of empty road ahead and behind him, before Thierry Boutsen in the Benneton completed the top six.
Two laps later, Riccardo Patrese finally made his pitstop for new tyres, dropping back to fourth. At the same time his team-mate Andrea de Cesaris ended his race beside the track. Meanwhile, Alboreto again suffered some delay while getting stuck behind Eddie Cheever's Arrows, almost colliding various times between Piratella and Aqua Minerale, only being able to pass the American under braking into Rivazza. For Cheever this wasn't the end of the action around him, as just a few seconds behind Senna and Alboreto came Patrese and Johansson blazing past, dodging and diving into and out of eachothers slipstream.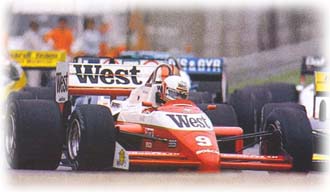 Then, under braking into Aqua Minerale, Michele Alboreto's Ferrari darted past Ayrton Senna, much to the enjoyment of the crowd. Less than a lap after Alboreto's move, also Riccardo Patrese moved past Ayrton Senna on the start-finish straight. As if this wasn't excitement enough, Patrese also slipstreamed past Alboreto coming onto Tosa, claiming back second place almost twenty seconds behind the almost forgotten Nigel Mansell.
Behind Patrese, Alboreto and Senna, Stefan Johansson dropped back because of a pitstop to replace his nosecone. While Mansell cruised on and three drivers closely battling for second, Benetton's Teo Fabi set the fastest lap of the race with a 1:29.823. On the next lap the battle for second saw Ayrton Senna slipstreaming past Michele Alboreto once again in Tamburello. Senna, who seemingly had been conserving fuel for a while until he was certain he would reach the finish, was unleashed. The Brazilian immediately drove up to Riccardo Patrese, while Stefan Johansson yet again improved the fastest lap shortly after his pitstop. Just when they came up to the Variante Bassa, Patrese slowed down, letting Senna and Alboreto pass easily, as well as the lapped Tyrrell of Phillipe Streiff.

After 48 laps another three cars suffered fatal mechanical problems, as Jonathan Palmer, Thierry Boutsen and Eddie Cheever all had to give up, shortly followed by the only left Benetton of Teo Fabi, but not after Fabi set the fastest lap of the race.
A little more than one hour and 31 minutes after the start, Nigel Mansell celebrated his victory. Ayrton Senna finished second, 27 seconds behind, while Michele Alboreto claimed third after having to let Senna go. Johansson put his McLaren into fourth place, while Martin Brundle scored two points for Zakspeed ahead of Satoru Nakajima in the second Lotus, who became the first Japanese driver to score a point, despite having started from the pitlane.
Conclusion
With such an amazing battle between Patrese, Senna and Alboreto, a point for Japan and points for Zakspeed, as well as a horrific accident for Nelson Piquet, this race brought more excitement than an entire season holds these days. All the overtaking happened on the track and hardly through pitstops, which was by any means a delight. What proved to be an extra factor in the excitement, was that every driver had to watch his fuel gauge extremely carefully, so all the men battling for points were balancing on the edge of speed and preservation all the way, making the spectacle all the more spectacular. All in all a race very well worth remembering.