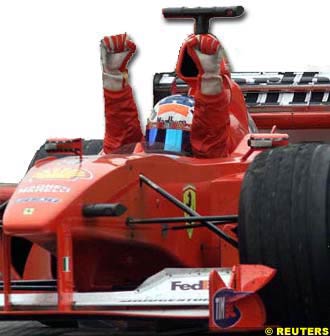 Modern Formula One is like a game of chess – tactics are becoming more important than anything else in the teams' arsenal, and it appears as if Ferrari maintains an ongoing advantage in that vital element.

On Sunday at Imola, Ferrari outsmarted McLaren, this time in a gripping straight fight.

But it was a closely fought weekend from the moment the two big teams and the rest took to the Autodromo Dino e Enzo Ferrari in central Italy on Friday Morning.

Free Practice

It was damp at Imola and Michael Schumacher set a quick pace for the weekend - within a second of the '99 pole - from the McLarens led by David Coulthard, but sandwiching a happy Eddie Irvine in third for the first session of his hundredth GP.

There was some disparity among teammates already at that early juncture of the weekend, Rubens Barrichello only tenth in the second Ferrari, Johnny Herbert nineteenth in the other Jaguar, while fifth placed Heinz-Harald Frentzen's Jordan teammate Jarno Trulli was 16th. Jenson Button too couldn't match Williams teammate Ralf Schumacher's impressive sixth, the Briton ending with 18th. Giancarlo Fisichella's Benetton, Pedro Diniz in the Sauber and Arrows' Pedro de la Rosa were the other top ten runners.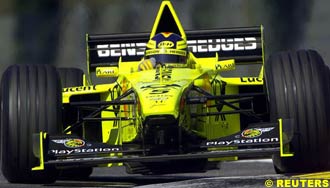 But the Ferraris made their home crowd ecstatic with a second-session 1-2 despite only running used tyres. Coulthard was third from the Jordans and Hakkinen, who was unconcerned about his sixth position. He was ahead of a happier Herbert, Fisichella's Benetton, Ralf Schumacher and de la Rosa.
"We got through all the work we set out to do today and had a better first day than we did at the first two races," admitted Michael Schumacher Friday evening, while Barrichello confirmed, "I am happy with the day's work."
David Coulthard was also confident, "We can achieve a good result tomorrow and on Sunday," while teammate Mika Hakkinen was satisfied despite being slowed by yellow flags. "We made a big step forward and were able to maximize the set-up," he said.
Saturday morning saw a session that would set the tone for qualifying later. Hakkinen ended a tenth clear of Michael Schumacher after a session that saw the lead swap several times. The German was running a new Ferrari qualifying mill.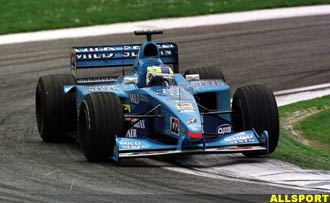 Jarno Trulli went fourth quickest in the dual session ahead of Frentzen and Barrichello, while Mika Salo (Sauber), Jos Villeneuve (BAR), Irvine (Jaguar) and Diniz (Sauber) topped off the ten best.
But the coming qualifying for the San Marino GP was of particular interest for another reason.
Qualifying
Mika Hakkinen and Michael Schumacher had previously each qualified on pole position 23 times, each one behind Niki Lauda and Nelson Piquet's respective erstwhile 24 races started from pole position.
If either Schumacher or Hakkinen was going to be the Imola pole man, he would move to the joint sixth best qualifier ever behind Juan-Manuel Fangio (29), Nigel Mansell (32), Alain Prost and Jim Clark (33) and the undisputed king of F1 qualifying - Ayrton Senna with 65 pole positions.
So qualifying was even more intriguing than usual.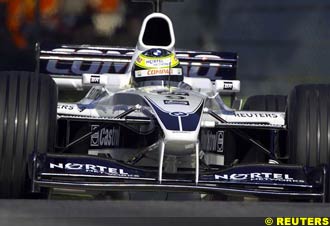 The McLarens were ahead after the early stints. Then Michael Schumacher looked set to take a strong interim pole position on his third stint, but just as he did in Brazil, the Ferrari driver headed straight into the pits before completing that lap. "I made a bad mistake at Rivazza on my third run," the German admitted later, "Up to that point it had been a very exciting lap - I was four tenths up."
With five minutes to go, Hakkinen led Coulthard, Michael Schumacher and an impressive Ralf Schumacher who's BMW expired in its last run leaving the younger brother little chance to better his already surprising pace.
Then Barrichello stole fourth, but Michael was on a flyer, and to the joy of Italy, the German stole the pole by just twenty-five thousandths of a second. The crowd cheered harder - Hakkinen, who was onto a lap with seconds to spare managed first and second sector times short of the Ferrari's.
But the Finn was on the ragged edge, driving beyond the limit - to steal a stunning pole, silence the patriotic crowd and move alongside Niki Lauda and Nelson Piquet's 24 pole positions in F1.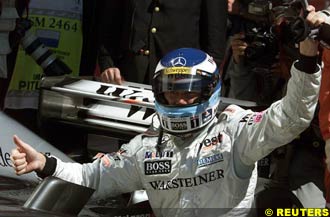 Hakkinen was brilliant but a Ferrari was next to him for the first time in 2000. Michael Schumacher was second, from Coulthard and Barrichello, the old quartet in their usual silver-red top two rows of the grid.
"I must admit that I was on the absolute limit during my final run," said Hakkinen. "I really pushed in the last couple of corners because I felt I might be slightly down after the first two sectors. We made a lot of progress with the car since yesterday's practice and I'm happy with the balance."
"I am upset with myself," admitted Schumacher. "I could have easily been on pole today. All the same, I take some pleasure from being on the front row. If I make a good start like in Brazil, then that will put us in a strong position."
"I'm looking forward to a competitive race," admitted Coulthard, while Barrichello said: "I am not worried about the race, because the team is capable of solving the set-up problems I had today."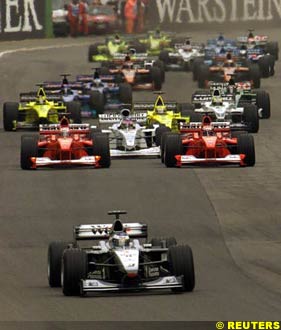 Ralf Schumacher continued to make BMW's return to F1 a dream-come-true, with fifth place on the grid despite his not getting a last lap in. "I must say that we didn't expect the fifth position in qualifying!" admitted an ecstatic Ralf. "The car was really perfect - BMW have improved in the right way and I am quite optimistic for tomorrow."
Frentzen sat in his customary third row slot in sixth, while Irvine again qualified well in the Jaguar in seventh. Trulli, Villeneuve and Diniz completed the top ten, with Wurz, Salo, de la Rosa, Alesi, Verstappen and Herbert next up. Jenson Button was 17th, from Fisichella, Zonta, Mazzacane, Gene and Heidfeld.
So the battle was joined at Imola, as the cars lined up under cloudy, cold skies after the McLarens led the Ferraris in warm-up. There was some concern that Ferrari's hard compound tyres would see it suffer in the fresh conditions, while the weather forecast predicted rain later.
The Race
Nick Heidfeld's sorry weekend went even worse as he was left on the grid on the warm-up lap, forcing the German to start from the pitlane.
As the lights went out, Hakkinen shot away as Michael Schumacher's Ferrari's rear tyres shot forward in smoky wheelspin. The Ferrari man reacted immediately by chopping across the bow of Coulthard's McLaren and bunching the field up behind. Jacques Villeneuve matched Hakkinen's start - driving around Irvine, the Jordans and even Ralf, who was forced onto the grass by the shenanigans up front. "I made a very bad start with massive wheelspin," Michael Schumacher later admitted, "But I managed to keep my second position."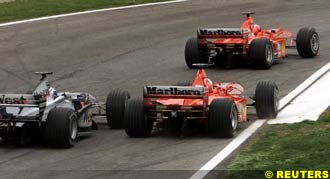 Michael Schumacher had made the best of that poor start and chased Hakkinen over the line at the end of lap 1, opening up a gap to teammate Barrichello who had also managed to jump Coulthard - the two nearly touching at the first corner. The field settled down and, with the exception of Gaston Mazzacane spinning, were getting down to the business of racing, with Hakkinen leading Schumacher, Barrichello, Coulthard, Villeneuve, Trulli, Irvine and Ralf.
There was more action when Button's BMW exploded on lap 5 and Marc Gene spun to retirement on the Castrol slick. Barrichello was clearly holding Coulthard up, but the Scot could do little about it except to watch the leaders disappear into the distance. Hakkinen and Michael Schumacher were already below the 1999 fastest lap, trading fastest tours, although the McLaren was opening the gap ever so slightly.
Jos Verstappen visited the pits early on, while on the track there was a dice between Villeneuve, Trulli and Irvine for sixth – the Italian dropping into the Irishman's clutches every time he attacked the Canadian. And if Heidfeld's weekend wasn't bad enough, the Prost pilot was summoned to the pits for a 10-second stop-go penalty along with Verstappen.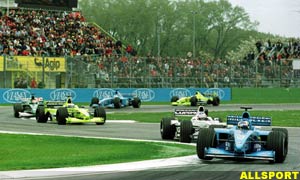 Then Irvine slowed dramatically and pitted, allowing the Jaguar crew to reset the car and get the Ulsterman on the road again. In the mean time, Jean Alesi retired the other Prost, not much later than Heidfeld himself, to end a dreadful weekend for the equipe.
Up front, Hakkinen led Schumacher Senior by 4.1 seconds on lap 26 as the first spate of stops loomed - a long way ahead of Barrichello still under pressure from Coulthard. Then came Villeneuve, Trulli, Ralf Schumacher, Irvine, Diniz and Salo.
Coulthard, Trulli and Irvine were among the first to stop. A lap later, on lap 27, Hakkinen and Schumacher pitted together, Mika taking a quick-fill, Michael waiting longer for more fuel to flow into the Ferrari.
Barrichello was in a lap later, but he took a short stop to regain third ahead of a frustrated Coulthard. "Rubens was pretty slow but still difficult to pass," Confirmed the Scot.
So Hakkinen led Schumacher by 4.8 seconds after some traffic and other problems, from Barrichello, Coulthard, Villeneuve, Ralf Schumacher and Salo. A little farther back a battle was raging between Diniz, Zonta, Wurz and Trulli – all being approached from behind by the leaders.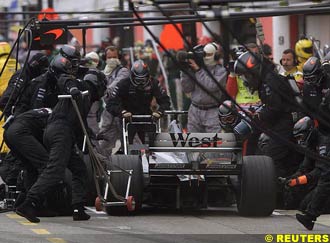 But Zonta succumbed to Diniz' incessant pressure, pirouetting out of Tamburello, Wurz pitted and Diniz moved over to let the leaders by – Hakkinen 4.6 seconds clear of the Ferrari. A lap later, however, the gap was suddenly down to 2.3 seconds and Schumacher was visibly closing on the Finn. "Just before my second stop my engine cut out on the main straight and I lost time to Schumacher," Hakkinen later explained.
But Michael was held up when he and Diniz misunderstood each other when Michael came up to pass the Brazilian. "I had a worrying moment when I tried to lap Diniz," Michael said later. "He tried to be nice and let me pass, but it was the wrong place and I very nearly hit him."
Hakkinen was in for his second stop a few laps later - to the delight of the tifosi who went wild as the Ferrari passed them by in the lead for the first time. Schumacher led Hakkinen by 21 seconds, but Michael was charging while Hakkinen suffered a full load ahead of Barrichello and Coulthard. Irvine and Trulli took their dice into the pits, with the Jordan crew keeping Eddie ahead, but previewing an even better spectacle as Barrichello and Coulthard pitted line astern.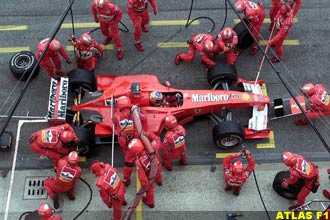 Rubens was moving again first, but David was quick off the mark to block the accelerating Ferrari and steal third at last. "The crew did a fantastic job," said the Scot, who quickly opened a big gap once out of the pits – confirming just how good a job the Ferrari man did until then to keep the McLaren behind... "I was a bit unlucky at the second pit stop," rued Barrichello, "Coulthard was quicker than me, but I could have kept him behind me as it is virtually impossible to pass here."
The Schumacher brothers were enjoying different sensations on lap 45 – Ralf feeling his BMW die under him and Michael turning in a stunning 1:26.8 lap before pitting and taking just 6.2 seconds for the stop. Clearly Schumacher was running a good few litres more than what most expected, as his stop was very short but he rejoined in the lead – almost four seconds ahead of Hakkinen. Coulthard was in a comfortable third from Barrichello, Villeneuve and Salo once the field settled down after the last bout of stops.
Pedro de la Rosa crashed out after a suspension failure – this time at the rear of the Arrows. Salo, in the mean time, was harassing Villeneuve while Hakkinen was chipping Schumacher's lead away. The duo was catching the battling Salo and Villeneuve, both of whom made a big effort to get out of the way.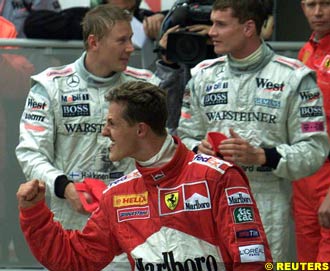 Schumacher was settling down as Hakkinen was punching one fast lap after the other. But Michael Schumacher was in control, just about to lap his teammate when he took his third successive victory of 2000 to strengthen his already massive championship lead. Despite Hakkinen and Coulthard taking second and third and McLaren's first points of the season, Barrichello's fourth was enough for Ferrari to open its constructors' lead by 29 points over the Woking team, which shot from nowhere straight into second in the makers' championship.
"That was an exciting race and I hope the tifosi are happy with the result!" concluded Schumacher. "Our strategy remained as planned – although maybe we did not have the best tyre choice for today's conditions. We did not know what Mika would do and we had to guess," he confirmed. "The four laps before the second pit stop was the decisive moment when I pushed very hard..."
McLaren appeared dumbfounded at losing a race it looked so certain to win. "I'm happy to score points," Hakkinen admitted. "But I should have won the race." "At the end of the day," complained McLaren chief Ron Dennis, "this wasn't the result we wanted."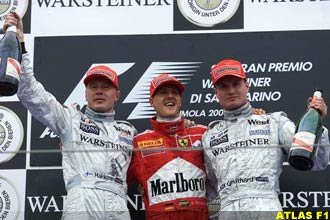 Ferrari was cautiously ecstatic, though. "After three races, we are in an encouraging position in the championship," admitted Ferrari's Sporting Director Jean Todt. "Now we can look ahead calmly to the next round."
The important thing, though, is that McLaren is now up and going, faced with the tremendous task of catching and beating a tremendously on-form Ferrari. "We have a good lead in the championship," Michael Schumacher admitted, "But we have seen it will be a tight fight and we must continue pushing."
Looked at from that point of view, 2000 promises to be a fine season of F1 racing.
Provisional Race Results

CLASSIFIED

Pos  Driver         Team                  Time       
 1.  M.Schumache    Ferrari               1h 31:39.776
 2.  Hakkinen       McLaren Mercedes      +    1.168  
 3.  Coulthard      McLaren Mercedes      +   51.008  
 4.  Barrichello    Ferrari               + 1:29.276  
 5.  Villeneuve     BAR Honda             + 1 Lap     
 6.  Salo           Sauber Petronas       + 1 Lap     
 7.  Irvine         Jaguar Ford           + 1 Lap     
 8.  Diniz          Sauber Petronas       + 1 Lap     
 9.  Wurz           Benetton Supertec     + 1 Lap     
10.  Herbert        Jaguar Ford           + 1 Lap     
11.  Fisichella     Benetton Supertec     + 1 Lap     
12.  Zonta          BAR Honda             + 1 Lap     
13.  Mazzacane      Minardi Fondmetal     + 2 Laps    
14.  Verstappen     Arrows Supertec       + 3 Laps    
15.  Trulli         Jordan Mugen-Honda    + 4 Laps *  

Fastest Lap: M.Hakkinen, 1:26.523 (205.249km/h), lap 60

NOT CLASSIFIED / RETIREMENTS                                
                                                            
     de la Rosa     Arrows Supertec     50   suspension/spun off
     R.Schumacher   Williams BMW        46   fuel pressure      
     Alesi          Prost Peugeot       26   hydraulics         
     Heidfeld       Prost Peugeot       23   hydraulics         
     Button         Williams BMW         6   engine             
     Gene           Minardi Fondmetal    6   spun off           
     Frentzen       Jordan Mugen-Honda   5   gearbox            


WORLD CHAMPIONSHIP STANDING, ROUND 3              

Drivers:                     Constructors:            
 1.  M.Schumacher  30        1.  Ferrari             39
 2.  Barrichello    9        2.  McLaren             10
 3.  Fisichella     8        3.  Benetton-Playlife    8
 4.  Hakkinen       6        4.  Jordan-Mugen Honda   7
 =   R.Schumacher   6        =   Williams-BMW         7
 6.  Villeneuve     5        6.  BAR-Honda            6
 7.  Frentzen       4        7.  Sauber               1
 =   Coulthard      4                                  
 9.  Trulli         3                                  
10.  Button         1                                  
 =   Zonta          1                                  
 =   Salo           1                                  


Fastest Race Laps

Pos  Driver         Team               Lap  Time             
 1.  Hakkinen       McLaren-Mercedes    60  1:26.523         
 2.  M.Schumacher   Ferrari             58  1:26.774  + 0.251
 3.  Coulthard      McLaren-Mercedes    54  1:27.014  + 0.491
 4.  R.Schumacher   Williams-BMW        45  1:27.339  + 0.816
 5.  Diniz          Sauber-Petronas     61  1:27.814  + 1.291
 6.  Barriichello   Ferrari             46  1:27.899  + 1.376
 7.  Salo           Sauber-Petronas     40  1:28.336  + 1.813
 8.  Irvine         Jaguar-Cosworth     60  1:28.387  + 1.864
 9.  Trulli         Jordan-Mugen Honda  57  1:28.754  + 2.231
10.  Zonta          BAR-Honda           28  1:28.787  + 2.264
11.  Villeneuve     BAR-Honda           39  1:28.816  + 2.293
12.  Verstappen     Arrows-Supertec     54  1:28.842  + 2.319
13.  Fisichella     Benetton-Playlife   59  1:28.884  + 2.361
14.  Herbert        Jaguar-Cosworth     59  1:29.049  + 2.526
15.  Wurz           Benetton-Playlife   55  1:29.180  + 2.657
16.  Heidfeld       Prost-Peugeot       16  1:29.350  + 2.827
17.  de la Rosa     Arrows-Supertec     42  1:29.370  + 2.847
18.  Alesi          Prost-Peugeot       17  1:29.719  + 3.196
19.  Mazzacane      Minardi-Fondmetal   15  1:30.030  + 3.507
20.  Frentzen       Jordan-Mugen Honda   3  1:31.503  + 4.980
21.  Gene           Minardi-Fondmetal    5  1:31.524  + 5.001
22.  Button         Williams-BMW         4  1:31.912  + 5.389


Pit-Stops Times

Pos  Driver        Team                Time   Lap
 1.  M.Schumacher  Ferrari              22.8   48
 2.  Villeneuve    BAR-Honda            24.1   28
 3.  Zonta         BAR-Honda            24.4   29
 4.  Barrichello   Ferrari              24.7   28
 5.  Coulthard     McLaren-Mercedes     24.8   46
 6.  Salo          Sauber-Petronas      24.9   26
 7.  Salo          Sauber-Petronas      25.0   42
 8.  Villeneuve    BAR-Honda            25.1   43
 9.  Diniz         Sauber-Petronas      25.1   25
10.  Hakkinen      McLaren-Mercedes     25.2   27
11.  R.Schumacher  Williams-BMW         25.2   29
12.  Alesi         Prost-Peugeot        25.5   19
13.  Hakkinen      McLaren-Mercedes     25.7   44
14.  Fisichella    Benetton-Playlife    25.9   40
15.  Irvine        Jaguar-Cosworth      25.9   44
16.  de la Rosa    Arrows-Supertec      26.0   44
17.  Diniz         Sauber-Petronas      26.0   44
18.  Barrichello   Ferrari              26.2   46
19.  Verstappen    Arrows-Supertec      26.2   39
20.  Mazzacane     Minardi-Fondmetal    26.3   23
22.  Coulthard     McLaren-Mercedes     26.6   25
23.  Wurz          Benetton-Playlife    26.6   38
24.  M.Schumacher  Ferrari              26.7   27
25.  Irvine        Jaguar-Cosworth      26.7   23
26.  Mazzacane     Minardi-Fondmetal    26.9   42
27.  Trulli        Jordan-Mugen Honda   26.9   23
28.  de la Rosa    Arrows-Supertec      27.0   26
29.  Trulli        Jordan-Mugen Honda   27.6   44
30.  Zonta         BAR-Honda            28.0   45
31.  Verstappen    Arrows-Supertec      28.5   21
32.  Herbert       Jaguar-Cosworth      29.0   32
33.  Verstappen    Arrows-Supertec      29.0   40
34.  Heidfeld      Prost-Peugeot        29.7   21
35.  Verstappen    Arrows-Supertec    1:44.1   11


Sector Times and Speeds
Sector 1 (S/F Line - T1)
Sector 2 (T1 - T2)
Sector 3 (T2 - S/F Line)
Pos
Driver
Time
Speed
Pos
Driver
Time
Speed
Pos
Driver
Time
Speed
1
Hakkinen
18.606
287.36
1
M.Schumacher
33.257
219.68
1
Hakkinen
34.235
168.00
2
Coulthard
18.745
288.32
2
Hakkinen
33.635
220.80
2
Coulthard
34.471
164.00
3
M.Schumacher
18.945
283.36
3
Coulthard
33.707
221.76
3
M.Schumacher
34.477
164.00
4
Irvine
18.925
283.36
4
R.Schumacher
33.833
215.68
4
R.Schumacher
34.578
165.12
5
R.Schumacher
18.928
282.40
5
Barrichello
33.938
219.68
5
Diniz
34.592
165.12
6
Barrichello
18.977
282.40
6
Diniz
34.014
216.80
6
Salo
34.895
166.08
7
Villeneuve
18.985
283.36
7
Villeneuve
34.076
220.80
7
Zonta
34.917
164.00
8
Salo
19.005
281.44
8
Salo
34.227
219.68
8
Barrichello
34.963
163.04
9
Diniz
19.052
279.36
9
Fisichella
34.345
217.76
9
Trulli
35.019
164.00
10
Zonta
19.134
281.44
10
Verstappen
34.365
220.80
10
Irvine
35.044
165.12
11
Verstappen
19.152
286.40
11
Trulli
34.391
218.72
11
Herbert
35.107
164.00
12
Fisichella
19.167
281.44
12
Irvine
34.418
218.72
12
Villeneuve
35.137
168.96
13
Herbert
19.182
283.36
13
Zonta
34.529
216.80
13
Fisichella
35.137
164.00
14
Alesi
19.195
282.40
14
de la Rosa
34.541
218.72
14
Verstappen
35.150
166.08
15
Trulli
19.199
280.32
15
Herbert
34.569
217.76
15
Heidfeld
35.253
165.12
16
de la Rosa
19.236
283.36
16
Wurz
34.597
215.68
16
Wurz
35.262
163.04
17
Wurz
19.248
280.32
17
Heidfeld
34.616
212.80
17
de la Rosa
35.497
168.00
18
Heidfeld
19.271
279.36
18
Alesi
34.821
214.72
18
Alesi
35.520
164.00
19
Mazzacane
19.318
277.44
19
Mazzacane
34.868
215.68
19
Mazzacane
35.645
162.08
20
Frentzen
19.626
279.36
20
Frentzen
35.434
213.76
20
Button
36.292
161.12
21
Gene
19.702
275.36
21
Gene
35.459
210.72
21
Gene
36.330
158.08
22
Button
19.735
278.40
22
Button
35.700
212.80
22
Frentzen
36.356
164.00

The San Marino Grand Prix, Lap by Lap (provided by RaceFax)
Before the start: Nick Heidfeld's Prost refuses to fire and is pushed to pit road as the field sets off on the formation lap. He will start from pit road, but as the last qualifier, it makes little difference.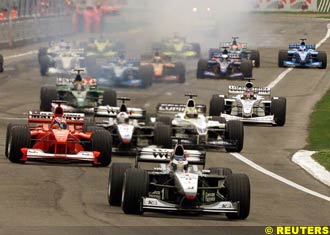 The start: Hakkinen departs promptly from pole, his lead unthreatened on the run to the Tamburello chicane. Behind him, things are far less orderly.
Michael Schumacher, starting second, gets massive wheelspin, and as he recovers, he drifts the car across in front of third qualifier Coulthard, whose start is not sufficiently good to allow him to capitalize.
Barrichello, starting fourth and behind Schumacher, makes a good start, pulling even with Coulthard before surging ahead to pull almost even with Schumacher.
On the run down to the braking area for the first, left-hand part of the chicane, Hakkinen is well out front, while Coulthard, Schumacher and Barrichello are running three-wide, with DC on the inside, Barrichello on the outside, and Schumacher slightly ahead. Barrichello lifts early as the corner approaches, allowing Schumacher to move slightly to his right for an angle into the corner. Coulthard takes advantage to pull a bit ahead of Barrichello, but they are essentially side-by-side as they follow Schumacher into the left-hander.
Barrichello has the inside line for the second, right-hand part of Tamburello, and seizes third, riding the curb and catching an incipient spin with some quick spinning of the steering wheel. R Schumacher, from fifth, also makes a good start, but as Coulthard moves left in a vain attempt to take second from the leading Ferrari, Ralf gets squeezed so badly he has to put his left side tires fully in the grass at the left bend before Tamburello, loosing his momentum.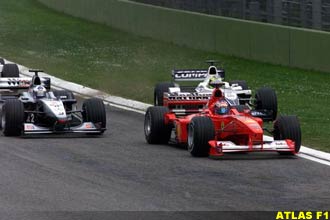 Bad starts seem to be the order of the day. Also blowing their launches are Frentzen (sixth) and Irvine (seventh), the latter seeming to sit motionless in a growing cloud of tire smoke. In contrast, Villeneuve's start appears to have been rocket-assisted, though in part this is an optical illusion, created by the poor starts of those around him. Trulli, eighth on the grid, finds himself blocked by teammate Frentzen's slow getaway and ducks toward the pit wall to go around.
At the same time, Villeneuve goes to the outside to get around the nearly stationary Irvine, then slices diagonally back across the track as he clears Frentzen, a move which also closes the door on Trulli. R Schumacher, regaining speed, finds himself swamped by Villeneuve and the two Jordans, the yellow cars engaged in an intra-team battle, which is resolved in favor of Trulli as they exit Tamburello and head out onto the straight and down to the Villeneuve chicane. Irvine recovers and simply powers past R Schumacher down the straight between Tamburello and Villeneuve.
Into the Tosa hairpin, Hakkinen leads Michael Schumacher by over a second, but the gap is already shrinking. Behind, Barrichello is falling away from the leaders.
Lap 1: The order across the line is Hakkinen, Michael Schumacher (-1.206s), Barrichello (-3.158), Coulthard (-0.551), Villeneuve (-0.588) and Trulli (-0.754). Frentzen has gotten back around Irvine for seventh, R Schumacher is ninth, and Salo is 10th in the lead Sauber. Button, having started 18th, has gained only one position, he and Gene having taken Herbert's Jaguar at the start.
Lap 2: Hakkinen and Michael Schumacher are clear across the line, running a second apart and almost five seconds ahead of the Barrichello-Coulthard duo, with Villeneuve and Trulli beginning to fall behind. Mazzacane loses his Minardi under braking for Villeneuve and continues, despite a push from the marshals, which is legal as the car was in a dangerous position.
Lap 4: Frentzen ends the lap in the garage, his transmission gone.
Lap 5: Hakkinen leads Michael Schumacher by 1.159s, Schumacher having set the fastest race lap with a 1:28.906. Barrichello and Coulthard, glued together, are almost eight seconds behind Schumacher.
Laps 6 - 11: Only the gaps change up front. Hakkinen leads Schumacher by 1.3s, and exits the Tamburello chicane as Barrichello crosses the start/finish line, all but 12 seconds behind. Coulthard appears quicker, but has made no serious attempt on third place. Button's engine expires going into the Villeneuve chicane on lap six, and Gene goes off on the oil deposited by the BMW engine. Both are mired in the gravel trap, and are done for the day. On lap 11, Verstappen is called onto pit road for a 10-second penalty for blocking.
Lap 13: Hakkinen takes fastest lap from Michael Schumacher with a 1:28.076, increasing the gap to nearly two seconds. Barrichello has yet to break out of the 1:29s. Lap 21: Irvine slows dramatically out of Tosa, and both R Schumacher and Salo go past up the hill, but Irvine recovers to hang onto ninth.
Laps 22 - 24: Pit stops are fast approaching for those who will stop twice. Hakkinen has pulled out a lead of 3.3s on Michael Schumacher, who in turn is almost 30 seconds ahead of Barrichello and Coulthard. That pair is then more than 10 seconds ahead of Villeneuve, Trulli and R Schumacher, who continue to run together, trailed by Salo, Irvine and, five seconds farther back, Zonta in 10th. With Heidfeld having departed, there are 18 cars still running.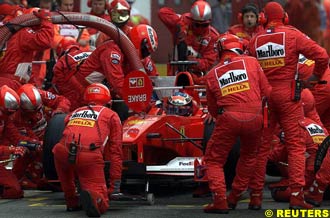 Lap 25: Coulthard is the first to pit, spending 26.663 seconds on pit road as he takes on enough fuel to stretch his second stint in hopes of staying on the track longer than Barrichello. He rejoins in seventh.
Lap 27: Hakkinen and Michael Schumacher pit together. Hakkinen is on pit road for 25.270s. Like Coulthard, however, Schumacher takes on more fuel (26.716s on pit road), also to extend his second stint. They rejoin in first and second places.
Lap 28: Barrichello pits from what had been the lead. His stop is quick, with 24.730s spent on pit road. The relatively short fuel fill gets him back onto the track still ahead of a frustrated Coulthard.
Lap 32: With the stops complete and everyone back up to speed, Hakkinen leads Schumacher by 4.6s, and is beginning to increase the gap. Barrichello trails Michael Schumacher by 30 seconds, with Coulthard still close behind. Villeneuve, with the quickest first stop, remains fifth, but is almost 20 seconds behind Barrichello. R Schumacher has moved to sixth, and Salo to seventh, Trulli having suffered the longest stop of those who will be coming in twice, with nearly 30 seconds on pit road.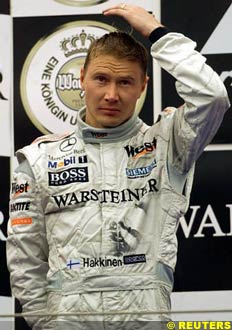 Laps 33 - 40: Hakkinen extends his lead over Schumacher, but then runs over a piece of debris on the track, which he later says damages the underbody, costing him front downforce. Schumacher closes the gap, but then stumbles over Diniz, who unexpectedly moves over for him and slows between the double right-handers at Acque Minerali.
Lap 44: Hakkinen makes his second stop (25.748), with 19 laps remaining. He returns in second place. Schumacher steps up his pace, in his patented style, increasing his gap over Hakkinen in anticipation of his own second stop.
Lap 45: Before he can make his second pit stop, R Schumacher retires from what was effectively sixth place with what is reported to be a fuel pick-up problem.
Lap 46: Barrichello and Coulthard pit together. Having had the longer first fuel-fill, Coulthard now has the shorter one, 24.857s to 26.284s. Barrichello, pitted behind Coulthard, is first to stop and first to drop the clutch. The distance between their pits is, however, enough to allow Coulthard to remain ahead, despite a tire-smoking exit by Barrichello which must have come awfully close to violating the pitlane speed limit. Finally free of Barrichello, Coulthard will build up a lead over the remaining laps of nearly 40 seconds.
Lap 48: Running light after Hakkinen's second stop, Schumacher has increased his lead, only to see it decrease again when Diniz unexpectedly slows to let the Ferrari through between the double rights at Acque Minerali. Hakkinen inadvertently returns the favor when his engine cuts out briefly at the end of the pit straight. The margin restored, Schumacher pits and, thanks to the long earlier fill, needs only enough fuel to make the 14 laps to the finish. He spends just 22.889 seconds on pit road, and returns still in the lead, by 3.7s.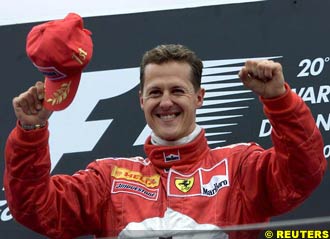 Closing laps: Hakkinen initially closes the gap, only for Schumacher to increase his pace. Again, Hakkinen closes, setting fastest race laps in the process, but there are not enough laps remaining. Schumacher wins by 1.168 seconds. Coulthard, for so long delayed by Barrichello, is 50 seconds behind Hakkinen at the finish.
Villeneuve, having resisted an early challenge from Trulli, and a later one from R Schumacher, comes home a deserved fifth, followed closely by Salo. Trulli, thanks to long pit stops, is seventh, followed by Irvine, Diniz and Wurz, all one lap down. Wurz and teammate Fisichella had gone with a one-stop strategy in an attempt to overcome poor starting positions (11th and 19th, respectively), and paid the price. Fisichella finished 12th, behind Herbert, who adopted the same strategy for the same reason.