Earlier this year I said that I thought Honda had its eye on Jacques Villeneuve, that it highly rated his abilities. I felt that this was the main reason why it had teamed up with BAR in a deal that included not only a works engine but also a vehicle-development pact. It turns out that I was right.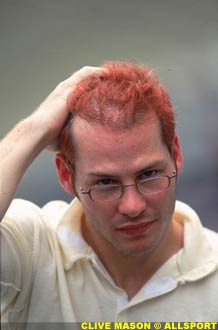 Honda does indeed value Jacques Villeneuve highly, I was told by a well-informed source. But that high rating is not necessarily a result of his speed in races, impressive though that is. Rather it is a result of Honda's work with Jacques in vehicle and engine development. It is as a test and development driver that they have found that Villeneuve excels. This, of course, is a vital factor in the preparation of the modern Formula One car, which is so sensitive to the subtlest changes in electronic programming and aerodynamics.
We well recall Honda's affection for Ayrton Senna. Honda and its people, I learned, were deeply downcast by this great driver's death. He too was a sensitive and indeed demanding development driver who was also fast enough to win 32 races for Honda from 1988 through 1991. This was only seven wins short of the number of victories scored by all other Honda-powered drivers combined. For both his achievements and his personality Senna was revered, even loved, at Honda, and his death in 1994 was a severe blow.
During the last year, Honda did indeed seek to gain a shareholding in the BAR team, I learned. It realizes that the go-ahead car makers are seeking to consolidate their positions in the sport. With the grid limited to a dozen teams, those auto companies that have not cemented an association are likely to find themselves out in the cold. Honda believes that eight car makers are likely to dominate the Formula One scene, and it is determined to be among them. That's why it is supplying Jordan as well in 2001. The Jordan commitment is a way for Honda to get a more secure grip on a long-term involvement with Formula One.
Just a comment on that: You know that a group of car companies is seeking to buy a share of Bernie Ecclestone's SLEC, the company that commercially controls Formula One. The companies that have teamed up in this way are American and European. The Japanese have not been invited. This is no surprise to our Japanese friends, who are accustomed to being discriminated against, especially by the Europeans, in any and all competitive arenas. Why should motor racing be any different? So if Honda is a bit paranoid about being rebuffed by the Byzantine shareholding arrangements of BAR, it has its reasons.
But why does Honda consider it so desirable to be involved in Formula One? From an image standpoint, one Honda man told me, "It's bloody important to us." It is seen to be putting its reputation on the line 17 times a year, in many countries, under the eyes of many millions of present and potential Honda customers.
Just as important, I was told, is the stimulation that Formula One gives to the new crew of young engineers who are designing and testing Honda engines. The latest Honda engines are designed by a completely new team. There are no holdovers from the past. In fact former Honda chief Nobuhiko Kawamoto told a friend that he "hated" the company's newest Formula One effort. Why? Because as a retiree he couldn't be involved! That's how passionate they are about F1 at Honda.
Young up-and-coming engineers are cycled through the Honda racing program for one very good reason: to inculcate in them a sense of urgency. In racing there's no time to conduct another analysis or form a task force to solve a problem. The engineer on the spot must diagnose the fault and find a solution immediately, if not sooner. Honda has learned from its long experience in the sport that participation in racing tunes up its engineers, making them keener and quicker off the mark in their work on everyday Hondas later in their careers. Racing improving the breed? At Honda this could just be true!