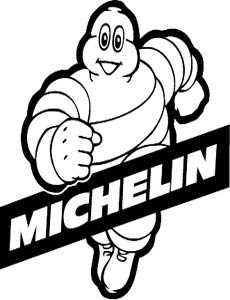 Michelin is no stranger to the Formula One stage and has a distinguished history to build upon. Back in the ACF Grand Prix of 1906, held at the Circuit de la Sarthe near Le Mans and generally considered to be the "first" Grand Prix, Michelin was already supplying removeable rims to the competitors, using Michelin's pneumatic or "air" tires, including the winning Renault driven by Hungarian Francois Szisz.
Michelin first entered modern Grand Prix racing back in 1977 (also a time, as now, where there was only one tire manufacturer) at the British Grand Prix at Silverstone, partnering with fellow French automotive giant Renault. The French team pioneered the introduction of a turbocharged car, the Renault RS01, that was ridiculed in the pitlane as "The Yellow Teapot" for its frequent turbo fires. But the radial tires Michelin designed for the Renault worked fine; indeed, Michelin was the first to introduce radial-ply tires, at a time when Goodyear and the other tire suppliers were still using cross-ply construction.
By 1978, Ferrari had joined Renault as a customer for the Michelin radials and in the second race of the 1978 season, the Brazilian Grand Prix on the Jacarepagua circuit, Michelin scored its first victory in modern Grand Prix history, when Carlos Reutemann's Ferrari 312T3 won the race at Rio. Michelin had other racing successes in 1978 that seemed to reflect the overall quality of its commitment to motorsports in that era, with victories at Le Mans and in the Monte Carlo Rally coming on Michelin-shod cars.
But in 1979, there came the crowning achievement for the French consortium of Renault and Michelin. In the now legendary French Grand Prix held at Dijon on July 1st, 1979, the Renault RS10, with two French drivers and the now-reliable 1.5 litre Renault V6 Turbo, running on Elf fuel and on Michelin tires, finally won its first race. Fittingly, it was Jean-Pierre Jabouille at the wheel of the winning Renault; Jabouille had been involved with the turbo since its inception.
Of course for Formula One fans, the 1979 French Grand Prix is most remembered for the breathtaking wheel-to-wheel duel in the closing laps between Rene Arnoux in the Renault RS10 and Gilles Villeneuve in the Ferrari 312T4, as they passed and re-passed each other in a classic contest of wills and nerve, which ended up with Villeneuve finishing second in the race, spoiling a 1-2 sweep for Renault. In certainly one of Michelin's prouder moments, all eight of those tires that stood up to the punishment of that Renault-Ferrari wheel-to-wheel racing were Michelin's!
And when the 1979 season was over, Michelin had its first championship when Jody Scheckter won both the Drivers' and Constructors' Championships for Ferrari.
By 1981, Goodyear, which still supplied most of the teams, had preliminarily announced (as it did again in 1998) that it would withdraw from Formula One, and Michelin was quick to take up the cudgels and let it be known that it would be prepared to supply all the teams. As it turned out, Italian tire supplier Pirelli and British supplier Avon came back into Formula One that year, and Goodyear relented and ended up still supplying Williams, Brabham and Lotus.
With Michelin now supplying McLaren, Alfa Romeo, Fittipaldi, Osella, Talbot-Ligier in addition to its original customers Renault and Ferrari, Formula One enjoyed one of its more competitive seasons. Nelson Piquet in the Bernie Ecclestone-owned, Gordon Murray-designed Brabham BT 49C won the World Drivers Championship by one point over Carlos Reutemann's Williams FW07C, both teams on Goodyear tires, a result which seemed to sustain Goodyear's interest in remaining in Formula One.
In 1982, Ferrari ended its four-year relationship with Michelin and switched to Goodyear; Michelin continued to supply McLaren and the French teams, and at the end of the year, the two top teams in the Constructors' Championship were Ferrari (on Goodyears) and McLaren (on Michelins). In 1983, Michelin added Brabham to its stable, and Piquet once again won the Drivers' Championship, this time on Michelins, in the Brabham BT52 BMW Turbo - the first turbo to win a World Championship.
In 1984, in one of Formula One's periodic attempts to slow the cars down, the amount of fuel was limited and refueling stops were no longer permitted, thus increasing the importance of the tires. All three tire manufacturers then in Formula One - Goodyear (still), Michelin and Pirelli - were producing radial tires by this time, following Michelin's lead, with McLaren, Brabham, Renault and Ligier on Michelins; Ferrari, Lotus, Williams, Tyrrell and Arrows with Goodyear; and Pirelli supplying the smaller teams, such as Toleman, Osella and Spirit.
As it happened, 1984 would turn out to be McLaren's first powerhouse year, with the John Barnard-designed MP4/2, powered by the TAG-Porsche V6 Turbo and driven by Niki Lauda and Alain Prost; the Michelin tires rounded out this dominant combination. Surprisingly, it was at the end of this most successful of seasons that Michelin announced its withdrawal from Formula One, leaving behind a remarkable record in only seven full seasons: 59 wins, three Drivers' World Championships, and two Constructors' Championships, as well a pioneering the use of radial tires in Formula One, which had universally replaced cross-ply tires by the time Michelin left Formula One.
The Return of the Michelin Man: "We Love Challenges"
After 16 years of being on the sidelines in Formula One (although having participated successfully in the World Rally Championship and in GT and World Superbike racing) Michelin announced a year ago that it intends to return to Formula One in 2001. "This decision is part of our worldwide strategy," said Edouard Michelin, 37 years old and Chief Executive of the Michelin Group. "Racing and F1 in particular present a very strong potential in terms of communicating our technological leadership. Our entry in F1 will help us reinforce our position in Europe and gain recognition and improve our presence in Asia and South America. It will also increase our racing presence in North America. We are convinced that this is a good investment. It's going to be a challenge and at Michelin we love challenges." And they have for a long time.
It is worth mentioning that the current Edouard Michelin is the namesake of the first Edouard Michelin (1859-1940), who placed 9th in the 730 mile Paris-Bordeaux-Paris race run in 1895, driving a car called the Eclair, which Edouard and his brother Andre built themselves using a Peugeot body and a Daimler engine to showcase Michelin's pneumatic tires. In short, the Michelin Man (who has a name, by the way: Bibendum) knows racing.
Returning to the Year 2000, as Michelin went about its ultimate goal of supplying half of the current grid, it initially drew on its prior relationship with BMW in GT cars at Le Mans and with Toyota in the World Rally Championship, identifying BMW-Williams and the new Toyota team as its first customers. More recently, another fairly new team, Ford-owned Jaguar Racing, has thrown its lot in with Michelin. Although nothing is signed, the French Prost team is a logical customer, and as Benetton morph into Renault next year, you can expect Michelin to have Benetton as its client as well.
Interestingly, Michelin's most distinguished prior customers in its last go around in Formula One - Ferrari and McLaren - are contracted to stay with Bridgestone at the moment. It will be remembered that in the most recent transition from Goodyear to Bridgestone, McLaren was thought to be the favored Bridgestone development team, at the expense of Ferrari and Benetton.
Although Ferrari seems uncomfortably poised between Bridgestone-favorite McLaren and Michelin-favorite Williams with no Italian supplier of its own in the wings, it would not be unprecedented for a team to switch horses in mid-stream if circumstances warrant. In 1981, when there were multiple tire suppliers, there was much switching about during the season amongst Michelin, Goodyear, Pirelli and Avon. However, somehow I suspect that the current contractual commitments in effect for Bridgestone and being negotiated by Michelin for its customers do not leave the teams with the degree of latitude they enjoyed back then.
As to the other teams on the grid, Arrows reached its zenith on Bridgestone at Hungary in 1997, with Damon Hill almost winning the race, so that team will stay with Bridgestone. The Honda-powered teams - BAR and Jordan - could end up, for political reasons, staying with Bridgestone, given its Japanese ownership and the fact that arch-rival Toyota has signed up with Michelin. Minardi is likely to go with whichever brand its new owners want. The Ferrari-powered Sauber team will probably stay with Bridgestone.
The Michelin Renaissance So Far
Reflecting its experience in all forms of racing and its institutional sophistication, Michelin has already flexed the muscles of the Michelin Man in interesting ways. Given the increasing involvement of manufacturers in Formula One, the announcement that the Jaguar/Michelin arrangement is a "long-term agreement" implies that Michelin has locked in at least Ford as a reliable funding source to support the expense of racing at this most expensive level.
Michelin has also shown itself to be aggressive about protecting its competitive position as against the more entrenched Bridgestone. In early November 2000, just when Alain Prost thought he had solved at least one of his many problems by landing the rights to use a Ferrari engine, his countrymen at Michelin raised the specter of industrial sabotage, suggesting somehow that the Ferrari engine builders detailed to the Prost team to tend the engines could be carriers of Michelin tire secrets back to Maranello and Bridgestone-shod Ferrari, trade secrets that would ultimately redound to Bridgestone's benefit.
Michelin will doubtless be given assurance that procedures will be put into place to guarantee that this kind of tire technology transfer would not occur, but again, the fact the subject was even raised shows that Michelin is alert to being disadvantaged, whether it be by the teams, its competitors or the Powers That Be, and is not shy about going public about perceived obstacles to making its return to Formula One a success.
The Michelin Man has also already thrown its weight around with the FIA. Last June, Michelin motor racing boss Pierre Dupasquier pointed out some ambiguities in the infamous "grooved tire" regulations that he wanted clarified before Michelin began its development program in earnest. In response to questions from reporters at the French Grand Prix, Dupasquier declared that the FIA's rules require four grooves but do not specify the maximum depth of the groove or the depth of the groove at the end of a race:
"We think this is an important question, because ever since there has been just one tire manufacturer in F1 there seems to have been a gentlemen's agreement about the [state of the] tyres at the end of the races. Nobody pays attention to the shape of the poor things at the end of the races. But in most cases the races finish [with the cars] running on what are almost slick tyres.

This is therefore a question for the tyre suppliers, and Mr. Yasukawa [of Bridgestone] and I have put a question to the FIA about specifying [the limits] to make sure that there will be no question of races having to be decided the following day on the basis of post-race tire checks, because that would be ridiculous...

Nobody wants to see a driver winning a Grand Prix and drinking the champagne, only for someone to say two hours later that he is to be disqualified because there was too much wear on his tires. That makes no sense. We are desperately trying to find a way. But if we don't succeed, then we will protest the results of every race."
Spoken like a savvy competitor who is already firing warning shots across the bows of Bridgestone and the FIA!
Michelin also seems to be on the side of the Formula One fan when it comes to the grooved tires, suggesting quite frontally that if the beloved and much-missed "slicks" were used instead of the grooved tires, post-race disqualification due to worn down grooved tires would be a moot issue. You can almost hear in Dupasquier's statements, Michelin's preference for bringing back the 18 inch wide Michelin slicks (today's grooved tires are 15 inches wide) with which McLaren won the 1984 Championship.
Dropping a less than subtle hint, Dupasquier has said the easiest way to control the conformance of the tires to the specifications during a race was to allow the return of slicks: "We have told the federation [FIA] that if it wants us to run on slick tyres, we will be able to do so."
Another novel and perhaps crowd-pleasing Michelin idea is the introduction of tires in colors other than basic rubber-black. Michelin has said that it was in a position to offer color-coordinated rubber in Formula One so that theoretically a team such as Michelin customer Jaguar could run on British Racing green tires (or perhaps future customer Ferrari could run on Testa Rossa Red). Notwithstanding this capability, Dupasquier emphasized that Michelin's operational prerogatives will put color coded tires on the back burner, presumably until Michelin begins winning, when we can look forward to seeing Minardi-yellow tires gracing the grid.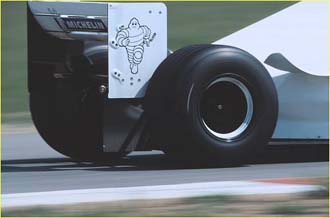 Turning to the serious business of tire development, Michelin has approached the task with Gallic joie de vivre. The BMW-Williams and Stewart teams supplied two cars that are a year-old, Michelin painted them white (with the omnipresent Bibendum logo painted on the rear-wing end plate) and has gone racing all over Europe. The testing began in March 2000 at the BMW-owned Miramas circuit in the South of France and has continued apace throughout the summer at Monza, Jerez, Barcelona and Silverstone, with further testing scheduled for Magny-Cours and Estoril. Test drivers Tom Kristensen of Denmark and Jorg Muller of Germany were testing sometimes four days a week, doing Grand Prix distances each day of testing, piling up over 10,000 kilometers of testing by the end of the 2000 Formula One season.
What did Michelin learn? According to Mr. Dupasquier, although no direct comparison can be made to current F1 lap times due to the conditions of the tests, Michelin feels it is in the game: "These first tests have allowed us to confirm the results of all our computer simulation work carried out at our test center. So far we have essentially concentrated on working through a broad selection of compounds and constructions to provide an initial basis from which to build. It is only as our programme progresses that we will start to look at specific solutions for individual circuits. For the moment, it is very satisfying to note that we are not a million miles off the target pace we have set ourselves, although we obviously don't yet have any benchmark times to accurately evaluate our progress compared with our competitors."
Meanwhile, back at its Clermont Ferrand home base, Michelin's tire development engineers are busy processing the raw data being developed by Kristensen and Muller and focused on fine tuning the initial test findings to lay the groundwork for the tire compounds to be used in 2001.
After a relatively quiet November, Formula One's 2001 Season will begin in December in hospitable southern climes like Jerez, Valencia and Barcelona in Spain, and in Portugal's Estoril circuit. These tests will be the first where Michelin will be allowed to run at the same time and in the same place against and with current Formula One cars. So December is the acid test for Michelin, because, as Michelin's Dupasquier himself has said: "We have done some testing, but until you have been out on the real circuit, with a true F1 car, facing the latest competition, you can have no idea where you are."
At a minimum, Ron Dennis of McLaren, a former satisfied customer of Michelin, has predicted the tire war about to unfold will produce better racing: "It is inevitable that either Bridgestone or Michelin will have a better tire for qualifying, but a better tire for qualifying is not necessarily better for racing on, and the outcome of the race will be somewhat different to the grid."
Time will tell, but Michelin will surely have its work cut out for itself to repeat its feat last time around of winning its first Grand Prix in its first full season as of the Brazilian Grand Prix, which next season is scheduled for April 1st, 2000 - April Fools' Day - hopefully not a bad omen. But if you go back in racing to 1906, as far back as the detachable rim, who is to say the Michelin Man cannot surprise us again in the beginning of this Century. Bonne Chance, Michelin; En Garde, Bridgestone!