THE 2000 SEASON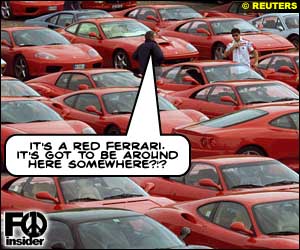 So now that it's all over, bar the shouting next year about who was cheating this year, what can we say about the 2000 season? Well, without a doubt, it was certainly one higher than 1999. Obviously the highlight of the year was the fact that Ferrari finally got it right last year when they said they would win the championship next year. And it wasn't even all that controversial. No last race crashes, funny shaped bargeboards or team employees serving as stewards at the deciding race of the championship. OK, I said it wasn't that controversial. Two out of three ain't bad.
And what of McLaren, newly crowned first loser? Actually, with Coulthard on board they have a lock on this title and that of second loser. Since the end of the season, DC has stated that all he needs is more luck and consistency although he does seem to be underestimating the importance of speed, skill and wins. In a recent interview, Coulthard was quoted as saying: "I don't want unwanted criticism. I don't see why I should be judged so harshly just because I've had a good car and I haven't won." It's hard to say which of these two sentences makes the least sense.
Behind the big two (makes you nostalgic for the days of the big four, doesn't it?) Williams and their drivers, Ralf Schumacher and Jenson Button, all acquitted themselves well. Frank was in the enviable position of having three good drivers to chose from, but - for the next two years - is in the very unenviable position of possibly having everybody compare him to the guy that wouldn't sign The Beatles and the Hollywood producer who said that Fred Astaire "can't sing, can't act, can dance a little." As the Fred Astaire of F1, Jenson Button has certainly shown that he can dance a little, and, depending on how serious Renault are next year, he could quite possibly give Sir Frank the odd sleepless night.
BAR and Villeneuve proved a point, which is more than they did in 1999. Jaguar proved that spending money on T-shirts, caps and billboards probably isn't quite as effective as spending it on a wind-tunnel, but Benetton showed that they are fully aware of the value of a wind-tunnel and re-hired Flavio Briatore. Prost proved that they don't know what that certain je ne sais quoi is, and Minardi continued to prove that it is possible to make nothing out of nothing.
WE'RE NUMBER 3! WE'RE NUMBER 3!
After last year's fuss over who was number 1, who was 1A and what would they do with all those '2' decals, this year's number du jour is 3. Both Alexander Wurz and Ricardo Zonta are both happily heading off to the F1 wilderness in the hope of following Olivier Panis's path from sub-par racer to test driver par excellence and back to sub-par racer. Of course, Panis's little sojourn at McLaren has moved him up the grid a few spots from Prost to BAR, but it is yet to be seen whether he'll be able to do anything with the opportunity he's been given. Of course, if Panis has learnt in the last year how to keep it still until the red lights go out, that will be something of an improvement.
Strangely, Johnny Herbert has eschewed the #3 spot at Williams in favour of a non-existent CART ride. That is unless he's changed his name to Junqueira or Minassian.
THE VERSTAPPEN WATCH
You wouldn't believe how many comments I got because I omitted the Jos Watch from the last column! And you certainly wouldn't believe the two e-mails I got from a country that shall remain nameless (Holland) that suggested that I had dropped the Watch because I had finally realized what a fine driver Jos really is. Sorry to disappoint you guys, but I just got bored reporting the same thing every week. But just for you, here goes: Jos successfully managed not to out-qualify his teammate and drove a mediocre race of very little interest, finally finishing 10th out of 12. (OH – almost forgot. He did have a little spin on lap 1).
Many people were surprised and disappointed that I did not mention Jos's little contretemps with the law. I must admit to a little rush of adrenaline when I first saw the news item on Atlas F1 News but I quickly realized that this was old news: it was simply the culmination of an event that happened some time ago and on which I have already commented. As much fun as it is to kick a guy when he's down, I really didn't think I could use the same old jokes over again. (Well I could, but my editor is getting much pickier these days. I think it's because I cut and pasted my entire report on Hungary 1999 and tried to pass it off as a new and insightful look into this year's Hungaroring race. How was I to know that anybody in their right mind would've watched both those races, let alone read the reports for both).
IN THE BLEAK MID-WINTER.....
So now all that remains is to count down the days until the start of the 2001 season. It is somewhat scary to think that one of the next races I'll see is the NASCAR Daytona 500 – by February I'm normally ready to watch just about anything.
I am sorely tempted to say that next season looks really promising with McLaren and Ferrari still on form, BMW and the two Hondas both possible contenders, and even Renault likely to throw a spanner in the works. But at the end of every year we always think the next year will be more competitive, more exciting, more entertaining than the current year was, and we are always wrong. The governing body has once again completely failed to do anything that is likely to improve passing, eliminate (or at least clarify) unsporting tactics or make the sport more appealing to the average ticket buying fan. Let's hope that 2001 at least produces a two-horse race, but if it doesn't, let's try not to be surprised.