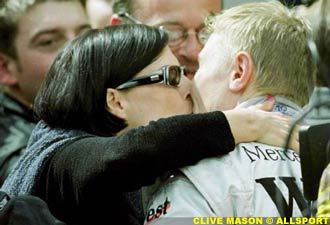 Two world title successes and one gracefully-accepted defeat have not dampened Mika Hakkinen's desire to be a Formula One champion again next year. Nor has the prospect of becoming a father for the first time. Indeed, just like any racing driver who has tasted glory, he wants more - and the feeling is intensified after missing out in the run-in behind Michael Schumacher this year.
At 32, the Finn is not done yet and he plans to secure a third drivers' crown in 2001, an achievement that would deny Schumacher an Alain Prost-equalling fourth title and bring him level with the German. It would also be the perfect way to celebrate the birth of his first child, due in late December.
"I hope the baby is early," Hakkinen said this week. "It would be great for the family to have a baby around Christmas. Everyone would love that." The broad smile is as warm and genuine as the intention to return to the track next year, with the Finn's eyes fixed on regaining his place at the top.
Hakkinen may have been denied a third successive title, which would have given him a place in the sport's record books alongside the great Argentine Juan-Manuel Fangio. But, quiet and stubborn as usual, he said he is not ready to throw in the towel, or devote his life to nappies... not just yet.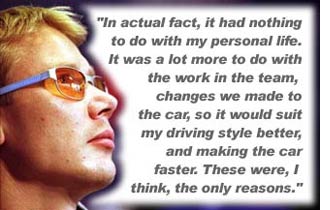 "No way," he laughs. "I am not quitting. Not yet, anyway. I am still motivated in a big way and I want to get a third title."
The McLaren-Mercedes driver, by his own admission, lost out to Ferrari rival Schumacher because of his surprisingly lacklustre start to the season - he failed to finish in Australia and Brazil, and his first win did not come until the fifth round, in Spain. In fact, Hakkinen's season never really got under way until his victory in the Austrian Grand Prix, but he is reluctant to divulge the details of what happened at the A1-Ring behind the tightly-closed doors of the McLaren briefing rooms and the motorhome.
"Well, yes," he admits, "Something happened. I think I made a mistake. I said to somebody there, I don't know maybe to everybody or to all the press, I said I had had a holiday. You know, I think I just said something because people had asked me what happened in my personal life to make things different and to make me want to win.
"In actual fact, it was really nothing to do with my personal life. It was a lot more to do with the work in the team, changes we made to the car, so it would suit my driving style better, and making the car faster. They were, I think, the only reasons."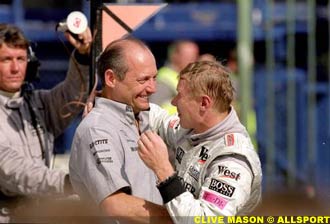 Hakkinen's admission is simple: he was, for the first time since racing to his maiden Formula One victory at Jerez in 1997, an also-ran. But the dramatic change in form rekindled his dream of a third consecutive championship to add to his triumphs with McLaren in 1998 and 1999.
But the Finn's words fail to eradicate the feeling that something else went on at the A1-Ring in July. The 'conspiracy theory', now an integral part of Formula One each season, emerged with talk of something internal to McLaren, but Hakkinen glossed over the happenings in Austria last July, as he reflected on his year during the Mercedes-Benz end-of-season gathering in Stuttgart.
"The start of the season was anyway quite negative for me and probably it did affect, at least a little bit, my confidence and my way of working, because things didn't go the way they should have gone," he added.
"We had a great preparation during the winter in 1999 and that is probably why it was so disappointing for me to start the season the way I did this year - and that also affected my work. But mainly it was something to do with the car which we modified.
"You see, sometimes you can make a little change to the car and it doesn't suit your driving style, and sometimes then you immediately lose a little bit of confidence. So, in Austria, we changed the car back to more like the way it used to be and more like the way I like it to be. Immediately, we got our speed back."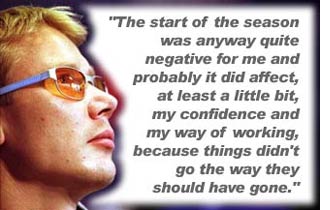 Despite his stuttering start to the season, as Schumacher dominated with five victories in the first eight races, Hakkinen now denies that in-house rumblings occurred within McLaren's Woking headquarters. He insists that every thing was done as a team, both winning and losing.
"I think the team is in good harmony to be honest," he says. "It is an environment where we don't fight in political games and things like that, and there was no situation where I wanted to be a boss or the team wanted to be in that position.
"We work together all the time and try to understand the situation. There were no clashes in the team about the car. It was just a matter of testing and understanding it."
While Hakkinen was slow out of the blocks, his McLaren teammate David Coulthard emerged as the biggest threat to Michael Schumacher's chances of becoming a world champion for a third time. But as the Finn turned around his fortunes after the Austria victory, Briton Coulthard's title hopes headed in the opposite direction. The duo's switch in form is something Hakkinen failed to find an answer to. He did, however, insist that he never stopped striving to win that third successive crown.
"I cannot find a logical answer for that," he says. "You need to ask David the same question. Maybe he can tell you a different story, but for me, it is difficult to say. I don't know what people say when you look at the situation.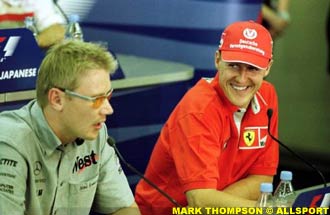 "If you look at the general picture at all the Grands Prix and all I have done this year, in the general result, I think, they have been very consistent. So, I don't know. I can see that my season got better and better and David's went the other way.
"My personal view is that you have to keep on fighting and more and more, and it gets harder and you have to push more and more and harder and harder towards the end of the season. It's not good slowing down. You've got to keep working very hard. And you can't do vice versa either. You cannot start the season slow and then speed up at the end. It just goes the way it goes."
The fact that Coulthard's season nose-dived was not lost on Hakkinen. But the Finn is not ready to begin criticising his teammate, not, that is, until he is finished with the sport and heading towards retirement.
"It is something I cannot explain," Hakkinen says. "I could tell you a lot of things about David, of course, but I simply want to keep them to myself because it is unfair of me to really talk about what I think of somebody else... because I don't want to tell the whole of England or the whole world."
The one-time Lotus driver, however, was quick to admit that the Scot's plane crash at Lyons, France, in May, affected his hopes of securing a maiden world title. After all, Hakkinen himself had suffered the after-effects from a life-threatening accident at Adelaide in 1995.
"Something like that must have an effect on your mind," he said. "I am sure it has had an effect and made him more stronger and his belief in himself, and I am sure the negative side is definitely much greater in what happened to him that day.
"I can tell you one thing: people really need a break from their work. David, at that time, had a great opportunity to have time off and to spend time with himself and his family and not to go to work, not to go testing, not to go to promotions. Not to go anywhere.
"He had time off and I am sure that was a great thing for him. And I had a similar thing later on [in the season]. It just takes a lot of energy, this business, and if you are tired then you make mistakes."
The pressure on both Hakkinen and Coulthard to succeed is enormous. Schumacher and Ferrari are their major rivals and have been for several years, but any suggestions of bitterness between the two would be miles from the truth.
Hakkinen has raced with Schumacher throughout his career - from karts to Formula One - and they have a relationship much more sporting than many seen in top-level motor racing in recent years. That relationship, however, will not dent his aggression to regain the championship next year.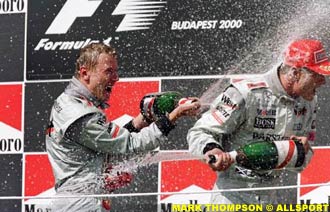 He said: "I am sure that when I raced before 1998 I was very tense and difficult about things and sometimes very aggressive. Even towards my friends and the team and everybody. This was just because I was very angry with myself because I could not deliver what I wanted for myself, for the team and for everyone. I could not do the required job. Even if it is not your own fault, if something goes wrong on the car or something else happens, you feel it because you feel it inside. You feel responsible for everything. You are a team player.
"I am sure now that things are more relaxed again. But maybe I will start to feel intense and angry again, because I want to win a third championship next year. I am sure it is a better relationship now and will be in the future.
"There has always been a certain respect from me to Michael and from Michael to me, but, you know, we just don't talk about it. Of course, it goes back a long way to karts, absolutely and everything else."
And to Spa-Francorchamps: Hakkinen pulled off one of the most spectacular moves Formula One fans have ever seen, and more importantly, it ended Schumacher's stranglehold on the Belgian Grand Prix. What pleasure did the McLaren driver get from that?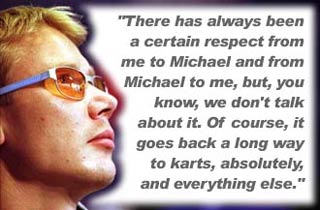 "Well, it was 'mega', obviously," he responds, smiling. "There was a chance, and it came when I had to make a very fast decision in the race about what to do. The moment when Michael started to overtake [Ricardo Zonta] - at that moment I realised he had maybe made a mistake and it gave me the opportunity to go the right way, and that is why it was such a great move. My best move? Yes. Definitely."
Despite wife Erja expecting the couple's first child, Hakkinen responds to talk of retirement with a firm shake of the head. There is life in the old dog yet. He is an angry man, and the determination to avenge Schumacher's success this year will drive him on in 2001.