For the entire season, Atlas F1's Marcel Borsboom kept an eye on the battle between teammates with a simple measurement: comparing the qualifying times of each driver against his teammate's result. Now that the season is over it's time to see who was hot and who was not...

AND THE WINNER IS......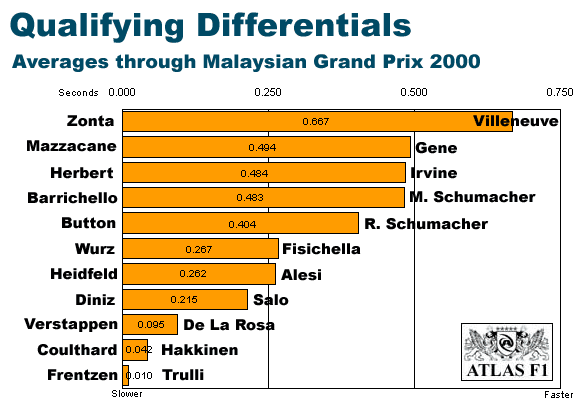 Well, not surprisingly, our Qualifying Differentials Champion of Year 2000 is Jacques Villeneuve, the man and the hair-do. Villeneuve was on top of the Differentials chart for most of the year and he's outqualified teammate Zonta by the largest margin and the largest number of times. He is a truly deserving champion.
Jacques's title is so undisputed, that even when removing the worst/best result for each pair, he remains on top: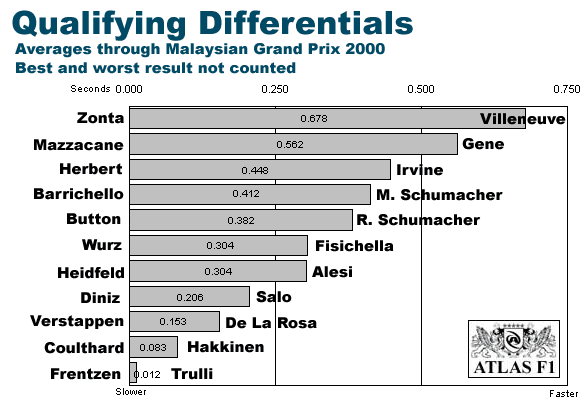 Moreover, Villeneuve was among only seven drivers who outqualified their teammates at the start of the season, and remained ahead of them throughout the season. The others were Michael Schumacher, Eddie Irvine, Ralf Schumacher, Giancarlo Fisichella, Mika Salo, and Marc Gene.
This doesn't mean, however, that they were always ahead of their teammates. In fact, no driver this season managed to outqualify his teammate on all seventeen occasions. Here is what the Qualifying Duel tally looks like: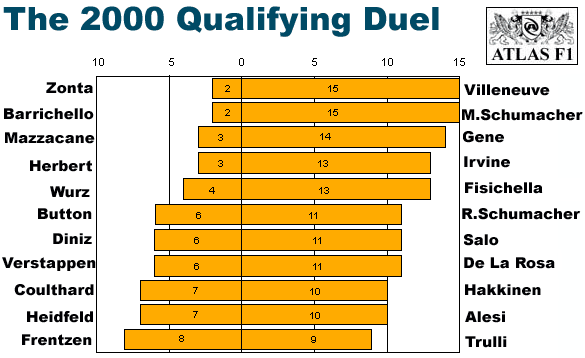 So what was the grid like in general this year? How close were the drivers? The average gaps reveal a rather close intra-team grid, with the overall average of 2000 standing on 0.514s (compared to last year's average of 0.656s). Here are the averages race-by-race: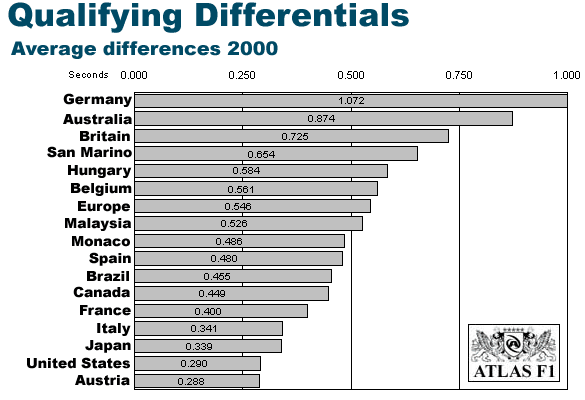 So there you have it folks: the Qualifying Differentials edition of 2000 comes to an end. We will be taking a much needed (well, not really) winter rest, but be sure to find us here again, with the stopwatch and the graphs, when the 2001 season commences. And in the mean time, congratulations to Mika Hakkinen, Michael Schumacher, Jarno Trulli, Eddie Irvine, Ralf Schumacher, Giancarlo Fisichella, Mika Salo, Jean Alesi, Marc Gene, Pedro de la Rosa and our Champ Jacques Villeneuve for finishing ahead of their teammates.