This week's Grapevine brings you
information fresh from the paddock on:

Williams dilemma grows
Vacuum at the top
Picked from the Bunch
Williams dilemma grows
Despite the appeal Jenson Button presents to the home fans, Frank Williams is struggling to decide whether or not the youngster really belongs on the team.
Williams option on Montoya became ever more attractive as the Colombian won the Indy 500 - racing in a strange car, at a strange circuit, in a different "league." The feat itself is impressive, and something of a fillip to the defending CART champion's season; but beyond that, it highlights his ability to get the best from the machinery, and compete effectively, no matter what it is he is driving.
Before the Indy 500, Montoya's season had been less than brilliant - he has not been both reliable and fast, though his team-mate has been luckier. However, winning on his Indy debut has put his name firmly back on the map. Word from the other side of the pond has Montoya again being compared to Mansell - the other "rookie" who won a CART championship first time out, and impressed with third place at his first Indy 500.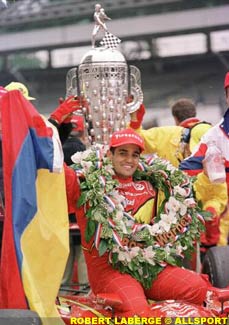 Compared to Montoya's continued maturity and solidity, Button recent run-in with the French police has done nothing to help his case. Formula One drivers are not strangers to speeding fines; however, Button's seat is not so secure at Williams that he can get into trouble with impunity. The British public generally think he has "the right stuff" - coming from nowhere, Button's image to the average man on the street is of a super-talented youngster, being raised from obscurity, but still "one of them."
In many teams, this image - and the resulting income from sponsors - would be a vital consideration in the choice of drivers; however, Williams is concerned only with the achieving the best results his team is capable of. This approach made them the top team of the nineties, and competitive throughout their involvement in Formula One.
Accordingly, current speculation has Button's career with the team approaching an interesting crossroads. Pundits believe that should he continue to perform as he has - close to Ralf Schumacher, but off his pace - then the result of the Monaco qualifying session will be seen as the most critical of his season. The circuit is notoriously tough to get to grips with, and mistakes are punished heavily. Should the youngster manage to get close to his team-mate's performance in qualifying, then he will have got to grips with the track exceptionally quickly; more to the point, from the Williams perspective, it would demonstrate that Button has what it takes. That's to say, better to train him themselves, than loan him out to learn in another team's cars.
Why Monaco? Apparently, the deal with Montoya means he needs to know what is going on for 2001 by some time in July, so time is running out. Monaco is the biggest challenge between now and then, and should be the place to separate the man from the boy, so to speak.
Vacuum at the top
Around the time that Mercedes announced that they will not be offering Prost a customer engine in 2001, speculation in the paddock took a noisy turn.
The deal was not considered "done," but many thought that Peugeot's withdrawal would be followed in short order by Mercedes loaning Prost an engine to power their car, whilst stipulating they ran on Michelin tyres - to be sure all the angles were covered. The public announcement has led to speculation on two fronts: one is that the statement is a bluff, to put people off the scent; the other is that this is precisely what it purports to be, and that Prost are now hunting for a new deal to take them through the decade.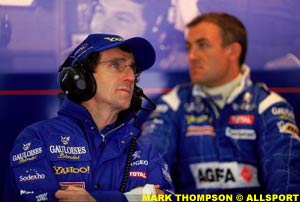 Latest rumour has Prost powered with Supertec engines next year. Another rumour has Peugeot selling their rights to the F1 engine to Asian Motor Techniques, a company run by the son of the late Sony founder, Akio Morita. The plan is to make a customer engine out of it, with a series of evolutions over time, much like the current Supertec, in which case they will continue to supply Prost.
Interest in Formula One is growing - there are continuous rumours of companies in the Far East looking to break into the sport. Proton, currently owners of the Lotus name, are the most popular choice for a new engine supplier, and give or take the financial climate of the far East, are as likely to make the investment as any.
Looking to the far West, General Motors are thought to have completed a survey, indicating the return on successfully involving themselves in the sport would bring in more than it cost; and if the sport takes off at home (in the US), then they need only be moderately successful to benefit.
The two most attractive and available teams, at this time, are Jordan and Prost. Eddie Jordan's outfit has been going from strength to strength over the seasons; with Honda getting behind the Mugen program, they have had the horsepower to accompany excellent chassis design, and earned a very solid third in the 1999 Championship. However, with Honda taking up the BAR challenge, work on the customer unit has all but disappeared, so a steady decline is anticipated, unless the team can work out a new engine deal.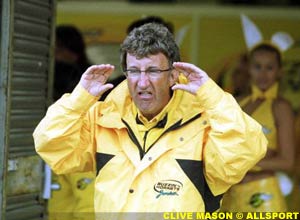 MotorSport Aktuel recently reported that Eddie Jordan is up for an arrangement that will give his team next year the same Hondas mills that BAR will get. This, according to the report, will amount to an on-track shoot-out during the opening Grands Prix next year to determine who gets the upgrades first. Jordan's engines will, at least through the early races evaluation, continue to carry Mugen on the cam covers. If that rumour is true, then Jordan's future prospects look much better.
Prost's predicament, on the other hand, is pretty dire. In its current form, the sport already has Minardi to fill the role of the struggling underdog fighting for a single point in a season. However, even Minardi put together impressive cars, lacking only a good engine to drive them into respectable positions. There is no room at the bottom for another team to run alongside them.
Prost is prepared to part with his team, if that is the only route to a competitive car. He is not there to make up numbers, and struggling to finish races is no fun. Over the remainder of the season, it is believed the four times World Champion will be putting together a deal that sees from forty to eighty percent of the ownership of the team change hands. Ironically, Peugeot are currently the top tipped buyers (Renault's return is big news).
The driver silly season has started, but with concepts for the 2001 season cars being put together over the next six to eight weeks, time is getting tight for designers to know what their new packages will be based on. Whether or not the deals are announced in that time-scale is irrelevant, but for Jordan or Prost to be as competitive as they are each promising their sponsors next season, they have to get their acts together, and fast.
Picked from the Bunch
Johnny Herbert has admitted considering his options for 2001 are limited, but he being interested in racing the Indy 500, he could race for the IRL rather than CART. Failing that, a trip into sportscars would be the route onward.
Bridgestone are considering withdrawing from Formula One if the FIA change the tyre format for 2001. It is believed that whilst Bridgestone are prepared to consider the addition of transverse grooves, and have tested accordingly, but anything else would destroy their competitive edge, and lead to withdrawal.
Michael Schumacher has hinted that McLaren might have been using traction control up to Silverstone, commenting that Hakkinen's starts were "out of this world" until recently.

A few grapes collected by RaceFax:
Benetton has developed a qualifying version of its car. Changes include a different (and presumably smaller) fuel tank, a lighter monocoque and lower, lighter, smaller radiators. Ballast is then used to get the car back up to minimum weight, and positioned in beneficial places that space and the laws of physics wouldn't permit in a car which could do race distances.
Michael Schumacher's recurring problem with tyres rotating on their rims is said to be because the team has gotten special lightweight wheels from BBS. The lower unsprung weight improves handling, but at the frequent cost of out-of-balance tyres after they rotate. And as often as not, they lose air pressure into the bargain, as at Barcelona.
Teleglobe, about to be late of BAR, has been grabbed by Flavio Briatore. Rumour says he's also gotten Japan Tobacco (Mild Seven) to add $6 million next year to its current $24 million. The extra money will be used to acquire the services of one Jacques Villeneuve. This may or may not be true - Villeneuve is now linked 'firmly' to three teams for 2001 - but Teleglobe is Canadian, which lends credibility to the story.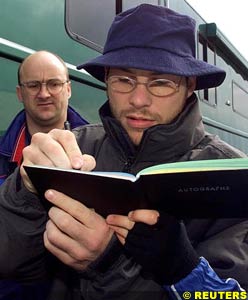 Another rumour in wide circulation has Villeneuve under option to McLaren through August, but BAR's Craig 'Mr. Popularity' Pollock told Sport Auto magazine that, "Ron [Dennis] has said he's not interested in Jacques. When God talks, I have to believe what he says." Pollock also says Teleglobe signed a five-year deal, and is on the hook for the cash, whether or not its decals are on his cars.
Speaking of Villeneuve: during an interview with MotorSport aktuell, Jacques Villeneuve admitted he takes a lot of risks in the cockpit, because of the enjoyment he gets when they pay off. Did that mean things like taking Eau Rouge flat-out? "Exactly," Villeneuve said. The interviewer, Helmut Zwickl, then suggested it hadn't been possible to take the Spa corner flat in last year's BAR, presumably because of Villeneuve's accident there. Honest to a fault, Villeneuve replied, "No, it was possible, but I made a mistake. I got up on a curb and flew off after that. It is flat-out if you get it right, and I simply didn't."
In pursuit of getting Jenson Button to the checkered flag, BMW has altered the drive-by-wire throttle to minimize the impact of his high-rev downshifts.