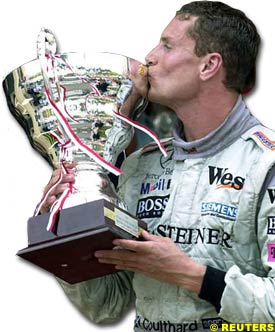 David Coulthard drove to a dream victory in Monte Carlo on Sunday. The Scot, who benefited from the demise of Italian Jarno Trulli's Jordan and then race leader Ferrari's Michael Schumacher after technical woes in both their car, wasn't taking any prisoners - happy that luck, for once, was on his side.

For F1's superheroes, Michael Schumacher and Mika Hakkinen, it was a weekend both will want to forget – for very different reasons. Michael dominated from the start of qualifying until his trusty Ferrari suffered a rare technical failure. A cracked exhaust caused a suspension component to heat up and fail, the German fighting the wayward car back into control as it broke passing the pits. That left him the long trip back to the pit entrance, but his disappointed crew could to nothing to return the dominant Ferrari to the track.

Mika, on the other hand, simply had a dreadful weekend. Just prior to the end of qualifying, the Finn was languishing in seventeenth – the result of a combination of one poor lap and two episodes of traffic and turmoil. McLaren's tactical disadvantage was heightened in qualifying – the team failing to manage a gap wherein Mika could be effective.

But Hakkinen's race was little better. After snatching a last-gasp reprieve with a lap good enough for fifth in his last qualifying stint, Mika was caught up behind Heinz-Harald Frentzen's Jordan in fifth on track before he succumbed to a medley of brake and transmission problems to drop way out of the points.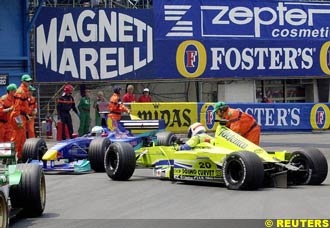 Hakkinen clawed his way back, hanging in there, to come back and steal a vital point – sixth and a lap behind his victorious teammate, also setting the fastest lap in the process.
Rubens Barrichello gave Ferrari a little relief - albeit with a lacklustre second, while Giancarlo Fisichella drove another sensible race to third for Benetton. Behind him, Eddie Irvine finally scored Jaguar's first points with a welcome and popular fourth – hopefully, with that duck broken, the big cat will become an increasingly menacing factor.
Mika Salo doggedly fought off his archrival, namesake and countryman for two Sauber points, despite Hakkinen's clear advantage. But as usual, Monte Carlo's tales of woe far outnumbered those of success.
Before the Race
The weekend started with Michael Schumacher edging out David Coulthard in Thursday's first free practice, but Hakkinen was quicker in the second session. The German used the free Friday to practice starts in a spare car over at Ferrari's Fiorano facility as most of his peers rested.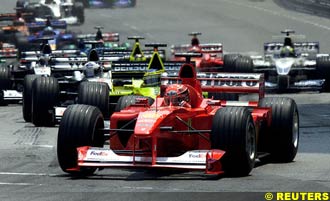 Coulthard made the most of Saturday's free sessions, but Michael took charge early in qualifying, finding a clear track each time to further improve his time. The star of qualifying however was Jarno Trulli, even stealing the pole for a short while before Schumacher claimed it back. Coulthard fought his way into third, ahead of Frentzen, Hakkinen in that last-gasp effort, Barrichello, an impressive Alesi, Fisichella and usual top-ten men, Ralf Schumacher and Irvine – all within a second of pole.
Johnny Herbert was next up in a better display to what we are used to from him this year, from Wurz, Salo, Button, Verstappen, de la Rosa, Villeneuve, Diniz, Zonta, Gene and Mazzacane.
The Race
Barrichello was quickest in the Sunday warm-up, before the grid assembled in fine, hot conditions. But Wurz stalled on the grid, causing a re-start, which got off well, Schumacher leading Trulli, Coulthard, Hakkinen and Frentzen. Then Button tagged de la Rosa at loews and the rest of the field and the safety car came to a standstill to bring out the red flag.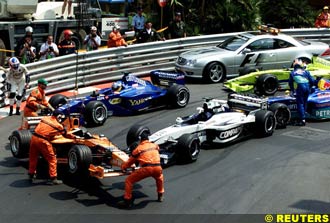 De la Rosa never made the restart, while Wurz, Button and Gene waited in the pitlane for Schumacher to lead off the line from Trulli, Coulthard, Frentzen, Hakkinen, a quick starting Ralf Schumacher, Alesi, Barrichello and Fisichella.
With the McLarens detained behind the respective Jordans, Schumacher opened the lead at about a consistent one-second per lap. Behind the field kept station, with Button and Gene early casualties - the Williams and Minardi failing. Then Wurz started a trend by hitting the Ste Devote corner Armco to retire, the ever-efficient Monegasque officials quickly clearing the Benetton away. Mazzacane soon followed the Austrian into the waiting Armco.
While Schumacher continued commanding from the front, the Jordans made the respective McLaren's progress frustrating, David and Mika clearly far quicker than their yellow foe, but the risk in overtaking was obviously not worth taking.
Mika, however, soon slowed and cruised to the pits. "I went into a corner and the brake didn't work," the Finn later explained. The McLaren crew worked around the front of the car before the Finn rejoined, clearly in the hope of a bonus point or two, albeit at that stage only in eleventh position.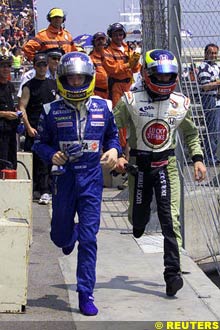 Then Jean Alesi's fine weekend (at Prost's 2000 standards) came to an end along with his car's transmission, just as Pedro Diniz took his chance at sampling the active Ste Devote Armco.
At that point a flying Schumacher had stretched his advantage to almost thirty seconds. A few laps later Coulthard appeared to be making a concerted effort to pass Trulli, but the Jordan was ailing and soon in the box to retire – his gearbox too succumbing to Monte Carlo's extreme nature.
Mika Hakkinen had pitted for his scheduled stop on lap 36 and exited slightly ahead of Ralf Schumacher who drove around the emerging McLaren as it approached Ste Devote. But the German misjudged his entry to that hungry corner and joined the craze of clouting the Armco there. He was quickly out of the car, but needed help to clamber over the Armco – he was hurt; the Williams' suspension had punctured the monocoque and cut his left calf. He was attended to at the trackside before being stretchererd off for stitches. "I don't actually know where this injury came from," Ralf said later. "I did not realise that my leg was hurt."
Relieved of his yellow shackle, Coulthard quickly attacked his 36-second deficit, closing down on Schumacher for a few laps, but Michael responded, holding the gap at around 30 seconds. That gap was soon down to seven seconds, but only because Schumacher had stopped and rejoined in a strong lead – David was in his first stint and still due to stop.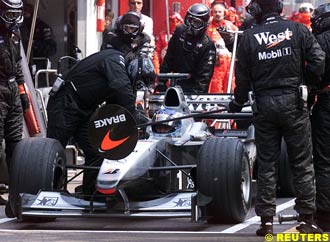 Behind Coulthard, Frentzen led a slower Barrichello, Irvine on his own and Salo coming under scrutiny from a points-hungry Hakkinen.
As the race wore on, things were looking all set for another Michael Schumacher victory, but Monte Carlo wasn't going to have anything of that. Passing the pits on his 54th tour, Schumacher felt the Ferrari suddenly turn. His immediate reaction regained control. But the wobbly Ferrari was clearly awry. He toured around on a slow lap, his front right wheel airborne, while Coulthard snatched the advantage and immediately took his pitstop to rejoin in the lead.
The Ferrari crew swarmed over the rear of the No.3 car, but their demeanour soon indicated that it was all over and a philosophical Schumacher climbed out of the stricken car. "We had an exhaust failure," Michael confirmed, "one of the pipes broke and basically cooked the suspension. I could have picked up 10 points today but the driver I consider my main rival could also have done so."
Clearly Michael wasn't referring to Coulthard, who continued at a quick pace, before settling around and allowing Frentzen to close slightly. Verstappen ended his race across the track at the Swimming Pool, the marshals again averting a safety car situation with prompt action.
So Coulthard led Frentzen, but the Ste Devote Armco wasn't quite finished with its weekend's work and attracted the Frentzen Jordan, eliminating it and handing second to Barrichello. Fisichella was now some way off the Ferrari in third, ahead of Irvine and Salo, who was under immense pressure from his namesake.
The race wore down to its climax with Coulthard a happy victor, Barrichello a relieved second and Fisichella a delighted third.
"I have always said there are a handful of races that I wanted to win," David admitted. "Spa - my favourite track, the British Grand Prix - my home race, Italy, because there's nothing quite like an Italian crowd, and Monaco - one of the most difficult and challenging tracks for any driver," he smiled. "OK, today I benefited from Michael and Jarno's problems - but that is Monaco. I have had my own fair share of bad luck here over the years, so I'm more than happy to take this win."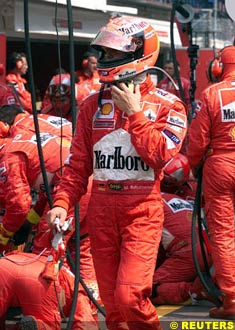 Coulthard's victory was his eighth in F1 and he is the first Briton to win at Monaco since fellow Scot Jackie Stewart's 1973 win there.
"It was a good race," said Rubens, "I was catching up the whole time." And Fisichella admitted: "the target was to score points - my dream was to get on the podium. So third is fantastic!"
Eddie Irvine delighted the friends of the green with Jaguar's most welcome first points – moving the team's objective now to the podium. "There have been races this year when we deserved points," Eddie said, "today we got them. I'm really pleased for the guys."
Salo fought off the other Mika, who eventually slowed again and settled for sixth. "Let's just say I'm glad it's over," said Hakkinen, who took a while to examine some of his rival machinery in parc ferme. He kept fellow world champion Villeneuve out of the points, while Heidfeld and Herbert brought up the rear. Frentzen, for his efforts, was classified tenth.
Coulthard's victory was a fortunate one. A rare technical failure robbed championship leader Michael Schumacher and Ferrari of a crushing victory, closing the title chase down rather than opening it.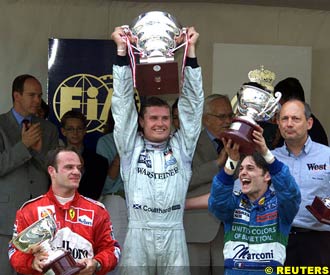 This makes Coulthard now Michael Schumacher's chief rival as the Scot leapfrogged his teammate in the championship race. Barrichello's second keeps him in contention too, but other than the Ferraris and McLarens, there's little to look at in title terms, although Fisichella and Ralf Schumacher have tallied up decent scores.
While the result doesn't reflect the race, it does serve to keep the title chase relatively open. And for F1 fans the world over, that's a good result for the seventh round of the 2000 Championship.

Race Results

CLASSIFIED

Pos  Driver         Team                                 
 1.  Coulthard      McLaren Mercedes      1h 49:28.213
 2.  Barrichello    Ferrari                 +   17.889
 3.  Fisichella     Benetton Playlife       +   18.522
 4.  Irvine         Jaguar Cosworth         + 1:05.924
 5.  Salo           Sauber Petronas         + 1:20.774
 6.  Hakkinen       McLaren Mercedes        + 1 lap   
 7.  Villeneuve     BAR Honda               + 1 Lap   
 8.  Heidfeld       Prost Peugeot           + 1 Lap   
 9.  Herbert        Jaguar Cosworth         + 2 Laps  
10.  Frentzen       Jordan Mugen-Honda      + 8 Laps *

Fastest Lap: M.Hakkinen, 1:21.571 (148.729 km/h)

NOT CLASSIFIED / RETIREMENTS                                
                                                            
     Verstappen     Arrows Supertec     60   accident    
     M.Schumacher   Ferrari             55   suspension  
     Zonta          BAR Honda           48   accident    
     R.Schumacher   Williams BMW        37   accident    
     Trulli         Jordan Mugen-Honda  36   gearbox     
     Diniz          Sauber Petronas     30   accident    
     Alesi          Prost Peugeot       29   transmission
     Mazzacane      Minardi Fondmetal   22   accident    
     Gene           Minardi Fondmetal   21   gearbox     
     Wurz           Benetton Playlife   18   accident    
     Button         Williams BMW        16   engine      
     de la Rosa     Arrows Supertec      -   DNS         


WORLD CHAMPIONSHIP STANDING, ROUND 7:                

Drivers:                     Constructors:             
 1.  M.Schumacher  46        1.  Ferrari             68
 2.  Coulthard     34        2.  McLaren             63
 3.  Hakkinen      29        3.  Williams-BMW        15
 4.  Barrichello   22        4.  Benetton-Playlife   14
 5.  Fisichella    14        5.  Jordan-Mugen Honda   9
 6.  R.Schumacher  12        6.  BAR-Honda            6
 7.  Villeneuve     5        7.  Jaguar               3
 =   Frentzen       5        =   Sauber               3
 9.  Trulli         4        9.  Arrows               1
10.  Button         3                                  
 =   Irvine         3                                  
 =   Salo           3                                  
13.  Zonta          1                                  
 =   de la Rosa     1                                  


Fastest Race Laps

Pos  Driver        Team                Lap  Time             
 1.  Hakkinen      McLaren-Mercedes     57  1:21.571         
 2.  Coulthard     McLaren-Mercedes     54  1:21.787  + 0.216
 3.  Fisichella    Benetton-Playlife    58  1:21.905  + 0.334
 4.  Barrichello   Ferrari              73  1:21.910  + 0.339
 5.  M.Schumacher  Ferrari              45  1:21.912  + 0.341
 6.  Frentzen      Jordan-Mugen Honda   68  1:22.123  + 0.552
 7.  Irvine        Jaguar-Cosworth      67  1:22.424  + 0.853
 8.  Salo          Sauber-Petronas      58  1:22.634  + 1.063
 9.  Herbert       Jaguar-Cosworth      32  1:23.245  + 1.674
10.  Heidfeld      Prost-Peugeot        67  1:23.261  + 1.690
11.  Villeneuve    BAR-Honda            73  1:23.393  + 1.822
12.  Trulli        Jordan-Mugen Honda   35  1:23.466  + 1.895
13.  Zonta         BAR-Honda            48  1:23.514  + 1.943
14.  R.Schumacher  Williams-BMW         35  1:23.769  + 2.198
15.  Alesi         Prost-Peugeot        27  1:23.949  + 2.378
16.  Gene          Minardi-Fondmetal    18  1:24.351  + 2.780
17.  Verstappen    Arrows-Supertec      30  1:24.486  + 2.915
18.  Diniz         Sauber-Petronas      30  1:24.590  + 3.019
19.  Mazzacane     Minardi-Fondmetal    21  1:25.039  + 3.468
20.  Wurz          Benetton-Playlife    18  1:25.484  + 3.913
21.  Button        Williams-BMW         14  1:25.740  + 4.169


Pit-Stops Times

Pos  Driver        Team                Time  Lap
 1.  Frentzen      Jordan-Mugen Honda  27.2   53
 2.  Villeneuve    BAR-Honda           27.4   54
 3.  Barrichello   Ferrari             27.4   53
 4.  Salo          Sauber-Petronas     28.0   53
 5.  Coulthard     McLaren-Mercedes    28.1   56
 6.  Zonta         BAR-Honda           28.2   45
 7.  Fisichella    Benetton-Playlife   28.3   51
 8.  M.Schumacher  Ferrari             28.3   49
 9.  Irvine        Jaguar-Cosworth     29.0   50
10.  Heidfeld      Prost-Peugeot       29.5   45
11.  Verstappen    Arrows-Supertec     30.7   41
12.  Herbert       Jaguar-Cosworth     30.8   40
13.  Herbert       Jaguar-Cosworth     65.6   27
14.  Hakkinen      McLaren-Mercedes    75.5   36


Sector Times and Speeds
Sector 1 (S/F Line - T1)
Sector 2 (T1 - T2)
Sector 3 (T2 - S/F Line)
Pos
Driver
Time
Speed
Pos
Driver
Time
Speed
Pos
Driver
Time
Speed
1
Hakkinen
21.160
202.88
1
M.Schumacher
36.815
190.88
1
Fisichella
23.246
249.60
2
Frentzen
21.265
200.80
2
Coulthard
36.942
197.92
2
Barrichello
23.266
254.56
3
Coulthard
21.292
200.80
3
Hakkinen
37.009
198.88
3
Hakkinen
23.285
255.52
4
Barrichello
21.312
200.80
4
Frentzen
37.009
190.88
4
Coulthard
23.331
253.60
5
Fisichella
21.407
202.88
5
Herbert
37.041
195.84
5
Frentzen
23.359
252.48
6
Irvine
21.414
202.88
6
Barrichello
37.100
191.84
6
Salo
23.508
N/A
7
Salo
21.451
202.88
7
Fisichella
37.156
192.96
7
Irvine
23.549
249.60
8
M.Schumacher
21.471
198.88
8
Salo
37.414
189.92
8
M.Schumacher
23.558
252.48
9
Heidefeld
21.567
201.76
9
Irvine
37.429
189.92
9
R.Schumacher
23.711
250.56
10
Herbert
21.655
199.84
10
Heidefeld
37.547
190.88
10
Heidfeld
23.780
253.60
11
Villeneuve
21.703
197.92
11
Villeneuve
37.577
191.84
11
Villeneuve
23.807
253.60
12
Zonta
21.704
200.80
12
Trulli
37.659
189.92
12
Zonta
23.852
252.48
13
R.Schumacher
21.725
195.84
13
Verstappen
37.691
192.96
13
Herbert
23.853
249.60
14
Gene
21.731
195.84
14
Zonta
37.766
193.92
14
Trulli
23.907
251.52
15
Alesi
21.849
199.84
15
R.Schumacher
37.860
193.92
15
Alesi
23.935
253.60
16
Trulli
21.850
194.88
16
Alesi
37.896
189.92
16
Diniz
24.938
247.52
17
Verstappen
21.879
199.84
17
Mazzacane
38.291
189.92
17
Gene
24.108
248.64
18
Diniz
21.967
192.96
18
Gene
38.315
190.88
18
Verstappen
24.193
253.60
19
Mazzacane
22.016
195.84
19
Diniz
38.401
188.96
19
Mazzacane
24.502
247.36
20
Button
22.328
190.88
20
Wurz
38.528
181.92
20
Wurz
24.520
245.44
21
Wurz
22.344
188.96
21
Button
38.598
182.88
21
Button
24.548
249.60

The Monaco Grand Prix, Lap by Lap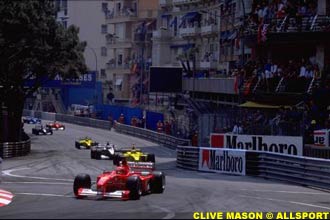 Before the start: Pedro Diniz is left on the grid at the start of the parade lap and so has to start at the back of the grid. Before the race can be started, however, Alexander Wurz suffers engine failure in his Benetton and the start has to be aborted. As the Benetton spare car is set up for Giancarlo Fisichella, it looks as though the Austrian will not be able to start. Diniz is able to take his usual position on the grid as a result of Wurz's misfortune.
First Start: Michael Schumacher gets into the lead with Jarno Trulli second but almost immediately the race is stopped because of a suspected computer error in the starting software. Red flags are not shown around the circuit, apart from at the start-finish line. As a result there is an accident at the Grand Hotel hairpin when Pedro de la Rosa tries to drive around the outside of Jenson Button and the BMW Williams driver does not have the steering lock to avoid tapping the Arrows into a spin. This creates a traffic jam with several cars stopped and others having nudged into those in front.
The race is stopped. Button, Ricardo Zonta, Nick Heidfeld, Pedro Diniz and Marc Gene have to run back for spare cars. Gaston Mazzacane and Jacques Villeneuve are able to drive back while Pedro de la Rosa had no car available after his accident in the warm-up.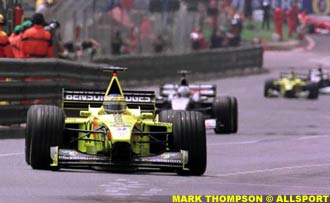 Zonta and Diniz are able to start from the grid as the teams take the cars out before the pitlane closes. Wurz, Button, Gene and Heidfeld have to start from the pits.
Restart: At the start Michael Schumacher goes ahead again with Trulli second ahead of David Coulthard, Heinz-Harald Frentzen and Mika Hakkinen. Ralf Schumacher makes a great start to grab sixth from ninth position on the grid.
Lap 5: Schumacher sets five consecutive fastest laps to build himself a lead of nearly six seconds after five laps while Coulthard remains caught behind Trulli and Hakkinen has a similar problem with Frentzen.
Lap 11: Schumacher's lead is 11 seconds while the first overtaking manoeuvre takes place at the back of the field when Wurz passes Gaston Mazzacane.
Lap 17: Button retires with an electrical problem.
Lap 19: Schumacher is 20 seconds ahead while in the midfield. Eddie Irvine passes Johnny Herbert for 10th place. At the back of the field Wurz crashed at Ste Devote.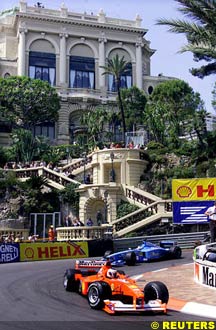 Lap 22: Marc Gene retires his Minardi with a suspected gearbox problem. Moments later Mazzacane crashes at Ste Devote.
Lap 27: Herbert pits unexpectedly and the Jaguar crew is taken by surprise. Herbert loses considerable time and drops to the tail of the field.
Lap 30: As Schumacher takes his lead beyond the half minute mark, Alesi disappears with a mechanical problem, leaving seventh place to Rubens Barrichello.
Lap 31: Pedro Diniz hits the barrier at Ste Devote and damages his left rear wheel. He has to retire.
Lap 36: Mika Hakkinen slows with a problem and goes into the pits. The car is worked on but he loses nearly a minute and rejoins in 14th place.
Lap 37: Trulli drops out of second place with a mechanical problem.
Lap 38: Schumacher's lead goes out to 36 seconds but as Coulthard no longer has Trulli in front of him he is able to attack and begins to close the gap. Ralf Schumacher crashes heavily at Ste Devote and suffers a deep cut to his left leg. He is taken to hospital for stitches. The incidents leave Schumacher leading Coulthard, Frentzen, Barrichello, Giancarlo Fisichella and Irvine.
Lap 41: Jos Verstappen is the first man to stop.
Lap 49: Michael Schumacher is the first frontrunner to pit. He rejoins still in the lead. On the same lap Ricardo Zonta spins into the wall at Ste Devote.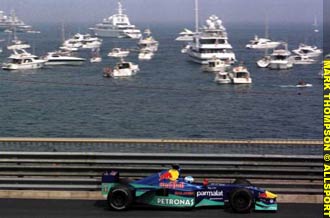 Lap 51: Fisichella pits earlier than planned because of a slow puncture.
Lap 55: Coulthard is the last of the frontrunners to pit but as he rejoins Schumacher suffers a left rear suspension failure caused by a broken exhaust damaging the carbonfibre suspension. He has to complete an entire lap before pitting but the car is too badly damaged to be repaired. Coulthard takes the lead with Frentzen second but under pressure from Barrichello. Fisichella is fourth with Irvine fifth and Mika Salo sixth. Mika Hakkinen is in seventh place and catching Salo.
Lap 61: Jos Verstappen spins out of ninth place at Tabac while under pressure from Heidfeld. Hakkinen catches Salo but cannot pass him.
Lap 71: Frentzen makes a mistake at Ste Devote and hits the barrier, breaking his rear suspension. Barrichello moves into second place with Fisichella behind him. Irvine is fourth with Salo under pressure for fifth from Hakkinen.
Lap 74: Hakkinen slows with a problem but is far enough ahead of Jacques Villeneuve's BAR to keep sixth place.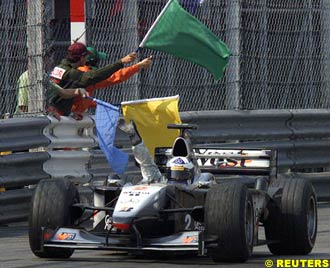 Finish: David Coulthard wins the Monaco Grand Prix - the first British driver since Jackie Stewart won the race in 1973. Second is Rubens Barrichello, followed by Giancarlo Fisichella, Eddie Irvine, Mika Salo and Mika Hakkinen.

The Results - Team by Team (provided by Reuters)
FERRARI (Rubens Barrichello 2, Michael Schumacher retired):
Barrichello ended second despite a poor start which saw the Brazilian drop down to eighth at the first corner.
Schumacher led for 55 laps until he was forced to retire with a left-rear suspension failure. "We had an exhaust failure, one of the pipes broke and basically cooked the suspension."
MCLAREN (David Coulthard 1, Mika Hakkinen 6):
Coulthard was held up by the Jordan of Jarno Trulli in the opening laps but won following the retirement of runaway leader Michael Schumacher.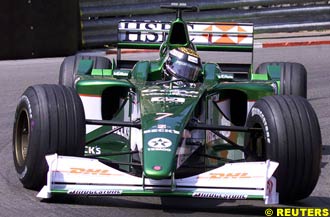 World champion Mika Hakkinen overcame gearbox problems to take sixth place and a vital championship point.
JORDAN (Heinz-Harald Frentzen 10, Jarno Trulli retired):
An unnecessary error by German Frentzen cost him second place as he clipped the barrier at Ste Devote and damaged his suspension eight laps from the chequered flag.
Trulli's race ended after 36 laps when an engine problem forced him out while running in second position.
JAGUAR (Eddie Irvine 4, Johny Herbert 9):
Eddie Irvine steered Jaguar to their first points in Formula One as he drove what he called one of the hardest races of his life. "There have been races this year when we deserved points - today we got them".
An unscheduled pit-stop, compounded by a communications problem, put fellow Briton Johnny Herbert to the back of the field where he finished two laps down.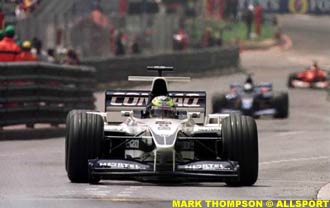 WILLIAMS (Ralf Schumacher and Jenson Button retired):
A heavy collision with the tyre wall at Ste Devote forced Schumacher out with a cut leg.
Briton Button was involved in the shunt that forced the first start to be aborted and was then unable to continue after 17 laps following a problem with his BMW engine.
BENETTON (Giancarlo Fisichella 3, Alex Wurz retired):
Fisichella earned his second podium finish of the season. The Italian closed on Ferrari's Barrichello in the closing stages but had to settle for third.
After stalling on the grid and then starting from the pit-lane in the spare car, Austrian Wurz hit the wall at Ste Devote and was forced to retire on lap 17.
SAUBER (Mika Salo 5, Pedro Diniz retired):
Finn Salo held off a determined late challenge from Hakkinen to claim two points for the Swiss team.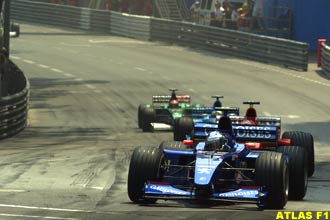 Brazilian Diniz's race ended on lap 30 when he hit the tyre wall on the Beau Rivage hill and bent his left-rear wheel.
PROST (Nick Heidfeld 8, Jean Alesi retired):
Young German Heidfeld failed to make any impact on the race but completed the race distance, one lap down on winner Coulthard.
Frenchman Alesi suffered mechanical problems in the tunnel when in seventh place and steered his car down the escape route on lap 29.
ARROWS (Jos Verstappen and Pedro de la Rosa retired):
Dutchman Verstappen made a mistake and spun at le Tabac on lap 62 and a collision with the wall ended his race.
Spanish team-mate De la Rosa failed to take to the grid for the restart after colliding with the Williams of Jenson Button on the opening lap of the original start.
MINARDI (Marc Gene and Gaston Mazzacane retired):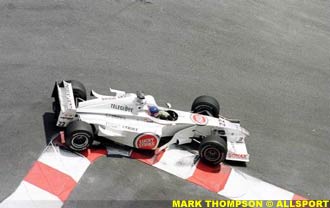 Argentine Mazzacane was another victim of the Ste Devote corner as he damaged a wheel in a collision with the tyre wall on lap 21.
Spaniard Gene guided his car off the track on lap 20 after suffering mechanical problems.
BAR (Jacques Villeneuve 7, Ricardo Zonta retired):
Villeneuve completed the full race distance but was never in contention for a points finish.
Brazilian Zonta was one of the many victims of the Ste Devote corner, entering the right-hander too quickly and hitting the tyre wall on lap 48.