1. Mika Hakkinen
Mika Hakkinen is now about to start his tenth year of Formula One racing and his eighth as a McLaren driver. The main pre-season questions have centered on just how much appetite he retained for F1 racing and the grind of a demanding 17 race series. At the end of last year he looked at times a beaten man, rather than a winner who had suffered a temporary setback. A long off-season break appears to have refreshed his spirit and his appetite for the challenge ahead.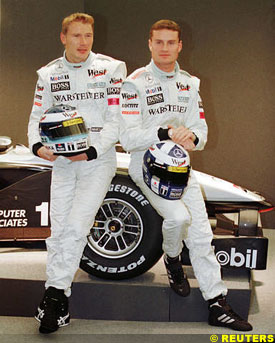 He alone of the current drivers has the self-belief necessary to defeat Michael Schumacher over an entire season's racing. He fortunately has the McLaren MP4-15 as well and the full support of the best-organized team in the pit-lane. If he is to become the first driver since Fangio in the fifties to win three titles in a row, he will need to repeat his '98 form, and not repeat his '99 mistakes.
2. David Coulthard
Clearly McLaren must soon start looking for a replacement for Hakkinen as its number one driver. Coulthard must know that unless he radically lifts his game it will not be him; hence his well publicized comments about becoming both more focused and selfish concerning his priorities. Perhaps sadly it's likely that his attempt to reinvent himself will be too late to save a career that has always promised so much but so far delivered so little, given the equipment he has had at his disposal. Other drivers, with a harder edge, are eyeing his seat at McLaren and the team already has a ready-made replacement in the form of current test driver Olivier Panis. Whatever magic he conjured up for himself at Spa last year, where he scored a dominant win, he needs to do it again, bottle it, and use it for all 17 races.
3. Michael Schumacher
It is the perceived wisdom amongst many F1 luminaries that this will finally be the year Schumacher captures that elusive title for Ferrari. Just why this should be so is a mystery, other than the law of averages, which suggests that if it is predicted often enough, then one year they are bound to be right. Just whether this is the year will probably have more to do with the work done in Ferrari's new 50 percent wind tunnel than Schumacher's efforts on the track. If there are indeed no enforced team orders this year, especially in the early races, then Rubens Barrichello has the speed to challenge Schumacher, especially in qualifying.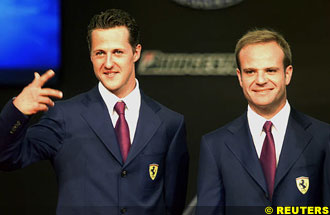 Just how he handles a teammate who is not contractually obliged to 'melt away' should he find the German in his mirrors will be one of the more interesting aspects of the '00 season. This might well be the year Michael Schumacher secures that long sort after third crown, but if anything, the opposition is stronger than ever before. Is Schumacher?
4. Rubens Barrichello
Rubens Barrichello has been in F1 since '93, driven in 113 races for two different mid-field teams and has yet to score a maiden win. Yet Ferrari wanted him more for his potential than for his past record. Still only 27 years old Barichello is clearly hungry for the success that has passed him by, yet visited others with much less talent. He seems to have settled well into the team and has been consistently on the pace in pre-season testing. Ferrari must soon start preparing for life after Michael Schumacher and bringing Barrichello to the team is an important first step. He has the experience and talent to do the job that Ferrari requires, only his self-belief is in doubt. Even a lucky early win would ignite a fire strong enough to perhaps sustain him through the supreme challenge of being Schumacher's teammate, surely the toughest driving job in the F1 pit-lane.
5. Heinz-Harald Frentzen
Last year's comeback kid faces a different challenge in his second year with Jordan, the challenge that comes from expectation.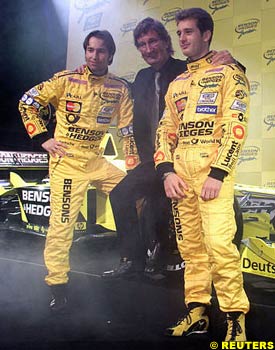 In '99, with nothing to lose, Frentzen sparkled. He blew away his lackluster teammate and won two races on merit. Now he will be judged by against a higher standard that he himself has set, and it is possible that he may carry most of the can if his Jordan is not up to the task of winning the odd race, and at least worrying the 'big two', Ferrari and McLaren. If Frentzen can continue his upward momentum, then he could well be in line to land an even better seat come contract renewal time.
6. Jarno Trulli
With all the hype surrounding the lack of senior racing experience of newcomer Jenson Button, it is often forgotten that Trulli had just over one season of F3 racing under his belt prior to making his Formula One debut back in '97. Perhaps being Italian, and the F1 team being Minardi, he failed to make the headlines that his British rival made, but he impressed the people who really mattered, the F1 team bosses. Glad to escape from the struggling Prost team he now has his first real opportunity to show that he is ready to deliver some consistent points for the improving Jordan outfit. Jarno Trulli though, will soon come face to face with reality of life at the sharp end of the F1 grid. Being 'highly rated' when driving for a struggling mid-field team is easier than under-performing when driving for a winning one, so he will need to put his bad days behind him when they come, and get on with the job.
7. Eddie Irvine
Perhaps in 2000 the real Eddie Irvine will stand up. Free after four years from the whole Ferrari - Schumacher 'experience' he will be given the space and opportunity to show the F1 world what he is really made of.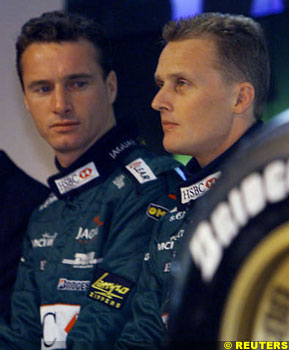 Can he lead a big team and develop a race-winning car? This question mark still hangs over him after his failed title bid with Ferrari last year, when the team so clearly lost the plot during Schumacher's enforced absence. But just how much was down to Ferrari and how much to Irvine is unclear, so the jury is still out on the wisdom of Jaguar (formerly Stewart-Ford) hiring the outspoken Ulsterman as its lead driver.
8. Johnny Herbert
The '91-'92 seasons must seem like a long time ago to Monaco based Brit Johnny Herbert. Back then he was teammate to now double world champion Mika Hakkinen in the struggling Lotus team, and was often more than a match for him. Whilst Hakkinen found a permanent home at McLaren, Herbert has journeyed, often on a rather rocky road, to Jaguar via Ligier, Benetton, and Sauber. Now 36, and in the second year of a two year contract, he faces a tough test if he is to maintain the momentum achieved at the end of last season, when he appeared to get the better of the departing Barrichello. He grabbed the opportunity to score Stewart-Ford's first ever GP win, which, if he could repeat the feat for Jaguar, could end his F1 career on the high note it deserves.
9. Ralf Schumacher
Now an established star, Ralf faces perhaps an even more challenging year than '99 as the BMW-Williams team struggle to develop the FW22 into something like a race winner.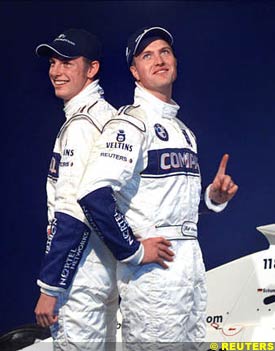 Fortunately, as he is still only 24 years old, he can spare the time it will take for the package to become a race winner, as it surely will once the BMW gets their engine programme on track. Still, he must sometimes wonder just whether his interests were best served by ditching his Jordan ties just as the team was starting to flourish. Williams firmly believe that they have a future world champion on their books and they may well be proved right in time.
10. Jenson Button
The 2000 season will be the first chapter in the Formula One career of 20 year old hot-shoe Jenson Button, who gets his chance with the BMW-Williams team replacing the unfortunate Alex Zanardi. Button might just take the F1 world by storm, confirming an often made claim that the overall standard of current driver abilities is at an all-time low. Or he might sink without trace by mid-season, despite his highly impressive resume in F3, Formula Ford and karting. Early testing form would suggest that he will be able to handle everything that F1 can throw at him, but he needs the car to show just what he can do, and so far the FW22 looks like the weak link in the equation. With Juan Montoya under a long-term Williams contract, still waiting in the wings, Button is in the hot seat in more ways than one.
11. Giancarlo Fisichella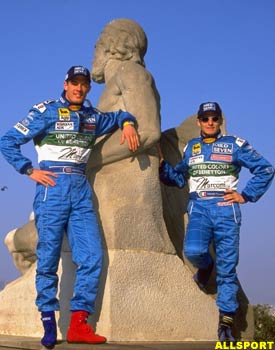 Now entering his third year at Benetton, the 27-year-old Italian is in danger of seeing his career getting stuck in the Enstone team's performance rut. Consecutive ninth place finishes in the drivers' standings show the difficulties that all drivers with struggling teams face. The back-to-basic approach with the team's B200 may help him show his undoubted talent, but any opportunities that come his way must be grasped and not wasted.
12. Alexander Wurz
Just like the great American driver of the sixties, Dan Gurney, Wurz literally carries around a permanent handicap in the form of his (relative to his rival drivers) enormous size and weight. With just 3 points to his credit in the '99 season, down from 17 in '98, he needs to reverse this decline or risk getting forgotten amidst the wave of new talent now breaking into Formula One. His professed loyalty to Benetton is touching in the context of the F1 game, but it is also a risk. Should the long rumored Renault return fail to materialize to boost Benetton's flagging fortunes, Wurz could be left standing without a drive when the music stops.
14. Jean Alesi
The decline of the last two years - in terms of solid results - has been dramatic, just 11 points scored during his stint at Sauber, and harsh words with team boss Peter Sauber at the end.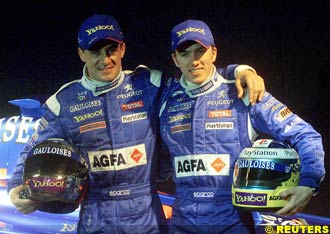 Now teamed with fellow Frenchman and former Ferrari teammate Alain Prost's Guyancourt based outfit, he will find that the challenge is basically the same as at Sauber, how to develop an average package into a consistent podium finisher. Also the contest between the emotional and sometimes unpredictable Alesi and his new German teammate Nick Heidfeld will be an interesting sidelight to the '00 season.
15. Nick Heidfeld
Few drivers have come into Formula One in recent years with better credentials, having won both the German F3 and international F3000 championships with the backing of German giant Mercedes-Benz. All who have worked with the 21 year old speak of his speed and his ability to learn quickly. He has effectively been placed at Prost for this season by Mercedes as a learning year to gain experience free of the pressure of performing with a front-ranked team. Could Nick Heidfeld, and not Jenson Button, be the next big F1 star?
16. Pedro Diniz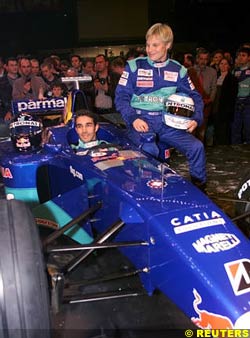 Pedro Diniz again teams up with Salo with whom he shared the driving duties at Arrows back in the '98 season. He showed enough then to suggest he could more than hold his own against his more highly rated teammate, and although the Brazilian is unlikely to ever score a Formula One victory, he has matured into a steady performer.
17. Mika Salo
Mika Salo's rather roller coaster F1 career continues with Peter Sauber's Swiss based team for the '00 season. At least he is settled in one team for the entire year, unlike '99 where he subbed for both BAR and Ferrari. Back in 1990 he ran Mika Hakkinen neck and neck for the British F3 title but since then the cards have not fallen well for him in the fickle world of Formula One. This year at Sauber is likely to be his last chance to make a permanent impact.
18. Jos Verstappen
Few drivers in F1 have promised so much and yet delivered so little as Jos Verstappen, and this Arrows drive looks to be the Dutchman's last chance to finally secure his Formula One future. Like his teammate he has recorded some impressive times at Barcelona in pre-season testing and this just might be the year he finally silences his many critics. Way back in '93 Verstappen swept all before him in Willi Weber's German F3 team, but since then he has always struggled with every team he has driven for. Just maybe the new millennium will bring him a fresh start.
19. Pedro de la Rosa
De La Rosa was one driver to enhance his reputation with Arrows last year. He outperformed his more experienced teammate Toranosuke Takagi, which is always the first priority if you are driving for a back-of-the-field team like Arrows. He has already set some impressive pre-season testing times, with the benefit of the team's new Supertec engine and if the Arrows goes as well as it looks then De La Rosa might yet make a serious impression in Formula One.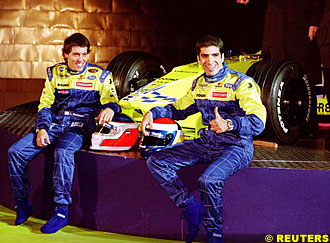 20. Marc Gene
Marc Gene surprised many in Formula One by the way he dominated the vastly more experienced teammate Luca Badoer during his debut season with Minardi last year. The Spaniard continues with the under-funded Italian team in '00.
21. Gaston Mazzacane
Mazzacane joins a long list of pay drivers who have got their chance in Formula One courtesy of the money they bring to the financially stretched Minardi team. The Argentian driver spent some three years in F3000 without much success and graduated to F1 as Minardi's test driver last year. Making any predictions as to how well he will perform at the top level is not easy, but others before him have shrugged off indifferent form in the lower echelons to make their mark in F1.
22. Jacques Villeneuve
Villeneuve has already made it plain that he will not stay with the BAR team beyond this season unless they can provide him with a winning package.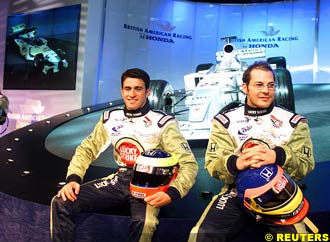 A driver's ability to maneuver himself into a winning team is as important as his ability on the track, so the wisdom of trusting his future to his ex-manager Craig Pollock's so far disastrous F1 venture is still open to question. When you have been an F1 winner and champion, the role of bit-player is not a very attractive option. Formula One needs Villeneuve at center stage, and time is clearly not on BAR's side.
23. Ricardo Zonta
There are those who say that Ricardo Zonta was lucky to get a second chance at BAR. After brilliant performances on his way into Formula One, Zonta struggled all year and never looked really convincing. Perhaps the fact that the team in general performed so badly earned him a second chance, but he will need to make the most of it if he is to continue his career at this top level.