Leaving Japan, Formula One heads to the home of the Malaysian Grand Prix: Sepang.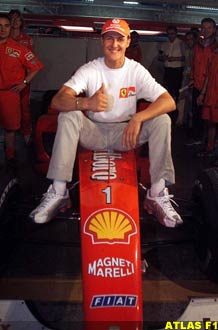 Located close to Kuala Lumpur's International Airport, the Sepang circuit is one of the world's best facilities for Formula One racing, making the likes of Monza look like a Jurassic Park.
At 5.542 km, the Sepang circuit is the fourth longest circuit to be used in the 2000 Formula One season. The Sepang circuit was designed by Hermann Tilke, who also designed the A-1 Ring in Austria, the Zhuhai circuit in China, and the revised Brands Hatch circuit in England. Sepang looks like a longer, improved version of Magny-Cours in France.
And like Magny-Cours, this is a high-downforce circuit with little change in elevation around the track. The circuit has eight straights of various lengths, the longest being the 927m long Start-Finish straight. The 15 turns provide a combination of slow, medium and high speed corners.
Sepang has four hairpin bends, at turns 1, 2, 9 and 15, that reduce the lap speed. Tilke used the formula of a long straight followed by a slow corner, to provide overtaking opportunities. To assist overtaking, the circuit is also wide, ranging from 16m wide at the Start-Finish line to 25m at Turn 15, and the circuit is, thankfully, free of chicanes.
Sepang spokesman, Azhar Ghazali, reported that a transparent protective shield will be added to the top of the pit-wall and that the gravel trap has been extended and drainage improved at the first corner. "The safety features are part of a 30 million ringgit ($8 million) upgrade to the track," he said.
The first Malaysian Grand Prix attracted 78,000 spectators, an estimated television audience of 600 million and earned Malaysia more than 500 million ringgit ($131.6 million).
Sauber's Technical Director Willy Rampf explains the technical challenges presented by Sepang: "The Sepang circuit demands high downforce levels - only Monte Carlo and the Hungaroring require more. But overall the grip level is quite low. The number of relatively slow-speed corners and the very tight chicane place a premium on traction. Therefore we will be focusing on maximising the mechanical grip, and optimising the cars around the adhesion offered by the new tyres that Bridgestone will be supplying. The circuit also has its two relatively long straights, and offers enterprising drivers good opportunities for overtaking. The weather is always an unknown factor in Malaysia, therefore the Qualifying session on a wet track would be a good challenge for all the teams."
Benetton's Technical Director, Pat Symonds, expanded on this, saying: "The weather for the final Grand Prix can be very changeable as this part of the world is generally very hot. This can lead to cooling problems on the car, but of course, this year the Grand Prix is being held a couple of weeks later than it was last year and so a little further into the rainy season, which may also turn the race on its head."
BAR's Chief Engineer, Steve Farrell, added, "Sepang is a fabulous facility and it's great to finish off the season at such a beautifully constructed circuit. It is clear that the Malaysians have taken pride in building what is a world-class facility. The overriding memories from last year concern the tremendous heat and humidity and the huge physical demands of the place. The combination of the ambient conditions and the fact we used the softest compound tyres offered by Bridgestone made for a very tough race for the drivers."
Williams's Ralf Schumacher gave a driver's perspective. "Sepang is a very difficult track to drive, and last year we had problems with the set-up. Some parts of the track are not level and the slow windy corners are very challenging. There is a combination of different types of corners - three to be taken in first and second gear, four in third, four in fourth and two in fifth gear. The start/finish straight is more than 800 meters long and the first and second corner hairpins are very tight, albeit offering good overtaking possibilities."
Jordan's Heinz-Harald Frentzen added, "Generally speaking the Sepang circuit has very quick corners, it is smooth to drive and is demanding. Hot and humid weather conditions make racing there that bit more difficult than on other circuits. In order for us to achieve a good set up, we will need every technical device on hand to create as much downforce as possible. I would say that the most challenging aspects of the Sepang circuit are probably turns 7 and 8 as they stand out in my mind as particularly technically demanding."
Pitstops and Tyre Strategies
Benetton's Technical Director, Pat Symonds, remarked, "The circuit at Malaysia is relatively easy on tyres and generally requires a soft tyre, which can lead to a few opportunities of using different strategies to try and aid the result." The pitlane at Sepang is fairly long, which will also have to be considered in the pitstops strategy.
On tyre choice, Bridgestone Motorsport's Technical Manager Yoshihiko Ichikawa stated, "Sepang is not a very fast circuit, it has many slow corners and is renowned for understeer. Last year many of the drivers experienced increased understeer with the 'Extra soft' rubber. This year we anticipate that the new 'Soft' rubber will be a popular choice as it will significantly reduce the sensation of understeer and still produce comparable lap times to the stickier 'Extra Soft' tyres.
"Our new tyre is an intermediate compound for damp and drying conditions. We first took the tyre to the Belgian Grand Prix and decided to redevelop the compound. It now consists of a harder specification rubber that will increase its durability. We also took it to Suzuka but did not have the opportunity to see it running. In case of wet conditions, we will also be supplying the teams with the 'Heavy Wet' tyre and the 'Soft' compound wet weather tyre. Malaysia will therefore be a very interesting race for us because we will be analysing which direction we must follow in our development program. First we must evaluate which of these two different types of dry tyre is better suited to this combination of circuit and climatic conditions. The 'Soft' tyres may even prove to be quicker in this respect."
In last year's race, Bridgestone offered teams a choice of the Soft and Extra Soft compound tyres. Most teams chose the Extra Soft, with the exception of McLaren's Mika Hakkinen, which proved to be a mistake. Furthermore, most teams opted for a tortoise-and-hare pitstop strategy, with one driver on a one-stop and the other on a two-stop strategy. Ferrari's Eddie Irvine won on a two-stop strategy, while Michael Schumacher used a one-stop strategy to hold off Mika Hakkinen, who was on a two-stop strategy himself.
Those on a one-stop strategy pitted between laps 27 and 30, while those on a two-stop made their first stop between laps 12 and 25. However, it should be noted that at the end of last year's race, the grooves on Michael Schumacher's Extra-Soft tyres were completely worn away which raised questions about the legality of these tyres.
The Teams
Ferrari lead McLaren in the Constructors' Championship by 13 points. Ferrari will be using the 049C 'development' engine for qualifying and the 049B engines for the race. In last year's race, Ferrari finished 1-2 but were disqualified due to illegal barge-boards. After an appeal to the FIA, Ferrari's points were reinstated. Remembering this debacle, Technical director Ross Brawn said: "You can be sure we will be going over the car from a regulation point of view with a fine tooth comb. With the data learned from last year's race, it should certainly be a lot easier this time around. Hopefully we will have the set-up pretty close on the first day and it will just be a case of fine tuning the car for the changing track conditions."
The newly crowned 2000 Formula One Drivers' Champion, Michael Schumacher, commented: "I am looking forward to returning to the Sepang circuit again. With the title now decided, it will certainly be more enjoyable just racing for the win without the pressure of the title to think about. Having said that, Ferrari still need a few more points to tie up the Constructors' Championship, and I certainly won't be taking any unnecessary risks that might jeopardise the team's chances of taking the Championship double."
In last year's race, Schumacher finished second under team-orders, after setting pole position (1:38.668) and fastest lap (1:40.267). This was arguably the most brilliant drive of Michael Schumacher's career, where he skillfully held Mika Hakkinen at bay, on a track that is designed to encourage overtaking, to allow Eddie Irvine to win comfortably.
Michael Schumacher has recently made some controversial statements, including a say that, "Somehow, it's always the same drivers that one has problems with, like Coulthard and Villeneuve for example. It's no secret." He then added, "Mika Hakkinen is different. Even though he's been my toughest competitor in recent years, he is a great and a fair sportsman. He is 100 percent alright." We can either take these comments at face value or read between the lines. Does Schumacher regard Coulthard and Villeneuve as his main challengers in 2001 and no longer sees Hakkinen as his biggest threat?
Rubens Barrichello has consolidated his fourth position in the Driver' Championship. Mathematically, however, Barrichello could still take third position in the Championship, if he wins and David Coulthard scores no points. In last year's race, Barrichello finished fifth after qualifying sixth.
McLaren are second in the Constructors' Championship. Team Principal Ron Dennis commented, "Our preparation for Malaysia is no different from our preparation for any other Grand Prix - we go there to win. Our aim is to add to the seven victories and seven pole positions we have achieved so far this year." To win the Constructors' Cup, McLaren need a 1-2 finish, with Ferrari scoring no more than two points.
The runner-up in the Drivers' Championship, Mika Hakkinen commented: "I'm focusing on getting a good result in Malaysia to finish both mine and the team's season in style. I like the track because it's purpose built for Formula One and the facilities are excellent. The track offers numerous opportunities to overtake, which makes the race more exciting for everyone. I have got silver in the Drivers' World Championship, which isn't too bad, when you've won the title twice - you can't win all the time. Perhaps next year it will be my turn again."
After winning the last race of the 1997 and 1998 seasons, Hakkinen went on to win the next year's Drivers' Championship. In last year's race, Hakkinen, on Soft tyres, was unable to compete with the Ferraris, finishing third after qualifying fourth.
David Coulthard is still third in the Drivers' Championship. "We still have a chance of winning the Formula One Constructors' World Championship and both Mika and myself will be doing everything we can," Coulthard said. "Sepang is a fairly technical circuit as it has a good mixture of corners and some fast straights, so consequentially the car will have a medium/high downforce set-up." In last year's race, Coulthard drove a spirited race with the Ferraris, but he retired with a mechanical failure, after qualifying third.
Williams consolidated their third position in the Constructors' Championship at Suzuka. BMW Motorsport Director Gerhard Berger stated, "For the final race of this season, we want to focus all our strengths in an effort to conclude an already successful season for the team. We want to strengthen our third place in the Constructors' World Championship, which is now within quite easy reach, with more points from Sepang. With the 2000 Drivers' Championship already decided in Japan, the BMW WilliamsF1 Team has the opportunity to be in the spotlight even more during this final race. It's important that the FW22 package again proves its consistency of the last weeks. Sepang represents a top modern race facility with the track being medium-fast. This should be good for us."
Team Principal Sir Frank Williams added, "We did not do at all well here last year, so we return to this challenge with interest and enthusiasm." In last year's race, Alex Zanardi finished 10th for Williams, whereas Ralf Schumacher spun off, after qualifying eighth.
The young Schumacher is still fifth in the Drivers' Championship. "After having consolidated our third place in the Constructors' Championship in Suzuka, we head to Malaysia in a very optimistic frame of mind," the German stated. "Given our recent performances, we are again aiming for both cars to make it into the points."
Jenson Button stated, "As this is my last race of the season with Williams, I would love to go out on a high and finish one step further than I have done so far this year. Like so many of the circuits this year, Sepang poses a completely new challenge to me, but, as with all new tracks this season, I'm confident about learning it relatively quickly during Friday Free Practice.
"My debut season will stay with me forever and I cannot thank the BMW WilliamsF1 Team enough for the work, support and commitment that they have demonstrated all season. The workforce at WilliamsF1 has done a tremendous job on the chassis and after a thirteen-year absence from Formula One, BMW's return this season has been nothing short of admirable. I have little doubt in the team's ability to be a front runner and I am looking forward to being an integral part of that success over the long term." Button's seat at Williams will be taken in 2001 by Juan Pablo Montoya, the 1998 F3000 Champion and 1999 CART Champion.
Benetton are still fourth in the Constructors' Championship, albeit a disappointing weekend at Suzuka. Technical Director Pat Symonds confirmed that development of the B200 has stopped, "The cars and teams have stayed out in the Far East between Japan and Malaysia, no actual circuit testing has taken place in preparation for the final Grand Prix of the year. However, in the background a lot of preparation work is going on and the engineers will spend many hours simulating the circuit and looking at different set-ups. There are no new components for this final race as the cars have now reached the definitive specification to finish the year off, but this does not detract from the competitiveness that is experienced by everyone as they fight for championship positions in this final race."
Symonds added, "Whatever happens, this is the final chance for the drivers and teams to capture the positions they have been fighting for all season, so one can expect some good, hard racing."
Giancarlo Fisichella is still sixth in the Drivers' Championship but hasn't scored a point since the Canadian Grand Prix. 2001 will be Fisichella's last season with Benetton. In last year's race he finished eleventh, after also qualifying eleventh.
Alexander Wurz is still fifteenth equal in the Drivers' Championship. This will be Wurz's last race for Benetton, and he is expected to join McLaren as a test driver in 2001. In last year's race, Wurz finished eighth, after qualifying seventh.
BAR have climbed to fifth in the Constructors' Championship. Chief Engineer Steve Farrell remarked, "Having moved in front of Jordan at Suzuka, and with only a two-point deficit to Benetton, our focus now as a team is on scoring sufficient points to secure fourth place in the World Constructors' Championship. Whatever happens, though, we can look back on the 2000 season with some satisfaction. It is fair to say that we've come a long way in the last year and have shown that we have the confidence and sense of purpose necessary to lay the ghost of our first season. The biggest challenge now ahead of us is to ensure we become a team capable of vying regularly for podium finishes in 2001."
Managing Director of Honda's research and development, Takefumi Hosaka, added: "We have achieved maybe 70% of our targets for this year. We said at the start of the year that we did not expect to achieve success immediately and we were aiming for a position among the top five teams. It will be a good result if we can achieve this in our first year. It would also be good to finish the season with the first podium result of Honda's third generation this weekend. We have learned many things this year and gathered a lot of data, both in terms of the engine and chassis technologies. We have confirmed the direction in which we are progressing and we will continue in this way next year. We have achieved an excellent level of reliability with the engine and we are currently very competitive in terms of engine power. This base will allow us to put all our energies into delivering even more performance for both BAR and Jordan in 2001 and achieving race victories."
Last year, neither of BAR drivers finished the race.
Jacques Villeneuve is seventh in the Drivers' Championship. Villeneuve commented, "It's great to return to Malaysia. Sepang is a physically demanding circuit and very technical, but is interesting to drive on. It also has quite a smooth surface. A good set-up works on most tracks, as it will on this one, but overall performance will depend a lot on the tyres. My main concern will be to get hydrated enough before the weekend, such is the amount of fluid you're bound to lose in the course of the race."
Ricardo Zonta is still thirteenth equal in the Drivers' Championship. This will be Zonta's last drive for BAR - in 2001 he will return to Jordan as a test driver, and his seat alongside Villeneuve will be taken by Olivier Panis. In last year's race, Zonta did not finish due to engine failure, after qualifying an unlucky thirteenth.
Jordan have slipped to sixth in the Constructors' Championship, after another disappointing weekend at Suzuka. Team Principal Eddie Jordan stated, "Malaysia will be important for us, as it is a chance for us to restore some pride to our season this year. If we perform well we still have a chance of clinching fourth position in the Constructors' standings."
Managing Director Trevor Foster added, "At the moment the team lies sixth in the Constructors Championship, this is well below what we set out to achieve at the beginning of the season, but we will be working very hard to get the best out of the cars for the final race. Throughout the season we have been in good point scoring positions but have not been able to take advantage of this due to reliability problems. One must remember that we are still the only team that has split the Ferrari and McLaren domination of the front row in qualifying this year, which shows that the car and drivers are capable of competing at the highest level.
"It is disappointing that we were not able to extract the reliability from the car and challenge for the high point scoring positions. We have had bad luck and as seen at Suzuka if you are two or three-tenths off the pace you end up at the back of the grid. We must remain focused for the final race, Malaysia is a medium to High downforce circuit and we should be reasonably competitive. It is not one of our strongest circuits but we are all determined not to go out without a fight. We gained a hard earned third position last season and we do not intend to give that up easily, we will be pushing as we have done all year up until the last lap of the race." Jordan have scored one point at Sepang last year.
Heinz-Harald Frentzen is still nineth in the Drivers' Championship. Frentzen stated, "Personally, I am looking forward to racing on the most modern race track in the world. The people are very welcoming and have warmed to F1, Jordan seem to have a strong following in Malaysia similar to Japan. I look forward to this the final race of the 2000 season and think Malaysia is one of the most innovative and multicultural countries in Asia. I have had a few set-backs this season, but I am very optimistic about next year, when we will be using a Honda works engine, which will undeniably provide us with more power to be competitive." In last year's race Frentzen finished sixth after qualifying fourteenth.
Jarno Trulli is nineth equal in the Drivers' Championship, but he hasn't scored a point since the French Grand Prix. In last year's race, Trulli was eliminated before the start by engine failure, after qualifying eighteenth.
Arrows are still seventh in the Constructors' Championship. Arrows have already started development of the new AMT engine that they will use in 2001. In last year's race, neither of the Arrows finished.
Pedro de la Rosa is still fifteenth equal in the Drivers' championship. De la Rosa commented, "Sepang is one of the best circuits we visit in terms of modern facilities, they have done a great job. I'm expecting the weather to be quite variable with some rain, so that might things a bit interesting. I really want to finish the season with a good result, we have been close several times recently so it would be good to be competitive and get a result at the last race." In last year's race, De la Rosa was eliminated by engine failure, after qualifying twentieth.
Jos Verstappen is still twelfth in the Drivers' Championship. Verstappen admitted, "Malaysia will be a new one for me. I've never raced there before, so I'm not familiar with the circuit, but I am looking forward to it. It'll be a new experience for me and I will be out there early in the week to familiarise myself with the track to make sure we do the best we can."
Sauber are still eighth in the Constructors' Championship. The Malaysian Grand Prix is very important for Sauber, as the Malaysian Petrochemical firm Petronas not only sponsors Sauber but also sponsors the Malaysian Grand Prix. This is also Pedro Diniz's last race for Sauber - he is rumoured to be moving to Prost in 2001. Diniz stated, "I really like the Sepang track, and the atmosphere that the Malaysian's enthusiasm created. It's a good circuit with some quite quick corners, and my only dislike is the really slow one. Last year our car proved well suited to Sepang's characteristics, so I'm looking forward to another good race there." In last year's race, Diniz spun off after qualifying seventeenth.
Mika Salo is tenth equal in the Drivers' Championship. Salo stated, "Sepang is a very good circuit, and the Malaysians have gone to a lot of trouble to create a world class facility. It's also the 'home' Grand Prix for the Sauber Petronas team, so naturally I am looking forward to concluding my career with the team by scoring more championship points." Salo missed last year's race, and he will be taking a sabbatical next season to work for the fledgling Toyota Formula One team.
Jaguar are still nineth in the Constructors' Championship. Technical Director Gary Anderson confessed, "We've got to the end of a tough season and, even though it's only October, we're looking forward to next year. We're starting afresh and are keen to get on with the job. We've got one more race to go though. Sepang is a very good facility and a nice place to go at the end of the year. We had a good run last year and would hope for more of the same, as it would be good to end the season on a strong note so we can carry the momentum through to next year. This is our last chance for points and with Johnny leaving Formula One after this race it would be nice for him to get those points, for himself and the team. We'll certainly be giving him all the support he needs to do just that." The Stewart team had a good race at Sepang last year, scoring a total of five points.
Eddie Irvine is still 13th equal in the Drivers' Championship but hasn't scored a point since the Monaco Grand Prix. Irvine stated, "It's been a long hard season with little to show for all the effort the entire team has put in, at the circuits and the factory, so it would be good to get a reasonable result in this, the final Grand Prix. Last year, I had the best possible result, winning the first Malaysian Grand Prix, so I have pleasant memories of the track, although the awful humidity makes life far from pleasant. The track itself is very interesting, wider than most, with a good variety of corners and that very long straight, so overtaking is on the cards. Let's hope Johnny has a good one, as it's his last Grand Prix." Irvine won the first Malaysian Grand Prix after qualifying second.
Johnny Herbert will compete in his 160th and final Grand Prix on Sunday. In last year's race, Herbert finished fourth after qualifying fifth. The Briton commented, "I had a great race in Malaysia last year so I hope I will enjoy the same this time around. It's a tough race to compete in as the track is physical and the weather is extremely humid. I hope I have a good race so I can go out on a high. It's going to be a bit emotional getting out of the car for the last time and out of Formula One but I'm really looking forward to the challenges that lie ahead of me."
Although he never set a pole position or a fastest lap, Herbert has won three more Grands Prix and 98 more points than most of his critics; he will be missed.
Minardi's future is uncertain with the withdrawal of their sponsor Telefonica at the end of the season and the departure of chairman Gabriele Rumi of Fondmetal, who sold his 70% stake in Minardi to the Pan American Sports Network International (PSN) cable and satellite company in September.
Marc Gene's future is affected most by the withdrawal of Telefonica, and it remains to be seen where the talented Spaniard will be heading. In last year's race, Gene finished nineth after qualifying nineteenth. His teammate, Gaston Mazzacane, was not present last year but finished another solid Grand Prix at Suzuka. Mazzacane has gained a lot of experience this year - only five drivers have covered more laps than the Argentinean novice.
Prost soldier on. This will be the 115th and last Formula One race for Peugeot. The French engine's highest finishes were the second positions provided by Rubens Barrichello, Martin Brundle, Giancarlo Fisichella and Mika Hakkinen, but their best performance was Fisichella's fastest lap during the 1997 Spanish Grand Prix. In last year's race, both the Prost-Peugeots suffered engine failure by lap five.
In last year's race, Jean Alesi finished seventh for Sauber-Petronas, after qualifying fifteenth. This will be Nick Heidfeld's last race for Prost, but he will want to perform well in Malaysia as he will be joining Sauber-Petronas in 2001. Heidfeld has been deprived of Formula One experience this year, he ranks only 20th in race laps completed this season.
My Predictions
If it is dry, I'm going to pick McLaren, Ferrari, and Williams as the top three teams for qualifying with Jordan and Jaguar making up the top five.
Starting grid:
Michael Schumacher
David Coulthard
Mika Hakkinen
Rubens Barrichello
Jenson Button
Heinz-Harald Frentzen
Ralf Schumacher
Eddie Irvine
Jacques Villeneuve
Johnny Herbert
Alexander Wurz
Giancarlo Fisichella
The Malaysian Grand Prix Preview in a Nutshell:
The second Malaysian Grand Prix is the last Grand Prix of the millennium but Sepang may be the gateway for Formula One into the new millennium.