This week's Grapevine brings you
information fresh from the paddock on:

Briatore shows his hand
Honda Horseplay
Picked from the Bunch
Briatore shows his hand
Few in the paddock were surprised to hear Flavio Briatore announce that Jarno Trulli would be recalled to Benetton for 2002, when he can exercise his option on the Jordan star.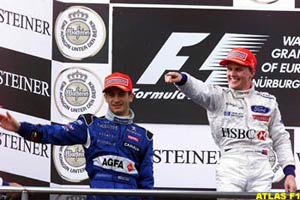 In his first year at Jordan, Jarno Trulli has vastly impressed all who have been watching. He rapidly became accustomed to the car and started to out-qualify Heinz-Harald Frentzen, who is no slouch himself. On-track action has ably demonstrated Damon Hill's observation that Trulli is hard to pass, and his maturity on track is in high evidence.
Once Flavio Briatore signed Jenson Button for two years at Benetton, the writing was on the wall for Giancarlo Fisichella. There has been general comment that the driver has not really been putting any effort into racing ever since he secured his seat for 2001, but his detractors are reckoning without the inside knowledge the Italian has faced since then.
When he negotiated the renewed contract, his pressure for a two year agreement failed to yield results, despite his strong performance so far at that point of the year. He did get a renewal, but knowing it was for a single year was of some concern for him. Hearing through the grapevine that Button was on the cards for 2001 was, initially, of interest: but then, he learned the contract was going to be for two years. Added to that, the world and his dog knows that Trulli's option comes up in a year, so putting two and two together was not hard.
Being in a car that has been outclassed in the second half of the season and knowing the future will see him leaving Benetton, it's not entirely surprising that Fisichella has suffered some motivation problems since. And that, of course, sealed his fate in the eyes of Briatore, who cares only for one thing: winning. Venerably, Championship style.
Honda Horseplay
Amid returning rumours that Honda are planning a buy-out of BAR, Jordan are considering the implications of a warning shot across their bows, and Mugen-Honda seem to be planning a route of their own.
At the Japanese Grand Prix, Honda warned both BAR and Jordan that the board is currently split concerning the benefits of remaining in the sport – particularly by supporting two teams on a works basis. Without some fairly considerable success, the future for each team will need to be reviewed. Success, in this case, means more than just beating Toyota.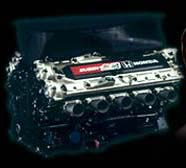 Despite protests from BAR that Honda has no claim to the team, details of the original Honda engine deal imply that the manufacturer has an opportunity to buy the team, lock, stock and barrel, for a fair market price at the end of 2001. Apparently, this clause was the clincher for Honda to return on a works engine basis, rather than run with their own project. Supplying Jordan with a full works deal is supposed to be stage two, preparatory to buying out BAR: having another team with precisely the same engine and immediate packaging allows pretty direct comparisons between the teams' chassis.
Most onlookers are struggling to see why this is necessary. However, Honda's Athena project has raised a number of questions that will need to be answered, and a parallel development is not an option.
Athena is Honda's integrated electronics project, where all the electronics for the engine, the gearbox and the chassis are controlled centrally. In theory, Honda believes the improved integration can provide some noticeable advantages. The overall component count should be reduced, basic mass cut, and reliability considerably improved. By using overly powerful CPUs, real-time processing should permit on-board diagnosis of problems, and even some adjustments to be made to reduce the likelihood of component failure. However, the project is expensive, and the gains could prove to be unmeasurable over a race distance.
Mugen-Honda are happy with Jordan's performance this year. The team has clearly demonstrated the performance of the engine, frequently running close to the front, and often making the factory team look second rate. A year of poor luck has contributed to fewer points scored than expected, but that is not the major concern at this time – indeed, it is working out well, as Honda have not been pleased with BAR falling behind Jordan for much of the year. Hooking up with Minardi for 2001 would provide a chance to continue looking good, without the threat of challenging the works teams. Minardi too will benefit – Mugen will charge half as much as Supertec and provide a more powerful, though larger, engine.
Why are Mugen staying in the sport? The answer depends on who you talk to: paddock speculation holds that in two or three years, Jordan will be dropped by Honda. They will have all the comparison data required, or Jordan's performance will have dropped off; at that time, reduction to customer Mugen units would be on the cards. The other favoured answer is pressure from Bernie Ecclestone, who is looking for each manufacturer to make available a Customer unit for general consumption.
Picked from the Bunch
Mark Handford's move from Lola to Jaguar has surprised the paddock's front runners, who believed the aerodynamicist was happy in the CART environment. At least Ferrari was known to have expressed an interest in his services in the recent past.
Bruno Junqueira and Nicolas Minassian, winner and runner up of this year's F3000 championship respectively, are expected to be confirmed at CART's Ganassi Racing next year, replaying Montoya and Vasser. Both have expressed aspirations for spending a couple of years out in American racing as preparation for entering Formula One, but each sees the success of the other as likely to prevent him from making it.
Rumours that Bridgestone are leaving the sport continue to circulate, as the company prepares to face serious law suits in the USA. According to the rumours, the board has already decided that a move to the German touring car series would save considerable money, providing better funding to fight the legal issues.
Jordan's timing for releasing Mike Gascoyne could prove critical, as it should enable the technical wizard to have considerable influence on the design of the 2001 Benetton car, which is not far past the concept stage at this time.
Jacques Villeneuve's move to join the GPDA has been met warmly by his colleagues, who considered his absence a crying shame: the Canadian is highly respected in the whole of racing, so his refusal to be part of the GPDA was something of a snub.