Writer David Cunliffe, webmaster of the official Johnny Herbert website, was invited by Atlas F1 to conduct a farewell interview with Johnny Herbert for the Atlas F1 magazine. David and Johnny held the the interview at the Indianapolis Motor Speedway, just two hours after the US Grand Prix - Herbert's best race of the 2000 season.
* * *
Johnny Herbert is a survivor.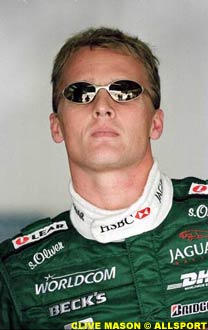 In 1988, he survived one of the worst accidents ever seen in F3000, just as he was on the verge of a glittering career in Formula One. After Herbert smashed his feet and ankles in that terrible crash, the doctors said he would never walk again, let alone race. But he went on to prove them wrong in the most emphatic fashion possible. Against all the odds, he made a stunning F1 debut, finishing fourth for Benetton in Brazil, less than 6 months later. With gritty determination and a cheeky grin, Herbert has gone on to survive more than a decade in F1, winning three Grands Prix and carving out a place for himself in the history of the sport.
When he was a small child, Johnny dreamed of being in Formula One. His first chance came in 1987, en route to clinching the British F3 title for Eddie Jordan, when Benetton offered him the chance to test their turbo-powered car at Brands Hatch.
"I just remember going out of Paddock, then down and back up towards Druids, giving it a bit of a flooring in second just to see what it had got," Herbert recalls his first taste of F1 power. "There was a lot of whooshing - air noise - then you heard a sort of 'ssssss' - the spin of the turbo coming up - and then kazam! It all came in with a mighty bang and then propelled itself like a bullet up the hill. It was pretty awesome, I have to say. Those cars were very different animals but I'm glad I had the opportunity to drive one."
The 23-year old from Essex outpaced regular driver Thierry Boutsen with a stunning performance that day, impressing a lot of people, including Nigel Mansell, who was out on the track at the same time. Nigel is said to have come back in and asked, incredulously: "Just who is driving that thing?"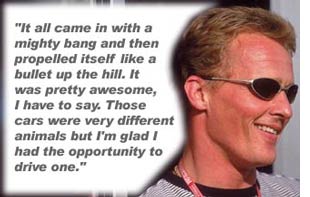 "I think I was about half a second slower than Nigel and he said that I did a good job, but if it had been on a longer circuit, I'd have been further away. Typical Nigel really!" Johnny says, amused. "But it was more what the press had to say. The following week Autosport or Motoring News - can't remember which one - said I was 'a sensation'. It went down very well and it made people sit up and take notice, that's for sure."
An F1 career on the near horizon, Johnny moved up to F3000 with the Jordan team in 1988. It started promisingly, with a win first time out, at Jerez. In August that year, Johnny was asked by Team Lotus to stand in for its regular F1 drivers during tyre testing at Monza, where he immediately outpaced the reigning World Champion Nelson Piquet. But, before the month was out, Johnny's F1 career looked to be over before it had started.
On August 21st 1988, at Brands Hatch, Johnny was in the middle of one of the worst accidents ever seen in an F3000 race. In a series of horrific collisions, the front of his car was destroyed, leaving his feet and ankles shattered. Twelve years later, Johnny calmly reflects on the incident that could have left him in a wheelchair for life: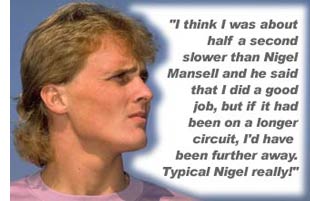 "I can remember everything. Everything from the restart, going up to Druids, and banging wheels with [Gregor] Foitek even before we got to the incident itself. I remember he followed me and started to pull out. I was in the middle of the track and he must have been on the grass, because there wasn't enough room on my left. There was a tiny little tap, then the car was turning and aiming straight for where the bridge was. I ploughed straight into the bridge and my head was rolling around a lot. I was spinning around and then hit something else. Then I was spinning around again and, finally, I stopped.
"When I opened my eyes, I could see there was a big hole in the front of the car. My first impression was I'd lost my legs from the knee down, because all I could see from the way I was sitting were my knees but nothing else below that. Of course, they were there hanging down below. I remember saying: 'knock me out, knock me out, knock me out!' because I didn't really want to know at that stage. But I do remember everything - I was conscious through the whole thing."
Whilst he was recovering, an important man kept faith in Johnny: Peter Collins, then with Benetton. Johnny is still grateful for that and the influence Collins had on his later career. "I owe him a lot," he says. "He gave me my first test. Even while I was still in a wheelchair he gave me the Benetton contract to sign. After I left Benetton and went to Japan it was Peter who brought me back to F1 with Lotus. So I was very lucky with Peter and he was very good for my career. I don't think I would have been in F1 if it wasn't for him, especially after the accident."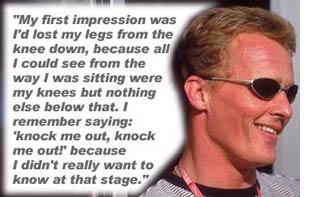 Johnny traces his cheeky chappy image back to the accident, when remaining cheerful was his way of coping. He certainly wasn't averse to winding up Peter Collins when he first returned to an F1 cockpit. "We went to Silverstone and I wasn't really worried about getting back into the car," Herbert recalls. "I got in and went round and I felt pretty much OK. But I came in and said to Peter: 'I just can't do it, I don't feel comfortable with it.' Peter's face was a picture: 'Oh, you don't think you can do it? Oh...' So I said: 'I'll give it another go but I really don't think I can do it.' Then I went out, did a lap something like 3 seconds quicker and came back in laughing..."
On March 26th 1989, the true test of how well Johnny had recovered from his terrible injuries was to come, when he made his F1 race debut for Benetton in Brazil. He finished an amazing fourth, behind winner Nigel Mansell, McLaren's Alain Prost, and local hero Mo Gugelmin. His teammate, Alessandro Nannini, was sixth. It was the most stunning F1 debut for nearly 20 years. But Johnny was suffering, and the quick circuit wasn't a reliable indicator of how far down the road to recovery he had travelled.
"I was in pain," says Herbert. "I always remember when I first went out qualifying that there was a particularly big bump at the hairpin before the back straight, which really hurt my left foot when I hit it. I learned to let my foot just flop around and, when I hit the bump, it would hit the side of the cockpit. It would hurt like hell but sort of kill the pain after that. Once I'd crossed the threshold of pain, I didn't have a problem. During the race, I didn't have any particular problems but I was fortunate that the circuit didn't require any hard braking."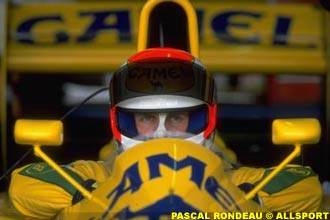 Johnny struggled at the next race, in Monaco, partly due to a gearbox problem but also because he had to use the brakes far more on the twisty circuit. Mexico was also bad, but things looked to be on the up when Johnny brought home his Benetton in 5th at the next race, in Phoenix. Nevertheless, the team decided to give him a "rest", after he failed to qualify for the Canadian GP in June.
"I was upset at the time," Johnny recalls without bitterness, "but, realistically, I knew in my heart that it was probably the right thing because things weren't improving. I hadn't had a proper chance to get my feet better, stronger, as they needed to be."
He was not to return to Benetton for some time. Although he had several offers for 1990, Johnny opted to take a Lotus testing contract and to race in Japan, in both the F3000 and the All Japan Sports Prototype Championship. The Lotus contract allowed Johnny to appear in two F1 races at the end of 1990 (both DNFs). Ironically, that opportunity only arose because regular driver, Martin Donnelly, had suffered a terrible accident, which nearly cost him his life, in practice for the Spanish GP.
The next year, Johnny combined a part-time Lotus F1 drive with his Japanese commitments. This paved the way for a stunning victory for Mazda, with Volker Weidler and Bertrand Gachot, in the 1991 Le Mans 24 Hours. That silenced many of the doubters - if Johnny could last a gruelling 24 hours, he must have been back to full fitness. But the endurance classic took it out of him: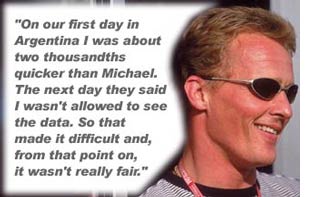 "I was tired, yes!" he recalls. "It was damn hot and, I think, we were doing double stints all the way through - I may have done a double-double. During the race, I didn't have any problems at all. I remember at the end I was just so, so happy about it. I opened the door, stood up quickly when I got out, and that was it, it hit me" - Johnny collapsed across the bonnet of his Mazda - "I have to say that I don't remember that much about it!"
Would he ever return to Le Mans? "I've always said no," he admits, "but I probably will!"
It was a relief to Johnny when Lotus signed him up for a full time drive in 1992. He enjoyed driving for the once top flight team in 1991 and 1992. But things soon took a turn for the worse.
"In 1993 and 1994, it went a bit downhill," he recalls. "Unfortunately, we had one race in Monza [in 1994, when Johnny qualified fourth] that looked promising, but it didn't happen because of Eddie [Irvine, who took Johnny out at the first chicane on lap 1]. But in the next race and after that, we weren't competitive anyway."
Though some of Herbert's fans may not have forgiven Irvine for that incident, Johnny himself doesn't bear a grudge against his Jaguar teammate. Unfortunately, the Monza debacle was another nail in the coffin of Team Lotus, which collapsed into bankruptcy at the end of 1994. One of its few valuable assets was Johnny's long term contract. However, in retrospect, Johnny believes that signing such a long contract was a mistake.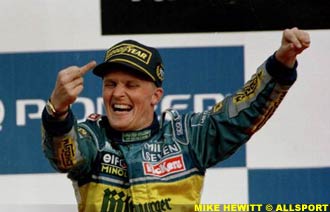 "That was my fault. I remember that, at the end of '91, Peter [Collins] and Guy Edwards were pressurising me: 'We need to sign a contract because we need to get sponsors, Mika [Hakkinen] is leaving, we need to sign a driver, we want you', and all that sort of stuff. I was a bit too soft and signed, I think, a five year contract, which I shouldn't have done. [My wife] Becky was telling me no, and a friend of mine was telling me no but, being a wally, I signed it. That's why I was there for so long, unfortunately."
Ligier, at the time linked to his old team Benetton, bought Johnny's contract. He was then given another, apparently golden opportunity to return to the team which was to win the next two World Championships. Unfortunately, it was a one man team.
"The atmosphere was OK when I joined Benetton," Herbert says today, "but I remember saying that I was hoping to fight for the World Championship, and then I read that Michael [Schumacher] said he hoped I wasn't going to get political. I can't remember exactly what the words were but it was almost as if he thought I'd stop him being Champion. He didn't say anything to me, it was in an article, maybe a week later. Then I knew things were difficult.
"Then, on our first day in Argentina - a Thursday, because it was a new track for us - I was about two thousandths quicker than Michael. On the way back to the hotel, he said to me, 'well, I have a secret about my driving and you probably have secrets about yours, maybe you don't want to see what I do and I don't want to see what you do'. Next day, when I got to the track, they said I wasn't allowed to see the data. So that made it difficult and, from that point on, it wasn't really fair."
Johnny remains tight-lipped about the lack of support from team boss Flavio Briatore in 1995, but, even though he regards Michael Schumacher as his most difficult teammate in F1, Johnny says he holds no grudges against the German ace.
"He never wanted anyone to have a fair crack against him," he says. "That's something I'd never be happy with, personally. I always think that if you have 50:50 in the team, then the best guy wins. Unfortunately, that was never the case with Michael from early on. That's the way he is. I've nothing against him - it's the team that has to control that situation."
Nonetheless, and in many ways, 1995 was Johnny's best year in F1. It was certainly his most successful - he came within a whisker of being third in the World Championship and took two GP victories, the first at the British GP in July.
"That was brilliant," he says of his firm win, and on home soil. "Not so much because it was the British GP but because of getting back from the accident, sticking at it, having a difficult year in '95, and being able to overcome all the rumours that were flying around at the time. It was special, to win the race like that and to achieve a goal I'd wanted to achieve since I was a little kid. I could sit back and enjoy the moment of it being my first win, and British too."
But, because of all the difficulties at Benetton, Johnny doesn't see 1995 as his best year in F1, at least not from the viewpoint of personal satisfaction - that, he says, was 1997, his second year at Sauber: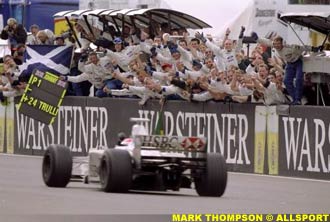 "We had a good rapport with each other, we were working very well and we had some good results. We should probably have done better than we did but we had a few failures, I remember. It was just a good year, despite all the problems the team had with the other drivers, but that never really interfered with me. The team was going well at that point and it was probably their best year too."
Johnny also enjoyed 1996, his first year at Sauber, as teammate to the highly rated Heinz-Harald Frentzen. But things deteriorated mid way through 1998, when team boss Peter Sauber clearly began to favour teammate Jean Alesi. It still rankles:
"I was doing very well against Jean early on and then we had a little bit of an argument at Silverstone. I was being asked to let Jean past when I didn't think I should have been and we had a falling out over that. Then I said, right, OK, I don't agree with what you're asking me to do, but if you ask me again to do it, I will, even though I think it's wrong.
"So we got to the next race and, in qualifying, it was wet with a drying track. I went out with about 5 or 6 minutes to go, and just as I was going on to the track, Peter [Sauber] came on the radio and told me to let Jean past. I thought, OK, I shall do my job. Unfortunately, I had to wait for a lap and a half before he actually came past because he was nowhere near me. So, by the time I started, my tyres were cold and, of course, he ended up second and I ended up 18th.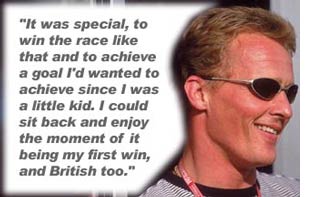 "That really destroyed me a little bit - I just couldn't believe that, for two races on the trot, they asked me to do that. So I was really unhappy about that and it affected me for three or four races, but then I got myself back together by the end of the year. It made it less sweet than it should have been because, up until then, for the majority of the time I had been quicker than Jean. That upset me a lot."
In 1999, a new challenge beckoned, driving for the Stewart-Ford team. "I was really up for it and I thought it would be a really, really good thing for me to join Ford again, and to work for Jackie with his reputation," Herbert says.
"Unfortunately, the difficulties I had at the beginning of the year with reliability meant it was difficult for me to get into the groove with the car. Then all the rumours started and Jackie was talking to me, saying maybe you should think about this, think about that - stuff which I thought was very unnecessary at a GP weekend.
"But it all started to come better in Austria when we had a good race, until Mika [Salo] knocked my rear wing off. But the race after that [Germany] was quite good - I got second fastest lap, I remember. Then we had a few more failures until it all snapped together at the Nurburgring."
Herbert regards his third win, at the 1999 European GP, as the best of his three F1 victories. He is also obviously happy with the way the rest of the 1999 season went: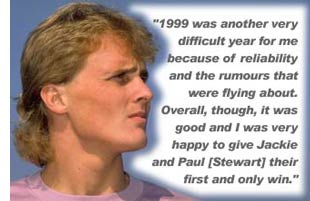 "After that [win] came what was probably one of my best races, in Malaysia, where I should have finished third but was actually happy to finish fourth with Mika [Hakkinen] getting that extra point. Then was Japan where, unfortunately, we didn't get points - but it was a good result against Rubens. 1999 was another very difficult year for me because of reliability and all the rumours that were flying about, which were unnecessary. Overall, though, it was good and I was very, very happy to give Jackie and Paul [Stewart] their first and only win."
With no points from 15 races, "disappointing" is too mild a word for Johnny's last season with the renamed Jaguar team. He reflects on the reasons for this:
"I think we had a very good package last year, with chassis and engine, and unfortunately, relative to the other teams, we're not as competitive this year. We have a faster car than last year but all the other teams have made bigger jumps forward. That's what Formula One is all about - you've got to keep on moving forward and we haven't really moved forward enough, nor developed enough during the year. There's a lot of changes that need to be made and it's going to take time for the team to get there. But Jaguar want to win and they will do it in the future."
But not with Johnny.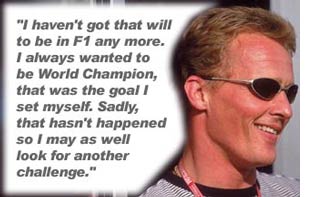 In July, Herbert announced that he will leave F1 for CART next season. He is sad to be leaving, but relishing another new challenge in what has been a difficult but rewarding racing career. "F1 was something I always wanted to do and it's been part of me for a large part of my life," he says. "It will be more of a shock that it's over when I'm sitting somewhere watching a GP rather than actually being part of it. It is sad, yes, because I think I'm driving well right now.
"But I haven't got that will to be in F1 any more. I always wanted to be World Champion, that was the goal I set myself. Unfortunately, that hasn't happened and I don't really see it happening in the situation I'm in at the moment. From that point of view, I don't see the reason for carrying on, so I may as well look for another challenge, which is the ChampCar series, and the Indy 500 - something I've also always wanted to do. Hopefully, I'll be able to go both for the CART title and the Indy 500. I will try to put it into the deal to allow me to do that."
Johnny Herbert is 36 years old. He's crammed a huge amount into the years since he first felt the competitive urge rising in him as a youngster in a kart. He survived a terrible accident that would have ended the career of lesser men. Against the odds, he won the Le Mans 24 hours. After surviving over a decade of ups and downs in F1, he moves on with three Grand Prix wins to his credit - more than the vast majority of drivers who have raced at the top of his chosen sport. Before Johnny retires, he wants to add the Indy 500 and the CART Championship to his already impressive CV. Given his grit and determination, few would bet against the plucky little Brit achieving the remaining targets he has set himself.