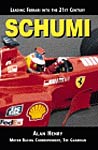 Earlier this year, Queensgate Publications hedged their bets by releasing a book about each of the 2000 season's most likely championship contenders. One of them, 'Mika', was reviewed in this column a while ago; and the other, 'Schumi', is sitting on my desk at this very moment. Both come from the pen of Alan Henry, a man who certainly knows his stuff. Henry is extraordinarily prolific - he seems to pump out new titles the way Germany used to pump out Volkswagens. If a week goes by without a new release by Henry appearing on the shelves, life feels strangely incomplete.

The danger inherent in such efficiency, of course, is that productivity comes at the cost of quality. Unfortunately, this book provides a very vivid illustration of the problem. Decent biographies of current Formula One drivers are pretty rare, and 'Schumi' does nothing to raise the bar. A writer of Henry's standing and experience could throw a book such as this together in a few weeks, and there is much to suggest that this is exactly what he has done. Eschewing any form of critique or analysis, Henry opts instead for a simple retelling of Schumacher's career, with the emphasis being placed upon the Ferrari years.

There's little evidence of any original research having been undertaken in preparation for the book; instead, the author has simply gone back through his tapes from old press conferences and interviews and pulled out the bits that suit the story. The vast majority of this stuff is already very well-trodden, and to continually find yourself able to pre-empt the rest of a passage because you've read or seen the interview many times before is a frustrating experience. If re-tracing all this stuff is the kind of thing that turns you on, you'd be far better off saving your money and spending an afternoon trawling through the Atlas F1 news archive instead, because you'll eventually come across a lot of the same material.

I'm really at a loss to explain why I found this book to be so much more disappointing than the sister volume about Hakkinen. It could possibly have something to do with the fact that far, far more has been written about Schumacher, and so there is far more potential for overlap between different publications. There is nothing in 'Schumi' that you won't find in any of the other Schumacher publications; the only difference being that most others are far more detailed. 'Mika' was an acceptable if unspectacular overview of the Finn's career; yet 'Schumi' seems to be weighed down with an overwhelming air of inadequacy. Where the former book was short but succinct, this one is simply short and superficial.

It's usually easy to pick books that have been written quickly and carelessly, and 'Schumi' bears all the hallmarks. Factually, the book is reasonably solid, though there are a number of typos and other errors that should have been sorted out before the book went to press. In his account of Monaco 1997, for example, Henry manages to have both Irvine and Barrichello coming home in third place. Small mistake, to be sure, but if you're expected to shell out nine quid for a 113 page book then such disregard for detail should be taken into account.

Ironically, the one part of the book that did strike me as interesting had little to do with Schumacher at all. Johnny Herbert's difficulties in trying to adapt to the characteristics of the1995 Benetton and the inherent difficulties in being Schumacher's teammate are well documented, but Ross Brawn's thought's on the topic probably represent the most insightful passage of the book:
"Quite honestly, it was an unfortunate time for Johnny to have joined the team...I believe that if he had been with us in 1994, he would have had a much happier season. The fact was that the car was not as good as we would have liked, and when faced with those circumstances, it's difficult to be fair about the responses you have to make to try and sort out the car. Given the situation we were in, I think it was proper that we used Michael to try and solve the problem as quickly as possible. He had been driving for us for four years, he was the quicker driver and certainly the one with the most experience.'

'In fairness to Johnny, the comments he made about the car were correct. It's not the we didn't believe him; we were simply unable to address the things which troubled Johnny as quickly as we should have done, because those problems in some ways did not trouble Michael. Confidence level in the car was never a problem for Michael, which meant that there were other things that we could get on with sorting out. Giving Johnny confidence in the car was not always our highest priority." (pp. 35-36.)
Curiously, there are occasions where the book seems to serve both as a Schumacher biography and as a celebration of his former teammate Eddie Irvine. This crops up in small ways throughout the book, but reaches epic proportions in the final two pages, where Henry's enthusiasm for the Irishman reaches fever pitch while Schumacher himself is barely mentioned. It's an extraordinary and inappropriate change of tack that creates an unsatisfying ending to what had already been an irritating reading experience. Those wishing to celebrate the German's recent third championship would be well advised to look elsewhere - there are far, far better books about Michael Schumacher around than this one. It's too thin, too insubstantial, and, for what it offers, overpriced.
* * *
And now, a couple of public service announcements:
One of the cool things about this job is that every now and then I hear about goings-on in the world of motorsport books that might be of interest to some of you guys out there. Maybe I hear about something cool that is scheduled for release, or perhaps I'll come across a book that is be a little to far removed from Formula One to fit into this column but might nevertheless have some appeal to a chunk of Atlas F1's readership. From now on I'm going to try to keep you posted about some of the other stuff that's out there.
First up, I recently received a couple of novels in the mail from Australian author Tony McGirr. One, 'The Original Texas Wildcat', is tells the story of a young Texan driver gearing up for his first crack at Indianapolis, while 'Tiger O'Brien' is set against the backdrop of the famous annual Touring Car race at Bathurst. While I haven't had a chance to read either of them properly just yet, the bits that I have seen look fairly promising. At the moment, the books are only available from the author at http://www.casamia.com.au, though there are plans in the works for a wider distribution deal. Might be worth checking out if you're after something a little different to help you through the painful break between November and March.
Also, Burt 'BS' Levy (The Last Open Road, Montezuma's Ferrari), wants your money. Levy is planning a new book for Christmas, and he's applying the same approach to funding it as he did for Montezuma's Ferrari - by selling sponsorship. The sponsorships start from USD250.00, and for a little more you can purchase ad space. Sponsors will also receive a special, limited edition copy of 'The 'BS' Levy Potside Companion' once it's released. The book, an anthology of motoring-related anecdotes and stories, looks like a fun read, and it's something that I for one am looking forward to checking out. If you want to find out more, send an email to thinkfast@mindspring.com, but be quick, as sponsorships have to be finalized soon in order to have the book ready in time for Santa.