HATS OFF, AND WIGS ON, TO FERRARI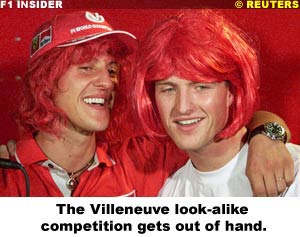 The season ended in Malaysia with more of a whimper than a bang (Johnny Herbert excluded). With the driver's title already wrapped up and the constructor's little more than a mathematical uncertainty, Ferrari clinched in style – although style went right out the window the minute they did clinch. The wigs, that were apparently smuggled over by the Ferrari mechanics in unmentionable body cavities, could've used a bit of back-combing and teasing before they were pulled out and paraded by everybody from Jean Todt to the mechanic that knows the words of the Italian national anthem (but not how to sing). I must admit though that Ross Brawn did look particularly fetching in his.
In a mainly dull affair apart from the "excitement" of the pitstops, Schumacher led 2nd place Coulthard over the line by a deceptively small margin of 0.7 seconds. DC had consistently reeled in the Ferrari for the last third of the race but having arrived at the German's rear bumper, he clearly lost his sense of direction which he'd probably tucked safely away somewhere along with his life insurance policy and his motivation.
Hakkinen, having been the fastest driver on the track for the quarter of a second before the race, drove admirably from Minardi to BAR but aside from his duel with Villeneuve he had little to write home about, although we was able to skip the death-defying performance normally required of him at the post race press conference and this will no doubt be of some small consolation to him.
McLaren's recent tactic of starting the race before everybody else is certainly a novel one but I haven't yet figured out how its supposed to work. If they just wanted to be first into the pits, surely there's an easier way to achieve that. If they wanted to be first into the first corner, that's almost a given as long as Schumacher's on the front row and Villeneuve isn't. No, the only reason must be that DC's a bonehead. (OK, that wasn't called for but "Hakkinen's a bonehead" hasn't been a season long theme and it's a bit late to start now).
And so, for Ferrari, the season ends in a blaze of red nylon. I can only join with Ron Dennis in saying congratulations to Ferrari and you can bet that I'm every bit as sincere as he was.
DENNIS JUMP STARTS MOSLEY
The fiercest and most exciting battle next season will not be between McLaren and Ferrari or Ralf Schumacher and Montoya but between McLaren's Ron Dennis and, in the blue corner, the Battling Barrister, The Tautological Tyrant, The Prancing President... ...Mighty Max Mosley!
Following Dennis' comments at Suzuka where he suggested that the fact that one of the stewards worked for Ferrari could be construed in some circles to be somewhat less than totally unbiased and impartial, Mosley sent Dennis a four page letter basically telling him to go to his room and not come out until he'd really thought about what he'd done. Somehow, the post office mis-delivered this letter and it mysteriously ended up in the hands of the 400 journalists at Sepang.
What these other journalists did not get was the special unexpurgated version that The Insider can now reveal to you exclusively. Well not you exclusively but which I, exclusively, can reveal to you. Here are some excerpts with Mosley's original comments retained.
"Remember, if we eliminate Italian stewards [that would probably be illegal, even in Italy] we must if we are to be consistent [and it is nice to have a goal even if its one we can't obtain] also eliminate not just British, Finnish and German stewards [Finnish stewards only watch the end of the race, British stewards don't watch that much and the Germans are all complete and utter bar-stewards] but any other official who shares nationality with a team or driver [regardless of whether they're employed by a team or driver – Watch me leap tall logical inconsistencies in a single bound]. This was really not one of your more inspired ideas. [You're a moron]"
"Instead of attacking the FIA [you should be attacking Ferrari – don't you read the rulebook], you should be grateful [young man] that you have a governing body [that always loves you no matter what you do] which attempts to prevent difficulties [ I know. I'm laughing as I write this] from arising rather than try to deal with them when it is too late,"
"If you think you could do better [and after all, who doesn't?] you can (as I have already suggested to you) start your own series [its my ball and you can't play] with your own sporting [OK, so we don't have any of those ]and technical rules....
Ron Dennis responded with a four page letter of his own.
I'm sorry, I misread that. Ron Dennis replied with a four letter word of his own.
TELEFONICA HANGS UP ON MINARDI
At least now you won't get a busy signal when you try to contact Marc Gene.
After listening to months of rumors about whether Telefonica would buy Minardi, sponsor Prost, buy Prost or buy Alain Prost and lease him to Minardi for a $50 prepaid calling card, Telefonica finally announced that they're not going to do anything. Nothing. You can call all you like, but they ain't listening.
Sounds kind of like every other phone company in the world.
GO JOHNNY GO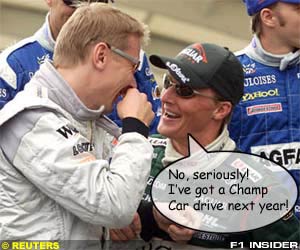 Johnny Herbert certainly knows how to make an exit. At least it looked like he was trying to make his own exit from the circuit when he crashed into the tyre wall at turn 4 at 170 mph. It's a good job this was his last race because I don't know if Johnny would want to get back into another Jaguar given the way that the rear end of his Cat disintegrated on Sunday (I'm sure Johnny's rear end did a little disintegrating of its own as the Jaguar reached its top speed for the season half way through the gravel trap). I know they were trying to correct severe understeer all weekend but do you really think removing the rear wing and both rear tyres was the best set up solution available to them? Actually, given the Jag's performance this year, it probably was.
Johnny is off to greener pastures, I hope. There has been no confirmation of the much talked about move to Champ Cars but it would be nice to see him get a decent drive over here. Good luck, Johnny.
ANTHEM FOR THE COMMON MAN
Fortunately, this week the only ones laughing, waving, conducting and wearing silly wigs during the playing of the Italian national anthem were the Italians.
AND FINALLY
What do you mean "131 days, 02 hours, 20 minutes and 33 seconds before the Australian Grand Prix"!!!!!!