This week's Grapevine brings you
information fresh from the paddock on:

Ironic exit for Johnny
Talking of the future
Picked from the Bunch
Ironic exit for Johnny
It seems ironic that Johnny Herbert, who entered Formula One at Benetton with a strong limp after a big accident in F3000, leaves in a similar fashion.
The accident in Malaysia, caused by catastrophic rear suspension failure, has left the Briton with severe bruising to the left side, particularly his knee. The teams' initial investigation has shown no intrinsic faults with the equipment, though a more detailed enquiry is to follow. At this time, contact at the start of the race is seen as the most likely cause.
On a different note, Herbert is now re-evaluating his choices for the future. The knock has had some impact on his attitude towards high speed ovals, where a mishap can lead to contact with the wall at over 200mph – resulting in a significantly greater impact than suffered on Sunday.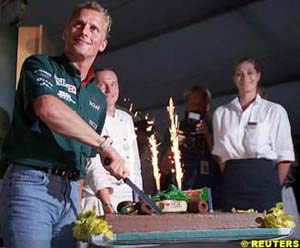 Talks with a CART team is very promising, and two others have shown some interest. If Herbert wishes to pursue racing in the USA, then it is basically down to agreeing terms. As things stand, all three teams know that they hold the cards, so they are not offering the package Herbert is looking for, but the deals are there. Similarly, opportunities in GT and DTM have both been presented, along with the possibility of testing with Williams.
The accident on Sunday is still very fresh in Herbert's mind, and likely to remain so whilst the bruises are in full flood. Testing is still not an option whilst racing seats are available, but suddenly, German touring cars is a very attractive proposition. The Briton is a racer first and foremost, and his friends still think CART is the way he will go, but right now, he has other things on his mind.
Talking of the future
As the Formula One circus rolled into Malaysia, it came as little surprise to discover much of the paddock chatter was not about the forthcoming race.
Since the Drivers' Championship was decided, and very few teams really expected to be able to chance their positions with what was expected to be only three points up for grabs, what idle talk there was concerned 2001 – and who would be able to knock Schumacher from his newly acquired perch.
From a practical point if view, most favour Hakkinen to lead a revitalised McLaren charge. The car is good, and there's plenty of speculation about what they are planning for the new model. Ferrari's all but announced intentions to develop this year's race winner leave most fearing a repeat of this season's antics: McLaren fast, but fragile, and Ferrari mopping up.
However, there are a couple of new players coming to town. Michelin's recent progress reports have been kept relatively quiet – muttering of being "on schedule" are received with some skepticism, especially after the teams sampled Bridgestone's latest offerings. The Japanese giant is using a new construction on both the soft and super-soft tyres, yielding over a second a lap advantage, with the same underlying compounds they have used all season. They are properly prepared for a battle royal in 2001.
Should Michelin actually be making progress, however, then Montoya is expected to be an interesting spectacle. More than half the paddock believe the Colombian is destined to follow in the footsteps of Alex Zanardi, as he did not impress three years ago when he tested for Williams. However, a solid coterie are convinced he will be something special, and put together some decent races for 2001.
BMW's progress through 2000 has been something of a revelation too. Near the end, it appeared reliability suffered a little for power, but basically the engine was a very solid performer. Next year's is designed by the same team – under a new head, admittedly – but most believe it should be close to the leaders in all regards.
Outside Williams, fans of Flavio Briatore think there is some chance he will turn the team around and produce another Championship winner. The smarter money, however, sees little changing for the coming year, until the Renault label is finally put in place. At that time, Jenson Button could find himself in a car which is capable of winning races…
Otherwise, only the Honda powered outfits of BAR and Jordan are raising eyebrows – though only as rank outsiders. Few can understand Jordan's luck in 2000: the car was quick, but rarely went race distances, and always for unfortunate reasons. Should fortunes change in 2001, they are going to be worth watching. On the other hand, BAR's internal politics are considered crippling. There is at least one sweepstake running on when in 2001 the team announces a Honda buy-out. Having said which, that could finally provide some stability, and give the team a chance to get on with the job at hand – and then, Jacques Villeneuve at least stands a chance of winning races.
At the end of the weekend, however, as everyone packed up to go home, there was a consensus: knocking the rain-master off his throne was going to be a very challenging job, and whoever succeeded would certainly have earned it.
Picked from the Bunch
AMT appear to be arguing with the FIA about their name: the governing body is requesting the engine supplier change their name before being permitted to race with Arrows.
Ever concerned with the health of their staff, BAR's technicians monitored temperatures inside the suits of their mechanics – and discovered temperatures peaked at 68C.
Alex Wurz confirmed his signing as McLaren test driver, and is looking forward to the challenge: indeed, he is looking forward to some running in a car which keeps going for a whole day of work...
Ross Brawn has stated that plans for the next generation Ferrari will produce an evolution of this year's Championship winning car: "Our car is the best," said Brawn. "Therefore I see no reason why next season's car should be completely different."