Timothy Collings sums up the 2000 season, talking to the men involved and looking at the achievements and figures making up the fifty first Formula One World Championship season

Michael Schumacher's resurgence with 'double' winners Ferrari provided the Formula One highlight of 2000, but Jenson Button's performance in his maiden season was almost as spectacular.
Button, just 20, finished eighth in the drivers' title race with 12 points, and many in the pitlane believe the Briton has both the talent and temperament to be a future champion.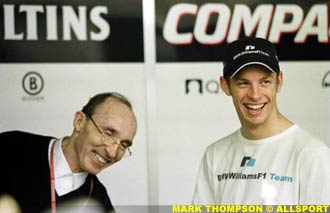 Next season he will begin a two-year 'loan' spell with Benetton, the team where Schumacher won the first two of his three drivers' titles, in 1994 and 1995. With Renault owning and powering the team as Formula One moves into an era of heightened corporate ownership, Button could be the man to ignite the French car-builder's dreams.
"I am sure he has what it takes to be the next British world champion," said compatriot Johnny Herbert before crashing out of his final Grand Prix in Malaysia. "He just needs a bit of luck."
Button will find it hard to break the grip of Ferrari, whose drivers/constructors' Championship double lifted them to a record 20 world titles, and McLaren - and that of the teams' top drivers Schumacher and Mika Hakkinen, who have won five of the last seven drivers' titles. Between them, Ferrari and McLaren scored 322 points while the rest of the field could only accumulate 110 in a 2000 season when the top teams' strength was at times embarrassing. Furthermore, for the first time since 1988, all the race victories were shared between two teams.
Even the improving Williams team, led by Schumacher's brother Ralf, could struggle to keep pace next season, after finishing third this year with 36 points. Schumacher junior, who will have Colombian Juan-Pablo Montoya as his teammate in succession to Button, was fifth in the drivers' series with 24 points, behind brother Schumacher on 108, Hakkinen on 89, Briton David Coulthard of McLaren on 73, and Brazilian Rubens Barrichello, the second Ferrari driver, on 62.
Two factors explain the dominance of Ferrari and McLaren this year - their excellent reliability and their ability to improve competitiveness during the season. Furthermore, the rivalry between the two teams, as Ferrari technical director Ross Brawn explained, has helped them push each other to ever higher standards. "I think the development of the two teams has been just incredible, which is why we are both so far ahead of the rest of them," said Brawn. "We're driving each other on. That's what it is. It makes us both push harder and harder."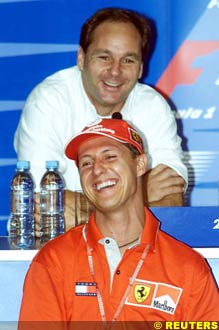 After a stunning start to the season, when Schumacher won the opening three races, McLaren clawed their way back and both Hakkinen and Coulthard had spells when they were strong challengers to Schumacher. The German's season, in contrast, went through a difficult patch in the middle of the year, after he failed to score points or finish four out of five races.
Not even the solid support of Barrichello, who enjoyed a very promising first season at Ferrari and scored his first Grand Prix win at Hockenheim, could help Schumacher, as Hakkinen, revitalised by a summer holiday, came back in Austria to win three of the next four races.
But Schumacher delivered an emotional victory at Monza to rebuild his confidence and revitalise his challenge. Successive victories followed in the USA and Japan to seal the drivers' title - Ferrari's first since 1979 - and in Malaysia he won a record-equalling ninth race to collect the constructors' crown for Ferrari.
"We lost the title for Mika," said Mercedes-Benz sporting director Norbert Haug at Sepang. "Our engine failures at the start and the finish of the year made it too difficult for him."
For Brawn, however, it was a season to savour. "I can't believe it has all come true," he said. "There were times during the year when I felt that we weren't going to be able to do it. I thought it was going to get away from us again. We had such a great start, but it was clear that McLaren were going to be very tough. It was just a great job by the team...
"There were some races where we got a bit ragged, for all sorts of reasons, so we just sat down and thought about it. Basically, we realised that we weren't doing a good enough job. The car didn't change. We changed our approach a little, and it all came together again. We made it less complex. We were trying too hard. Things were getting a bit confusing, so we took a step back and kept it all nice and simple."
Brawn estimated that Ferrari had improved their car by one second during the year and believed that McLaren must have done a similar job. "A year's effort goes straight into the racecar - that is, if you're doing a good job," he said.
"But next year will be a little different because the tyres will be such a factor. We've all had the same tyres this year and there hasn't been much tyre development," Brawn added, referring to Michelin's return to Formula One in 2001 as Bridgestone's monopoly ends. "You'll see the relative lap times changing quite a lot in 2001 because of the tyre war. But it's all had to come from the car this season. I think we've made five different front wings this year. Ferrari has tremendous capacity. If it's used properly, it's a very powerful team," Brawn said.
With his nine victories this year, Schumacher moved to a career total of 44, leaving him only seven behind the all-time record of Frenchman Alain Prost. With three titles, he needs only one more to draw level with Prost's total of four.
"I am not going to talk about statistics and records, but I want to continue racing and enjoying it and winning for as long as I can with Ferrari," said Schumacher. "This wonderful season has been a fabulous memory for me."

Facts and Figures about the 2000 Season
Schumacher was the first triple champion since the late Brazilian Ayrton Senna took his third crown in 1991. France's Alain Prost won his fourth title in 1993.
It was the first season in which just two teams won everything since 1988, when McLaren had 15 wins and Ferrari one. It was only the eighth time since 1950 that two teams have shut out all the others.
Ferrari's two titles took their total tally since the first championship in 1950 to 20, a record lifting them clear of McLaren on 19. Ferrari's 2000 constructors' title was a record 10th, one more than Williams.
Ferrari broke their team record for the number of wins (10) and constructors' points (170) in a single season. McLaren hold the overall record of 199 points from 1988.
Michael Schumacher, with 44 wins, surpassed Senna's 41 victory total. Only Prost, with 51, remains ahead of the German. Schumacher is now second in the list of all-time points scorers, with 678. Prost scored 789.5.
Schumacher took nine poles for a career tally to date of 32. That is the fourth highest tally ever and ranks the German alongside Briton Nigel Mansell. Senna took 65.
Schumacher, with nine wins, equalled the record for the number of victories in a single season. He also won nine with Benetton in 1995 and shares the record with Briton Nigel Mansell, who did it with Williams in 1992 (in a season with only 16 races).
For the 24th time, the winner of the season-opening race went on to take the title. Schumacher also won the first races of the season in 1994 and 1995.
The Japanese circuit of Suzuka provided the championship-winning race for the eighth time since 1987.
Brazilian Rubens Barrichello was the only first time winner of the season, ending a run of 123 starts without success to triumph at Hockenheim in Germany in July.
Briton Eddie Irvine secured Jaguar's first points in Formula One and Canadian Jacques Villeneuve did the same for BAR.
Briton Jenson Button became the youngest points scorer in Formula One history when he finished sixth at the Brazilian Grand Prix in March aged 20 years and two months.
Four drivers made their race debuts in 2000 -- Button at Williams, German Nick Heidfeld at Prost, Brazilian Luciano Burti at Jaguar (as a one-race stand in for Irvine) and Argentina's Gaston Mazzacane at Minardi.
Italian fire marshal Paolo Gislimberti died at Monza in September from head and chest injuries caused by flying debris. He was the first fatality at a Formula One race since Senna was killed at Imola in 1994. May he rest in peace.