Ferrari's agonising 21-year wait for a World Drivers' Championship could end on the fast and demanding Suzuka circuit in Japan on Sunday. But the team's destiny lies in the gifted hands of Michael Schumacher. He was regarded as something of a mercenary by Ferrari's fanatical fans when he joined from Benetton in 1996 on the back of two world title successes. $1.5 million a race was the figure bandied around. Now the German is recognised as the man who can send the Prancing Horse galloping to the biggest prize in motor racing.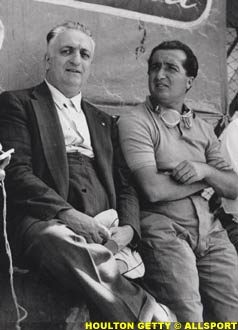 Money is no object at Ferrari. They are the biggest and best equipped team in Grand Prix racing. They employ a huge staff, possess envied research facilities and even boast their own private track on the doorstep of their Maranello headquarters.
But Ferrari have not landed the drivers' crown since 1979 - not since the young, curly-haired South African Jody Scheckter clinched overall victory. He won three races and beat teammate Gilles Villeneuve to the title in a Ferrari drivers' and constructors' double. It was a vintage year for Ferrari.
And it was so long ago in Formula One terms that Scheckter's son Tomas, then unborn, will be starting his Grand Prix career as a Jaguar test driver next season.
No one reason for Ferrari's two decades of disappointment can be pinpointed. It could be the sum of many parts - political machinations, car failure, personal conflicts within the team. Even the right driver in the wrong car or the wrong driver in the right car. The list of probables seems endless.
But it is recognised as the Ferrari way. Simple and straightforward has never been the way they have been perceived.
Now all those seasons of frustration and controversy have rolled away with Schumacher poised to land the championship this weekend. He even has points in hand to have a second chance at the closing race in Malaysia on October 22nd. Two second places will suffice to wrest the title from Mika Hakkinen, the only driver who can halt him.
A long overdue triumph will send the team and Italy wild with delight. The celebration will echo around the world because Ferrari, like the Braziliian soccer side, are blessed with that special mystique, the ability to send a shiver down the spine.
Win or lose, the blood red cars bearing the black prancing horse emblem can set the slowest pulse racing.
Ironically, Enzo Ferrari had only a token interest in the drivers' championship after founding the team in 1939. He reckoned his cars won races and his drivers lost them. The constructors' cup was his passion. Building cars and demonstrating to his rivals on the track that his engineeering acumen was second to none. The 'commendatore' enjoyed huge success after he and other like-minded racing fanatics turned a motley collection of races into a world championship series in 1950.
Ferrari was a prime mover in the formation of the championship and his cars have been virtually ever present on the circuits in the half-century since.
With few exceptions, Ferrari have signed the cream of the driving talent. From Italian Alberto Ascari in the beginning to Schumacher today, the list of drivers and their exploits have thrilled countless millions.
Ferrari made their world championship debut at Monaco in 1950, but it was not until the British Grand Prix at Silverstone the following year that Argentine Jose Froilan Gonzalez gave them their first win.
Ascari landed Ferrari's first drivers' championship in 1952 and was followed home by compatriots Giuseppe Farina and Piero Taruffi. The sweep of the top three places trumpeted Ferrari's arrival.
Ascari did it again the next season but then came a three-year gap before Argentine Juan Manuel Fangio, arguably the greatest champion, won the fourth of his five titles in a Ferrari.
Blond Briton Mike Hawthorn, famed for his flat cap and bow tie, was next on the list. He edged out the Vanwall of compatriot Stirling Moss by a solitary point in 1958.
Few Americans have made a successful trans-Atlantic crossing in motor racing but Phil Hill achieved it by taking the 1961 title ahead of Ferrari teammate Wolfgang von Trips.
Three years later, Briton John Surtees became the first and only man to win world crowns on both two and four wheels.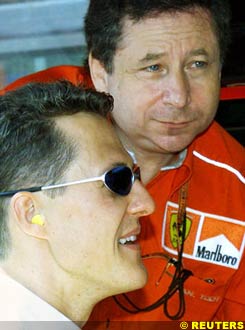 Ferrari's next champion was none other than Niki Lauda. The brilliant Austrian joined from BRM for 1974 and stayed for four remarkable seasons. He landed two of his three titles in the red car in 1975 and 1977. In between, he almost died in the flaming wreckage of his car at the German Grand Prix on the infamous Nurburgring. He was badly burned, inhaled poisonous fumes and carries the scars to this day. Incredibly, he was back racing by the Italian Grand Prix at Monza the following month where he finished fourth.
Scheckter was next up but he was made to fight by his own teammate Gilles Villeneuve. The South African won in Belgium, Monaco and Italy, but it was his consistency that earned him valuable points-scoring places and the often faster Villeneuve had to accept second spot.
The drivers' trophies dried up after that but the flow of constructors' championships continued, with wins in 1982, 1983 and last year.
In total Ferrari have won nine drivers' and nine constructors' titles. Only McLaren can boast more drivers' honours. Only Williams can match their makes' honours. And nobody can beat their race victory tally of 133 nor the number of Grands Prix contested - 634.
But Ferrari's triumphs have not been achieved without tragedy.
The first came in 1961 when Von Trips crashed into the crowd at Monza, killing himself and 14 spectators. Villeneuve's blossoming career ended while practising for the 1982 Belgian Grand Prix at Zolder. The personable Canadian had been tipped as a world champion in the making. Ferrari withdrew from the race as they mourned his death.
Briton Peter Collins was killed in his Ferrari at the 1958 German Grand Prix at the Nurburgring and Italian Lorenzo Bandini died from burns three days after crashing at the 1967 Monaco Grand Prix.
Enzo Ferrari died in 1988, aged 90. He would miss Schumacher's galvanising effect on his operation.
The German was certainly what experienced team principal Jean Todt had been praying for. He coaxed an inferior car to three wins in 1996, then scored five victories the following season before blowing his title chance after crashing into the Williams of championship leader Jacques Villeneuve in the season-ending European Grand Prix at Jerez in Spain.
Ferrari were highly embarrassed by their driver's behaviour. Enzo would have been livid.
But Schumacher made amends by taking Ferrari close again in 1998, with six wins. He pushed Mika Hakkinen to the last race.
Last year Ferrari went within an ace of the drivers-constructors' double, despite Schumacher's seven-race absence after he broke his leg in the British Grand Prix at Silverstone.
Instead, it was Briton Eddie Irvine who seemed set to emulate Scheckter. Schumacher was recalled, against his wishes, for the last two races in a supporting role. He did his job like a true professional but Hakkinen sped away from Irvine in the final race at Suzuka and retained his title.
The storming climax had threatened to become a non-event when both Ferraris were thrown out of the Malaysian Grand Prix two weeks earlier because of illegal barge boards. They had finished one-two. Ferrari fought their corner at a court of appeal and were reinstated.
In the short close-season Ferrari overcame yet another championship disappointment and regrouped under the command of Todt and technical director Ross Brawn. They simply knew their time would come.
With eight triumphs in the bag already this season - seven by Schumacher against Rubens Barrichello's one - surely Ferrari's time has come.