Fastest Race Lap: 1:38.942 (H.H.Frentzen, Williams, 1997);
Fastest Qualifying Lap: 1:34.700 (G.Berger, McLaren, 1991)
The Suzuka Circuit in Japan currently stands out as a high point in a world populated by bland and dreary Grand Prix tracks. Designed by the man responsible for the challenging Zandvoort circuit, Suzuka is unusual in that it crosses over itself in a figure-of-eight.
The track is twisty, but fast, and some sixty percent of the lap is spent at full throttle - more than Hockenheim. Expect to see the cars running medium levels of downforce as the teams cope with the need for high cornering speeds and extra speed on the straights.
High points of the lap are the many long and tightening corners: First Curve; Degner and Spoon. With the correct racing line being particularly critical around these, expect the time spent racing in Formula Nippon to be of particular value to Heinz-Harald Frentzen, Eddie Irvine and Mika Salo.
The only sore point on the circuit is the ridiculously tight Casio Chicane, as well as the lack of sufficient run-off at some of the faster corners. All said and done, though, Suzuka is one of the few remaining challenges in Formula One and well deserves its place on the calendar.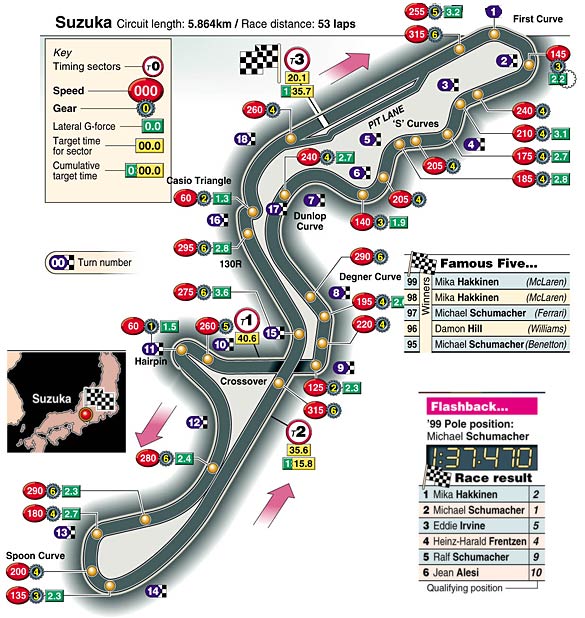 If you want to read the driving instruction while looking at the map, Click here to open the map in a separate window


A Lap of Suzuka with Rubens Barrichello

"Suzuka is one of the finest tracks we go to, and I rate it very highly. It's even more critical than Spa in terms of matching the set-up with your speed and commitment.

"Depending on the wind, the pit straight is probably the fastest point. You maybe hit 320km/h going into the first corner. You're in fifth gear, it's very fast, there's not a lot of steering - you just brake as late as you can. You don't have to put much power on between Turn 1 and Turn 2 - you take the first as fast as you can, and sort yourself out afterwards. It's third gear for Turn 2, with a late apex to have maximum traction.

"Turns 3, 4 and 5, the Esses, are pretty much on a flow. You cannot use the brakes very hard, because you upset the ride height. It's a bit bumpy, so you have to have the aerodynamics working quite well there. Turn 6 is a bit tricky, because you have a bit more understeer than you normally have on 3/4/5, because it's a much tighter corner.

"So either you put on much more lock and keep it tight, which is slower in the middle of the corner but faster out, or you don't tend to turn much, be very wide on the exit of Turn 6, and then you're going to have a little bit of a problem with Turn 7. But sometimes that is the quickest way.

"Seven is very bumpy. It's a long, long corner, you're in fourth gear on the way in, and fifth on the way out. It's a good fun corner, and in the wet it's pretty slippery. For Turn 8 you brake down to fourth again. If you ride the kerbs, the car has to be very soft, otherwise it jumps out. And if you go straight on at Turn 8 it's very difficult to rejoin the track again for Turn 9.

"Braking into Turn 9, there's always a bit of oversteer, and there's a little bit of a camber in the middle of the corner. If you get to the middle of the corner fast, the camber helps you out. It's fascinating to go under the bridge, because you're not used to having someone crossing on top of you! It's often damp underneath there.

"At Turn 10 the most amazing thing is you can brake and spin to the inside - it's easier than spinning to the outside! A couple of years ago Damon went off there. You have to brake very late for the hairpin, put a lot of commitment into the corner, and it's so easy to lock the wheels and lose yourself there. It's a corner where you can make a lot of good time. There's a lot of traction out of it.

"Turn 12 is a long corner - in the wet it becomes a corner, in the dry it's not really - it's just flat all the way through, very bumpy, especially when you get to Turn 13, Spoon Corner. I feel that it's the most fun on the track. You brake down to fourth, put full throttle back again, then brake again to third. You have to concentrate because you have to be very, very early on the throttle, because you have the long straight after that. Again, if you go off on the first part it's sometimes difficult to come back.

"Then we head into 130R, which is one of the fastest corners in the world. We probably don't have enough run-off area! If your car isn't very good, it's not much fun. You just have to make it as fast as you can on the way in; you're talking about 305km/h (190mph) and getting out of the corner at 285-290km/h (177-180mph). Then you brake for the chicane. You can lose everything if you brake too late at this last corner, which makes it exciting, because you have to be really precise.

"The braking area is blind, and you try to make it into a straight line as you turn in, and hit the kerbs as much as possible because the car understeers. Then you're dealing with a lack of traction. The track falls away, and all the time you're spinning your wheels. You have to be polite with the throttle..."


Facts and Stats about Japan

This weekend's Japanese Grand Prix will be the country's 16th in the World Championship - two of them have taken place at Fuji (1976-77) and the last 13 have been at Suzuka. It is the third longest circuit in the series at the moment and the only figure-of-eight course used for Formula One racing. Ferrari's Fiorano test circuit is also figure-of-eight - but it is not used for racing.

Japan's involvement in Grand Prix racing goes back much further than its Grand Prix, however. It was first represented in the World Championship by Honda in 1964 and they stayed in Grand Prix racing for five years, scoring their first win in 1965 with Richie Ginther in Mexico. The Japanese company celebrated their 200th Grand Prix at Monza two races ago.

The honour of being the first Japanese Grand Prix driver is actually split three ways in that Masahiro Hasemi, Kazuyoshi Hoshino and Noritake Takahara all started the 1976 Japanese Grand Prix. Takahara was the first finisher in ninth place in a Surtees, while Hasemi was 11th and last in the Kojima, but he did set fastest lap, having qualified a promising 10th. Hoshino retired his Tyrrell.

However, if Hiroshi Fushida had managed to start the Japanese-built Maki in Holland the previous year, the honour would have fallen to him. He was 25th on the grid, nine seconds off the pace, but there were only 25 cars and in theory he was allowed to start. But then the oil pressure took a dive, the team did not have a spare engine and so he couldn't take up his position on the grid. In spite of the best efforts of Howden Ganley and Tony Trimmer, this was the best chance the Kenji Mimura-designed cars had of starting over their three years participation.

Fushida was joined by Masami Kuwashima as a non-starter in the early days of Japanese Grand Prix drivers and Naoki Hattori somewhat later. However, another eight Japanese Grand Prix drivers have joined the field since then, the most successful of them was Aguri Suzuki, who finished third in the 1990 Japanese Grand Prix in a Lola-Lamborghini. However, Satoru Nakajima is the grand master of Japanese Grand Prix drivers, having contested 74 Grands Prix in five seasons, and scoring points in each year.

The Japanese Grand Prix has also been newsworthy for other reasons, mainly because it was often one of the last Grands Prix of the year. Consequently, the championship was decided once at Fuji - in favour of James Hunt - and eight times at Suzuka, including last year. More memorable, however, were those Ayrton Senna/Alain Prost showdowns.

However, only Senna in 1988 and Michael Schumacher in 1995 have ever won the Japanese Grand Prix flag-to-flag, starting from pole and setting fastest lap on the way. It was memorable for Eddie Irvine in 1993 when he finished sixth and therefore earned a World Championship point in his first Grand Prix. Notwithstanding that Irvine had cheekily unlapped himself from Senna along the way.

On the face of it, it isn't a good race for Ferrari. Williams, however, has twice occupied the front row, in 1992 and 1996, while McLaren did the same three times: in 1988, 1989 and 1991. McLaren has also scored two 1-2 finishes, in 1988 and 1991. Mika Hakkinen has won the last two Japanese Grands Prix, and McLaren has managed a top four finish in the previous four Japanese races.

Ferrari has been in the first three for the last four years, but did not finish in 1995. Benetton scored a memorable 1-2 in 1990, when Japan's Aguri Suzuki was on the rostrum.

And what about the drivers, particularly the championship contenders? Hakkinen and Michael Schumacher have both won this race twice. Mika has never been on pole here, whereas Schumacher has been on pole four times. The Finn has finished second just once, whereas Schumacher has been second three times. Mika has been third twice and fourth once and he has taken the finish in his last seven Japanese Grands Prix. Michael's fine finishing record at Suzuka was spoiled by a puncture in 1998.

Of the rest of the field, you might watch the Jaguar pair of Eddie Irvine and Johnny Herbert, and Heinz-Harald Frentzen, who perhaps has the better chance of repeating his form. He has finished all six of his Japanese Grands Prix, five of them in the points. Irvine has finished his last seven Japanese Grands Prix, six of them in the points, and Herbert has finished his last five races in Japan. All, of course, spent some time racing in Japan in their formative years.

Finally, the 1994 race was another memorable one because heavy rain caused it to be stopped after 13 of the 53 laps. It was restarted for another 37 laps, one of only 11 two part races in the history of the World Championship.