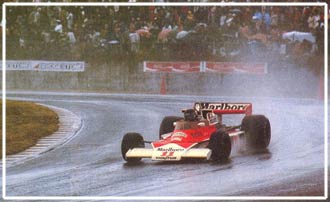 1976 The water logged world of Mount Fuji was the backdrop for the dramatic conclusion to the 1976 World Championship. Coming into the last round, Niki Lauda (Ferrari 312T2) held a small lead despite missing several races recovering from his horrific Nurburgring accident. Lauda pulled out of the atrocious conditions after just two laps. James Hunt (McLaren M23 Cosworth) needed third place to become WC. After replacing a damaged tyre, Hunt found himself in fifth and started a memorable charge. In the dying laps, he drove past Clay Regazzoni (Ferrari 312T2) and Alan Jones (Surtees TS19 Cosworth), but thought the title was still Lauda's. After the race, an enraged and disappointed Hunt leapt from the car, only to discover he was world champion.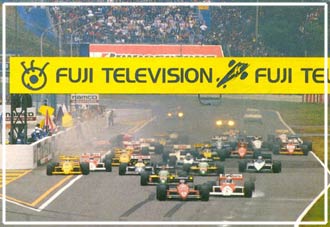 1987 Blast off! The first Grand Prix at Suzuka sees Gerhard Berger (Ferrari F187) ahead of Alain Prost (McLaren MP4/3 Porsche). The rest of the field is led by Thierry Boutsen (Benetton B187 Cosworth), while further back Michele Alboreto has his arms in the air as his Ferrari F187 clutch slips badly, while to the left Phillipe Alliot (Larrousse LC87 Cosworth) is heading for the wall. Missing is Nigel Mansell, the Brit crashing heavily in practice putting him out of the race, handing the World Championship to teammate Piquet.
Japanese driver Aguri Suzuki in the Larrousse LC88 Cosworth drives in his first Grand Prix. Two years later at this circuit, Suzuki, again driving for the Larrousse team, would score the best ever result for a Japanese driver, finishing third. Today he would finish well down in 16th.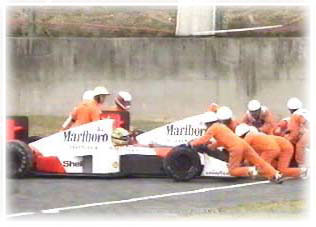 1989 The dramatic end to the 1989 World Championship. Ayrton Senna dived for a gap that may or may not have been there coming into the chicane before the pit straight, and Alain Prost closed the door hard. The cars collided and slid across the chicane. Marshalls are desperately trying to separate the cars. With both cars out, Prost would be World Champion. Prost abandoned his car, but Senna was push started and drove across the chicane, quickly catching and passing new leader Alessandro Nannini. It was all to no avail, as cutting the chicane when he restarted ultimately earning him a disqualification.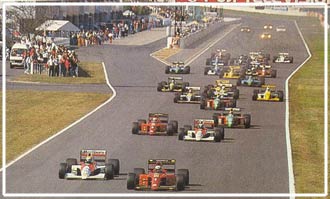 1990 Seconds from disaster. Pole sitter Ayrton Senna (McLaren MP4/5B Honda) is being led by arch rival Alain Prost (Ferrari 641). Senna was upset that pole position was sited on the 'dirty' side of the track, and was concerned that Prost would beat him into the first corner, threatening Senna's title aspirations. As Prost turned in to the first turn ahead of Senna, the two collided, hurtling off the track at high speed, leaving the watching world aghast. Senna was World Champion. An enquiry later cleared Senna of any wrong doing, but 12 months later Senna admitted he had deliberately driven in to Prost.
Senna salutes McLaren teammate Gerhard Berger on winning the Japanese Grand Prix. Berger had bolted at the start, leaving Senna to fight with title rival Nigel Mansell, who needed to win to keep his title hopes alive. When Mansell speared off when he lost his brakes, the pressure was off, so Senna set off after Berger. He passed him, building up a significant lead, before almost pulling over on the last lap to give Berger the win.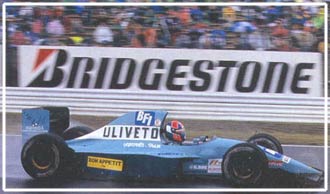 1992 Jan Lammers splashes around Suzuka in the March CG911 Ilmor. Two years earlier, a slippery Adrian Newey March had almost won a race. In 1992, March struggled from race to race for funding, to the extent of accepting sponsorship from local businesses at some races. The driver line-up fluctuated accordingly. Karl Wendlinger & Paul Belmondo became Wendlinger & Emanuelle Naspetti, then Naspetti & Jan Lammers. March would only race once more after this race.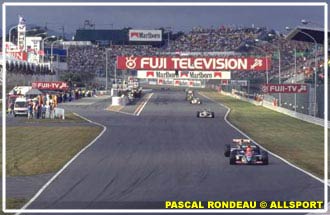 1993 Against the backdrop of the huge crowd and the Suzuka pit complex, Eddie Irvine (Jordan 193 Hart) leads a Williams on the approach to turn 1. For Irvine, it was a controversial Formula One debut. He fought his way into the points, but an incident where he unlapped himself, passing Senna, sparked a post-race pit conversation which ended with Senna being restrained after throwing a punch at the Irishman.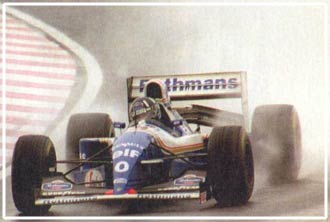 1994 In dreadful conditions, Damon Hill (Williams FW16B Renault) drove the race of his life to win the Japanese Grand Prix. The race was run as two parts due to intense rain, with Hill was seven seconds down on leader Michael Schumacher at the end of part one. With a title on the line, Michael Schumacher (Benetton B194 Cosworth) was racing hard but was caught out on pitstop strategy. Schumacher sprinted after Hill and looked like catching him, but despite Schumacher's wet weather ability and a rear tyre that couldn't be changed during his pit stop, Hill kept his lead and won, setting the scene for what would become arguably Formula One's most discussed incident in its history.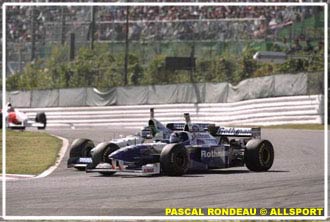 1996 Despite this moment with Gerhard Berger at the chicane, Damon Hill (Williams FW18 Renault) had a largely untroubled lights to flag victory in the Japanese Grand Prix. Title rival Jacques Villeneuve was never more than a threat on paper, nor was arch rival Michael Schuamcher. Berger (Benetton B196 Renault) was lucky to finish after a clash with Eddie Irvine at the chicane, which saw Irvine beached. Berger continued to fourth.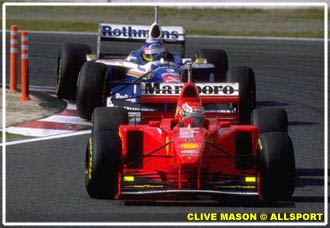 1997 Early in the race, Eddie Irvine (Ferrari F310B) leads Jacques Villeneuve (Wialliams FW19 Renault). Irvine was driving perhaps the best race of his career, passing Michael Schumacher and Mika Hakkinen in a single move, then setting off to hunt down Villeneuve. He caught and passed the Canadian, and took off. Once Schumacher had moved clear of Villeneuve and teammate Heinz-Harald Frentzen in the pits, Irvine donated his debut win to his team leader, keeping Schumacher's championship hopes alive and setting a date of destiny at Jerez. Villeneuve would finish fifth, however, Villeneuve was racing under appeal after commiting a yellow flag offence in qualifying while already under a suspended sentence. After the race, Williams withdrew the appeal, and Villeneuve lost his fifth place.
Schumi walks in despondently - was it possible to win the Championship in a Ferrari? Mika Hakkinen had a small points gap going into the last race over Michael Schumacher, but essentially it would be winner take all. Which way would the dice roll? Cruelly, it was all over before the red lights came on. The first start was aborted after Jarno Trulli stalled his Prost AP01 Peugeot. As they lined for the second start, it was Schuamcher who stalled. Later, Schumacher retired after a rear tyre failure. Hakkinen controlled the race from the front, and the winner was never in real doubt.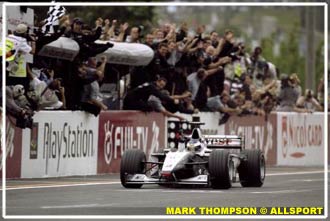 1999 McLaren ecstatic. Twelve months on, and Mika Hakkinen (McLaren MP4/14 Mercedes) was again facing off a Ferrari for the world title at Suzuka. This time however it was Irvine, not Schumacher. Things had not gone Irvine's way from the start of the weekend, with a bad practice crash not the least of his concerns. Doubt also hung over Hakkinen, after seemingly cracking under the strain at Monza and being uncompetitive at Sepang. In the race however, Hakkinen was dominant. There was nothing Irvine or returned teammate Michael Schumacher could do about Mika, storming to one of his best wins.