This week's Grapevine brings you
information fresh from the paddock on:

The Button Debate
Ferrari's Engine: the 049
Picked from the Bunch
The Button Debate
Even with Monday's Benetton launch, most of the headlines have been about Jenson Button, a former McLaren Young Driver of the Year, and his potential drive with Williams in 2000. With key figures in Williams and BMW, including Frank Williams and Gerhard Berger, backing the concept of a fresh face, the idea has continued to gain momentum and favour solidly.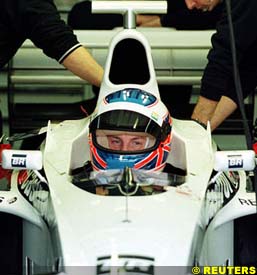 Button was originally approached by Williams to try for a test seat with the team next year. They had seen his previous test with Prost, and were impressed by the times – which were faster than Jean Alesi managed. It augured well to bring Button on board as test driver, give him experience of the car whilst he continued to learn race-craft in F3. When the time came, as it did for Damon Hill and David Coulthard, he could then step up to racing Formula One.
However, Alex Zanardi is unwilling to further damage his reputation, risking another year of struggling in a Williams: although the team claims it's a completely new car, the concept is an extension of last year's, so the underlying problem Zanardi faced in 1999 would probably still be an issue in 2000. The current line is that he has agreed a severance fee, which Williams are considering: unless they can find a driver who will do better than a demoralised Zanardi, there's no point in paying an exorbitant fee to release him – he'd be more use helping to develop the car with the BMW engine.
Since BMW are footing a significant part of the Williams bill in 2000, there's little cash to spare for attracting big stars. Williams is left in something of a quandary: bringing in a pay driver would certainly help them out – and financially, BMW would approve of that – but performances would probably suffer. A young charger might give a better performance, or might fail to adapt; furthermore, they would bring limited funding, if any.
This has led to Williams seeing potential in Brazilian F3000 Bruno Junqueira (who's sponsorship, so the grapevine whispers, happens to match Zanardi's severance fee), and British F3 driver, Jenson Button. The Jerez test last weekend was intended to provide the team a chance to see both drivers in action, back-to-back, with an aim to deciding the future. Should either stand out, they could be selected to drive alongside Ralf Schumacher in 2000; but if both disappoint, then it's back to the drawing board, with Zanardi expected to at least start the season.
This much publicised "head to head" turned into something of a farce, when Williams new car proved unreliable: the first two days of the Jerez test, which was supposed to give each driver a morning and afternoon in the car, instead saw them on the pitwall. The final day, however, brought solutions to the Williams gremlins, giving Button the opportunity to fuel to the fiery debate with his 22 laps, by setting a time around 1.5s off the pace of McLaren's David Coulthard – over 99 laps.
As neither driver had the chance to do many laps, the Williams team have gone on to Barcelona, with every intention of trying again. What is already known, however, is that Button impressed the staff immensely: impressing Patrick Head, who commented "In view of the limited mileage we've achieved over the past three days, Jenson settled into the car very quickly. He is remarkably mature for a 19-year-old and is definitely a star of the future," is a significant achievement, and it's thought Button is guaranteed at least a test contract for 2000 as things stand.
However, although Head commented on Button's maturity, it is thought his age might still be an obstacle to such an early entry. Jody Scheckter believes that, whilst it's too good an opportunity to turn down, it could actually kill Button's F1 career before it starts. Williams is a notoriously harsh environment for drivers, which has seen highly rated, but more to the point experienced drivers Zanardi and Heinz-Harald Frentzen fail to produce the goods.
Button's raw talent, which some in Williams put on a par to Ralf Schumacher's, implies he should have the raw speed to make it; but without more experience in F3 or F3000, there is a real risk that he will be learning race-craft on the track could prove costly…. David Coulthard's problems during his time at Williams, which included falling off the track on a parade lap, and trouble with backmarkers, was put down to inexperience. Ralf Schumacher, who was aligned with Heinz-Harald Frentzen as the star of 1999, spent his first couple of year's at Jordan, driving very fast, but falling off the track, as he learned the trade.
That Button has the talent for Formula One is certain: whether Williams is the environment to bring out the best in him, is another matter altogether.
Ferrari's Engine: the 049
Ferrari's plans for the 2000 season centre around the developments on their engine: having played second fiddle to Mercedes for the last two years, research and development is pulling out the stops to get ahead, and their plans are allowing significant changes to the remainder of the car.
The 049 is significantly smaller than it's predecessor, yet it is more powerful; gaining 15 bhp, whilst losing something over 10% in mass was the aim. The final product is not ready yet, but is expected to come in ahead of target; additionally, an increased angle on the 'V' and moving a number of peripherals lower, has lowered the centre of gravity…
Key to the mass reduction, heatflow through the engine block has been examined, and with new materials available for the exhaust, the engine runs hotter, and cools easier, so requiring less mass is devoted to coolant and circulating it through the unit. The knock on benefits are huge: smaller radiators allows for smaller, more aerodynamic sidepods. A smaller engine allows for a narrower tail. Less mass provides for more ballast to improve balance. Lower centre of gravity provides inherently better rear stability.
All in all, the development team are very pleased with themselves. Given the engine's legendary reliability has been maintained, there's every chance it will be the envy of the paddock in 2000.
Picked from the Bunch
Williams' new secret sponsor is computer giant COMPAQ. The company signed a multi-million dollar deal with the F1 team, that will see it provide for the computer electronics development of the new car, as well as the regular cash flow. Furthermore, Compaq is planning to launch a widespread campaign, designed around its new F1 involvement. TV ads spaces have been reserved already.
Dutch F1 commentator Olav Mol reported earlier this week that a Dutch driver is scheduled to show up in testing in about three weeks. Speculations became rife that maybe Jos Verstappen will be once again a candidate for one of the available seats in F1, but it seems more likely that the driver in question will be Tom Coronel.
Damon Hill spoke at the Autosport show, commenting that his money would be on Ferrari and Michael Schumacher for the 2000 championship. He also used the opportunity to deny rumours of intending to become involved in team management…
Michelin and Bridgestone are both pleased the FIA's ban on December testing does not start until 2001: they are looking to December 2000 for extensive testing in order to gear up for competing against each other in 2001.
A South African Grand Prix at Kyalami is on the cards from 2001 – but only if the rand's stability is maintained.
Murray Walker, the voice of Formula One for many viewers, has signed a contract for 2000: rumours persist that his departure is nigh, but he's keen to go on indefinitely.
Minardi's crash test in February is thought likely to deprive the team of a proper test chassis for Melbourne. The team are expected to maintain a 1999 car, with a 2000 spec engine, in case they do not have time to complete the third chassis.

And a few of grapes collected by RaceFax:
First Hockenheim, Now Monza: Plans are afoot to make significant changes to the hallowed ground at Monza. The double chicane past the pits will be replaced by a single, tight corner, which is likely to change the type, but not the high frequency of first-lap, first-corner incidents. Also, the De la Roggia chicane, between Curva Grande and the first of the twin Lesmos, will be opened up, which should eliminate one of the few overtaking opportunities the track provides, and should also increase the entry speed into the first Lesmo. One would like to think there's some method behind this madness, but if there's any logic at work, it frankly escapes us. The changes require FIA approval, which has not yet been obtained, so perhaps wiser heads will prevail. There's plenty of run-off at De la Roggia, but a faster approach to the first Lesmo is not likely to get with Max Mosley's concept of safety.
Following John Walton's departure from his post as Arrows team manager for the Prost team, Tom Walkinshaw has hired Steve Nielsen to replace Walton. Also hired were Keith Shepherd and Chris Hicks, neither of whom has any known racing experience. They have been installed at Arrows Autosport Ltd., parent of Arrows Grand Prix Int'l., which is the team. Speculation in MotorSport Aktuell is that they've been placed at Arrows by Morgan Grenfell Private Equity Ltd., which bought into the team in 1999, with an eye toward making the team more attractive to any potential buyer or investor. This is not the first indication we've seen that Morgan Grenfell is trying to clean up Arrows' business practices....
The FIA has reacted to David Coulthard's blocking of Michael Schumacher in the season finale at Suzuka last year, and in the future will hand out 10-second stop-and-go penalties for similar activity, should it involve title contenders....