Have a question about Formula One statistics or history? Well you're not the only one, and it's about time someone came up with the answers to Formula One's most Frequently Asked Questions. Send us your questions, to faq@atlasf1.com - we may not know everything, but we will sure make the effort to find out

A couple of little points from the last FAQ. I receveived a few e-mails (is as seemingly always the case when I venture into CART territory) about the Methanol fuels, and it was pointed out to me that Methanol is not derived from alcohol, but IS alcohol. It's also poisonous so don't go adding coke and ice to it. Also Methanol is soluable in water making it easier to put out with water if it combusts. A considerable safety feature, and also why there are barrels of water placed around CART pits.
Altas F1 resident techo - Will Gray also had some suggestions about Motorsport tertiary education.
Will suggested that Cambridge and Oxford will open doors anywhere on the strength of the reputations of the two universities, even though the courses themselves aren't the best for the aspiring engineer. The best British engineering universities are Southampton, Bristol and Imperial College. A fact the major teams are aware of.
Will also brought up another tertiary education point - and I quote from him direct,
"The best thing for technical motorsport since Adrian Newey is a new scheme called "Formula Student". Teams from unis build racing cars to compete in the event, it is hugely recognised in the USA (as Formula SAE), and is growing here. I suggest getting into a uni which does this is a very good thing. Currently, Leeds (best in Britain so-far) have been doing it since 1997, and Birmingham have a car too. Oxford Brooks enter the competition, and are the main recruitment area for Arrows, and others involved in the competition are Brunel, Cardiff, etc (see www.formulastudent.com for more info). We here at Southampton Uni are doing one, as are Cambridge and Imperial (these three are sponsored by Jordan Grand Prix, and are aimed at student recruitment). Formula Student is the place to be for the young engineer." Now back to new questions.
"What are the names of the Americans that won Formula One Race and in what year? Betty C."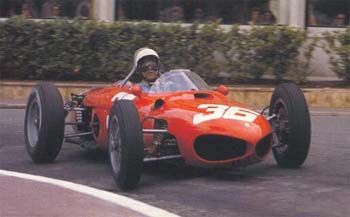 Citizens of the United States of America have a proud history in Formula One, but unfortunately none of it is recent. If we discount the 1950-1960 Indianapolis 500's that counted for the world championship, then we are left with a group of very distinguished names indeed. The first of them was Phil Hill. In a Ferrari he brought home one of the precious home wins at Monza in the 1960 Italian Grand Prix in the last of the front engined Ferraris the 246. It was the last ever win for a front engined Grand Prix car as the shift to Formula Two regulations in 1961 would see the front engined Grand Prix car die completely.
The following season Hill won twice more for Ferrari in the shark nosed Ferrari 156 at Spa-Francorchamps in Belgium and in the tragic championship decider at Monza where Hill's team mate Wolfgang von Trips left the track and was killed along with twelve spectators. Hill became world champion in 1961.
1962 saw Dan Gurney win his first Formula One Grand Prix in the unloved Porsche 804 at the French Grand Prix at the highway circuit of Rouen-les-Essarts. Gurney next won in 1964 winning the first two victories for the fledgling Motor Racing Developments team, known more commonly as Brabham. In the Brabham BT7 Climax Gurney would win again at Rouen in France and later at Hermanos Rodriguez circuit in Mexico City. Gurney's fourth and last win came in the car of his own construction, the Eagle. Gurney took his Eagle T1G Weslake to win the 1967 Belgian Grand Prix at Spa-Francorchamps.
In 1965 at the Mexican Grand Prix, Richie Ginther would get his and Hondas only win as a constructor with the Honda RA272. In 1973 Peter Revson won twice driving the McLaren M23 Cosworth, first at the British Grand Prix at Silverstone, then later at Mosport Park in the Canadian Grand Prix.
The only other American to win a Formula One Grand Prix was the best of them. Mario Andretti's first win came in 1976 in the atrocoius weather that hit the Japanese Grand Prix at the Mount Fuji circuit. In a great drive Andretti emerged at the front of the field in his Lotus 77 that would cast a warning for Formula One's immediate future. Using the Lotus 78 Cosworth Andretti won the 1977 US West (Long Beach), Spanish (Jarama), French (Dijon-Prenois) and Italian (Monza) Grands Prix and would finish third in the championship.
The following year and Andretti gave the Lotus 79 Cosworth, the car that popularised ground effects, its debut at the Belgian Grand Prix at Zolder. Andretti won. The Andretti-Lotus 79 combination would also win the Spanish (Jarama), French (Paul Ricard), German (Hockenheim) and Dutch (Zandvoort) Grands Prix, and that along with his win in the older Lotus 78 at the Argentine Grand Prix at the start of the season was enough to win the 1978 World Driver's Championship. Despite remaining in Formula One for a couple more seasons he would not win another race.
"It was my understanding that the engine specs are changed every five years, the last change occuring in 1995, reducing displacement from 3.5 to 3.0 litres. Has there been any change(s) announced starting in 2000? Tak Y. USA"

"The teams in 2000 will use both V10-V12 engines?, Demos D"
1995 was the last year of any significant engine regulation changes. Prior to that was the banning of 1.5 litre turbo charged engines after 1988. Then the introduction of 3.5 litres in 1987. Prior to that you have to go back as far as 1966 for an engine change when the 1.5 litre Formula 2 regulations were abondoned in favour of the 3.0 litres / 1.5 litre forced induction formula. The only engine regulation change of any note for the 2000 season is the banning of V12 engine configuration, which also ends any speculation about a V12 Honda unit. The engine manufacturers agreed to this as a development cost cutting measure.
"Any car completing 90% race distance is classified by the current rules. Does this mean that in the case of a race being run with only 5 drivers finishing the distance and the 6th car retiring a lap from the end that the car which retired would still get a point? Or does the driver actually have to take the chequered flag (even if a number of laps down) to score points?

For example, the five leading drivers are on the same lap, the 6th car is a lap down and the 7th car is 3 laps down. The 5 leading cars begin their final lap and the 5th car begins what would be its penultimate lap. Car 7 crosses the line with 3 laps to go. Part way around the lap, car 6 retires with mechanical failure, leaving car 7 to cross the line in 6th place, albeit 3 laps behind the leaders and still having completed less laps than the car which retired (is that sense?).

Who gets the final point in this situation? The car who completes the most laps, or the car who takes the flag?

On a similar line, what would be the procedure should NO CAR make it past the 90% distance mark. For example, a big pile up at the start eliminates half of the field, it rains part way through and several drivers spin off, and the remaining cars all suffer from reliability problems. I know it is VERY FAR FETCHED as most likely at least one driver would make it back to the pits, eventually fix the damage and drive around to take the win. But, it could theoretically happen, and the rules do not appear to cater for this. Wayne O. UK"
This is a subject we have covered before but not quite as in depth as your asking. In your first example with only five cars still circulating, the last point for sixth place would be allocated to the last retirement, but only if they had completed the 90% distance requirement prior to retiring. Otherwise the point would not be allocated.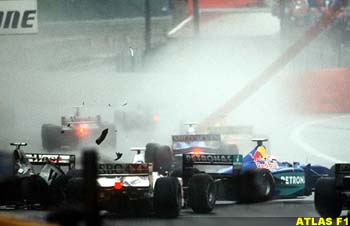 In your more detailed example car 7 would still be classified seventh (if indeed three laps down qualified as a 90% finish, this would not always be the case) and the retired car 6 takes the last point.
There have been several such examples, twice in 1991 Ayrton Senna ran out of fuel on the last lap of races (the British and German Grands Prix), resulting him in being classified fourth and seventh in those two races. While he didn't finish the last lap of the British Grand Prix he still had completed them faster than Nelson Piquet and Bertrand Gachot in fifth & sixth who were a lap down, so Senna got the points for fourth. In South Africa in 1993 Gerhard Berger picked up a point despite not making the finish, as did the two Mikas (Salo and Hakkinen) three years later in Monaco.
In the event of a multi car pile-up eliminating a significant portion of the grid the race would be red flagged (stopped) and most drivers would recover to spare cars leaving only a few cars missing. For example the start of the 1998 Belgian Grand Prix. However, if a significant portion of the grid could not make the restart and weather later intervened and caused a further reduction of the cars, such as say Adelaide in 1989 or Monaco 1984, it is then up to the discretion of the race organisers to declare the race, ending it short of its full distance, and thus having the side effect of preventing the no cars left at the finish scenario you describe. The fewest mobile cars I've ever heard of at the end of a race is four (at Monaco in 1996), but that was with only a lap or two to go. If there were only five left at half distance, then the race would probably be declared and half points awarded.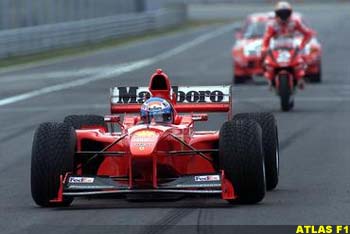 "Which would be faster, a GP Motorcycle or an F1 Car? Are there any track data at the various circuits to show this? Winston C."
Quite a few circuits are used both by Formula One and 500cc Grand Prix Motorcycles. Listed below are the two and four wheeled pole positions and fastest laps at the common circuits from last year. It should also be noted that 500cc are not always the lap record holders at circuits, in a few cases World Superbikes hold two-wheel lap records. As you can see the cars are 20-30 seconds a lap faster than the bikes.
Imola (Italy)
Pole Position
1:26.362 Mika Hakkinen McLaren MP4/14 Mercedes
1:49.339 Alex Criville Honda NSR500
Fastest Lap
1:28.547 Michael Schumacher Ferrari F399
1:49.339 Alex Barros Honda NSR500

Catalunya (Spain)
Pole Position
1:22.088 Mika Hakkinen McLaren MP4/14 Mercedes
1:46.076 Jurgen van der Goorbergh Muz Weber 500
Fastest Lap
1:24.982 Michael Schumacher Ferrari F399
1:46.858 Sete Gibernau Honda NSR500

A-1 Ring (Austria)
Pole Position
1:10.954 Mika Hakkinen McLaren MP4/14 Mercedes
1:31.114 Carl Fogarty Ducati 996
Fastest Lap
1:12.107 Mika Hakkinen McLaren MP4/14 Mercedes
1:36.290 Pier-Francesco Chili Suzuki GSXR750

Hockenheim (Germany)
Pole Position
1:42.950 Mika Hakkinen McLaren MP4/14 Mercedes
2:00.408 Aaron Slight Honda RC45
Fastest Lap
1:45.270 David Coulthard McLaren MP4/14 Mercedes
2:00.426 Carl Fogarty Ducati 996

Monza (Italy)
Pole Position
1:22.432 Mika Hakkinen McLaren MP4/14 Mercedes
1:46.694 Colin Edwards Honda RC45
Fastest Lap
1:25.579 Ralf Schumacher Williams FW21 Supertec
1:46.533 Troy Corser Ducati 996

Nurburgring (Germany)
Pole Position
1:19.910 Heinz-Harald Frentzen Jordan 199 Mugen-Honda
1:39.202 Aaron Slight Honda RC45
Fastest Lap
1:21.282 Mika Hakkinen McLaren MP4/14 Mercedes
1:39.318 Troy Corser Ducati 996

Sepang (Malaysia)
Pole Position
1:39.688 Michael Schumacher Ferrari F399
2:06.848 John Kocinski Honda NSR500
Fastest Lap
1:40.267 Michael Schumacher Ferrari F399
2:07.213 Mick Doohan Honda NSR500


Editorial Remark:

Some of the questions we receive have already been replied to in previous F1 FAQ columns. Therefore, before sending in a question, we suggest you have a look at the back issues, by searching the FAQ database. Not that we mind getting so much mail, just that we feel bad for those who feel they are left unanswered...

We receive quite a few questions from you all, and it is absolutely impossible for us to research and respond to each of you, be it here or privately. Please, don't feel discouraged if your question was not replied to; it might come up in the next column. And don't forget - you can always look for answers at the Atlas F1 Bulletin Board.