When British Prime Minister Tony Blair announced that he wished to honour national 'Icons' in the traditional British New Year's honours list, there can have been none more deserving recipient than Stirling Moss. Never officially 'crowned' as a world champion on the track, but a champion in every other respect, nonetheless.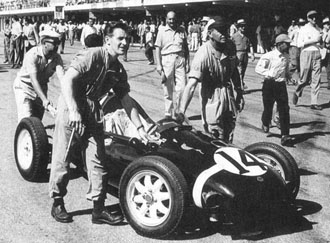 The career of Stirling Moss is full of victories and races, which are now part of motor racing folklore. Yet for perhaps the last three generations of race fans he has only been visible as an 'old-timer' from the past. An echo from an era that is long gone. A demonstrator of classic racing cars from many years ago, part of the supporting cast at current Formula One events, before the modern day stars strut their stuff.
Star quality, though, has a way of shining through. During last year's inaugural Malaysian Grand Prix, Stirling Moss was a guest of Mercedes-Benz, on hand to demonstrate two of their classic cars from the fifties, Moss's golden era. Most of his time was spent driving his 1955 Mille Miglia winning Mercedes 300 SLR numbered 7-2-2 (the exact time his car was waved off from the start at Brescia, 7.22 AM to start its 1600 kilometer journey to Rome and back.)
The Malaysian spectators, the overwhelming majority of which must never have attended a Grand Prix before, let alone have heard much about a road-race in far off Italy over forty years ago, raised a cheer louder than for the majority of the current day Formula One drivers as he emerged from the old car's cockpit at the end of his demonstration run.
Stirling Moss always had the ability to 'connect' with spectators wherever he raced. He always looked like a racing driver should, arms outstretched, head back, face impassive and in full view in the open faced helmets of his era. Only in his lap times and speed relative to his rivals could you discern that a racing genius was at work.
In his day Moss was in every sense a professional racing driver when all others were either wealthy amateurs or full time drivers whose business interests supported their racing. Even as far back as 1952 Moss accepted money from a tobacco company for endorsing their products even though he seldom smoked himself. He was the first driver to take his own physical fitness seriously, a factor that undoubtedly boosted his reputation, as he never suffered from the off days that some of his contemporaries did. Like most of his rivals he partied through the night, but after the race and not before.
Fiercely patriotic, his early career suffered due to his preference for driving British cars whenever possible, and it was not until 1954 when he drove a semi-works Maserati that his Formula One results reflected his obvious talent. Only an oil leak prevented him from scoring a first ever win at the Italian Grand Prix in front of the works cars and archrivals Ferrari and Mercedes. Indeed it was this drive that so impressed Mercedes team manager Alfred Neubauer and led to Moss joining the famed Silver Arrows for the '55 season together with a huge (for the time) UKP28000 yearly retainer.
From the '55 season the victories started. He was the first ever British driver to win his home Grand Prix event, and the first (and only) British driver to ever win the famed Mille Miglia road race through Italy. When Mercedes withdrew from racing he was back to Maserati for '56, although this time as a full works driver. In '57 and '58 he drove for the British Vanwall team, their cars having finally progressed into serious challengers.
In '58 in Argentine he made history by driving the first ever rear engined car to a Grand Prix victory, starting a long running and successful Formula One partnership with privateer Rob Walker, and on Vanwall's withdrawal at the end of the 1958 season he would drive Rob Walker's cars until the end of his career.
That his driving career was never crowned with a world championship matters little now. He was runner up no less than four times, on three occasions to five times champion Juan Fangio and once to fellow countryman Mike Hawthorn. Indeed it was his Vanwall teammate Tony Brooks that first publicly poured scorn on the world championship as a way of determining the season's best driver when Moss lost out to Hawthorn in '58 despite winning no less than four races to Hawthorn's one. Brooks, it has to be said, was not only a brilliant driver, but was way ahead of his time in questioning the value of a title that is mostly for the public to get excited about, drivers instinctively always know just which of their number is the best.
He has been outspoken about the attitude of modern drivers concerning driver safety and especially to the rising incidents of driver-to-driver contact, expressing the opinion that perhaps the racing has now got too safe. "If you take away the danger, you lessen the sense of achievement, modern racing is fantastic but the loss of the sense of danger has taken away some of the pleasure for the competitors. It's rather like cooking, where you need salt. To enjoy racing, you have to have danger. Not because you want anyone to get hurt but if you don't have the danger, a large part of the enjoyment has gone."
Strong stuff perhaps, but he has without question earned the right to his opinions. He raced through the most dangerous period of Grand Prix racing. He lost both friends and rivals and even prior to his career-ending crash he had survived a horrific accident that broke both his legs, his nose and crushed three vertebrae in his back when his Lotus suffered a mechanical failure during practice for the Belgian race in 1960. He was out of hospital in five weeks and back in a racing car just days later!
In 1961 he had perhaps his best ever season, twice driving a year old Lotus to outstanding victories, and he was without question the world's acknowledged number one. Sadly we would be denied perhaps the greatest head to head contest that the emerging talent of Jim Clark in the works Lotus would have posed, when Moss smashed head on into that earth bank at Goodwood in April 1962. He would be in a coma for a month, and although he would escape with his life, the skill that had set him apart was gone.
In the end he took part in more than 500 races, won over 220 of them including 16 Formula One Grands Prix. He drove just about every type of car imaginable, single seaters, sports cars, saloons, rally cars, he was a driver for hire and the world was his workplace. He was deadly serious about his racing but loved it too and it showed. In an age before sealed-off paddocks and motor homes with blackened windows, he was on show all the time and reasonably accessible to the fans. He would give time to everyone, aware that admiration earned for performances on the track can be lost through boorish behavior off it. It has not been something he learned to do; it is just the way he is.
He hasn't changed. On race morning in Malaysia last year he was again on duty for Mercedes. Amongst the thousands of race goers passing through Sepang's main entrance under the oppressive midday sun, stood an elderly man dressed in 'funny' '50-style racing overalls and clutching a white shopping bag. Some fans stopped and talked, others stared, unable to quite figure out just who he was. Programmes and bits of paper were thrust at him and he signed them all. The same courtesy extended to everyone as has become his trademark.
Moments later his Mercedes 'minder' arrived and he was gone, back to the Silver arrows that have been such a large part of his racing life. The Prime Minister of Malaysia stops by and chats, then it is once again onto the track, the most natural of surroundings for most of his adult life.
Sir Stirling Moss - motor racing Icon, heroic driver and true gentleman.