With only four races remaining in this year's title race, the number of drivers who can win the title are down to just four. Two of these drivers have been champion twice before, and are on the verge of joining the triple World Champion club. Scott Pryce looks at the four drivers' chances, and points out some interesting stats about previous triple World Champions
There is no pattern whatsoever that can tell us who will be World Champion this year, as world titles are determined by who has the most points at the end of the season. But besides all the talk of "will it be Schumacher or Hakkinen?", David Coulthard is still in with a big chance and theoretically at least, Barrichello is a chance as well. At the beginning of the 2000 season we had the possibility of seeing a new first time World Champion, a new double World Champion or a new triple World Champion. This in itself is not unusual, as during the past 50 years it has already occurred 30 times.
This, the 51st year of Formula One motor racing, is the 36th year where a double World Champion has been fighting for his third title. With the exclusion of 1950, as we couldnít have had a driver vying for a subsequent title, 1959 is the only year where a World Champion hasnít been present and trying to add to his world title total. The first opportunity to see a driver crowned as a multiple World Champion came in 1952 but we had to wait until 1953. By 1955 the sport had its first World Champion, its first dual World Champion and its first triple World Champion. Juan Manuel Fangio went on to take another two consecutive titles to become the sport's most crowned driver.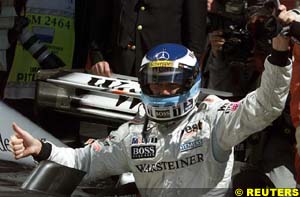 As we enter the final stages of this season, we are in for another dramatic ending. Formula One has the ability to change between the time you go to sleep and the time you wake up. That is one of the beauties of the sport, it is forever changing and in some cases what happens off the track can change the complexion of Formula One. It is definitely not over until the final chequered flag falls. The question everyone want to know the answer to is: who will be the Champion at the end of the season?
Michael Schumacher is a driver who can take the title under any circumstances; we can reference his first world title in 1994 as evidence. Battles both on and off the track didnít ruffle his feathers and he somewhat controversially took the title. Mika Hakkinen is a driver who can take the title in a dominating finish to the season, and Hakkinen can definitely get the job done, as he has shown in the past that when a win is needed, he can supply it. Teammate David Coulthard is a driver who can take the title with his never say die attitude, and if persistence counts for anything, Coulthard will be the driver to benefit. So we are in for an amazing finish.
If we take a look at history, some interesting observations can be made. Every triple World Champion has changed marques either during, or, after they became triple World Champion and, if Hakkinen wins the title this year he will become the third driver to win all three titles driving the same marque (Alain Prost and Ayrton Senna being the other two), and McLaren would remain as the only marque to have been used to achieve this feat.
Ayrton Senna is the only triple World Champion to win all three titles in the same marque/engine combination, and is one of only two drivers to win all three titles using the same brand of engine. On the other hand, no driver has won his three titles driving a different marque each time, although Nelson Piquet won his three titles using a different engine manufacturer each time.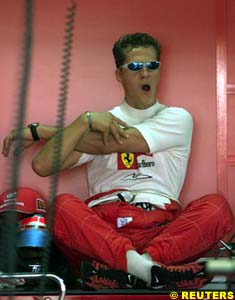 If Michael Schumacher wins the World Championship this year, he would be the first driver to become a triple World Champion driving a Ferrari, and be the only triple World Champion to have a brother racing with him in Formula One. Most significantly, we have not seen a battle between two double World Champions battling for a third title since 1987, and in that year, Brazilian Nelson Piquet was the victor (and World Champion) over Alain Prost.
All triple World Champions, with the exception of Prost and Senna, had a fellow double World Champion competing against them in the year they took their third title, although Prost had a battle with Piquet in 1987 for a third crown. Interestingly, the two drivers currently competing for their third titles made their debut the same year we had our last triple World Champion. Every triple World Champions has retired with the exception of Senna, and, notably, the first and last triple World Champions are no longer with us; even more notable is that of double World Champions who have retired, only one is still alive.
If we neglect the first two years, as we couldnít have a multiple World Champion until then, we have only had six years that a multiple World Champion has not been present. Funnily enough though, we have had only three years that two triple World Champions have competed together. Of the seven triple World Champions, Fangio, Stewart and Prost have retired as World Champion, despite two of those drivers having raced in less than 100 Grands Prix (Fangio 51, Stewart 99).
Three of the triple World Champions changed marque after their third title and only two, Fangio and Prost, went on to win a further title, while Piquet's career faded away. Interestingly, both Fangio and Prost went to drive for Ferrari, although Prostís fourth title came in a Williams. Looking at double World Champions, none retired as World Champion, and only Ascari (and Schumacher) changed marques after their second title. Apart from Ascari and Clark, who, along with Senna are the only multiple World Champions to die whilst racing, Fangio is the only multiple World Champion to debut, win all his World titles and retire in the same decade.
There has been a driver crowned as a triple World Champion in each decade, yet there has been only two decades where a driver has compiled all three titles in that decade, although the eighties was quite popular with Piquet and Prost taking six titles between them as well as Lauda and Senna taking one of their three titles in that decade.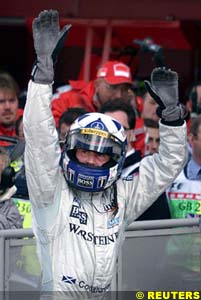 With all triple World Champions having retired, no double or triple World Champion retired during the 60s. Strangely, the world titles that have been decided in the double-digit years have all been taken by a multiple World Champion: Fangio in '55, Brabham '66, Lauda '77, Senna '88 and Hakkinen '99, with a strong likelihood that this year's title, '00, will also be won by a multiple World Champion.
There have been six drivers who could have taken three consecutive titles, but only one, Fangio, achieved it, winning the 1954, 1955 and 1956 titles. Hakkinen currently has the opportunity to match this remarkable feat. Prost is the only consecutive double World Champion who has lost out to a driver taking his third title, Nelson Piquet in 1987.
Only two triple World Champions, Fangio and Stewart, won a Grand Prix in their debut year, while Graham Hill is the only multiple World Champion to win his first Grand Prix and his first World Championship in the same year. Sir Jack Brabham is the longest serving triple World Champion, with 16 years in Formula One, but Piquet contested the most Grands Prix by a triple World Champion with 204 races.
Some would say, especially Schumacher fans, that Hakkinen was fortunate to become World Champion for the past two years. Their evidence being, inpart, that it took him over 90 races to achieve his first win, and that that debut win came courtesy of a crippled Williams. But a good driver has to exploit other drivers' mistakes, misfortunes, miscalculations, mishaps and bad luck. Hakkinen was there to accept the opportunity, and executed it with aplomb, both in that race at Jerez and the two years since.
Similarly, Schumacher was there to exploit Hakkinen and Coulthardís early season misfortunes. A title win for Hakkinen this year would remove doubt as to whether he had been fortunate before. For both Schumacher and Hakkinen it would be a feat they both deserve, and a rivalary that will be remembered long after they have retired.
So all in all, the title could go any way, there are still many factors that will arise to show how unpredictable Formula One can be. We have lost the chance of seeing a new double World Champion but we still have the possibility of a new first time World Champion or a new triple World Champion. If we do have a new triple World Champion, maybe it will start another period of triple World Champions.