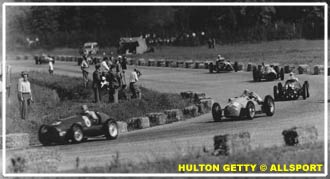 1950 Today, the Lesmo bends look vastly different, and aren't lined by hay bales with parked vehicles and tents not far from the racing line. Peter Whitehead (Ferrari 125) leads Louis Rosier's Lago Talbot T26C and the Alfa Romeo 159 of race leader Juan Manuel Fangio out of the second Lesmo to start the plunge towards and under the banking. Two cars further back, Farina would win the race and the first world championship this day ahead of the Ferrari of Alberto Ascari and the Alfa of Luigi Fagioli.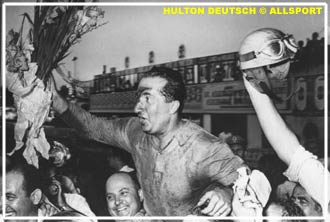 1951 Ascari ascendant! A joyful Alberto Ascari is carried to the podium after driving his Ferrari 375 to victory with teammate Jose Froilan Gonzalez in second. It had been Ferrari who had ended the post war dominance of major Grands Prix by the supercharged Alfa Romeo 158 & 159 earlier that year at Silverstone with thier 4.5 litre Ferraris. It would spell the end of the supercharger in major open wheel racing.
The men that started it all. Today Jean Todt and Ron Dennis eye each other off representing Ferrari and Mercedes. Here Enzo Ferrari and Dr Alfred Neubauer discuss in the pits at Monza. Ferrari created Scuderia Ferrari, originally to run Alfa Romeo 158 monopostos before his own cars appeared. Neubauer had led Mercedes during the Nazi years of the 30s and would be chosen to lead them again in 1954 on their return to Formula One. Ferrari had lost four of his six front line drivers in recent times to accidents, and speculation was rife he might be winding up the team. Another excellent performance by the team at Monza and it seemed the show would go on into 1954.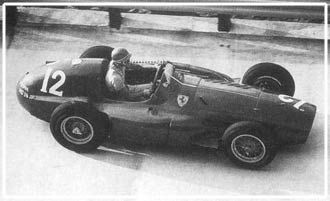 1955 Umberto Maglioli in the Ferrari 555. The 555 had proven an unsatisfactory car against the Mercedes W196, the continually developing Maserati 250F, and the Lancia D50. By the time of the Italian Grand Prix though, Lancia's cars had been absorbed into Ferrari and two were running for Farina and Villoresi which didn't race due to tyre problems. Maglioli would finish 6th in the now obselete car.
Juan Manuel Fangio and the Maserati 250F both leaning hard and trying hard to peg back the lead of Stirling Moss in the Vanwall. Fangio would be second today, and became world champion for a record fifth time. It would also be the last time Fangio would stand on the podium with only two fourth place finishes in 1958 before he retired.
Stirling Moss in the Rob Walker run Cooper T51 Climax on his way to victory at Monza. In pursuit is the comparatively large Ferrari 246 of Phil Hill. Hill would chase Moss all the way, but the nimble little Cooper combined with the talents of Moss was able to pull away and win.
1961 How the 1961 World Championship was decided. The remains of 'Taffy' von Trips Ferari 156 lies trackside. A wall of 'Sharknose' Ferrari 156s had dominated qualifying, with von Trips on pole ahead of teammates Ricardo Rodriguez, Richie Ginther and Phil Hill, with Giancarlo Baghetti just behind in 6th. The Ferraris were slow off the line though, and von Trips was just rounding up Jim Clark in the Lotus when the two tangled at the Parabolica, sending von Trips flying from his car, the car spinning into the crowd. Fifteen people died including von Trips, and in that moment von Trip's title rival Phil Hill became World Champion.
Jack Brabham experimented with an enclosed cockpit for the long straights of Monza. The bubble canopy had an undesirable effect on the aerodynamics of the Brabham BT24, so Brabham chose not to race with it. During the race, Brabham fought tooth and nail with John Surtees Honda. When Brabham ran wide on the last lap, Surtees took his chance to move through for the win.
Mario Andretti began his on-again, off-again romance with Formula One with this Lotus 49B Cosworth. Andretti qualified 11th, but he and fellow American Bobby Unser (BRM P126) were not allowed to start because they'd just finished a race in the US, and Italian law wouldn't allow then to compete so soon after.
1970 Nine years after von Trips, another fatal accident would rock the field at Monza. In a quest for straightline speed, Lotus ran their 72s without aerofoils at Monza, and while the cars were fast, they were also very unstable, with Championship leader Jochen Rindt crashing his Lotus. He would succumb to neck injuries.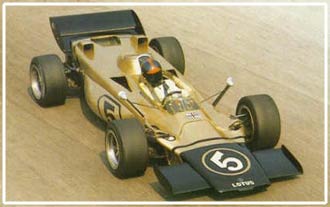 1971 Racing under the guise of 'World Wide Racing', Emerson Fittipaldi drove the Lotus 56B. The car was powered by a Pratt & Whitney gas turbine engine, and also featured four wheel drive. The car had some distressing handling characteristics though, and the interesting project was abandoned. This day Fittipaldi would finish a lap down in eighth.
Just two races earlier, John Watson achieved an incredible victory in the Penske PC4 Cosworth. Here at Monza, the American Formula One car sat in the 29th grid spot. Watson would recover to 11th place by race end.
1980 By 1980, the turbo revolution wasn't just a yellow car at the back of the grid laughed at by almost everyone. Here the two Renault RE20s of Rene Arnoux and Jean-Pierre Jabouille negotiate one of the many tricky little conrers at the only Italian Grand Prix not held at Monza. Arnoux would score pole at Imola's first race but finish only tenth, while Jabouille would be a late race retirement.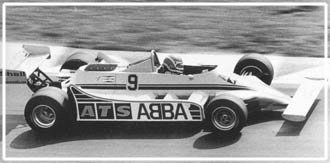 1981 Mamma Mia, here we go again! Slim Borgudd used the money he earned playing drums for ABBA to finance his occasional forays into Formula One. Here Borgudd drives the ATS HGS1 Cosworth. He would spin into retirement after ten laps.
Three years later, ATS hadn't progressed further up the grid, although they did help two young star drivers. Here Gerhard Berger sits beside his ATS D7 BMW, while in the background the late Manfred Winkelhock is in discussion with team personnel. Berger would finish sixth, but was denied a championship point for not being a registerred championship contender. Winkelhock would lose his gearbox on the grid.
Ivan Capelli first arrived on the Formula One sceene in this, the AGS JH21C Motori Moderni. Within a couple of season he would be one of F1's coming men with some remarkable performances in Adrian Newey designed Marches. These early AGS were never going anywhere and Capelli retired after 31 laps with a puncture.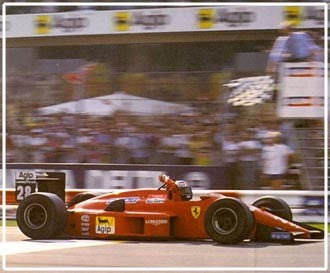 1988 In a season when McLaren-Honda domintated all, there was one non-McLaren moment of the year. Just weeks after the death of the Commandatore himself, Enzo Ferrari, Gerhard Berger and Michele Alboreto completed a memorable 1-2 for the Scuderia on home turf. Alain Prost had an engine failure while Ayrton Senna was beached on a kerb after misjudging the lapping of stand-in Williams driver Jean-Louis Schlesser.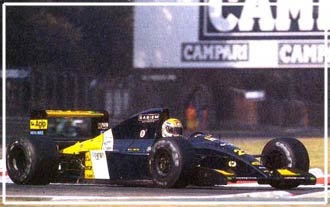 1991 Pierluigi Martini, the little Italian whose name is synonymous with Minardi. He debuted at Minardi in 1985 and was racing for them again in 1995. He'd led a race, sat on the front row of the grid alongside Senna, coming withing spitting distance of a podium finish at Estoril. With Ferrari power, Martini enjoyed one of his best seasons. Here, his Minardi M191 Ferrari negotiates the Ascari bends on the way to an early race retirement.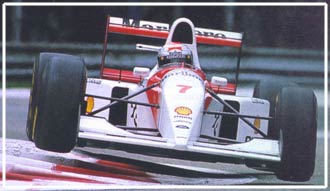 1993 In his last race for the team, Michael Andretti finally scored a podium finish in the McLaren MP4/8 Cosworth, the same car that teammate Ayrton Senna had been using to win races. Andretti finished third behind race winner Damon Hill (Williams FW15C Renault) and Jean Alesi (Ferrari F93A). Andretti said in his final press conference that Ron Dennis still owed him five races. He's never been back to collect, and his replacement, Mika Hakkinen is now a dual world champion for McLaren.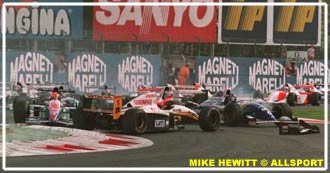 1994 The moment it all unravelled at Lotus. The legacy of Colin Chapman had struggled for years and the debts were piling up. They threw everything in one last gasp to impress, getting the new 109 chassis prepared in time for Johnny Herbert to use at Monza. Herbert qualified in an incredible fourth spot, up sixteen positions from the previous race. Hope sprang eternal, only to be dashed the following day. Into the Rettifilo on lap one and Eddie Irvine locked the brakes in his Jordan 194 Hart and spun Herbert around, forcing Herbert into an inferior spare car for the restart, which Herbert again retired from. Within hours Team Lotus was being wound up, and Herbert was on his way to Ligier, after being swapped with Eric Bernard to try to generate some more cash.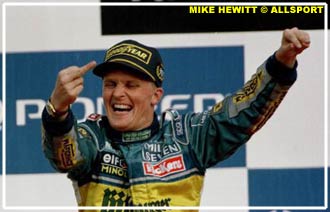 1995 Take that! Twelve months after being a central figure in the demise of one of Formula One's greatest names, Johnny Herbert returned to Monza and walked away with the silverware. A retirement marred race saw another Schumacher/Hill clash'n'crash, wheel bearing failures removing David Coulthard and Jean Alesi, and bizarrely, Gerhard Berger was eliminated when the TV camera fell off Alesi's Ferrari 412T2, breaking Berger's front suspension. It was Herbert's second win of the season and proof positive that Herbert was a driver capable of delivering the goods on his day.
The Tifosi in their natural environment, the Autodromo Nazionale Monza. And here celebrating another win for the worshipped Ferraris. Michael Schumacher stands atop the podium with Benetton's Jean Alesi and McLaren's Mika Hakkinen by his side.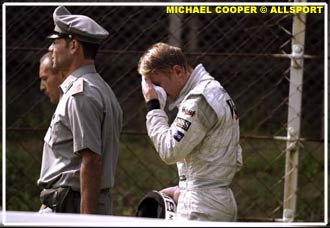 1999 It could have and perhaps should have been the pivotal moment of the 1999 season. Mechanical failures and finally an uncharacteristic error had put Mika Hakkinen's title defense well and truly in doubt. Eddie Irvine was driving a completely lacklustre race, and so Hakkinen had the chance to pull eleven points clear. However, an extra flick on the paddle saw Hakkinen enter the Rettifilo in first gear instead of second. The McLaren MP4/14 Mercedesd didn't like it, locked up the rear wheels, spun and stalled. The title fight now saw Irvine and Hakkinen equal on 60 points. The pressure of the moment got to Hakkinen, and in a relatively quiet bush beside the straight Hakkinen sobbed into his balaclava with a TV helicopter beaming the images around the world.