Fastest race lap: 1:23.575 (D.Hill, Williams, 1993);
Fastest Qualifying Lap: 1:21.114 (A.Senna, McLaren, 1991)
The Monza circuit can basically be described in one word - fast.
Running little wing to take advantage of the long straights, the cars slip and slide through the chicanes that interrupt the circuit in the name of safety.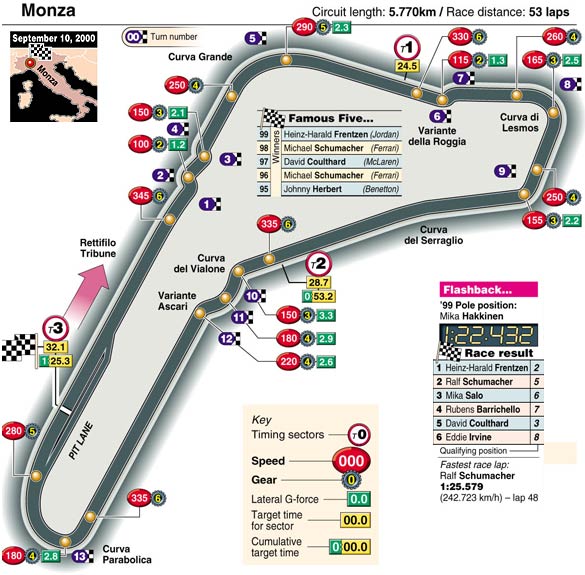 If you want to read the driving instruction while looking at the map, Click here to open the map in a separate window

A Lap of Monza with Benetton's Giancarlo Fisichella:

"Having crossed the start line at around 320 km/h, I accelerate towards the first corner, reaching a speed of nearly 350 km/h before braking hard for the new, very tight chicane. Braking is at over 3.5g for this corner and I'm on the brakes for over 180 metres before taking the corner at less than 70 km/h in 1st gear.

"I remain in 1st gear for the second part of the chicane before accelerating through Curva Grande and approaching the second chicane at about 330 km/h. Again it's hard on the brakes, with a force of up to 4g, for the 2nd gear 95 km/h first part of the chicane. Then follows a short 4th gear straight where I reach up to 260 km/h by the end and this leads into the first of the Lesmo corners which is taken in 3rd gear at 165 km/h.

"I accelerate through 4th gear to just under 260 km/h before dropping down to 3rd gear for the second Lesmo corner which I take at about 150 km/h. Another long straight leads to the Ascari chicane where I reach 335 km/h in 6th gear before dropping to 3rd gear to take the first part of the chicane in at 140 km/h and the second at 180 km/h.

"The final back straight leads to Parabolica where I reach 340 km/h in 4th gear before entering this very long corner, the minimum speed of which is just under160 km/h. A good exit is imperative to carry speed on to the main pit straight."


Facts and Stats about Italy

Rather like the Belgian Grand Prix and Spa, the Italian Grand Prix and Monza provide a wealth of statistics and heritage. Only Britain has held as many national Grands Prix as Italy - one for every year of the championship - so this will be the 51st Italian Grand Prix since the World Championship began.

Remarkably, 49 have been at Monza and one at Imola (1980) so no other circuit has had such a history of Grand Prix racing in the modern World Championship. Monaco is the only one that comes close; this year's race was the 47th around roughly the same circuit in the Principality.

Of course, Italy has hosted other races. Since that one Italian Grand Prix at Imola, there have been 20 San Marino Grands Prix at the circuit. And the one other Grand Prix held in Italy is unique for a couple of reasons. The Pescara Grand Prix was held in 1957, the only Grand Prix to be named after a town rather than a country, continent or region. It was also the longest circuit in the history of World Championship Grand Prix racing at 25.599kms, 15.894 miles.

Monza's first World Championship Italian Grand Prix was something of an Italian occasion too. There, on the rostrum, at the end, were no less than four Italians! Farina (Alfa Romeo) had won, sharing the second placed Ferrari were Dorino Serafini in his only Grand Prix and Alberto Ascari. And following them home was Fagioli in third.

A year later, Ferrari scored the first of six 1-2 finishes at Monza - BRM are next with two! Ascari won that day, and again a year later from pole position with fastest lap. Fangio won the first of his three consecutive victories at Monza in 1953. The next year he won by more than a lap from Mike Hawthorn, and his was the first of a trio of an all-Mercedes front row in 1954, followed by victory over teammate Taruffi.

Ferrari filled the first of their five front rows in 1956 with three cars, but it was Stirling Moss who won, the first of his three wins at the circuit. Three Ferraris were again on the front row in 1960 and dominated the race. It was an event boycotted by the British teams because it was on the combined road and banked circuit.

Phil Hill led the trio home having led from flag to flag and setting fastest lap on the way. He would not only become the first American winner of a World Championship Grand Prix, but the last driver to win in a front-engined car. Actually it was almost a Ferrari 1-5 because Giulio Cabianca finished fourth in his Cooper-Ferrari ahead of von Trips in another Ferrari.

There were 32 starters in 1961, the second highest for a Grand Prix and, not surprisingly, the second most retirements ever too at 20. BRM finished 1-2 the next year and again three years later when there were 41 lead changes, the most ever. John Surtees had won from pole with fastest lap the year before when there had been 27 lead changes. Honda's first race win was in 1967 at Monza while Jackie Stewart's victory over Jochen Rindt in 1969 was the fourth closest ever at 0.080s - soon to be eclipsed.

The 1971 Italian Grand Prix is well-known for many reasons. It was the fastest race ever at 242.615 kph, 150.754 mph. Peter Gethin crossed the line just 0.010s ahead of Ronnie Peterson for the closest ever finish, and the first five cars were covered by a second. There were eight different lap leaders - the most ever with 25 changes of lead. Buried deep in the field was Emerson Fittipaldi's Lotus-Pratt & Witney four wheel drive, the last appearance of a 4wd in a Grand Prix. The next year saw Firestone's last win in Grand Prix racing.

Ronnie Peterson took the first of his three victories at Monza in 1973, leading home Lotus's only 1-2 at the track. His third win in 1976 saw nine drivers within a minute of the leader. It was cruel fate that Peterson should lose his life after the 10 car pile-up at the start of the 1978 Grand Prix. Five cars were eliminated in the accident and the race stopped. When it was restarted, it became the fifth shortest race ever at just over an hour, and was won by Niki Lauda who headed a Brabham-Alfa 1-2 after Mario Andretti and Gilles Villeneuve were disqualified. Lauda hadn't led a single lap.

Monza has been the World Championship-deciding race 12 times, more than any other circuit, but not since 1979 when Jody Scheckter clinched it for Ferrari. Renault had the first of two front rows that year and the second a year later at Imola, a race won by Nelson Piquet who would go on to win another three Italian Grands Prix: more than anyone else. Alain Prost won the first of his three victories a year later. The 1987 race was the shortest full distance race ever at 1 hour 14m 47.707s. Williams had the first of three front rows that year, while the next year saw McLaren's one and only front row.

The 1990 race was stopped on the first lap, but then won by Ayrton Senna who led flag to flag from pole with fastest lap. The 1991 and 1993 races are significant for the second and third highest pole position speeds, just under Keke Rosberg's blistering 160 mph lap of Silverstone. However, Damon Hill's 1993 fastest race lap is the fastest ever at 249.835 kph, 155.241 mph. Williams occupied the front row for the second of three times that year. For the next two years, the race was stopped at the end of the first lap because of an accident.

Speeds are creeping up again. Last year's race average of 237.938 kph (147.847mph) was the fifth fastest average speed ever on what is the fastest circuit in current Grand Prix racing and the fourth longest.

Italy's heritage is considerable. There have been three Italian World Champions and 78 Italian Grand Prix drivers, 13 of whom have won 39 Grands Prix between them. Another 15 never qualified to race. Among those is one of three Italian women Grand Prix drivers; the other two are the only women ever to have raced in a Grand Prix, and Lella Lombardi was the only women to get into the points. Riccardo Patrese was the last of Italy's winners, in Japan in 1992, but he also holds the record for the most Grand Prix participations at 256.

Several others also hold records. Nicola Larini had gone more races than anyone else without scoring a point (44) before he finished second at the ill-fated 1994 San Marino Grand Prix. He won't be unhappy that compatriot Luca Badoer, on 50 races, has now taken over that record. Claudio Langes tried 14 times to qualify for a Grand Prix but never raced in one while Gabriele Tarquini failed to qualify 40 times - but did race 38 times! At least Marco Apicella and Massimo Natili got to race in a Grand Prix - even if it did last less than a lap.

At the other end of the success scale, let's remember Giuseppe Farina, who won the first World Championship Grand Prix ever, and Giancarlo Baghetti who is the only other driver to have won his first World Championship Grand Prix, in France in 1961.