HURRY UP AND SLOW DOWN
If you really want to screw up an orgy in a brothel, you have to have it in Italy. If Monza wasn't Monza, they wouldn't be allowed to arrange their own flowers. Fortunately for the poor slob who doodled the squiggly lines in an odd spare moment between bottles of Chianti, the abysmal changes to the first chicane did not hold any tragic consequences unless making a mockery of the most sophisticated cars on the planet can be considered a tragedy.
What is truly a tragedy was the fate of Paolo Gislimberti who was mortally injured at the second chicane by a flying wheel. (You know, one of those wheels that are tethered to the car with the strongest material known to man - sisal). Clearly, the organizers cannot be blamed because of the re-design of this corner but what is reprehensible is that the race was allowed to continue while a volunteer fire marshal was dying at the side of the track. Would this have been allowed had it been one of our god-like drivers whose life was ebbing away? It never has!
It is likely that no amount of extra effort, thought or care could have saved young Paolo once he had been struck by the wheel, but I think it might have been nice if the authorities had at least given the smallest indication that the life of a volunteer fire marshal was of at least some small significance. Hopefully, even the tifosi are not so rabid as to insist that such an event pales in importance when compared with a Ferrari leading at Monza!
So, for whatever reason, the organizers decided to treat us to half an hour, and 20% of the race distance, behind the safety car. Maybe it was because, at about 75 minutes, this is the shortest race on the schedule and the organizers felt that an extra 15 minutes of "race action" would be much appreciated by the commentators around the world who were still trying to figure out how to fill up a 45 minute post-race show. Maybe they're just idiots. The race could have been restarted, with a bunch of missing drivers in their spare cars, in the time that it took to run 10 laps at half speed.
And to top it all off, because we've only lost 7 cars out of 22 in the first half lap, when the safety car finally turns off the lights, Schumacher becomes Bob Newhart's bus driver and HITS THE GAS! HIT THE BRAKES! But this guy is good - this isn't brake testing its "warming your brakes" and he's very sorry. No really he is.
The one good thing about this race being in Italy is that Italian prosecutors are now on the case. We can now look forward to another 5 years of "Rumpole of the Bailey" meets Ally McBeal, Italian-style.
HOW TO SCREW UP THE ONLY HALF OF A GOOD IDEA THAT YOU HAVE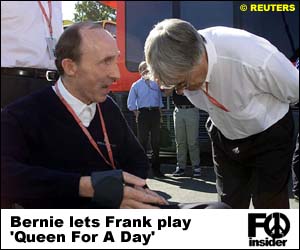 This time last year in my post-Monza column, I complained about the layout of the first chicane and the fact that the powers that be had decided to pave the inside of the corner. Seems as if somebody in Monza read the first half sentence of my column and decided to re-configure this awful chicane but they just couldn't bring themselves to leave the inside undriveable. In a dazzling display of stupidity rarely witnessed outside of Italy, the genius with two tons of spare concrete in his shed, once again paved the inside of the corner and then painted it green so that everybody would think it was grass.
I didn't bother counting how many cars cut the corner during the entire weekend but I know that 7 missed it on the first lap of the race - although that does include the three that failed to make any sort of turning maneuver as they approached the variante prima. (Mika Salo in an outstanding display of perversity refused to negotiate the chicane properly even once).
Last year I asked the question: "Chicanes - elegant walking aids or dyslexic dominatrix?" I think the Italian organizers have clearly answered the question: "Yes, mestriss."
F1 - MORE CRYING THAN ROY ORBISON'S ENTIRE CAREER
This is getting really ridiculous. What on earth has come over these people? Is Mika just crying out of habit because he always does when he comes to Monza? Has Michael lost it completely - OK it's a Ferrari win at Monza but he's been there, done that. I think it was all just a plot to do away with these post-race interviews. That poor interviewer! I bet he thought it was a good thing when they offered him that job. But what do you say when a blubbery Fenno-Ugrian asks if he can take a break while you're broadcasting live to 16 billion people. (Or more!)
"Sure, Mika. Go have a little lie down for a while. Take Michael with you - I think a big group hug would help. And if the 16 billion of you could just be patient, we'll be back just as soon as Mika and Michael get out of their big girl's blouses! Ralf, you OK? Do you remember that puppy you thought ran away when you were 5..."
JOS WATCH
Jos gets promoted to a 'watch' again by virtue of the three points he earned for 4th place. Unfortunately, he was still over-shadowed by his teammate who scored a perfect ten for his triple, twisting back-flip with two half-hitches.
THIS WEEK'S ANAGRAM OF 'THE FORMULA ONE INSIDER'
Refined, loutish moaner.
IN BRIEF
According to the rumour mill, Alexander Wurz will be taking over Oliver Panis' testing role with McLaren next year. So will Ricardo Zonta. Good job McLaren built that two-seater!
"Italian Jarno Trulli said on Thursday that he was unwilling to be Jordanís second driver..." Which presumably was why Frentzen so graciously helped Trulli into the gravel ahead of him.
Following the big crash at the second chicane, Barrichello said he had a big hole in his helmet from de la Rosa's collision. Maybe Rubens was a bit punchy because I think his helmet actually had two big holes in it - one to stick his head in and one to look out of.

IN MEMORY OF PAOLO GISLIMBERTI

The Mechanics Trust is a charity established by Jackie Stewart to help the lowly F1 mechanics who do not share in the megabucks that slosh around the sport. The charity is well supported by the teams and drivers who are always willing to devote time or memorabilia to raise money for the charity. Wouldn't it be nice if there was a similar charity to help the families of people like Paolo Gislimberti. The drivers are always full of praise for the legions of unpaid enthusiasts without whom auto racing would not be possible. I'm sure if somebody pulled it all together, the teams and drivers would make a similar effort for the marshals that they do for the mechanics. Heinz-Harald Frentzen might be a good person to get the ball rolling here.