Ten years after his F1 debut at Phoenix, 1991, Eddie Jordan is thrilled about going back to the USA.

He talks to Atlas F1's Roger Horton about why the Grand Prix at Indy is his biggest lifetime achievement, and about what it would take to make Formula One successful in the United States, based on his decade of experience

In Just ten days time, the red lights at the Indianapolis Motor Speedway will fade out, sending 22 Formula One cars along the Speedway's front straight and into the history books. They will be the first Grand Prix cars ever to cross the famed 'yard of bricks' in a race, and they will take their own special place in Brickyard's long and storied history.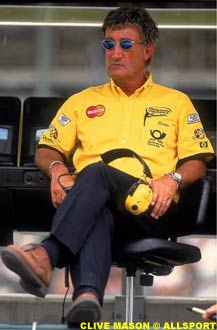 For Jordan team boss Eddie Jordan, the moment will have a special significance. "For me, Indy is probably one of the biggest lifetime achievements that I feel my team and I will be able to achieve," he explains. "It was always a dream of mine to drive there, and it was always a dream of mine to race my car there. And as I wasn't able to do the former, I am very pleased to say that I am going to be doing the latter. It is a huge thrill."
A racer turned team boss, Eddie Jordan will likely be the last of small time team owners ever to make the huge jump from the lower formulas to the pinnacle of world racing - Formula One. From modest beginnings running F3 cars in the Eighties to the formation of Jordan Grand Prix exactly ten years ago, the team has made dramatic progress, finishing a strong third in the '99 Constructors' Championship, scoring two Grand Prix victories along the way.
But if Jordan has grown and prospered along with F1 during the last ten years, the same can't be said for the sport's fortunes in America. For Jordan's debut Grand Prix in Phoenix in 1991, marked the last time Formula One cars would run in the USA for a decade. Unable to find a permanent home since leaving its racing roots at Watkins Glen, the Grand Prix was staged at various street venues until almost dying on its feet through a total lack of fan and media interest at Phoenix. What then went wrong, and how can it be fixed?
Jordan admits that perhaps a little too much elitism amongst the F1 team bosses was a factor. "I think that if you like, for too many years we thought, and probably some people still do, that we can survive very well without being a big name or a big force in the United States."
Now, though, a new understanding of the need to make the most of the lifeline that the race at the Brickyard represents is evident amongst the team owners, as Eddie Jordan continues: "We have a fantastic opportunity, and we've had a number of meetings about this. We've made huge inroads into Asia, to China, of course Japan, Australia, and Malaysia. Not just the crowd figures at the races, but particularly the huge percentage increases in television awareness have been phenomenal. We have 400 million viewers worldwide, watching live, every Grand Prix.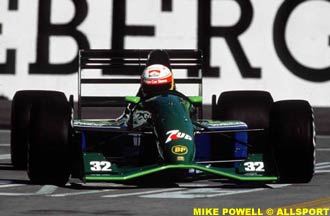 "What we have not been able to do, which is a failing on our behalf, is that we have not been able to have anything like the same ratio of appeal in the US. That is, I believe, our mistake. It is up to us to help (the American race fan) to understand it, to get it more exciting, to show the technology of it, to make sure that the drivers have become household names."
The mention of drivers becoming household names raises a key question for which there is as yet no easy or quick answer; talk about racing drivers to the average American sports fan, and he will think of Jeff Gordon, Dale Earnhardt or Bobby Labonte. If he is above fifty he may recall Mario Andretti, but more likely in the contexts of his one and only win at Indianapolis in 1969 than his F1 World Championship in 1978.
The last American-born driver to race in Formula One was of course Mario's son, Michael, who struggled to come to terms with the demands of European style racing during a season with McLaren in '93. French-Canadian Jacques Villeneuve cut some of his racing teeth in ChampCar racing in America in the mid-nineties, winning the legendary Indy 500 in '95 to boot. But, strong though the Villeneuve name is in the USA, he can never be the hometown boy American fans will pay to cheer for.
Eddie Jordan is aware that an American driver would help in ensuring that once the novelty value of the race has worn off, the stands will stay filled, and he is prepared to help. "The point that I am making is that if we can find the high quality driver, not just in Indy car, IRL, NASCAR, dirt track, or whatever form of racing there is in the States, then we would like them to come to me personally at Jordan. And I make a point of this, I would like to hear from them."
Jordan's abilities as a talent spotter are legendary in Formula One, having brought into the sport some of its biggest current names, including the Schumacher brothers, Michael and Ralf, and his current lead driver Heinz-Harald Frentzen. This has had an enormous impact on the popularity of F1 racing in Germany, as Eddie Jordan explains. "It is no secret that nine years ago Michael Schumacher started his race career here, with Jordan. I must tell you that prior to that in Germany there was a very low regard for Formula One. But they got a driver on board from Germany, and suddenly they have completely turned about face virtually whereby you have these huge number of fans devoted to F1 in Germany. And thankfully not just Michael Schumacher, but to Formula One in general.
"We are pleased, also, with Jordan's position, that all of the three major German drivers, Ralf Schumacher, Michael Schumacher, and indeed, our own driver, Heinz-Herald Frentzen, all started their racing career one way or another either in Formula One or in Formula 3000 with us. But the success rate - and we are talking about the German people - is that the country has 18 million live viewers every Grand Prix. And 95 percent of that, I believe, has come as a result of Michael Schumacher's involvement, and now of course the other drivers."
Could a couple of American drivers racing in Formula One perform the same magic for US viewer ratings?
With or without local drivers to cheer on, the crowds raised on Oval racing are used to constant overtaking, with lots of passing and re-passing all the way down the field. Cars racing two and three wide are the norm rather than the exception. Overcoming the boredom factor of cars circulating in line astern for lap after lap is perhaps F1's greatest challenge.
"I know that passing seems to be a big thing, especially in Indy racing and oval racing, or champ cars as you now call it, and IRL. And traditionally it has been a little bit slower moving in Formula One. We plan our passes, they could take five laps, ten laps, and maybe it will not be fast-moving enough for the people in the States. They want more and more excitement.
"But I think that there is lots of excitement in various different ways. Our pit stops are very strategic; I think that the team plays a much bigger role in many respects in terms of the tyre choices, and the speed of the pit stops. It is up to us to create that excitement, to make sure that the people and the viewers and the people who are listening and reading reports and summaries, and various other parts of the service that the media give to the public, that we have something to offer."
The Indianapolis Motor Speedway offers the best, and perhaps the last opportunity F1 will ever have to make it back to the USA as a permanent part of the Grand Prix calendar. Eddie Jordan, for one, is in no doubt that it has at last found the right home.
"I think that this (the Speedway) is absolutely the number one. And I say that without any reservations. We can talk about Monaco, Monza, wherever you like. And there are some great names, of course. But when I was the manager of Stefan Johansson, I stood on the front row of Indy for an Indy 500 race. And to see those stands full of 350,000 to 400,000 people in one arena is probably the biggest and the greatest sporting thrill that I've ever witnessed. I couldn't believe the atmosphere, the openness, the music, the commitment, even to the guys down in the snake pit who probably weren't sure where they were, but they were there.
"We have a chance of a lifetime here, and we had better not lose it."