This week's Grapevine brings you
information fresh from the paddock on:

Questionable Options
The Political Game
Silly Season Finale
Picked from the Bunch
Questionable Options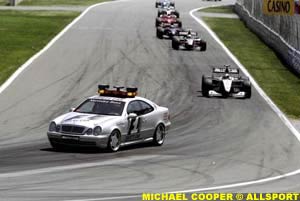 Following eleven laps trailing a pace car at Monza, there has been some question over the way the event was handled: teams are concerned that safety was further compromised by the action, when a red flag and restart could have been more appropriate.
In fairness, it is a difficult call to make: the accident was serious, with half a dozen cars involved - the fire marshall's unfortunate inclusion was not immediately obvious, and still not known when the decision to put the safety car out was made.
Of immediate concern, most of the drivers had complained about the new opening chicanes, claiming that racing accidents would be inevitable, as the track constrains the cars considerably at that point. Showing the red flag would have seen at least three drivers restarting in spare cars, putting a nearly full field into another start, and potentially another big accident.
Taking the alternative route, however, also has a significant calculated risk. With the cars still on the track, the marshalls were only able to make a stab at clearing the debris from the track itself: pieces of carbon fibre continued to litter the ground after they were finished at the scene. Not only were the drivers lapping through a serious puncture risk behind the safety car - something they might then have discovered at around 200mph - but there was some danger that anyone straying off the racing line during the continued race could have damaged their tyres.
Race fans were puzzled by the decision too: the effect of the pace car was to shorten the race considerably. The track took longer to clear up - a restart could have happened ten minutes quicker - and the field was cut by more than it might have been. Given more transparency on the decision making process, perceptions could have been much improved.
The Political Game
With the FIA constantly accused of favouring Ferrari, there are a lot of questions about the politics of Formula One, and why it is that one team appears to be a favourite of the governing body.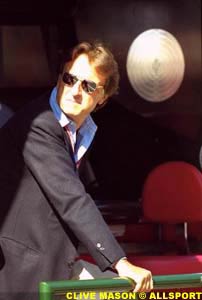 There are no real answers. It's true that Ferrari's heritage is impeccable, as they are the only team to have contested every World Championship since the series was put into a real form in 1950. There is a lot of history, and they have been very successful at times: indeed, it's pretty much expected for Ferrari to race in the front half of the field, not matter how off-form they are in a given season.
Bernie Ecclestone is a Ferrari fan. He believes that Ferrari are a large component of the "magic" that races the sport above a bunch of cars running in circles: and he believes Ferrari ought to be winning. Thirty years is too long for a marque claiming the F1 equivalent to majesty to be without the drivers title, particularly when they have the World's best driver on their books.
This adds to the impression that Ferrari receive favourable treatment at the hands of those running the sport - who all look up to Ecclestone as the leader of their gang. That said, it would be in very poor form to claim they are unable to keep their bias to themselves when doing their jobs without some form of evidence, and that sort of thing is remarkably hard to come by...
Given any incident, Ferrari may appear to have the benefit of an FIA decision, but a close look at the facts always turns up some justification for their position, and the rulings that come from it. The impression that Ferrari's appeals succeed where their rivals fail is not helped by farces like the Barge-board incident after Malaysia in '99, but generally things are not clear-cut. Again, Ferrari are not helped by the fact their very long history provides a lot of scope to draw on examples where Ferrari have made successful protests against other teams. It is worth mentioning that some of Ferrari's protests do fail – and they would reason the critical ones that could be pivotal in Championships are not amongst them because they know the rule-book really well, and prepare particularly carefully in these instances.
At the end of the day, however, despite the impressions available to the world at large, it is probably unfair to say the FIA is actually biased towards the team: much better would be to admit that Ferrari has some brilliant minds at work leveraging the rules to their best advantage, whether looking for ways to protest rivals, or exploit a loop-hole in interpretation to their own ends.
Silly Season Finale
Although the final places are not yet known, the silly season as we know it in Formula One is practically over, and so we bring this section of the Grapevine to a close for this year, with a summary of the key events and signings of 2000.
June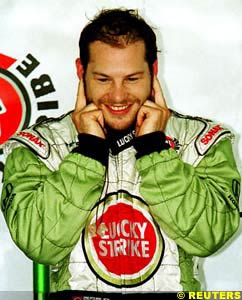 The early rumours centred around speculation on where Jacques Villeneuve would end up in 2001: performance at BAR was not as great as expected, and good results were difficult to find. Added to that the natural theatrics of a man who knows how to extract top dollar from any employer, and the rumours of a move to McLaren, then Renault were inevitable. Perhaps more surprising, Villeneuve appeared for some time to be considering a move to Jaguar, though few could see any attraction beyond the pay packet.
Even at this time, rumours of Juan Montoya's entry from CART were rife: Williams refused to comment, Button said he knew nothing, and every pundit claimed it was a done deal.
Poor performances from Pedro Diniz and Alexander Wurz had them earmarked for departure from Sauber and Benetton respectively, with Pedro de la Rosa the flavour of the month to replace anyone who moved from a competitive drive.
Mika Salo was rumoured to have lined up a four year contract to test then race with Toyota, whilst Antonio Pizzonia's F3 performances was really getting him noticed...
July
Villeneuve continued to top the rumour list - Montoya's pending arrival now just being assumed, despite Frank Williams admitting he had not yet been able to secure his release from Ganassi racing. Villeneuve hinted at a potential Ferrari deal when Coulthard re-signed for McLaren. Renault continued to pursue his services relentlessly.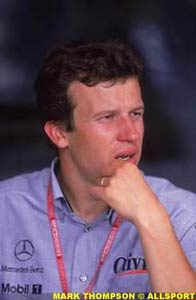 Olivier Panis' testing had come to the attention of half the paddock, resulting in many open doors to discuss future drives with teams. BAR had already pencilled in Zonta's departure - despite the impact in South America where the tobacco branding is important - but were not the only target for Panis, who had options at Sauber and Arrows too.
Jean Alesi was connected with a return to Sauber, or a step across to Jaguar, rather than remain at the ailing Prost team, which appeared ready for sale to any serious bidder, whilst Jenson Button's management started talking in earnest to Benetton and Jaguar about a place in 2001.
August
F3 drivers were the flavour of the month, as Antonio Pizzonia appeared ready to jump in at Benetton, Luciano Burti had a Jaguar place tied up and Darren Manning eyed up a seat at BAR. F3000 man Mark Webber seemed ready to test with Benetton, but nothing came of any of it...
Jacques Villeneuve continued to play large, and it started to appear that all driver announcements would follow his decision to jump to Renault, or stay put in 2001. When he finally made the commitment to remain, seats filled fast...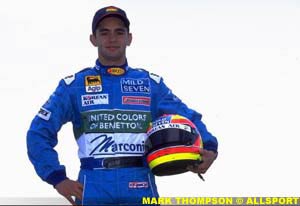 Olivier Panis took his reward, moving to BAR, Button finally signed for Benetton/Renault. Nick Heidfeld swapped seats with Pedro Diniz - pending a large financial transaction to seal the Prost seat for the latter - and rumours of Bruno Junquiera appearing on the scene took a dive, though he is known to be considering places in both CART and Formula One.
September
Luciano Burti finally signs with Jaguar, ensuring fresh interest in F3 talent for 2001.
Concluding
The Grapevine has had a very successful Silly Season, accurately reporting almost all of the driver movements weeks ahead of time - without an overload of media gossip bearing no relation to reality. Stay tuned in 2001, which can expect to see rumours of Schumacher moving on, Hakkinen retiring, and a whole new crop of drivers coming on to the scene!
Picked from the Bunch
Italian police impounded the cars involved in the first lap shunt at Monza, as evidence in the inquiry into the death of a fire marshall at the scene.
Williams are confident of their position as the third team in the Championship, and are setting their sights on ways to close the gap on the front runners - reliability could be an issue for the remainder of the season as they pull out the stops.
Prost's Ferrari engine deal has killed all rumours of the pending sale of the team, and all rumours of Jean Alesi's departure. Pedro Diniz is now firm favourite for the second seat.
Schumacher's win in Monza has made him again favourite to take the title, despite Mika Hakkinen's two point lead in the championship. The cars improvement from Spa has stunned paddock rivals...
Ralf Schumacher set a new F1 record after being fined $6,250 for doing 84.2kph in the Monza pit lane on Saturday morning. The record amount follows similar offences in Brazil and Canada. The previous highest fine was $2,500, dished out to Jaguar Racing's Luciano Burti on his GP debut in Austria.