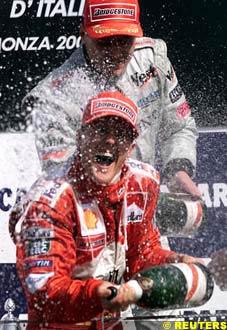 An image, they say, is worth a thousand words. And so it was at this year's Italian Grand Prix, when Michael Schumacher broke down during the post-race press conference and showed the whole world that, he too, is human after all.

For Schumacher himself, his third Italian Grand Prix win for Ferrari meant coming back from a very disappointing couple of races where he lost the championship lead, but, most importantly, it meant equalling the victory record of the late Ayrton Senna, with 41 wins.

It was no secret that the great Senna was Schumacher's hero and inspiration when he started his racing career, but it took 142 races to really show the admiration and respect the German felt for the Brazilian.

Since the start of his career, and especially since Senna's tragic death in 1994, Schumacher has lived under the long eternal shadow of Ayrton's memories and achievements and has always been compared to him. The battle between these two great drivers lasted only the first three races of the 1994 championship, so equalling his idol's record, at his team's home circuit, after a perfect drive, and after getting his championship challenge back on track, was more than Michael Schumacher, even Michael Schumacher, could handle.

Schumacher's championship rival, Mika Hakkinen, was also moved by the German's attitude and could not help being overcome with emotion, having to ask for a break before answering any questions.

For the second year running, tears were the main protagonists of the Italian Grand Prix. The pictures of Hakkinen crying over his balaclava after his retirement in last season's race were on the headlines for a couple of months, and this year's events will probably last much longer than that.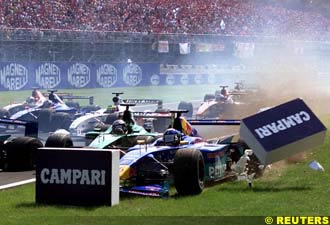 Unfortunately, those tears were not only of joy, as the Formula One circus lost yet another life during a tragic race. Paolo Gislimberti was not a top driver, not even part of a team, yet as Michael Schumacher proved, we are all human, and all lives are as important.
The race itself proved once more that this season's title will, unless something strange occurs, go down to the wire, as Ferrari and Schumacher seem to have worked miracles on their cars, and especially on their engines, to recover the lost ground to McLaren.
Of course, this was Monza and the Italian team seems to pull out something special for this race every season, but this victory was good enough to stop Hakkinen's amazing charge to his third consecutive title, and it will give wings to Ferrari for the three remaining races of the 2000 season.
There was nothing Hakkinen and McLaren could do against their rivals and, considering how close the Finn was to ending up out of the race on the first lap accident, he can be happy having left Monza still leading the championship.
What occurred at the second chicane was a tragedy, no doubt about that, but it should not lead to yet another crusade to improve safety, at least where the cars are concerned. When Formula One cars crash into one another at nearly 300km/h, it is inevitable that debris will fly all over the place - after all, this is open wheel racing.
As we saw during the huge accident, the cars are safe enough for their drivers, and not even Pedro de la Rosa, whose Arrows rolled several times, was injured.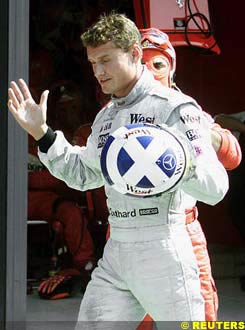 Whether the drivers are behaving safely, however, is not so clear, and the FIA should make some important decisions about that. Furthermore, having the safety car on track for ten laps, while the injured marshal was receiving emergency medical treatment, does not bode well for the Ruling Body's image.
Qualifying
Michael Schumacher had to do his best to ensure his sixth pole position of the season, in front of thousands of tifosi, who could not believe their eyes when they saw the only real challenger for the German was his own Ferrari teammate Rubens Barrichello.
The Italian team was the class of the field and, despite Mika Hakkinen's efforts, the McLaren driver could do nothing to avoid the first all-scarlet front row of the season.
Schumacher, who jumped onto the track 25 minutes into the session, had one of his attempts spoiled after missing the first chicane on his initial flying lap. This meant that the German could not try to defend his fastest time during the dying moments of the session, but fortunately for him, his time was not bettered.
"I messed up my first lap, running wide at the first chicane, but the car felt quick, which is why I decided to go for a second lap, even if it was a bit of a risk," explained Schumacher. "It was therefore an unusual qualifying session as I finished before the end. I must say I would rather have been in the car than sitting watching the screen."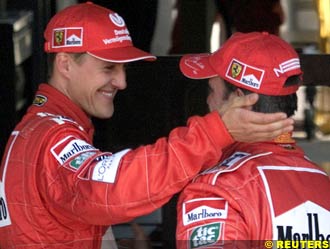 The German improved his initial time on his second attempt, but with 20 minutes remaining, Ferrari's good form became evident when Barrichello jumped up to first place by only 0.014 of a second. However, this was Michael's party and some ten minutes later he relegated his teammate to second place, snatching pole position by a mere two hundreds of a second.
Despite having lost what would have been a dream result for him, Barrichello was delighted with second place on the grid. "Of course it's always better to be first, but I am happy to be on the front row. It's a great result for Ferrari at their home track," the Brazilian said.
Hakkinen settled for third spot, after constantly improving his time throughout the session. The Finn complained about the lack of grip from his McLaren out of the slow corners, so he decided to take the spare car for the last minutes, but he then suffered an unusual problem with his Mercedes engine.
"There were one or two areas where it could have been better, and for my last two runs I had a massive misfire. I could have gone quicker," confessed Hakkinen.
Jacques Villeneuve was the surprise of the day, setting the fourth fastest time and achieving BAR's best ever qualifying position, courtesy of the amazing power of the Honda engine. The Canadian, who was the first driver to get out on track, ten minutes into the session, took advantage of a specially prepared Honda unit and was very happy with the result.
"It feels great to qualify fourth - the team's best ever position," admitted Villeneuve, who gave Honda something to celebrate on their 200th Grand Prix. "Hopefully we will be able to challenge for a podium finish tomorrow."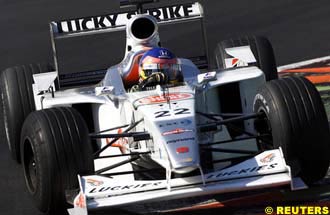 As was the case a fortnight earlier in Belgium, David Coulthard had a disappointing qualifying session and ended up in fifth place. And just as it happened in Belgium, he clashed with Heinz-Harald Frentzen, who spoiled his last attempt in the dying moments. It was no surprise, then, that the Scot was not happy. "I didn't manage to get all my best sector times together to make one fast lap and also experienced problems finding the optimum balance," Coulthard later complained.
Jarno Trulli was sixth, after a very difficult practice session, where he and his Jordan teammate Frentzen ended up 12th and 19th. But the team worked hard and both drivers could make it into the top ten, with Ralf Schumacher's Williams separating them in seventh place, after another strong showing from the team and their engine provider BMW.
The young German was one of many drivers who had problems to make it through the revised first chicane, and he was also concerned about how tight it would be at the start of the race. "Considering the close times achieved by drivers among the top six - some of which are not fighting for the lead of the drivers' championship - tomorrow, for the first lap, it's going to be quite tight into the new chicane," he predicted.
Qualifying Results

Pos  Driver         Team                 Times                 
 1.  M.Schumacher   Ferrari              1:23.770  248.523 km/h
 2.  Barrichello    Ferrari              1:23.797   +  0.027
 3.  Hakkinen       McLaren Mercedes     1:23.967   +  0.197
 4.  Villeneuve     BAR Honda            1:24.238   +  0.468
 5.  Coulthard      McLaren Mercedes     1:24.290   +  0.520
 6.  Trulli         Jordan Mugen-Honda   1:24.477   +  0.707
 7.  R.Schumacher   Williams BMW         1:24.516   +  0.746
 8.  Frentzen       Jordan Mugen-Honda   1:24.786   +  1.016
 9.  Fisichella     Benetton Playlife    1:24.789   +  1.019
10.  de la Rosa     Arrows Supertec      1:24.814   +  1.044
11.  Verstappen     Arrows Supertec      1:24.820   +  1.050
12.  Button         Williams BMW         1:24.907   +  1.137
13.  Wurz           Benetton Playlife    1:25.150   +  1.380
14.  Irvine         Jaguar Cosworth      1:25.251   +  1.481
15.  Salo           Sauber Petronas      1:25.322   +  1.552
16.  Diniz          Sauber Petronas      1:25.324   +  1.554
17.  Zonta          BAR Honda            1:25.337   +  1.567
18.  Herbert        Jaguar Cosworth      1:25.388   +  1.618
19.  Alesi          Prost Peugeot        1:25.558   +  1.788
20.  Heidfeld       Prost Peugeot        1:25.625   +  1.855
21.  Gene           Minardi Fondmetal    1:26.336   +  2.566
22.  Mazzacane      Minardi Fondmetal    1:27.360   +  3.590

The Race
The big question before the start of the race was probably not if there was going to be an incident on the first chicane, but how many cars would be involved in it. Put a very tight track, add a 90-degree right hander, and mix it with 22 Formula One drivers anxious to gain as many places as possible, and the incidents will be an inevitable.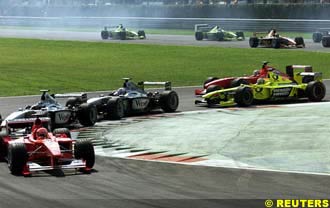 Michael Schumacher finally made a good start from pole position, while Jean Alesi stalled at the back of the grid. In front, Rubens Barrichello lost several places and the opportunity to help his teammate during the race, while Mika Hakkinen got right behind Schumacher's rear wing, although sensibly did not try to force his way at the end of the straight.
As all the cars arrived at the first chicane the inevitable happened and Eddie Irvine banged wheels with Mika Salo's Sauber, who lost control of his car and ended up hitting his own teammate Pedro Diniz. The result: Irvine retired, Diniz lost his front wing, and Salo had to complete a whole lap with a punctured tyre and a broken engine cover, before entering the pits for repairs.
Only one retirement after the first chicane was less than anyone had expected, but the worst would come moments later. As the field was approaching the second chicane, Barrichello tried to go on the inside of Jarno Trulli. Heinz-Harald Frentzen, who was right behind the Ferrari driver, misjudged his braking point and turned right to avoid hitting Barrichello, only to crash into Trulli's Jordan, and later into the Brazilian's car, also taking David Coulthard in the process.
"Barrichello changed line and braked unexpectedly early, I could not turn in time to avoid him, so I hit him," explained Frentzen. But the Ferrari driver had a very different story to tell. "He was totally responsible for what happened and he should be banned," said Barrichello. "It is completely unbelievable that he should think I was braking early. I was overtaking Jarno Trulli and I was braking as late as I could. He should not be using the car in front of him as a reference for his braking points."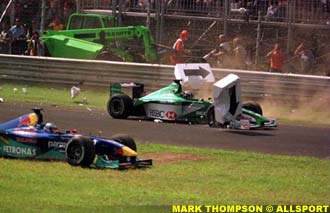 As both Jordans collided at almost 300km/h, their wheels, as well as pieces of bodywork and suspension, flew off of the track at a staggering speed, one of the wheels hitting fire marshal Paolo Gislimberti. Coulthard later revealed that the marshal in fact had moved from his safety zone. "I knew where he was standing," he said. "He was on the edge of the corner on the right hand side by the barrier."
Further back, the impact of the incident was still at full force, and Pedro de la Rosa ran into the back of Johnny Herbert's Jaguar, launching his Arrows car into a series of rolls before hitting Barrichello's standing car, miraculously missing Coulthard, and ending up upside down.
"I just saw the yellow flags and braked and then saw pieces of car all over the place, lots of tyre smoke and after the smoke cleared there were two cars travelling really slowly and I just couldn't slow down my car enough," de la Rosa explained.
Six drivers were out of the race as a consequence, and Ricardo Zonta had to come into the pits to get his car repaired. Johnny Herbert could go back to the pits with a three-wheeled Jaguar, but the other five cars stood there on the gravel trap, with debris all over the place, and the marshal being attended to by the medical staff on the side the track. Controversially, FIA's safety delegate, Charlie Whiting, decided not to red-flag the race and abort the first start, but instead had the safety car come out and stay ahead of the remaining pack for ten laps.
In the mean time, 30-year old Gislimberti was taken to the circuit's medical centre and then to a hospital in Monza, where he was declared dead as a result of the head and chest injuries he sustained.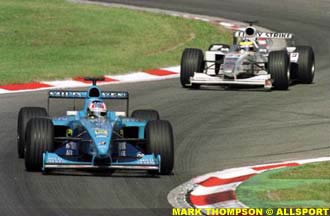 As the safety car was about to leave the track, the leading cars slowed right down, in particular Michael Schumacher, but not Jenson Button, who seemed to have lost concentration and was thus forced to swerve to the right to avoid hitting his teammate Ralf Schumacher. The young Brit hit the barriers and seconds later, as he tried to make it through the Parabolica turn, his Williams did not react and he ended his race against the tyre wall.
"When everyone suddenly braked just as I began accelerating flat out I couldn't go anywhere else," Button explained. "But when I got to the turn there was just no grip, as my tyres were covered in grass."
After eleven laps, the race finally was finally under way, with Michael Schumacher in front of Hakkinen, Jacques Villeneuve, Ralf Schumacher, Giancarlo Fisichella and Jos Verstappen, who passed Alex Wurz at the end of the straight. Schumacher began to pull away quickly from Hakkinen and the rest of the field, as Zonta, who was at the back after his early stop, started his charge to the front, overtaking Nick Heidfeld, Marc Gene and Wurz, to elevate himself to seventh place by lap fourteen.
A lap later, while running comfortably in third place, Villeneuve retired with an electrical problem on his BAR, ending the team's best performance of the season. Also on his best performance of the year was his teammate Zonta who, on a two-stop strategy, was able to pass Giancarlo Fisichella, Ralf Schumacher and Jos Verstappen to climb up to third spot. Verstappen was also flying and quickly passed Ralf for fourth position. Meanwhile, in front, Schumacher continued to increase his advantage over Hakkinen, who was incapable of following the German's pace, complaining of poor balance on his McLaren.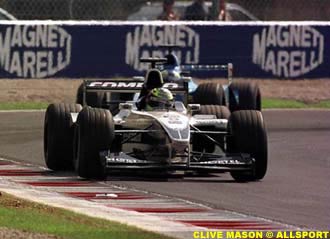 After spending so many laps behind the safety car, it became obvious that the teams would delay their pitstops as much as possible, except for BAR, who brought in Zonta on lap 23 out of the 53, making him drop to eleventh place. However, the Brazilian made up for the lost ground again and moved up to sixth place before getting stuck behind Wurz's Benetton and stopping for the second time on lap 36, even before the leaders made their first stop.
With Michael Schumacher and Hakkinen more than 30 seconds ahead of third placed Ralf Schumacher, the Ferrari driver finally made his pitstop on lap 39, when he had a gap of around ten seconds over the Finn. The German rejoined in second place, ahead of his brother, the Benettons of Fisichella and Wurz, Verstappen, and Zonta, who was once again charging to the front.
Hakkinen pitted three laps later, with only twelve to go, and came out again more than eleven seconds behind Schumacher. Ralf and Fisichella came in for their scheduled stops on lap 44, but the Italian suffered a clutch problem and lost more than a minute before he was able to rejoin the race, definitely out of contention.
Hakkinen was now the fastest man on track, lapping a full second and a half faster than Schumacher on occasions, and with three laps remaining, the Finn was 6.2 seconds behind his rival. "We made some modifications during the stop," Hakkinen explained, "but it was not enough. Added to that, the couple of Minardis didn't make it easy to overtake."
But despite the McLaren driver's pressure, Michael Schumacher crossed the finish line in first place, obtaining a very important win and the most emotional one of his entire career, reviving once more the "Monza miracle." For the first time, the ever cold and analytic German was almost speechless. "I have no vocabulary to express my feelings except that I am happy and exhausted," he said.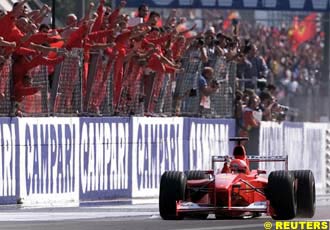 Hakkinen finished second and saw his championship lead reduced to two points with three races remaining, while Ralf Schumacher completed a podium filled by the same men who visited it at Spa two weeks earlier.
Jos Verstappen was fourth for the Arrows team, while Alex Wurz finally made it to a point scoring position, fifth in his Benetton. The last point of the race, and a worthy one indeed, went to Ricardo Zonta in the BAR.
As we saw at Monza, Formula One is a very unpredictable sport, on and off the track, and the championship now moves into the unknown, to Indianapolis, for the long awaited return to the USA and the first ever visit to the new F1 Indy track. No one can predict what will happen there, but, just in case, don't forget your Kleenex.

Race Results

CLASSIFIED

Pos  Driver         Team                             
 1.  M.Schumacher   Ferrari               1h27:31.638  
 2.  Hakkinen       McLaren Mercedes      +    3.810
 3.  R.Schumacher   Williams BMW          +   52.432
 4.  Verstappen     Arrows Supertec       +   59.938
 5.  Wurz           Benetton Playlife     + 1:07.426
 6.  Zonta          BAR Honda             + 1:09.292
 7.  Salo           Sauber Petronas       + 1 Lap   
 8.  Diniz          Sauber Petronas       + 1 Lap   
 9.  Gene           Minardi Fondmetal     + 1 Lap   
10.  Mazzacane      Minardi Fondmetal     + 1 Lap   
11.  Fisichella     Benetton Playlife     + 1 Lap   
12.  Alesi          Prost Peugeot         + 2 Laps  

Fastest Lap: M. Hakkinen, 1:25.595, lap 50

NOT CLASSIFIED / RETIREMENTS                                
                                                              
     Heidfeld       Prost Peugeot        16     spun off    
     Villeneuve     BAR Honda            15     electrical  
     Button         Williams BMW         11     accident    
     Herbert        Jaguar Cosworth       2     accident    
     Coulthard      McLaren Mercedes      1     accident    
     Trulli         Jordan Mugen-Honda    1     accident    
     Barrichello    Ferrari               1     accident    
     Frentzen       Jordan Mugen-Honda    1     accident    
     de la Rosa     Arrows Supertec       1     accident    
     Irvine         Jaguar Cosworth       1     accident    

WORLD CHAMPIONSHIP STANDING, ROUND 13:                

Drivers:                    Constructors:             
1.  Hakkinen      80        1.  McLaren            131
2.  M.Schumacher  78        2.  Ferrari            127
3.  Coulthard     61        3.  Williams-BMW        34
4.  Barrichello   49        4.  Benetton-Playlife   20
5.  R.Schumacher  24        5.  Jordan-Mugen Honda  13
6.  Fisichella    18        =   BAR-Honda           13
7.  Villeneuve    11        7.  Arrows               7
8.  Button        10        8.  Sauber               6
9.  Frentzen       7        9.  Jaguar               3
10. Trulli         6                                  
 =  Salo           6                                  
12. Verstappen     5                                  
13. Irvine         3                                  
14. de la Rosa     2                                  
 =  Zonta          2                                  
 =  Wurz           2                                  


Fastest Race Laps

Pos Driver         Team                Lap  Time             
 1.  Hakkinen      McLaren-Mercedes     50  1:25.595           
 2.  M.Schumacher  Ferrari              36  1:25.663  +   0.068
 3.  Zonta         BAR-Honda            22  1:26.433  +   0.838
 4.  R.Schumacher  Williams-BMW         49  1:26.636  +   1.041
 5.  Fisichella    Benetton-Playlife    46  1:26.731  +   1.136
 6.  Wurz          Benetton-Playlife    44  1:26.869  +   1.274
 7.  Verstappen    Arrows-Supertec      31  1:27.033  +   1.438
 8.  Diniz         Sauber-Petronas      44  1:27.215  +   1.620
 9.  Salo          Sauber-Petronas      26  1:27.297  +   1.702
10.  Alesi         Prost-Peugeot        47  1:27.978  +   2.383
11.  Villeneuve    BAR-Honda            14  1:28.038  +   2.443
12.  Gene          Minardi-Fondmetal    31  1:28.131  +   2.536
13.  Mazzacane     Minardi-Fondmetal    49  1:28.299  +   2.704
14.  Heidfeld      Prost-Peugeot        14  1:29.580  +   3.985
15.  Button        Williams-BMW          8  2:27.131  + 1:1.536

Pit-Stops Times

Pos  Driver        Team                Time  Lap
 1.  Wurz          Benetton-Playlife   20.9  42 
 2.  R.Schumacher  Williams-BMW        21.1  43 
 3.  Zonta         BAR-Honda           21.5  36 
 4.  Hakkinen      McLaren-Mercedes    21.6  42 
 5.  M.Schumacher  Ferrari             22.0  39 
 6.  Zonta         BAR-Honda           22.1  23 
 7.  Gene          Minardi-Fondmetal   22.8  33 
 8.  Alesi         Prost-Peugeot       23.4  29 
 9.  Verstappen    Arrows-Supertec     24.4  32 
10.  Zonta         BAR-Honda           25.0   1 
11.  Salo          Sauber-Petronas     26.2  29 
12.  Mazzacane     Minardi-Fondmetal   26.3  29 
13.  Diniz         Sauber-Petronas     26.3  37 
14.  Diniz         Sauber-Petronas     30.4   1 
15.  Salo          Sauber-Petronas     48.5   1 
16.  Salo          Sauber-Petronas    104.6   7 
17.  Fisichella    Benetton-Playlife  111.3  43 


Sector Times and Speeds
Sector 1 (S/F Line - T1)
Sector 2 (T1 - T2)
Sector 3 (T2 - S/F Line)
Pos
Driver
Time
Speed
Pos
Driver
Time
Speed
Pos
Driver
Time
Speed
1
Hakkinen
26.525
338.08
1
M.Schumacher
29.333
336.00
1
Hakkinen
29.548
321.12
2
M.Schumacher
26.597
334.08
2
Hakkinen
29.378
339.04
2
M.Schumacher
29.615
322.08
3
Zonta
26.678
337.12
3
R.Schumacher
29.597
328.16
3
Zonta
29.828
322.08
4
Diniz
26.722
335.04
4
Fisichella
29.636
332.00
4
R.Schumacher
29.850
312.16
5
Verstappen
26.782
336.00
5
Zonta
29.710
338.08
5
Fisichella
30.000
314.24
6
Wurz
26.910
331.04
6
Wurz
29.789
330.08
6
Wurz
30.095
314.24
7
Salo
26.937
334.08
7
Verstappen
29.857
339.04
7
Salo
30.204
319.20
8
Fisichella
26.940
328.16
8
Diniz
29.994
337.12
8
Verstappen
30.339
319.20
9
Alesi
26.970
335.04
9
Salo
30.034
335.04
9
Diniz
318.08
10
R.Schumacher
27.017
328.16
10
Gene
30.083
327.04
10
Gene
30.368
311.20
11
Villeneuve
27.128
330.08
11
Alesi
30.237
338.08
11
Villeneuve
30.394
313.12
12
Heidfeld
27.304
329.12
12
Villeneuve
30.282
332.00
12
Mazzacane
30.450
313.12
13
Mazzacane
27.310
327.04
13
Mazzacane
30.304
331.04
13
Alesi
30.531
318.08
14
Gene
27.362
326.08
14
Heidefeld
31.057
331.04
14
Heidfeld
31.170
311.20
15
Button
42.330
324.16
15
Button
33.071
285.28
15
Button
36.501
231.68

The Italian Grand Prix, Lap by Lap
Before the Start: Before the cars set off on the final parade lap Nick Heidfeld's Prost is still being worked on on the pre-grid until the very last minute but the team just manages to avoid him getting a penalty.
Lap 1: At the start Jean Alesi is left on the grid as the field goes away. On the run down to the first corner Mika Hakkinen is faster and Michael Schumacher moves right to block a challenge. He then moves to the left to take his line into the first corner. The first cars get through the first corner without a problem but in the midfield Mika Salo and Eddie Irvine collide. Pedro Diniz goes straight on and through a polystyrene block. Irvine is out on the spot. Salo suffers a puncture but continues slowly. At the second chicane Schumacher leads Hakkinen and Coulthard but Frentzen runs into the back of Barrichello. The two cars take off Jarno Trulli and Coulthard. In the dust behind the accident Johnny Herbert brakes and Pedro de la Rosa runs into the back of the Jaguar and is launched into a series of rolls. All the drivers emerge unhurt but a fire marshal Paolo Gislimberti, standing on the outside of the track, is hit by a flying wheel. He suffers "very critical" head and chest injuries. A Safety Car is sent out. At the end of the lap the two Saubers, Herbert (on three wheels) and Ricardo Zonta all pit for repairs.
Lap 11: As the field prepares for the restart, the leading cars slow down and Jenson Button, who is lying sixth, swerves to avoid hitting Ralf Schumacher and goes into the barriers on the back straight. He rejoins but the car is damaged and he goes off at the Parabolica and retires.
Lap 12: The race restarts after 10 laps running under caution. Michael Schumacher begins to try to build a lead over Hakkinen and Jacques Villeneuve. Ralf Schumacher is fourth with Giancarlo Fisichella fifth and Jos Verstappen moves up to sixth overtaking Alexander Wurz. Further back Zonta passes both Diniz and Gastone Mazzacane to move to to 10th place.
Lap 13: Schumacher builds a lead of two seconds over Hakkinen while further back in the field Zonta overtakes Nick Heidfeld.
Lap 14: Zonta passes Marc Gene and Wurz to move up to seventh place, indicating that he is probably on a two-stop strategy.
Lap 15: Jacques Villeneuve retires with apparent gearbox problems and on the same lap Jos Verstappen moves up to fourth place overtaking Fisichella. Also on the move is Salo who moves ahead of Diniz for 12th place.
Lap 16: Ralf Schumacher drops back from third to fifth, losing out to Verstappen and Zonta, who also overtakes Fisichella on the same lap.
Lap 17: The order begins to settle down although Salo moves ahead of Mazzacane to take ninth place.
Lap 21: Zonta passes Verstappen to take third place.
Lap 23: Zonta pits from the first time. He drops from third to 11th.
Lap 25: Salo continues to race hard and moves up to pass Wurz to get sixth place.
Lap 28: Zonta passes Mazzacane and Diniz to move back up to ninth.
Lap 29: Sixth-placed Salo goes into the pits and drops to 10th place.
Lap 32: The third-placed Verstappen stops and drops to seventh place.
Lap 36: Zonta is stuck behind Wurz and Benetton decides to bring him for his second stop. He drops back to eighth.
Lap 39: Michael Schumacher pits and Hakkinen goes into the lead.
Lap 42: Hakkinen pits and Schumacher goes back into the lead. Wurz also pits from fifth place.
Lap 43: Ralf Schumacher and Fisichella both pit from third and fourth places. Ralf rejoins third but Fisichella's stop goes wrong and he drops to the back on the field as the car will not restart.
Lap 50: Hakkinen sets the fastest lap of the race and closes the gap on Schumacher to around five seconds.
Lap 53: Michael Schumacher wins his 41st Grand Prix victory, equalling Ayrton Senna's record of wins. Hakkinen is second and remains ahead in the World Championship.