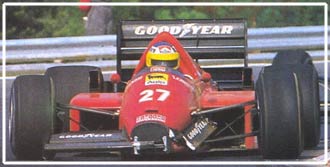 1986 The cold war still raged in 1986. It was big news when it was announced Formula One would perform 'behind the Iron Curtain'. A huge crowd filled the brand new Hungaroring facility that had been built 15 kilometres east of Budapest. The crowd was drawn from Hungary, East Germany, Czechoslovakia, Romania, Bulgaria, Poland, and even further afield, all flooding in to see the West's greatest capitalist circus. They got a great battle between Nelson Piquet and Ayrton Senna. The action grew very thin from there though. Here Michele Alboreto limps around in the Ferrari F186 after a clash with Derek Warwick's Brabham.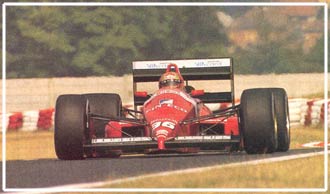 1988 At a circuit as tight and twisty as the Hungaroring, a well sorted car can do well against much more powerful opposition. Pre-qualifier Alex Caffi would not just pre-qualify the Dallara 188 Cosworth, but would put the other red Italian car into tenth position on the grid, ahead of one of the Ferraris that Scuderia Italia were trying to emulate, and alongside the other. Caffi's engine would not last the race however.
1989 Il Leone. Nigel Mansell was at his best at the Hungaroring in 1989. Mansell's Ferrari 640 was buried 12th on the grid and not looking likely to figure in the results. With both McLaren & Ferrari struggling for grip, Mansell gave up on qualifying and concentrated on an excellent race set-up for the Ferrari. When Riccardo Patrese's Williams failed, Ayrton Senna looked set to notch another win. Senna had enough trouble keeping Mansell at bay, but when Stefan Johansson's Onyx slowed suddenly with gearbox dramas, Senna lifted while Mansell swerved, turning an avoidance move into a pass for the lead from which Senna couldn't respond.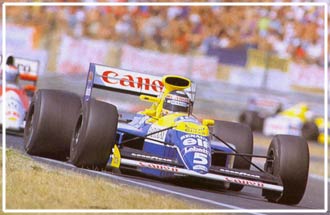 1990 Thierry Boutsen's finest hour. The Belgian won three races in his career. The 1989 Canadian Grand Prix was inherited after the failure of Ayrton Senna's McLaren atrocious weather flooded the street circuit and decimated the field, but 1990 Hungary was won entirely on merit. All race, Boutsen and his Williams FW13B Renault kept Ayrton Senna's McLaren at bay to take the win in front of the typically huge Hungarian crowd.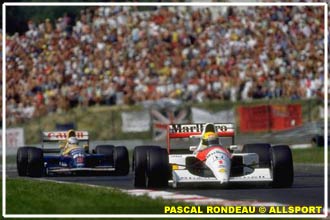 1991 Ayrton Senna (McLaren MP4/6 Honda) drove a brilliant weekend, and despite Williams winning the previous four races, never looked like being beaten by Nigel Mansell or Riccardo Patrese. Senna was first into the first corner and from there was able to protect his lead, winning by five seconds. After the previous couple of months, second and third were a comparative failure for Williams, and Senna's title was back on track.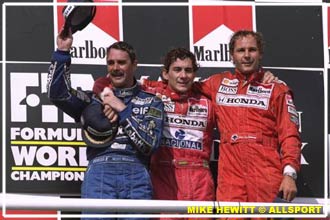 1992 Ayrton Senna and teammate Gerhard Berger look happy while Nigel Mansell looks a little stunned. Senna (McLaren MP4/7A Honda) drove hard early to keep Mansell (Williams FW14B Renault) at bay, and inherited the lead when the previously dominant Riccardo Patrese spun off. He then controlled the race from the front, staying as far ahead as was necessary, building his lead enough so that he could make a precautionary tyre stop and still win comfortably. But despite all that it wasn't only his day. Behind in second, Nigel Mansell had scored enough points to claim the 1992 World Championship, and at an earlier point in the season than anyone in the history of the Championship.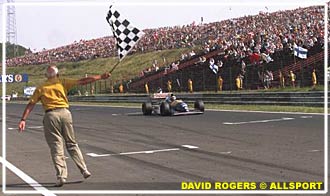 1993 Finally! Damon Hill (Williams FW15C Renault) had been the quicker driver at Magny-Cours, had been leading at Silverstone, and all but dominated Hockenheim, but each time circumstances had conspired against him. Pit lane problems in France, broken cam follower in Britain, and a late puncture in Germany. Against the backdrop of a typically huge crowd there was no stopping him, and Hill won his first Grand Prix.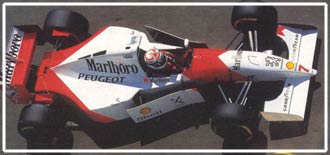 1994 With Mika Hakkinen serving a suspension for his part in the start accident at the German Grand Prix, driver when McLaren test driver Phillippe Alliot was installed in the McLaren MP4/9 Peugeot. Alliot then qualified poorly, some eight spots behind teammate Martin Brundle and drove an uninspired race before an engine failure claimed the car, while Brundle had third place robbed from him on the last lap with alternator failure, effectively ending debate over who should be driving the No.8 McLaren.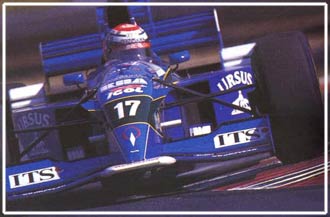 1995 A rare finish for Andrea Montermini and the Pacific PR02 Ford-Cosworth, although admittedly a very distant 12th. Keith Wiggins' Pacific team had won in Formula Three and Formula 3000, along the way assisting the careers of Mika Hakkinen, JJ Lehto and Eddie Irvine, but with his long time sponsor Marlboro sponsoring McLaren, the step up to Formula One for Pacific was always going to be tough. The big name sponsor never came, and neither did the results and so after two seasons the dream was over.
The ever trying Minardi. Giovanni Lavaggi in the Cosworth powered M195B on his way to tenth place. 1996 was not one of Minardi's better years with not a single point to show for it come season end.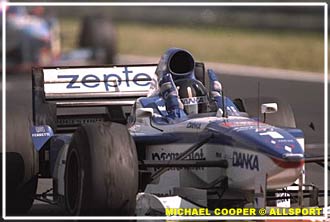 1997 Damon Hill slaps his helmet in frustration after a scarcely believable Hungarian Grand Prix. Hill's move as reigning champion to Arrows had been a disaster, but at Hungary it all came together. Hill was able to fully exploit the advantage in the Bridgestone tyres where Ferrari and Williams' advantage was at its lowest. When Michael Schuamcher blistered his Goodyears early, Hill was able to blast past into the lead, which he built up to over 30 seconds. With three laps remaining, the Arrows A18 Yamaha started having hyrdaulic problems. The car became jammed in third gear and the throttle was malfunctioning. Hill staggered to the line but Jacques Villeneuve closed the gap, before passing Hill to take the win.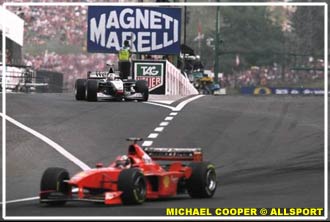 1998 At lap 30 the McLaren-Mercedes team were holding a shrinking gap over Michael Schumacher. Surely one of them would win? Michael Schumacher was being held up and he dived into the pits early to get track space. Coulthard was brought in next lap but the damage was done. As Coulthard's McLaren MP4/13 Mercedes emerges from pit lane the Ferrari F300 is already entering the first corner. When Hakkinen pitted later he would be even further behind.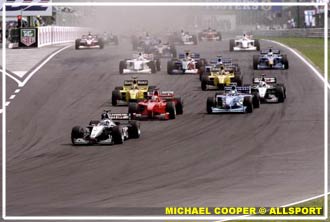 1999 The first corner at Hungary is more important than almost any other corner in Formula One, such is the nature of the tight Hungaroring circuit. Here Mika Hakkinen (McLaren MP4/14 Mercedes sweeps into turn 1 ahead of Eddie Irvine (Ferrari F399), Giancarlo Fisichella (Benetton B199 Supertec), Heinz-Harald Frentzen (Jordan 199 Mugen), David Coulthard (McLaren MP4/14 Mercedes), Damon Hill (Jordan 199 Mugen) and Alexander Wurz (Benetton B199 Supertec). Behind, three abreast, is the Stewart of Rubens Barrichello, the BAR of Jacques Villeneuve and the Sauber of Jean Alesi.