The winner at the Hungaroring drove a brilliant race on Sunday. Jumping into an early lead he dominated the field. His choices of the available options were spot-on. I want to offer my congratulations to the man who made McLaren's win in Hungary possible, the man whose preparations proved to be the right ones on the day - Olivier Panis. This time he came out on top of his rival for the championship, the driver against whom he's been racing hard week after week: Luca Badoer.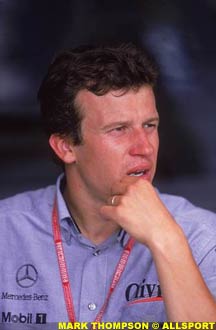 "Is Ludvigsen completely out of his tree?" you may well be asking. Didn't Mika Hakkinen show everyone the way home in Hungary - spectacularly so? And didn't Michael Schumacher finish second, holding off the attack of David Coulthard? That may be the race you saw, but I think its outcome was decided during the last several weeks in tests at Valencia and Fiorano, tests in which those were not the starring drivers.
The Hungaroring being one of those tracks at which no testing takes place, the teams had to go elsewhere to simulate its difficult combination of extreme twistiness with low mechanical grip. Ferrari did its testing at home at Fiorano, where Badoer carried out the bulk of the work. Those tests were interrupted by rain; they couldn't complete all their planned dry-track work.
McLaren and several other teams tested at Valencia, where weather conditions were favourable. On some days Olivier Panis - mainstay of the McLaren testing effort - headed the time sheets. More importantly, he helped the McLaren engineers compile a big black book of all the combinations and permutations that could help their chassis perform well on a track like Hungary's.
We all saw Hakkinen searching during practice, qualifying and even the warm-up for the right combination to help him go quickly in Hungary. At times it seemed like desperation. But that big black book was always available. When he made changes in his setup during qualifying and after the Sunday warm-up Mika was not groping in the dark. That's not the McLaren style. Rather, he and his engineers were working through the available options, all of which were validated by the tests run by Panis.
Mika - in a rare admission - also credited changes in his engine programming for his success at the Hungaroring. This is an aspect of the 2000 season that many have overlooked. Before the British GP the teams were required by the FIA to simplify dramatically their electronic engine mapping. Specifically, it banned sophisticated programming of the relationship between the accelerator pedal and the throttle slides - these days completely electronic.
Recouping good engine response, power and fuel economy under these new requirements has not been the work of a moment. It has been no small job to come up with new algorithms to restore the quality of throttle response that a Grand Prix driver needs. We can credit Mario Illien and his team at Ilmor with mastering this new challenge and giving Mika the mid-range power that paid off so dramatically in Hungary.
It's good news for the sport if indeed Olivier Panis is to return to Formula One in 2001, to join Jacques Villeneuve in the BAR team. That gives BAR a strong and experienced lineup. But who will now test to an equally high standard for McLaren? Panis has been their secret weapon this year. It's an attractive position for a driver who has the speed and is willing to take a season off to hone his skills. Any bets on Zonta? He came up through the Mercedes farm system and co-drove in GT cars with Klaus Ludwig. Klaus, who knows more than most about drivers, said, "We have found a diamond in Zonta." He has the speed; a little polishing of his facets with a season as a test driver would not go amiss.
And whom will Ferrari get to test its cars? Its conclusion after Hungary could be that Badoer isn't up to the job - although, as I said, bad weather didn't help Ferrari's preparations for Hungary. Would sometime Ferrari consultant Niki Lauda put in a good word for his countryman Alex Wurz? He seems another potentially first-rank driver who could do with a season out of the limelight. These testing jobs - as we are discovering - are important.